Happy Easter! I hope you're having a wonderful day.
This week started out chilly in Minneapolis, but the weekend is (and continues to be) quite perfect. Here's how things wrapped up in fitness!
Monday: 8 morning miles with Christie; 9:10 min/mile average.
I ran to meet her and needed to give her a few items, so I actually wore my run commute backpack. I haven't worn that thing in over a year! I'm not sure if I miss run commutes or not; I like working from home way too much. 🙂
Strength training with Discover Strength after work
Tuesday: 6 morning miles, 8:45 min/mile average.
I took a hard fall early in this run; I just tripped on part of the path that was cracked/elevated, but I fell pretty hard, taking the brunt of it on the knee and elbow.
Fortunately, nothing was broken, though my knee and elbow are both pretty bruised!
I was shocked that my tights made it without a tear!
Thank goodness the Sweaty Betty was spared, ha!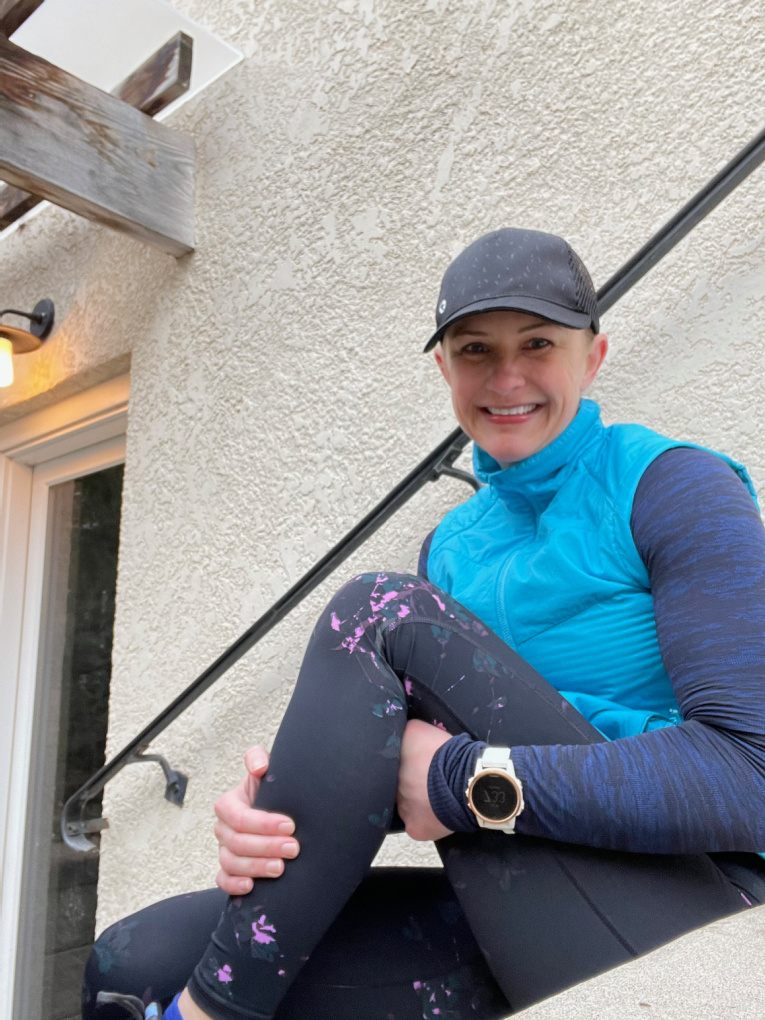 Wednesday: Speed day! My friend Julie joined me for my workout: 3 miles easy, 3x(3 minutes on, 1 minute jog, 2 minutes on, 1 minute jog, 1 minute on, 2 minute jog between sets). We faced a nasty wind for this run, but I was excited to hit the paces and we had fun! I was worried ahead of time that my knee was too sore to run, but it actually loosened up during the warm-up and felt fine.
I followed up the workout with a quick virtual 1:1 with Discover Strength, as I wanted to get in my strength training before getting my first vaccination (just in case I had side effects from the vaccine.)
Yep- I got my first vaccine! In Minnesota, as of 3/30, it's open up to anyone over 16. I was fortunate enough to snag an appointment that wasn't even too far of a drive. Yet I was hesitant to share the news here, as getting one is still a little controversial, considering that there are a lot of riskier people who still haven't been able to get an appointment. But, I believe that more shots in arms is a good thing and I am qualified, so I took the opportunity as soon as I could.
I got the Pfizer shot, and honestly, my arm was a little sore after, but I had no other side effects. I hope that's the same with the second shot!
The sad news of vaccine day was that my grandmother passed away.
She beat Covid last April, when it took my grandfather, but joined my grandfather in time to celebrate Easter together.
She lived a good long life; she was nearly 99 years old. We hope to have a service in May, and I am glad that I'll be fully vaccinated by then and can see my extended family in person.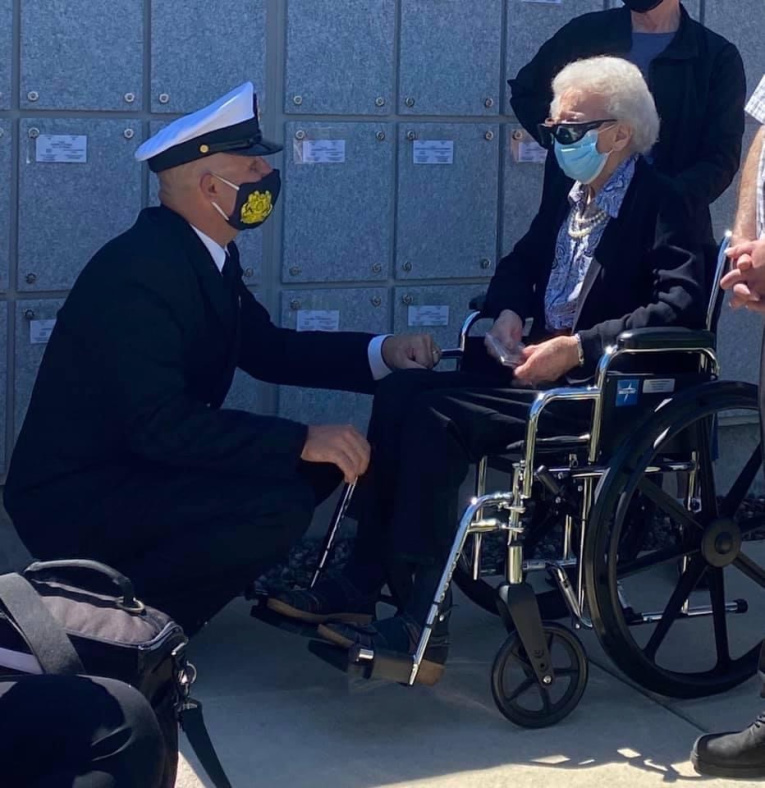 She was a big part of my childhood, though I didn't see her as much in my adulthood, especially because of Covid.
But I will treasure the memories.
Thursday: 7.5 morning miles with friends, 9 min/mile average
Friday: 5 miles with my friend Vicki, 9:20 min/mile average. We both had the day off for Good Friday, so we didn't need to meet until 8:15!
I followed up the run with an IN-PERSON strength session at Discover Strength. Fully masked and only one other person + trainer in the whole studio. I felt safe doing this workout, even though I might not feel the same about a normal gym setting; this was different.
I was nervous that all the work from the virtual sessions might not transfer to the studio, but I was pleased that I wasn't too far off from my pre-pandemic strength. I think I'll start mixing in an occasional in-person session with the virtuals, as my schedule allows (especially after I'm fully vaccinated!)
Saturday: My long run included some quality miles: 4 miles easy, 6x(0.5 miles at marathon effort, 0.5 mile recovery), easy until I hit 13.1 miles, 8:44 min/mile average. The 1/2 mile repeats at marathon effort were around 8 min/mile and felt doable- though I only had 6 miles of work!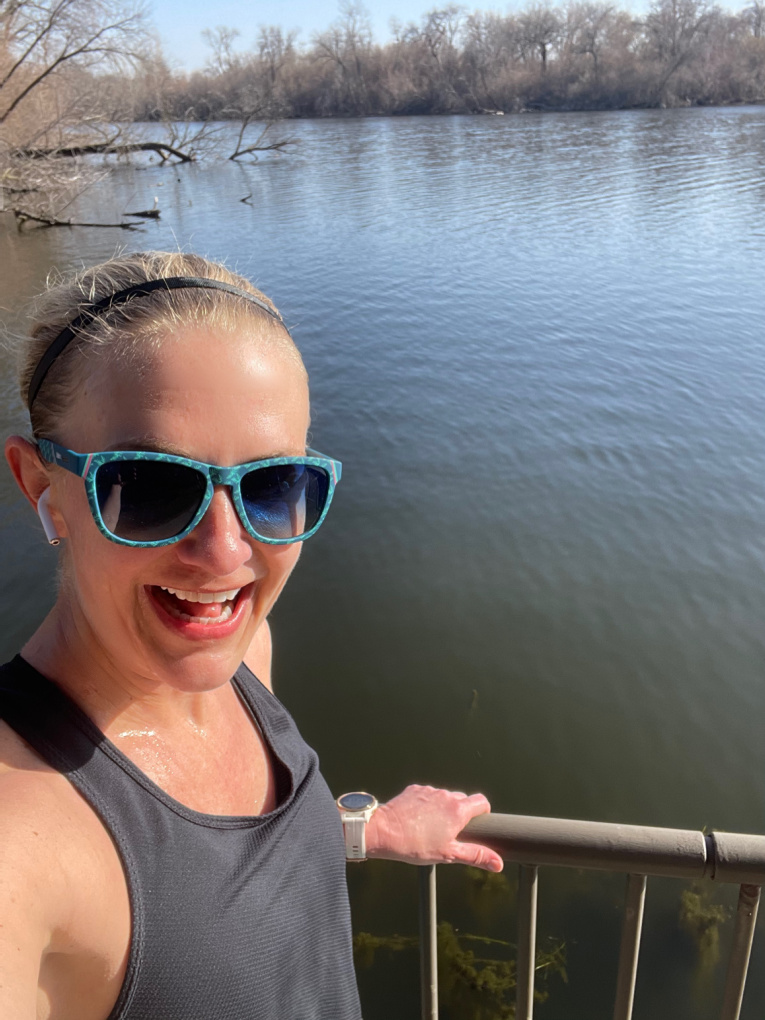 Shorts and a tank in APRIL in Minnesota!
Saturday was sunny and 70 degrees, so we took advantage and had a few people over to sit on the deck and have a dog play date.
Sunday: Dustin and I ran 7 miles together, 8:50 min/mile average. Ruth didn't join us because she has a little cut on her paw that we want to heal 100% before she runs again.
It was 66 and sunny for our run! What a difference from 19 degrees on a morning run earlier in the week. My body is so confused!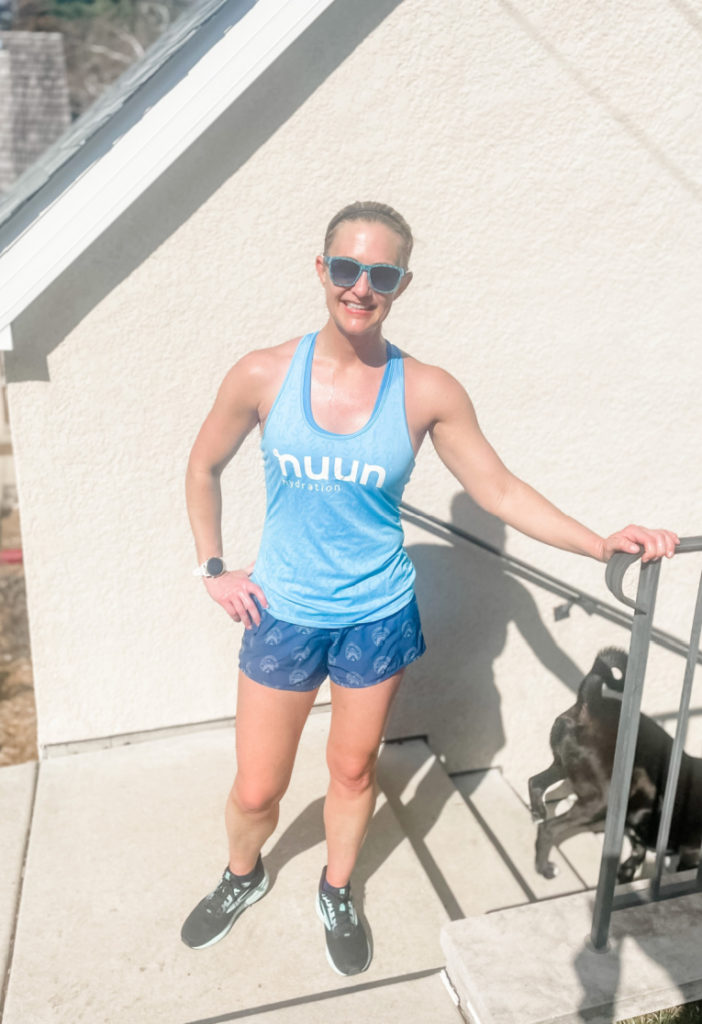 Summary: 56 miles of running, 3 strength training sessions
I'm not feeling very optimistic about our Patagonia marathon trip in September (the one deferred from 2020), as Chile is in the middle of a massive lockdown due to a Covid surge (the pandemic is NOT over, people!)

I really want to find a few marathons in the fall in states I haven't run, but there just isn't a lot out there! Let me know if you hear of any that are happening (safely.)
In dog news, we bid farewell to Maple the vizsla puppy, but gained my sister's malti-poo Lola and our friend's lab mix, Odin.
Back to 4 dogs in the house, eeks! Our house is going to need a DEEP clean after this….
And that's a wrap; I hope you had a great week in fitness, be sure to visit all the other bloggers who link up with Running on the Fly and Confessions of a Mother Runner Check it out!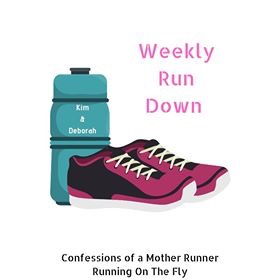 (Visited 225 time, 1 visit today)