Hello and happy Sunday. It's time for another weekly recap; but before I delve in, be sure to check out my post from Tuesday, "Popular Races I don't Want to Run!" and let me know what your answers would be!
Here's how things went in fitness and life this week!

Monday: 7 morning miles with my friend Christie.
Virtual 1:1 with Discover Strength after work
Tuesday: 6 morning miles with Christie and Julie. We witnessed a rafter of turkeys on the run!
Still loving the Brooks jacket I purchased a few weeks ago! It's the perfect spring layering option.
Wednesday: It poured all Tuesday night and never stopped on Wednesday; I don't mind running in the rain, but it's hard to get motivated to head out into the pouring rain. I opted to just do my short speed workout on the treadmill.
The workout was 30 minutes easy, 4x(1 min on, 45 sec recover, 45 second on, 30 second recover, 30 seconds on, 15 seconds recover, 15 seconds on, 1 minute recover between sets) and then cool-down to get to 7 miles, 9 min/mile average.
The really short sprints were a little tough on the treadmill. Our Landice is really responsive and quick to get up to speed, but 15 seconds is really short, so hard to make that work. But the effort was there, I did the best I could on the treadmill.
Virtual 1:1 with Discover Strength after work
Thursday: 7 morning miles with my friends, done, showered, and on a zoom by 8 am!
Friday: 5 miles with my friend Vicki before work, virtual 1:1 strength session after work
Saturday: Long run day! I had 12 easy miles with friends, 9:05 min/mile average. The forecast called for rain all day, but we lucked out and it didn't start until we were done.
With the ice on the chain of lakes melting, there are a lot of muskrats scurrying across the lakes! I suppose they are a rodent, but I still think they're kinda cute. 🙂
Later on Saturday, we attended our friends Sarah and Jeremy's Zoom wedding! My first zoom wedding. It was lovely. Congratulations Sarah and Jeremy!

Sunday: Dustin, Ruth, and I ran together, 8 miles, 8:40 min/mile average. Officially Ruth's longest run!
Summary: 53 miles of running, 3 strength training sessions.
The best non-running part of the week was definitely the DOGS. With some friends traveling for spring break, we opened the 'Benson Dog Hotel' again, ha! It's been awhile since we dog-sat for anyone since no one has really been traveling.
First to join us was Maple, a 1-year vizsla. She's the adorable pup of Ami, the photographer who has often taken our family photos, like these!
Ruth and Maple are a good pair; they have the same energy and love to play. Matilda just keeps an eye over things.
Can you tell which one is Ruth and which one is Maple?
This upcoming week, we will be rotating in (and out) a few more dogs. Be prepared for lots more pup pics next week!
And that's a wrap; I hope you had a great week in fitness, be sure to visit all the other bloggers who link up with Running on the Fly and Confessions of a Mother Runner Check it out!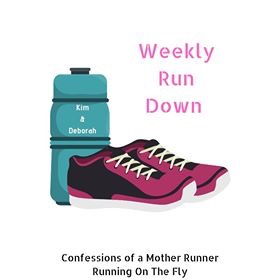 (Visited 227 time, 1 visit today)