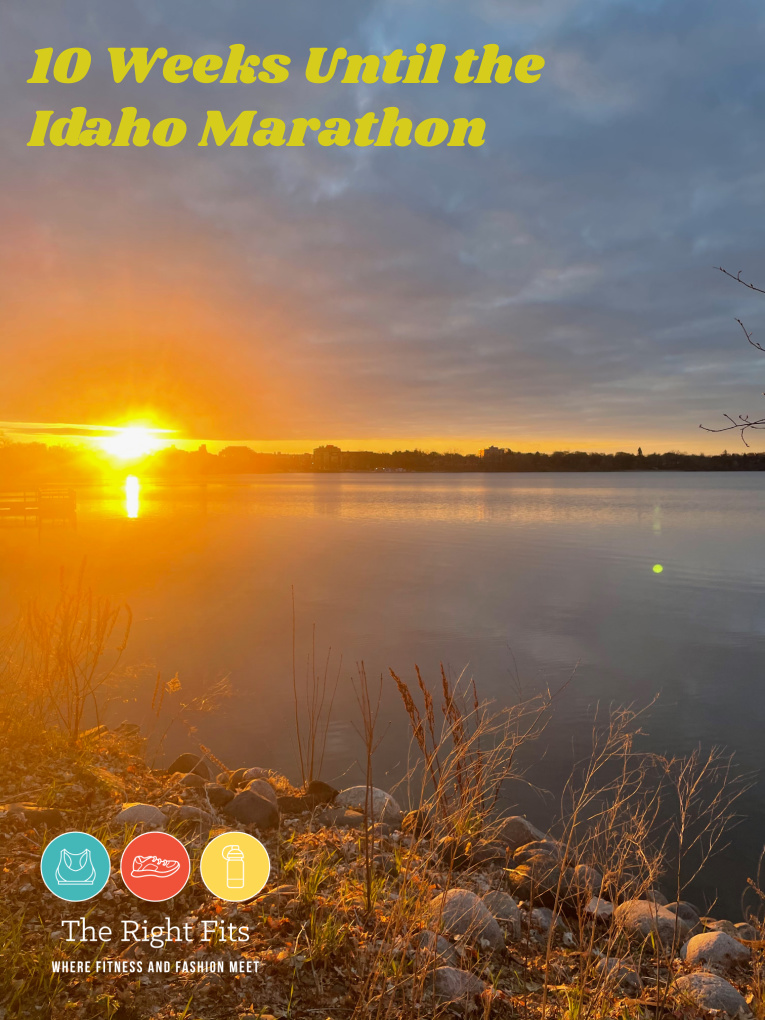 Only 10 weeks unto my 35th marathon and first one of 2021! Can't wait to conquer 26.2 miles again at the end of June.
Here's a recap of my training (and life!) this past week:
Monday: A sleepy 8 mile run, solo, before work. After shorts and a tank top on Sunday, it was below freezing with lots of wind and even some snowflakes! Not my favorite run, but I got it done. 9:20 min/mile average.
Virtual 1:1 with Discover Strength after work
Tuesday: 6.7 miles with friends before work, 8:55 min/mile average. Beautiful sunrise (pictured above!)
This week was pretty chilly in the mornings (in the 30's with windchill in the 20's) so it was back to winter running attire again.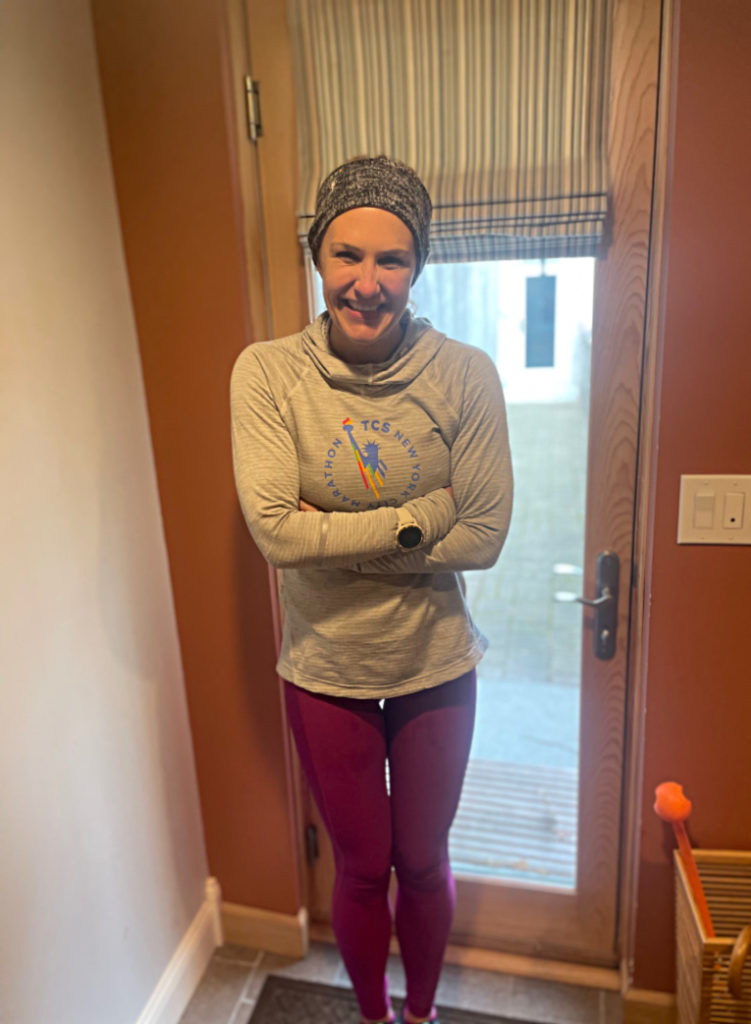 Like most of the country and definitely most of Minnesota, I was on pins and needles waiting for the jury's verdict in the Chauvin trial Tuesday afternoon. I've been following the trial very closely for weeks; a benefit of working from home is that I can have Court TV on in the background.
Guilty on all charges. Thank goodness. Hopefully this is actually the start of change.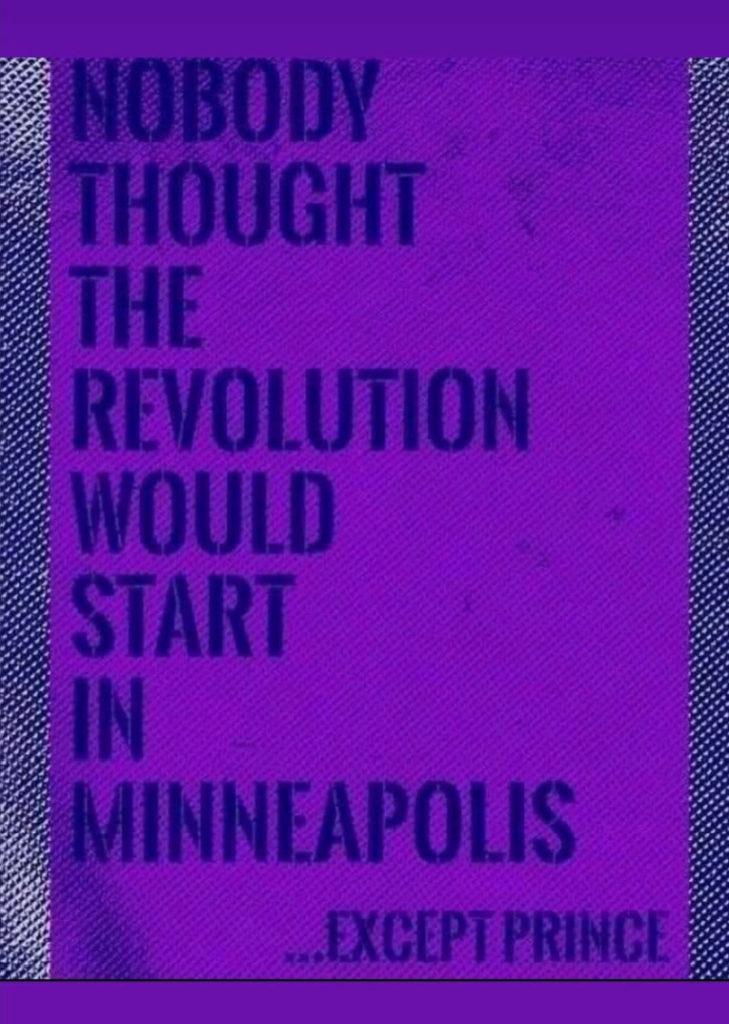 Wednesday: Workout Wednesday!
My friend Julie joined me again and this one was challenging: 3 mile warm-up, 4x(3 minutes at marathon pace, 1 minute hard), 8 minute jog in between, then repeat 4x(3 minutes at marathon pace, 1 minute hard), cool-down. Essentially, marathon pace was the recovery, which wasn't easy!
10 miles total at an 8:44 min/mile average.
I wore the Saucony Endorphin Pros for this 10 miler and they felt just fine; maybe not quite as springy as the Nike 4%'s, but pretty light and bouncy.

(Plus those 4%'s made my toes go numb, so that was a no-go. The Endorphin Pros did not do that!)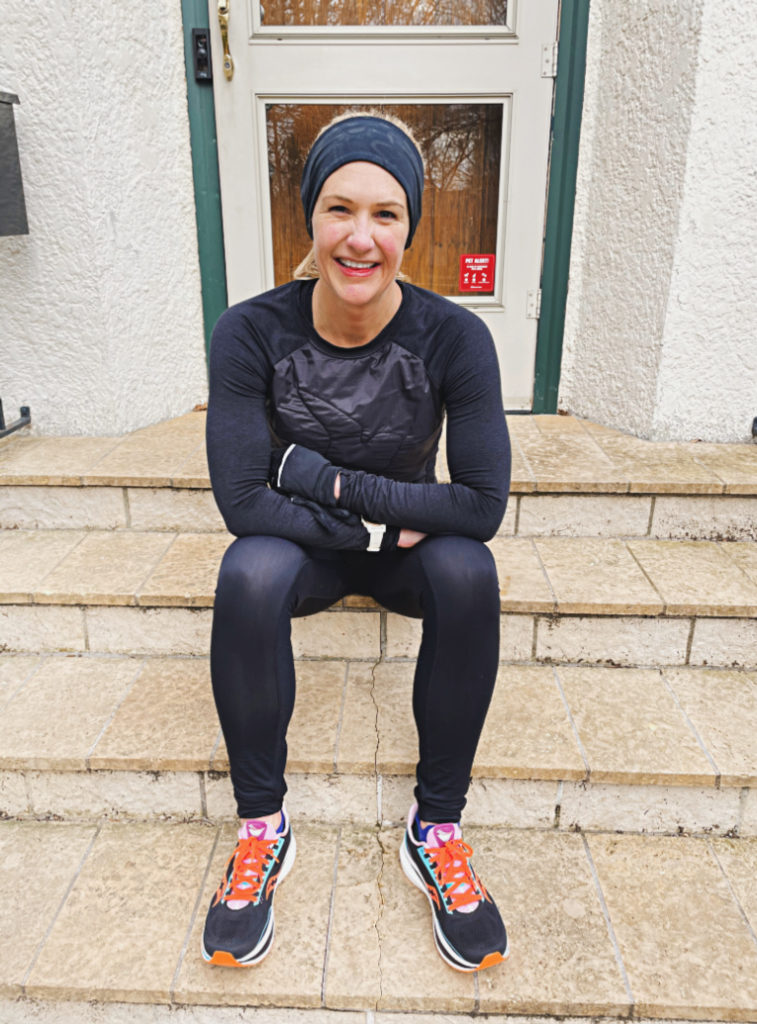 Discover Strength virtual session afterwards; a 'tough' first half of the day physically before getting my second Pfizer shot later in the day.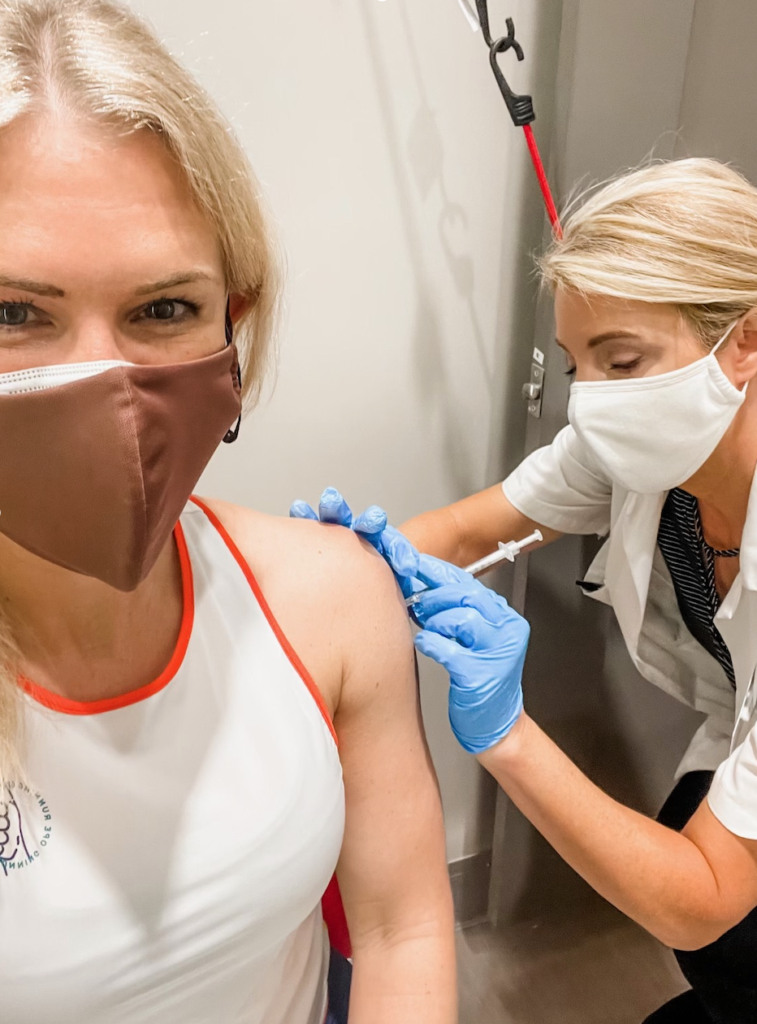 Yay for science! Just two weeks and I'll be fully vaccinated. Maybe I will even eat indoors again? We'll see! I think I need to ease back into society, ha!
I generally take one of these Kor shots for Immunity every day, but definitely took them leading up to the shot and after for that extra boost.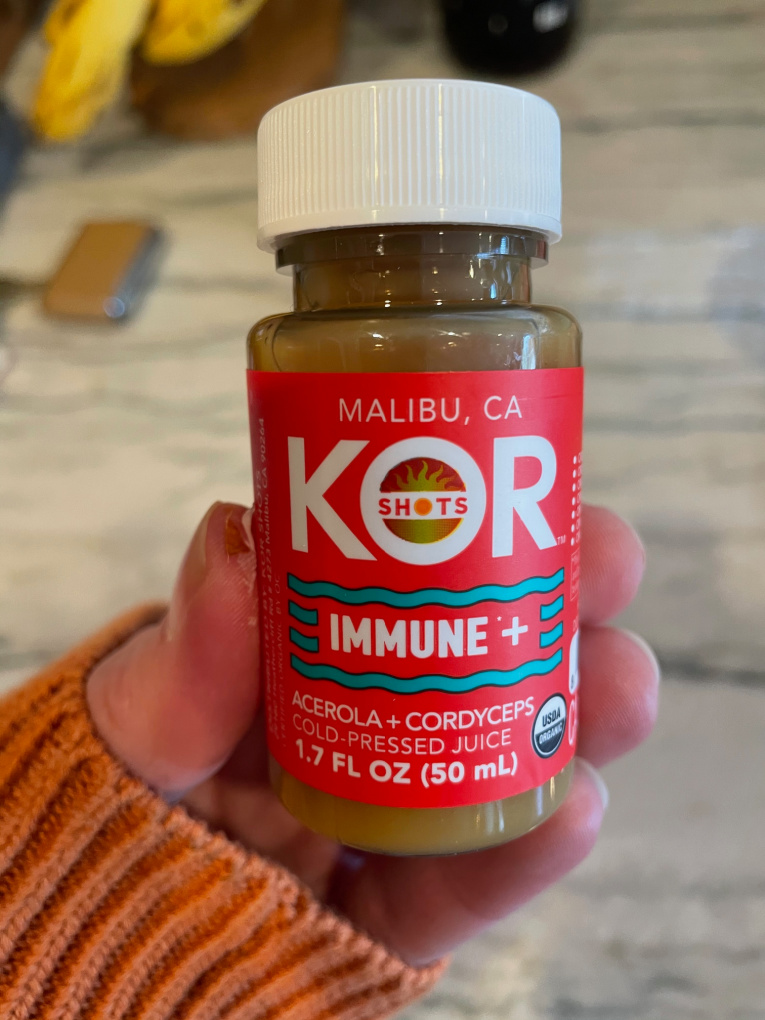 Thursday: I had warned my friends that I might not be up for a morning run after the 2nd shot if I didn't feel great and I was correct; I cancelled on them, as I woke up with a headache. It kinda felt like I had a hangover. I took Tylenol and felt much better. Oddly, I did have a lot of drainage and stuffiness as well; maybe that's how my lymph nodes were reacting, the same way they do for a cold.
By the end of the day, I felt pretty normal. I decided to jog to Ruth's doggy daycare to pick her up, which is 2.5 miles away. Even after a full day of play at Pampered Pooch Playground, she had plenty of energy left for the 2.5 mile jog home. In fact, she was pulling to go faster!
5 miles, 8:57 min/mile average
Friday: Maybe a little residual fatigue still from the shot; I let myself sleep in a bit more than usual and then did 5 easy miles; it was a busy morning, I ran into 3 running friends and a coworker in just one lap of Bde Maka Ska!
5 miles, 9 min/mile average.
I wore my new pocket joggers from Oiselle. I LOVE them! Two big side pockets, a zippered pocket in the back big enough for a phone, high-waisted, and a great fit. 10/10 would recommend.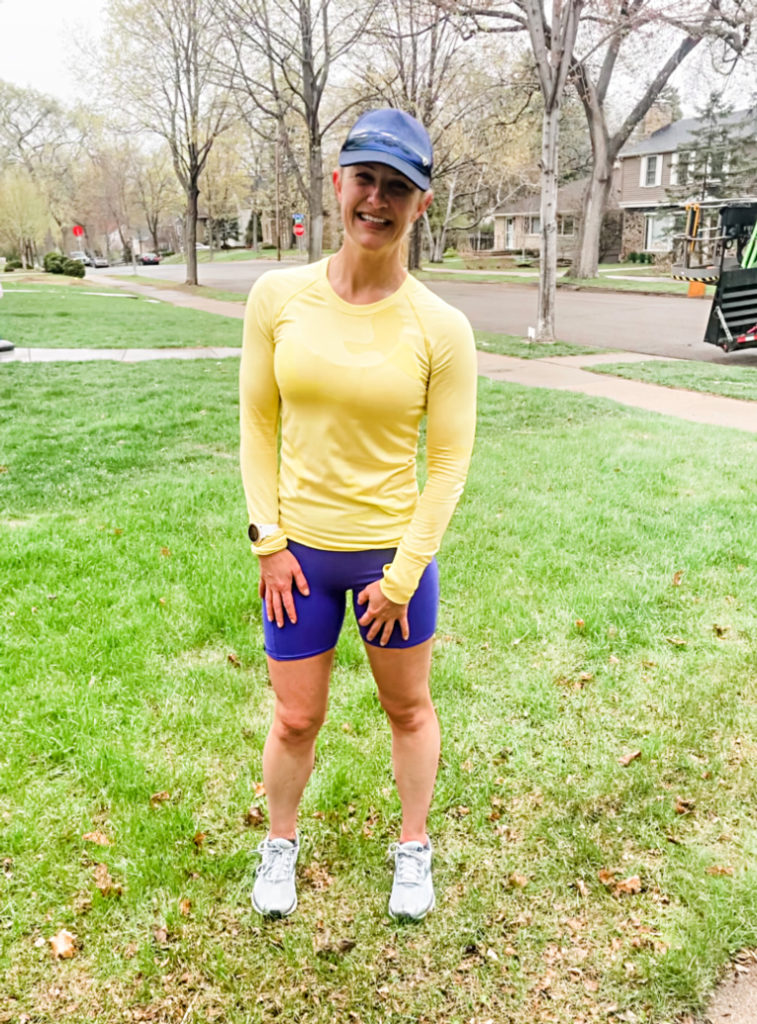 Saturday: Long run day! The temperature was 38, but "feels like" was 30 with the wind. It was chilly; I wore shorts and a long sleeve and could have definitely used some gloves.
My workout was 4 miles easy, 4x(2 miles at marathon effort, 1 mile recovery), cool-down. 17 miles at an 8:44 min/mile average. I had company for the first 11 miles and then did the next 6 solo, which included 2 more sets of the 2 miles at marathon pace.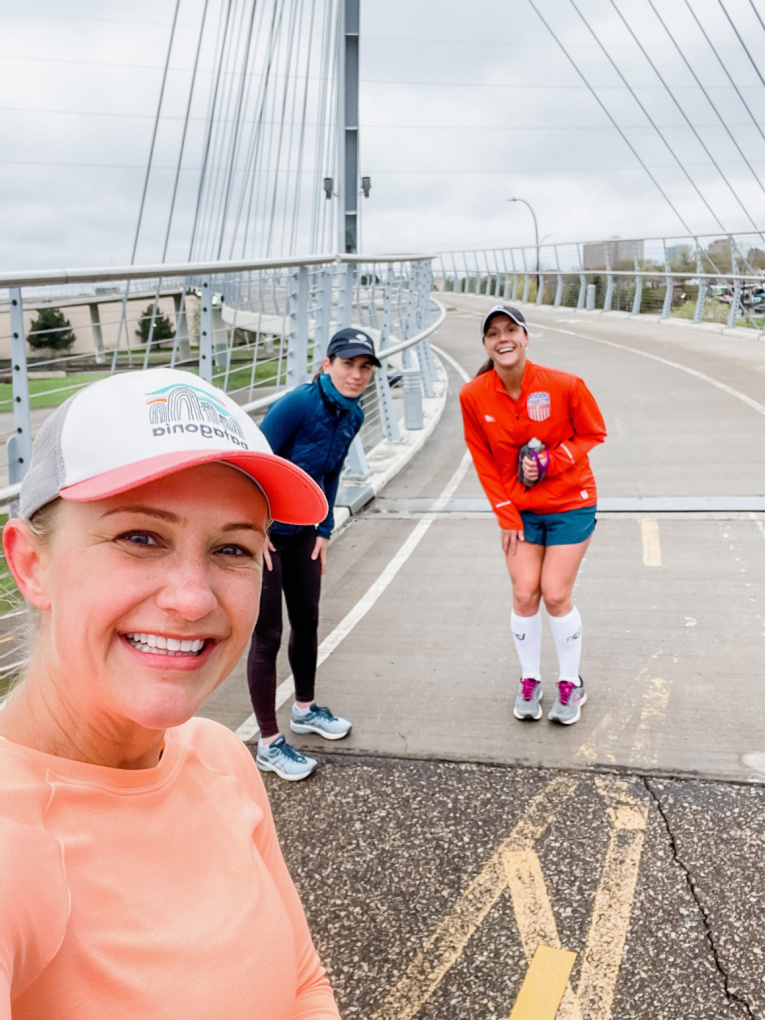 Actual for each 2 mile set: 8:15 + 8:18, 8:30 + 8:30 (this was through downtown with lots of stoplights and then up a tough hill), 8:26, 7:54, 8:19, 8:06. Not perfect, but the effort felt right.
17 miles total is the longest run I've done since the Atlanta Marathon back on 2/28/20!
We always see plenty of ducks on our runs, but on the long run, this particular duck stood out.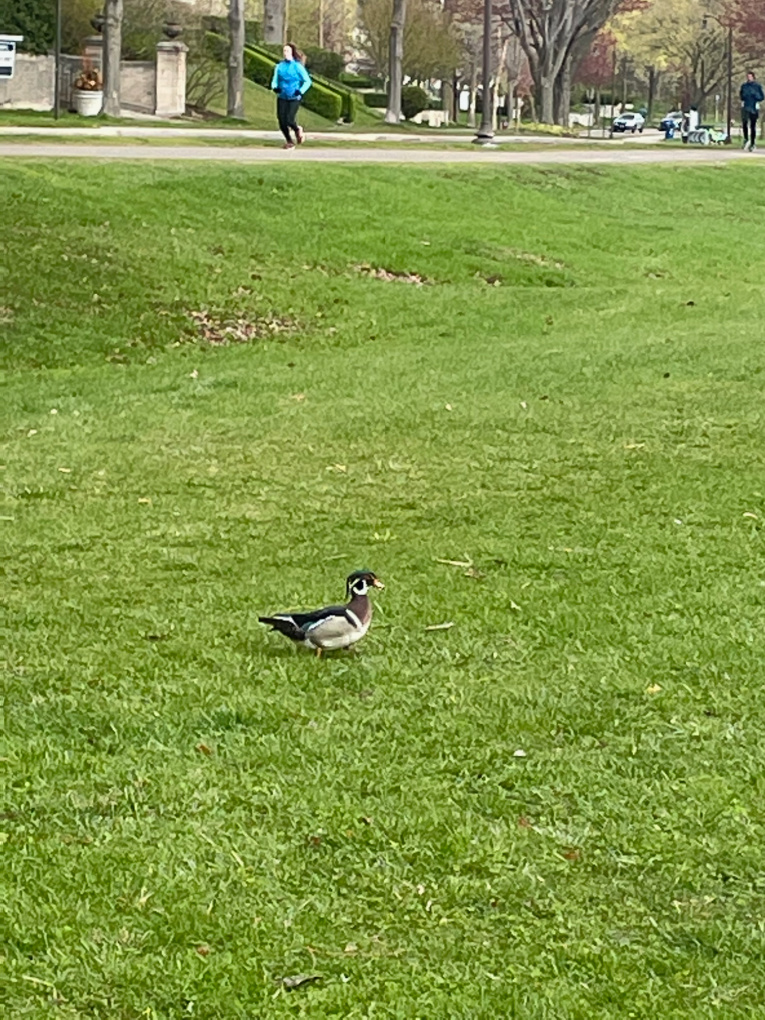 Turns out it was a wood duck: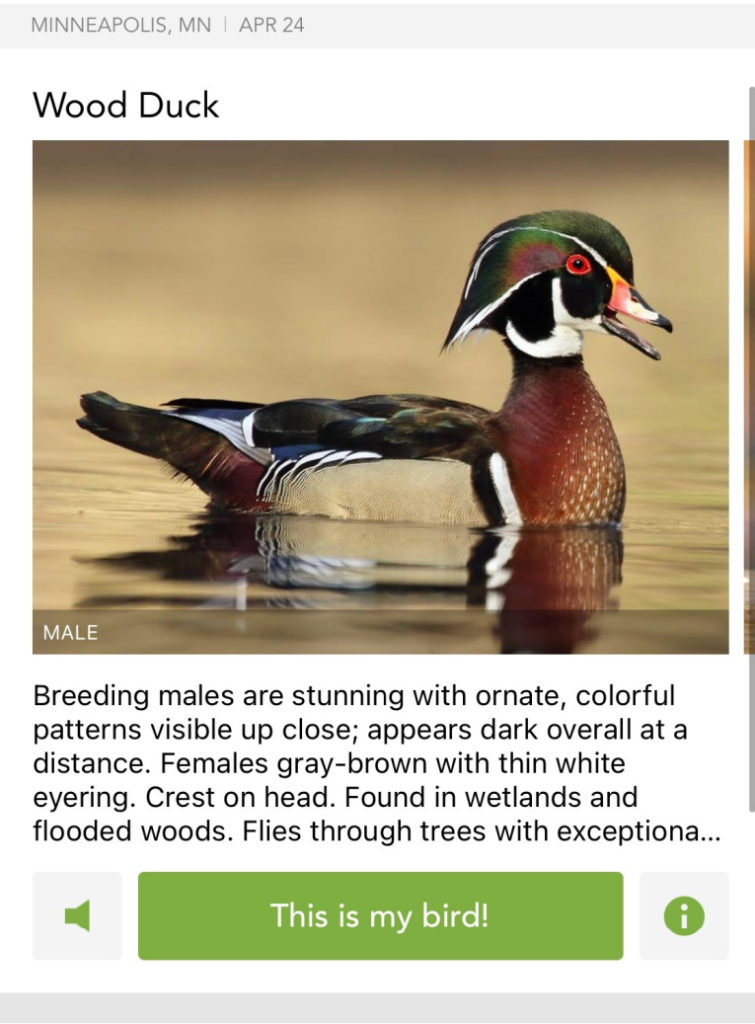 Sunday: Sunday family run with Dustin and Ruth! 7.15 miles at an 8:50 min/mile average.
Summary: 59 miles of running- I'm sorta tempted to go jog a mile to hit 60, ha! 3 strength training sessions.
My reaction to the 2nd shot was so mild that I was a little worried that might not have worked (experts say that is not the case.) Though I had a headache and some fatigue, it so hard to know if that's just regular fatigue from marathon training, or an actual side effect from the shot! Dustin received his second shot as well and had a similar mild reaction.
In other news, I've been going through some photo boxes and putting the photos in albums; I came across this picture from my first-ever marathon attempt, at the Twin Cities Marathon in 2004. That experience is worth a post in itself, but essentially I was a novice and did not hydrate enough, so at mile 24, I passed out and ended up in an ambulance. It was terrible.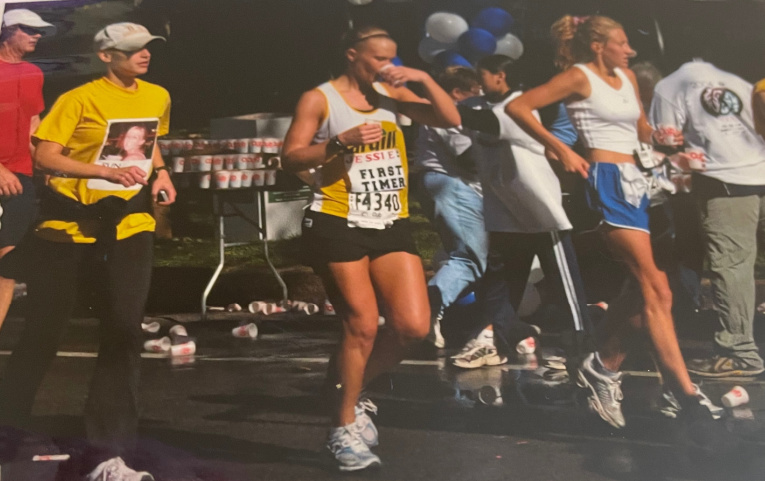 But that failed attempt drove me to train again to actually have the opportunity to cross the finish line. My younger sister Laurie joined me in that goal at the Twin Cities Marathon in 2005. Though she had a rough race, I stuck with her and we finished together.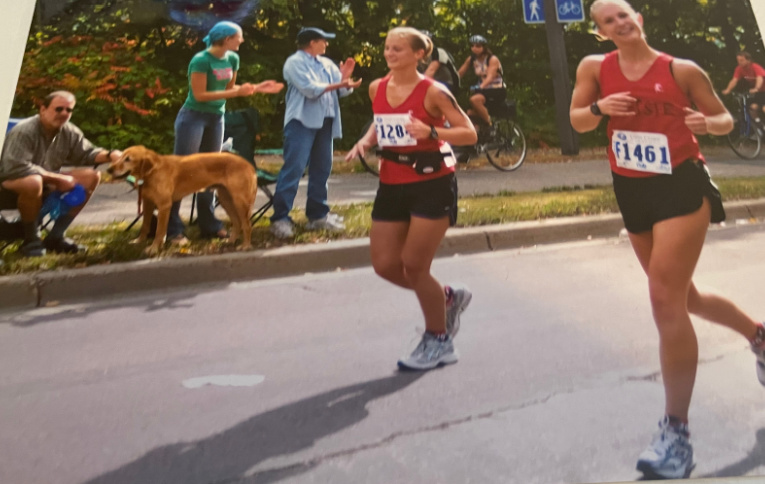 After that first finish line in 2005, I went on to run another 33 marathons. (See the full list HERE.) One could definitely say I'm hooked. Hopefully I'll be adding another one to the list soon!
And just one more thing!
Big shoutout to one of the athletes that I coach who set an 8 minute PR in the half today. Way to go! She's actually running the Sun Valley, Idaho marathon- same day as me! I'm excited for her to set a big marathon PR there!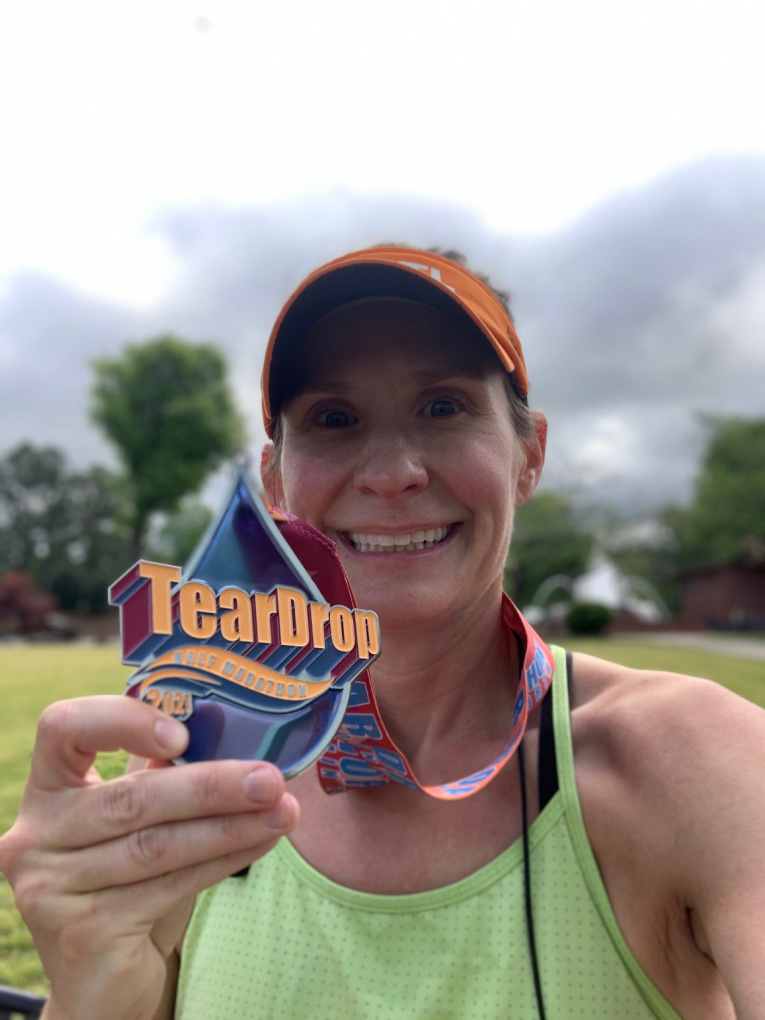 And that's a wrap; I hope you had a great week in fitness, be sure to visit all the other bloggers who link up with Running on the Fly and Confessions of a Mother Runner Check it out!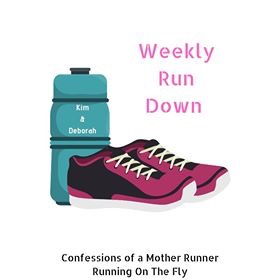 (Visited 209 time, 1 visit today)