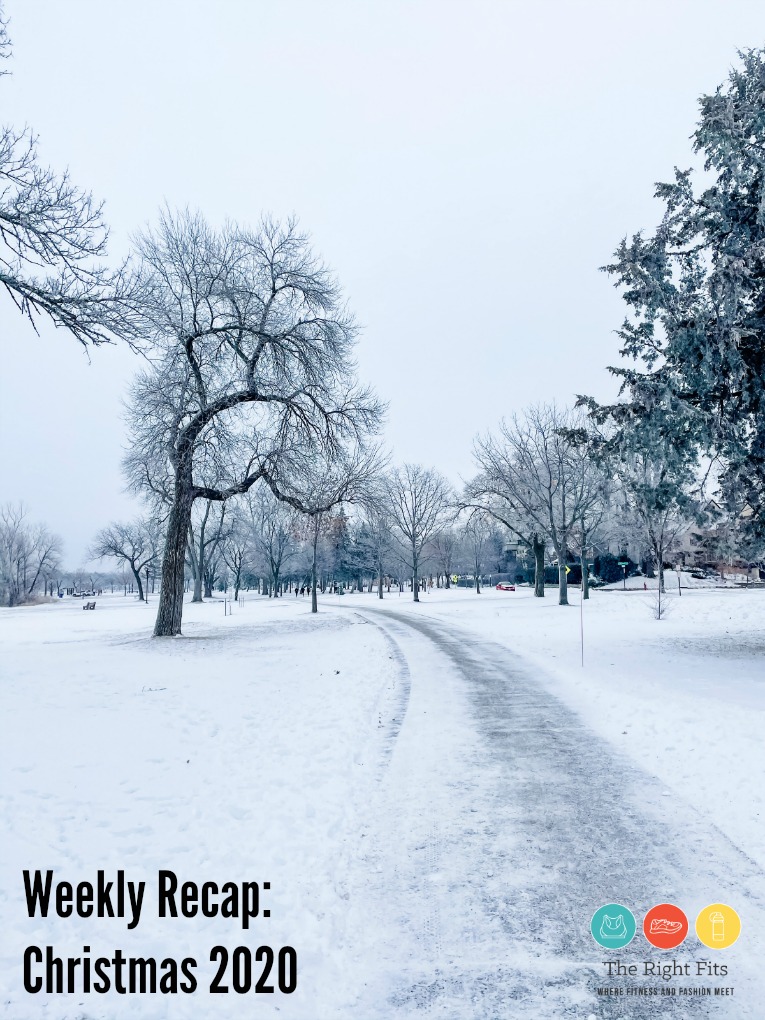 If you celebrate, I hope you had a lovely and safe Christmas!
If you missed it, I shared a recap of 2020: The Year in Photos!
Here's how my week went in fitness and in holiday celebrations:

Monday: 9 easy miles before work, 9:28 min/mile average, 5 with my friend Christie. Easy jogging into the first day of winter!
Virtual 1:1 with Discover Strength after work
Tuesday: 8 miles before work with Christie, 8:58 min/mile average. Saw my lucky Albino squirrel friend. He's looking nice and plump for the winter!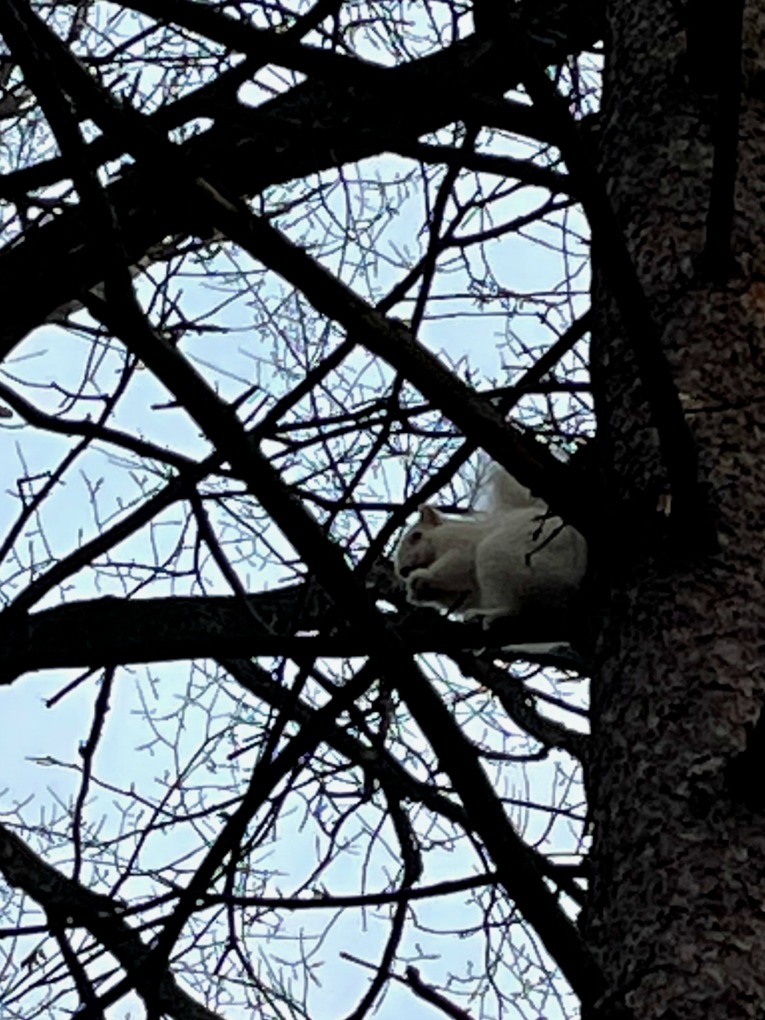 I was also treated to a colorful sunrise around Lake Harriet: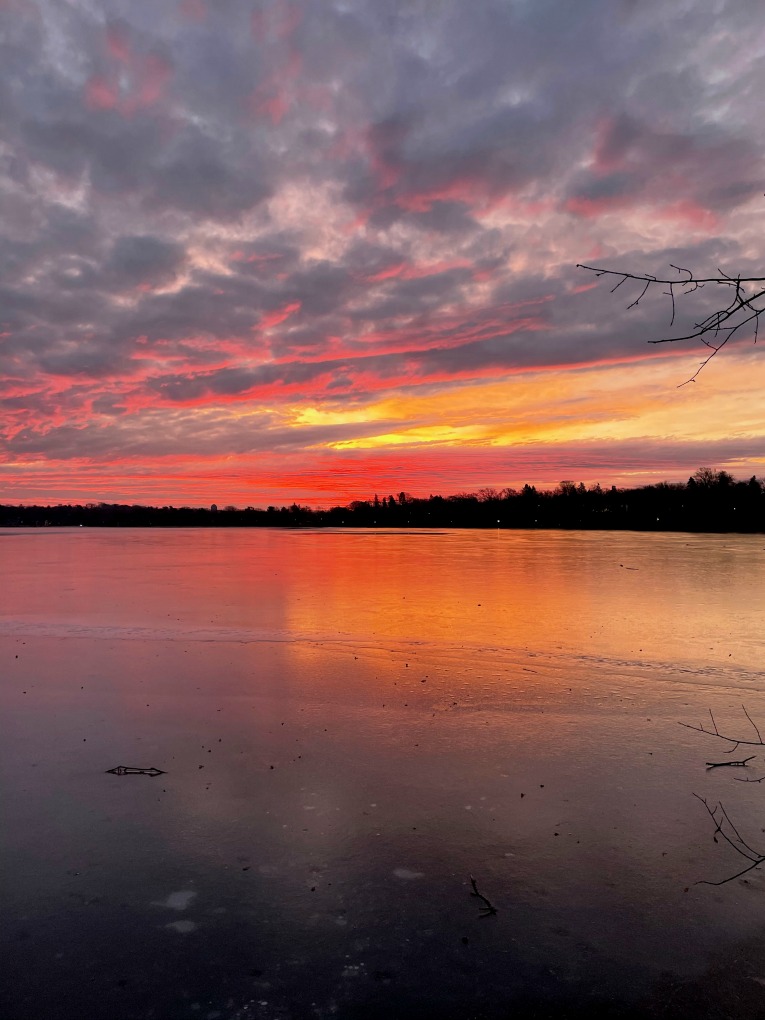 Wednesday: This was such a weird weather day; Christie and I met before work and it was seriously such a spring-like day; 45 degrees and clear paths. I could have run in shorts!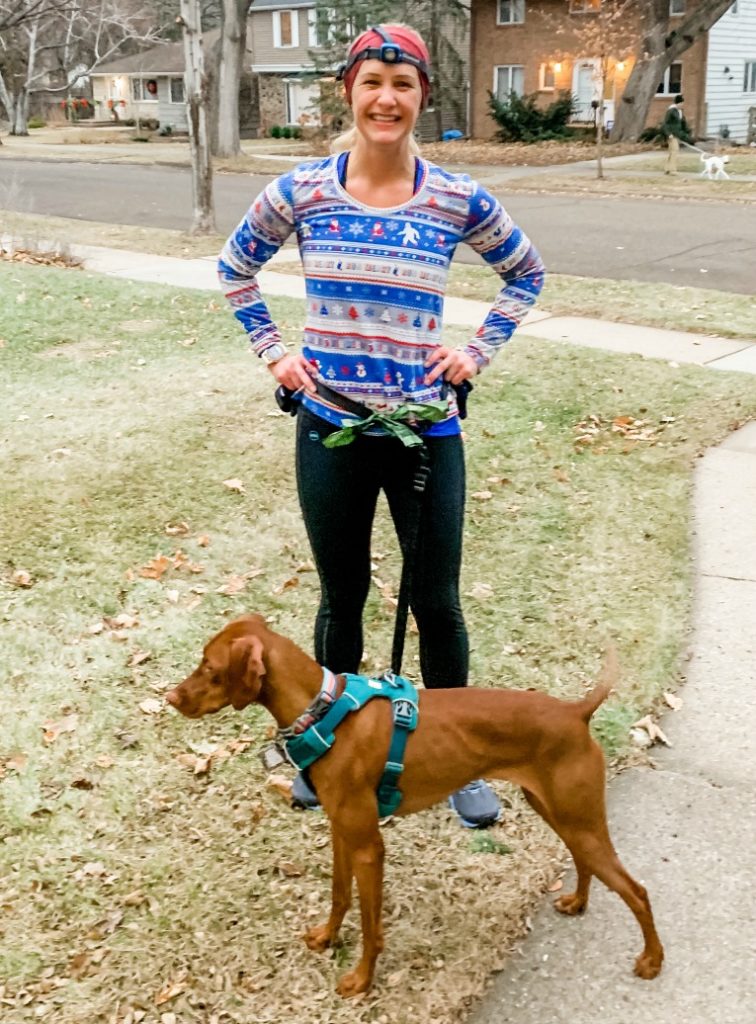 And then throughout the day the temperature just DROPPED. It quickly went from 45 down to about -5! With the cold temps, a nasty blizzard arrived. It was nuts. I think Minneapolis received something like 8 or 9 inches of snow. Guess we'll have a white Christmas after all. So very glad I got up early to run before work. And on these blizzard days, I'm even more grateful to be working from home. It's the best.
On this run, I wore a new pair of Janji running tights; they were rated by Runner's World as the Best Tights of the Year. And guess what? They kinda sucked. At least for me. I bought a size medium, which should be my size, and they would NOT stay up. They just kept creeping down and I spent the whole run trying to pull them up! I do not recommend these tights; definitely not my vote for best tights of the year…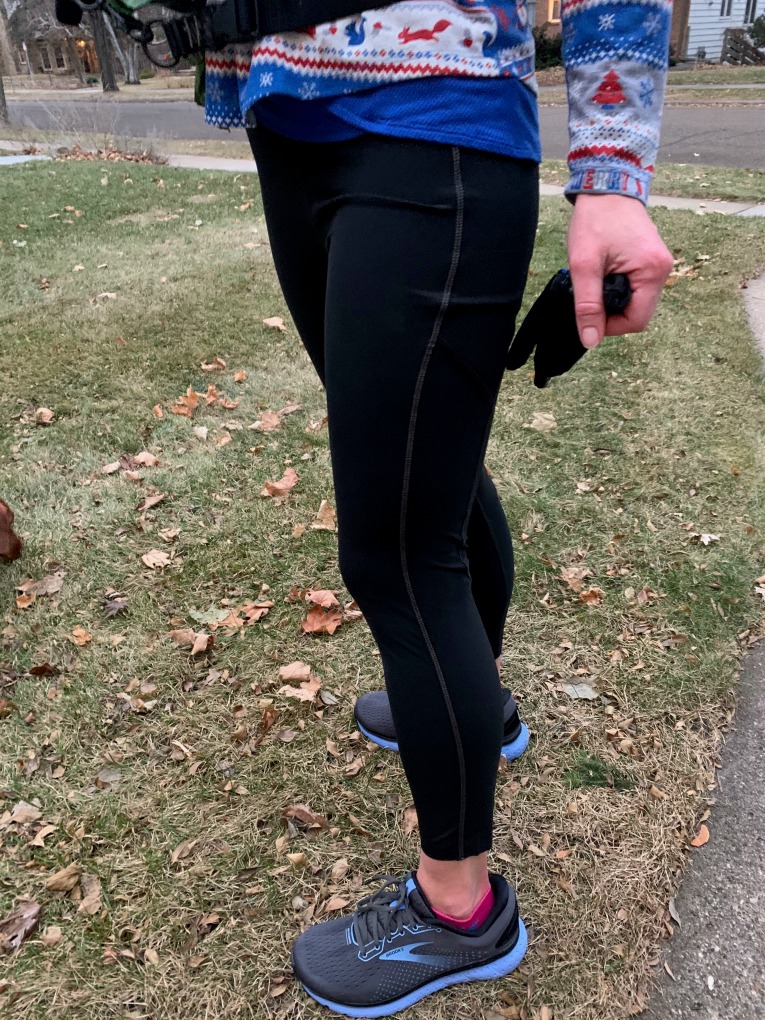 I had a workout during this last spring run: 3 miles easy, 4×2 minutes hard with 2 minute recovery, 5 minutes easy and then another 4×2 minutes hard, 2 mile recovery. 9.25 miles total, 8:58 min/mile average.
Discover Strength virtual 1:1 after work.
Thursday: Christmas Eve! I only had to work a 1/2 day, so I opted to head to the basement treadmill around noon. I covered 8 easy miles (9:20 min/mile pace) while watching "Call the Midwife" on Netflix, which was cute.
That evening, we made dinner and had some fancy cocktails from Lawless Distillery; I even put on jeans and a headband, ha!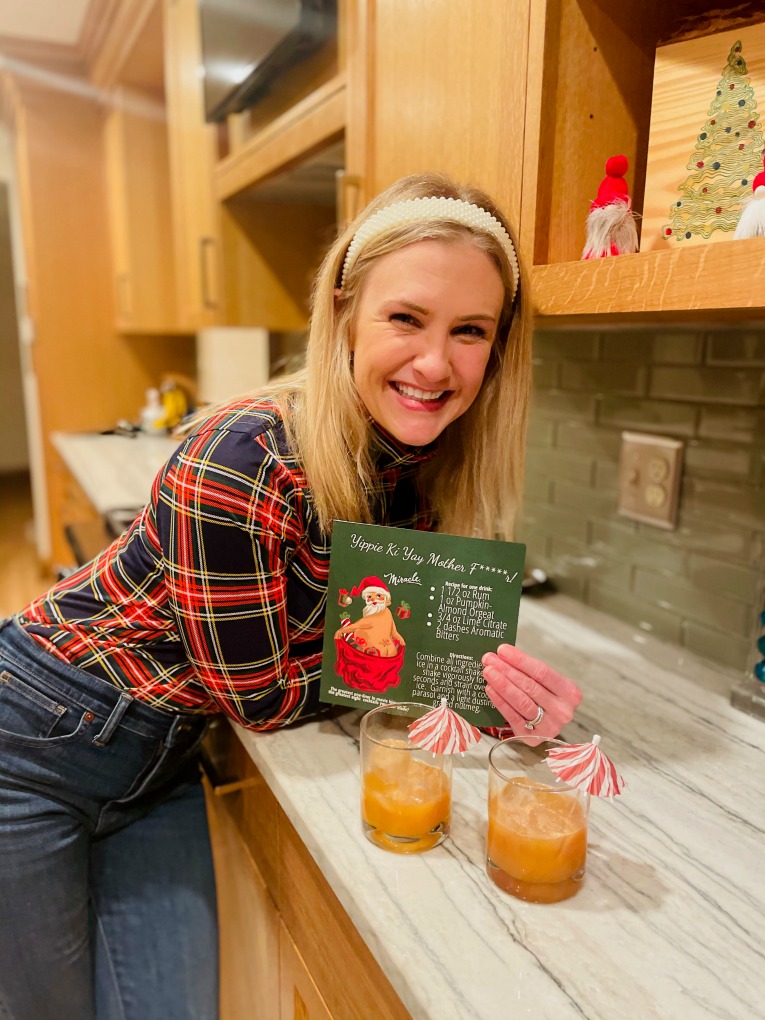 Friday: Christmas Day! It was 0 degrees with a 'feels like' temperature of -13. But Dustin and I have a tradition of running together Christmas Day; we couldn't wimp out! We bundled up and covered 4 miles together, then picked up Ruth for another 1.25 miles. It was cold, but with the sun shining, it actually didn't feel too awful.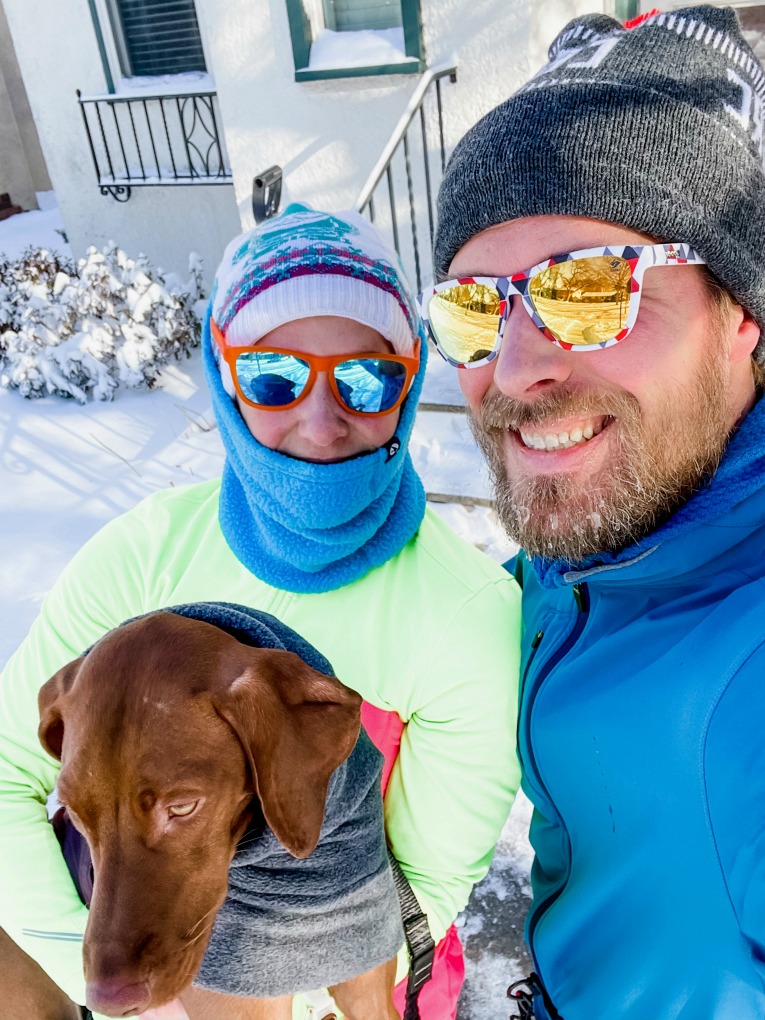 It was pretty chilly for Ruth's paws though; we need to get her some winter booties if she's going to be running through the winter! Vizslas really aren't winter dogs; they're so skinny and don't have a lot of fur.
In fact, we took both dogs out later in the day for a short walk and both were lifting up their paws because it was too cold! Poor things. I think they want us to move somewhere warmer. 🙂
Our Christmas Day was just Dustin and me; after the run, we ate a delicious overnight orange french toast bake, opened presents, FaceTimed with family, and then had a delicious holiday meal from Martina, a neighborhood restaurant.

(Ruth and Matilda may have received a few bites of leftover ham. Best Christmas ever for them!)
Then we watched the new Wonder Woman movie!
One of the cutest presents I received was from my friend Christie; it was drawn by a fellow Oiselle volee; I love it!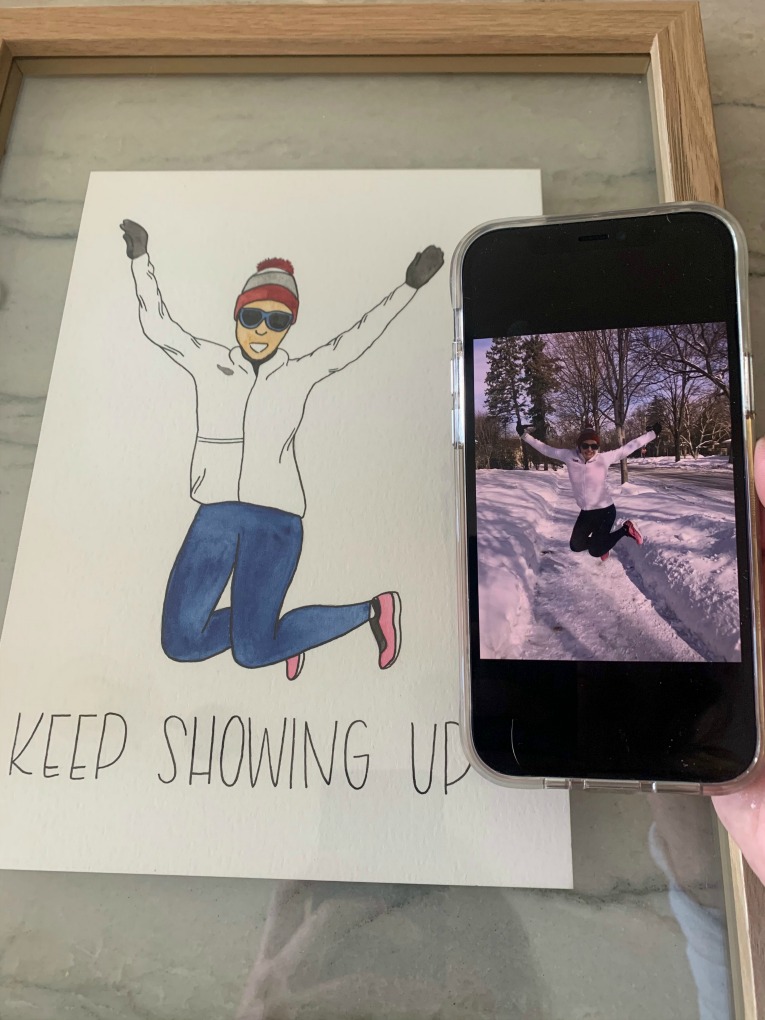 I hung it up right away near my treadmill for motivation.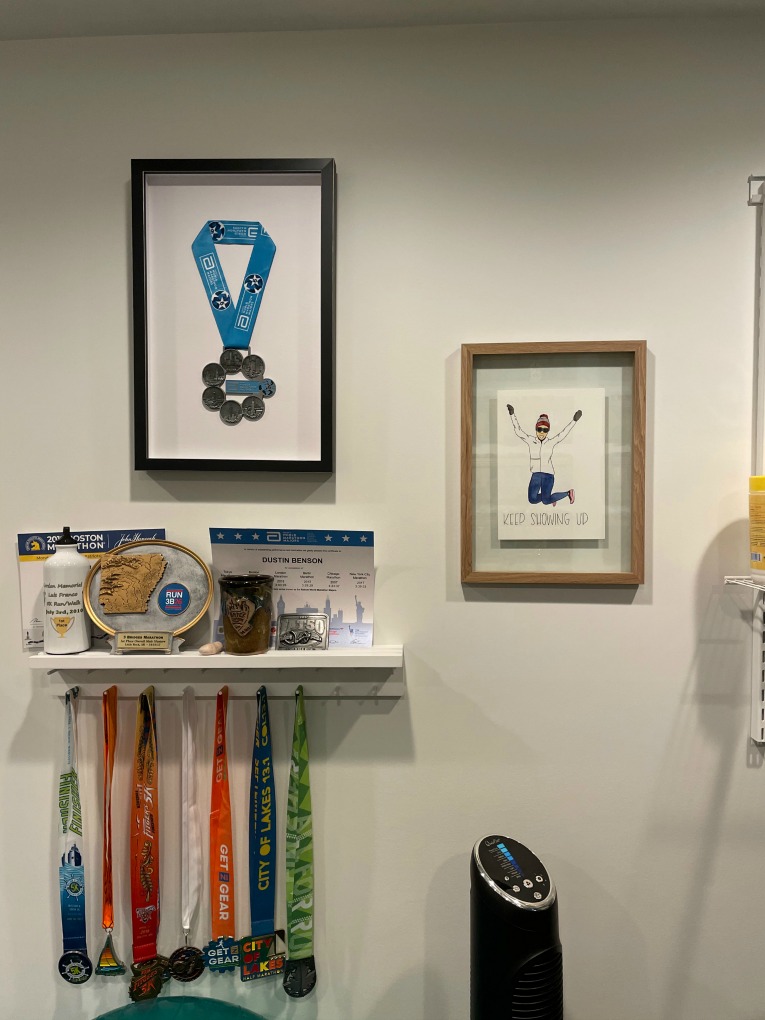 Saturday: Another cold morning, but at least the actual temperature was above zero! I met up with Christie for 13.1 easy miles, 9:10 min/mile average (the last mile was with Ruth the vizsla pup.)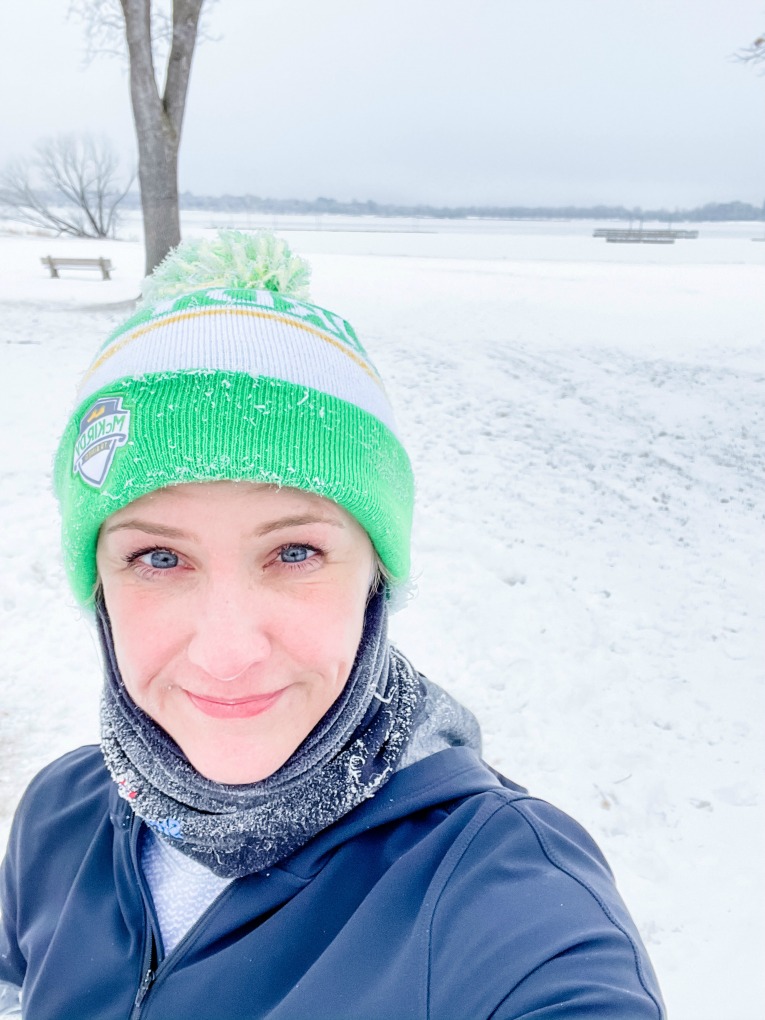 I have been wearing my Kahtoola nanospikes with the snow; they help a lot! Highly recommend a pair for winter runners.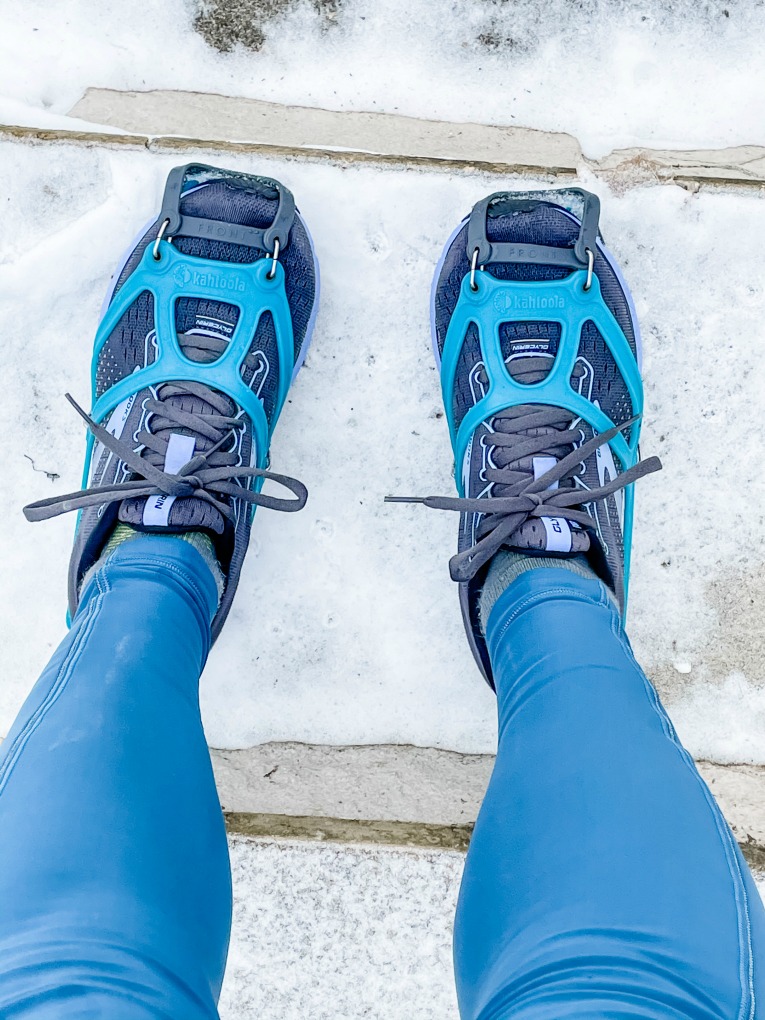 Sunday: 4 snow miles with Ruth and Dustin, 9 min/mile average. We received a few more inches of snow overnight and it was tough going out there!
Summary: 57 miles of running, 2 virtual 1:1's with Discover Strength. Quite a bit of running despite the wintery weather!
I'm linking up with Running on the Fly and Confessions of a Mother Runner Check it out!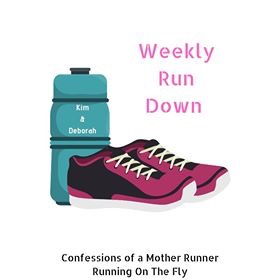 (Visited 271 time, 1 visit today)