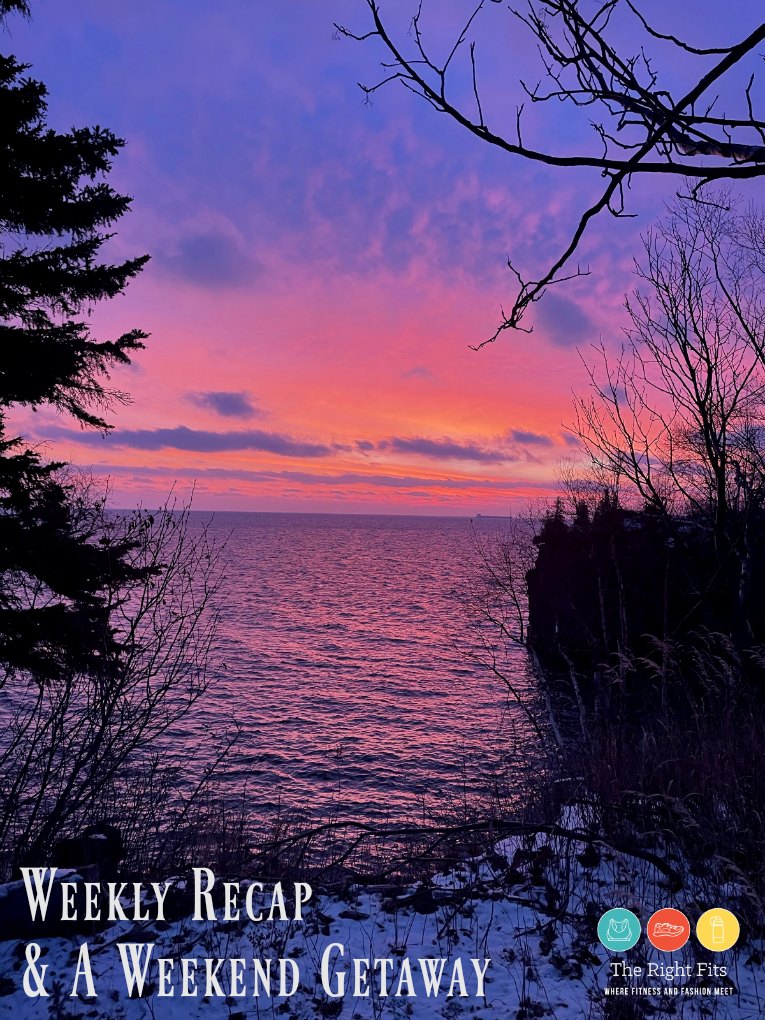 Another week, another weekly recap! Before I dive into a recap of fitness of the past week, be sure to check out my "Best Running Views" from Tuesday's post!
Monday: After all my talk about how mild our winter had been in Minneapolis, we did receive some snow on Sunday night. Rather than stress about the condition of the paths, I opted for the treadmill on Monday instead. I had 9 miles on my schedule, but split it up, 5 miles before work on the treadmill, a virtual 1:1 strength training session with Discover Strength after work, then 4 more miles on the treadmill for 9 on the day.
Tuesday: 7.11 miles at an 8:55 min/mile average before work with my friends Julie and Christie.
Something was off with my Garmin on mile 3 as it clocked a 7:02 min/mile, which was clearly wrong- wrong enough that Strava flagged the activity! I have never had that happen before. There are ways to clear it, but essentially all it means is that your times don't count for segments or local legends. Since I know the total time and mileage was accurate (since I was with other people), I didn't want to mess with deleting part of the run, so I just left it.
Anyone had an activity flagged before on Strava?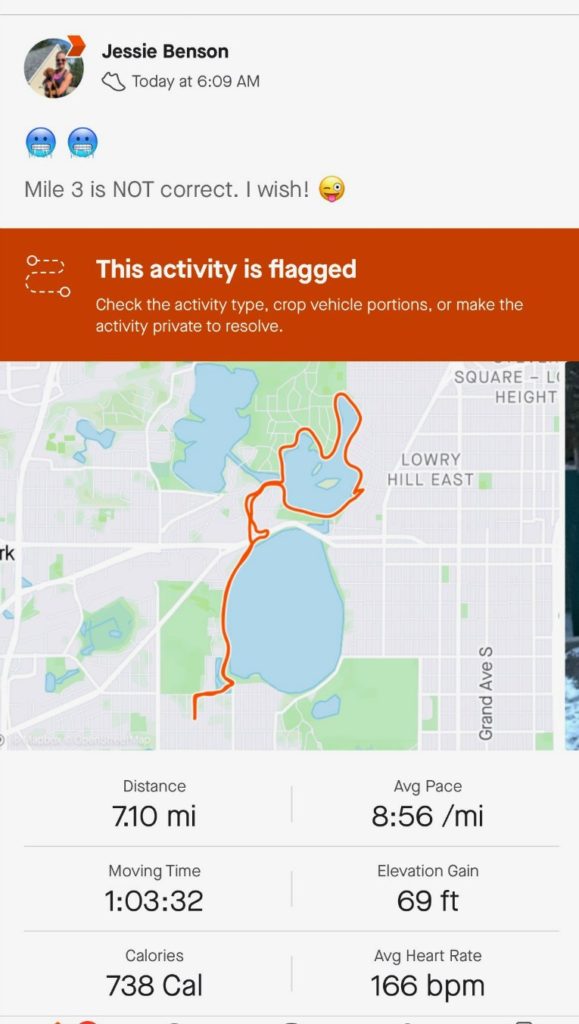 Wednesday: I did not sleep well Tuesday night and cancelled on my morning running friends; fortunately I had time over lunch to fit in my run then. 25 minutes easy, then a ladder 7-6-5-4-3-2-1 progressively faster with 2 minute recovery, 15 minute cool-down for 9.2 miles total (over lunch- whoops! I didn't expect the workout to be quite so long!)
It was rather nice to run in daylight though! Virtual 1:1 strength training session with Discover Strength after work.
Thursday: 7 miles with Christie and Julie before work; showered and ready for a 7:30 am meeting!
Even had time to pause for a quick pic of my favorite holiday lights in the neighborhood! They look really neat in the dark!
After a few morning meetings, I took the rest of the day off of work and we hit the road for a little weekend getaway to a cabin on the North Shore.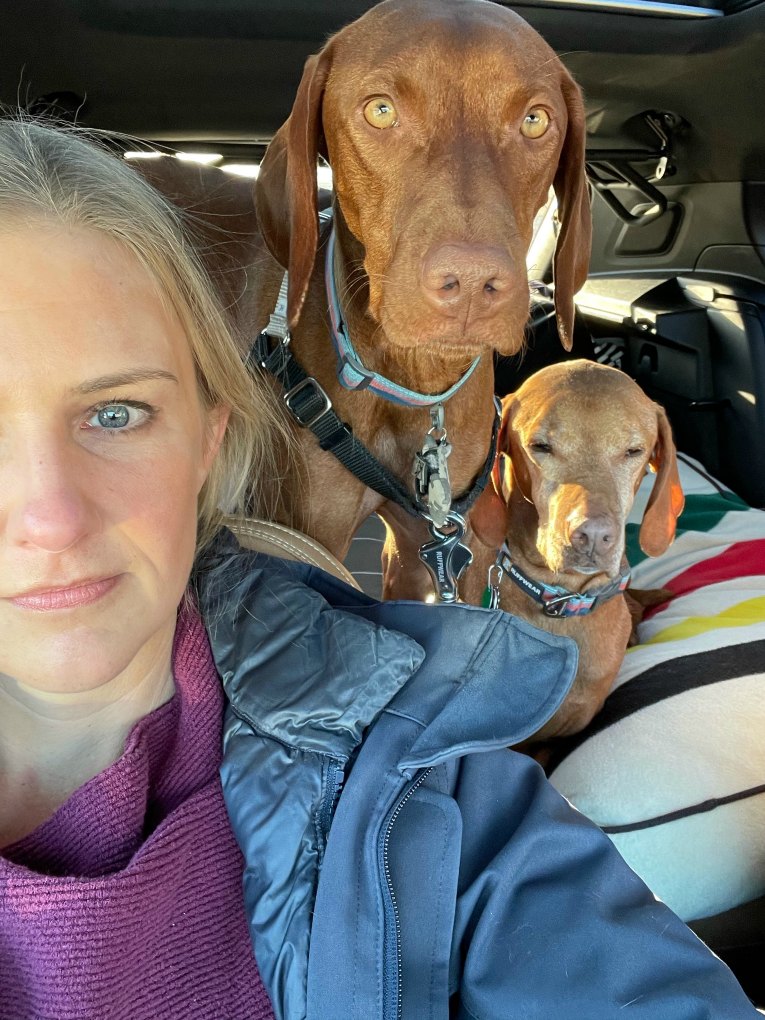 The "North Shore" is essentially anything north of Duluth, MN along Lake Superior. We rented an adorable cabin in Silver Bay Thursday to Sunday. It was a wonderful opportunity to get out of the house.
We arrived around 5 pm, settled in and then took the dogs for a brisk walk before cooking dinner and relaxing.
Friday: I took the day off of work (much needed!) We were still up early enough to watch a beautiful sunrise over Lake Superior: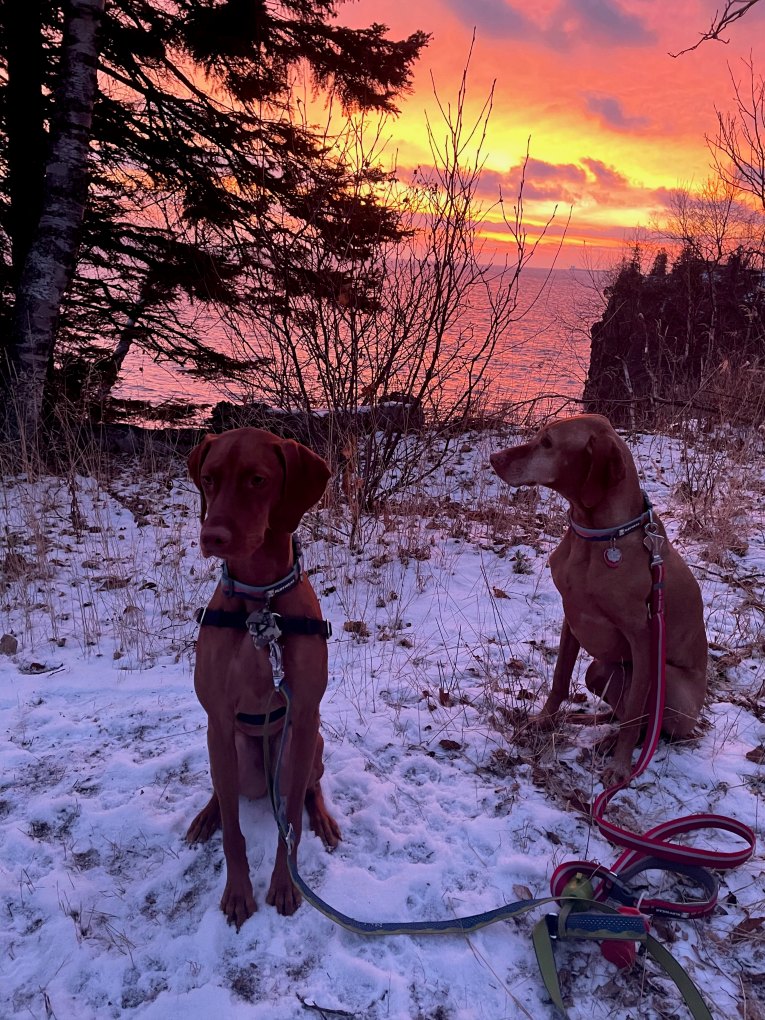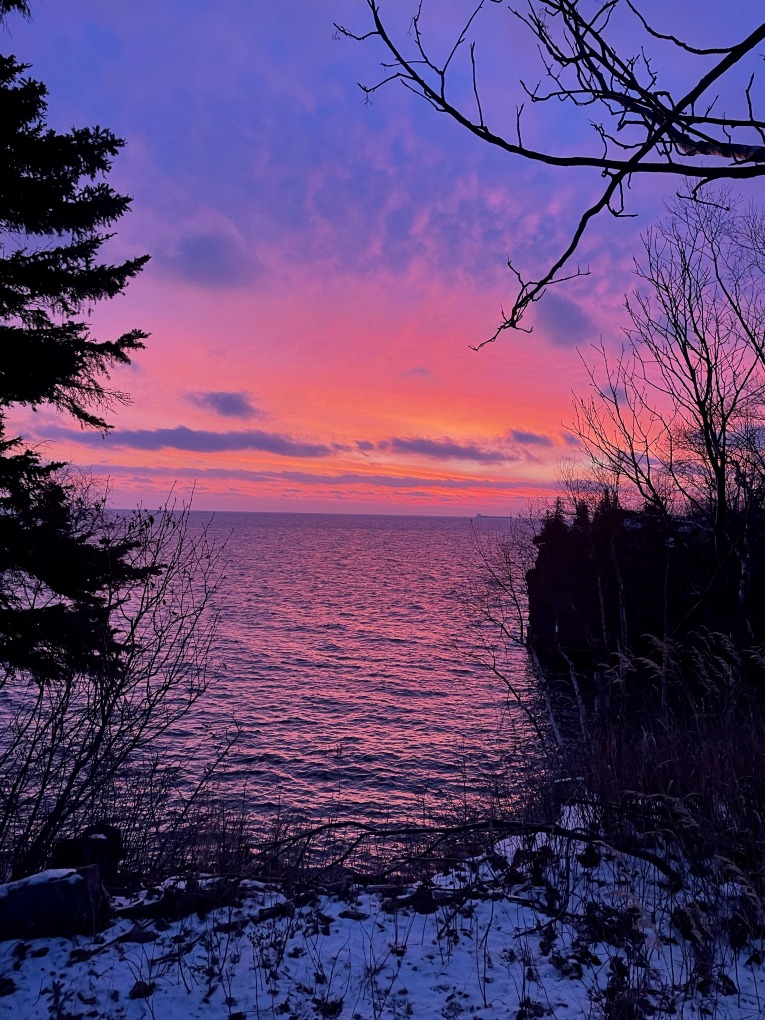 Dustin went for a short run with Ruth, but Friday was my rest day and I was sticking to it (even though it was tempting to join them for a run, as I love run-exploring on vacation!)
It was a rest day from running but not from getting outside and moving! We still did a 5.5 mile hike to Bean Lake. The hike entailed about 2 1/2 hours of hiking in the snow and cold. By the time we finished, the pups and the people were already to head back to the cabin to warm up. The weather really could have been a lot worse though; it was snowing but nearly 30 degrees so not bad at all for a snowy hike.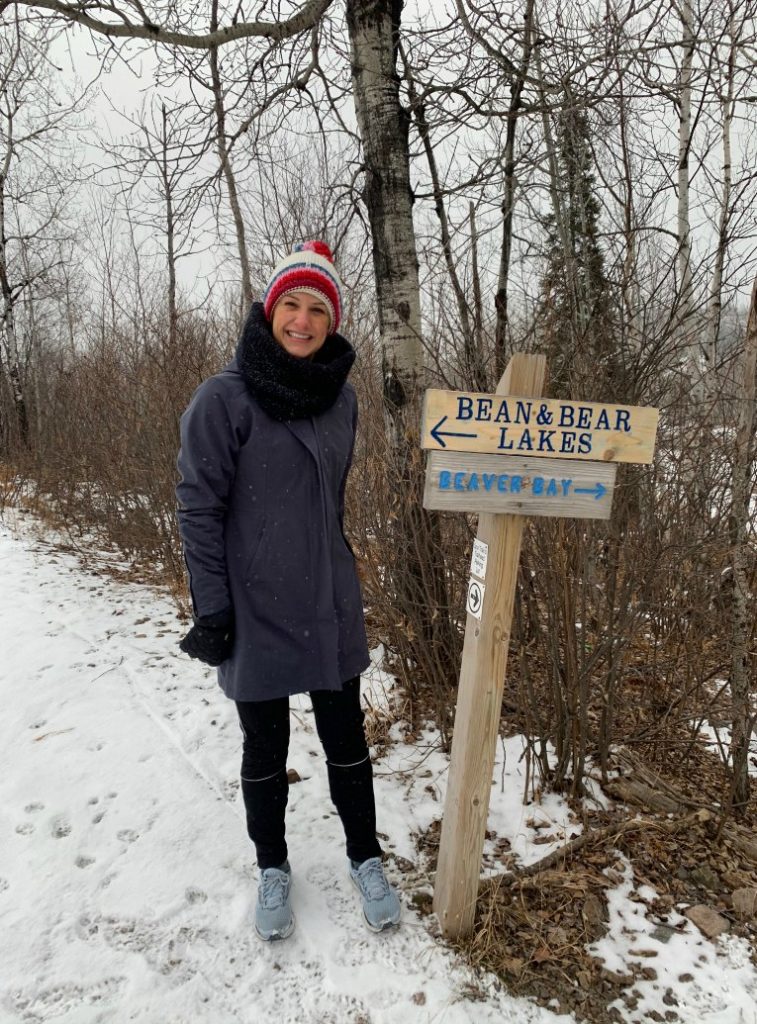 I was a little worried about Matilda (the senior vizsla) but she loves being on the trail and was such a trooper!
Saturday: Dustin dropped me off at the Gitchi-Gami trail, and I did an out-and-back from Split Rock lighthouse for 10.3 miles. I had 12 on my schedule, but was happy with 10-ish. The trail wasn't plowed and it was a little slippery so I took it slow for some solo miles on the North Shore; the only wildlife sighting was one bald eagle.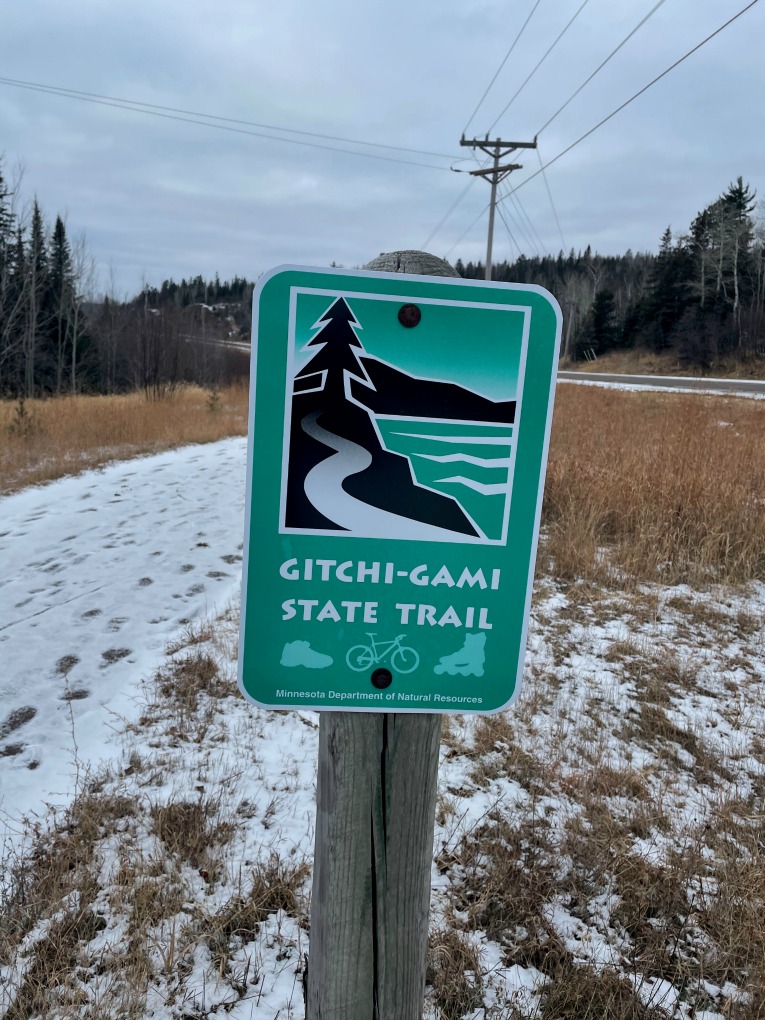 After a shower and lunch, we headed back out in the cold for some more hiking, first to Shovel Point at Tettegouche State Park and then more at Temperance River State Park.

All in all, I think I spent about 5 hours outside on Saturday and was ready to cozy up in the cabin the rest of the evening! So was Ruth, apparently; she's sleeping standing up on the drive back to the cabin!
The VRBO we rented was really cute; perfect for two people and dog friendly, and right on Lake Superior! Here is the listing if you're interested.
Other than a stop at Fika coffee, we brought all our own food and just cooked at the cabin.
I felt bad that we didn't support any local businesses, but it was nice to just have everything right at the cabin too.
Sunday: I was out the door around 8 am to fit in a 6 mile run, 8:45 min/mile pace. (We had to leave the rental cabin by 10 am)
Dustin was worried about me running on the main road, so he came and checked on me around mile 5, and we realized we were right by Black Beach.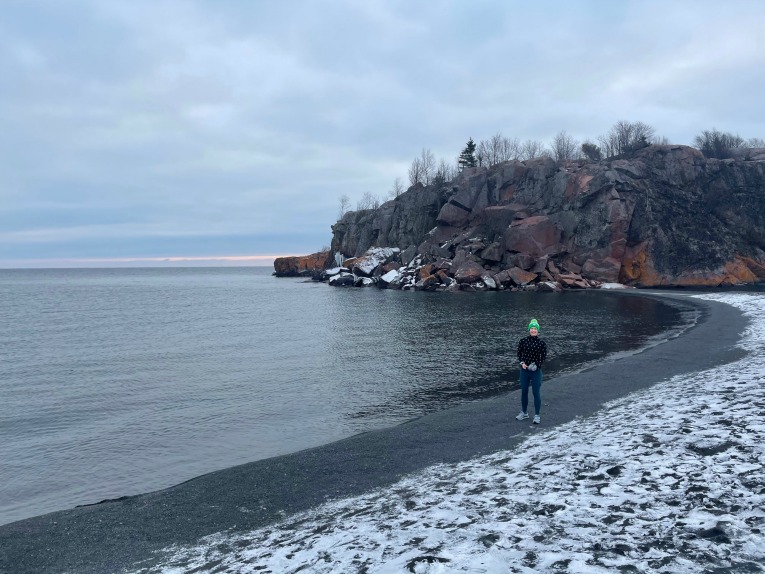 Why is there a black sand beach in Minnesota? Good question. The sand is unusable taconite tailings that were once added to the lake. It was surprisingly soft. Not quite the same as the black sand beaches in Hawaii!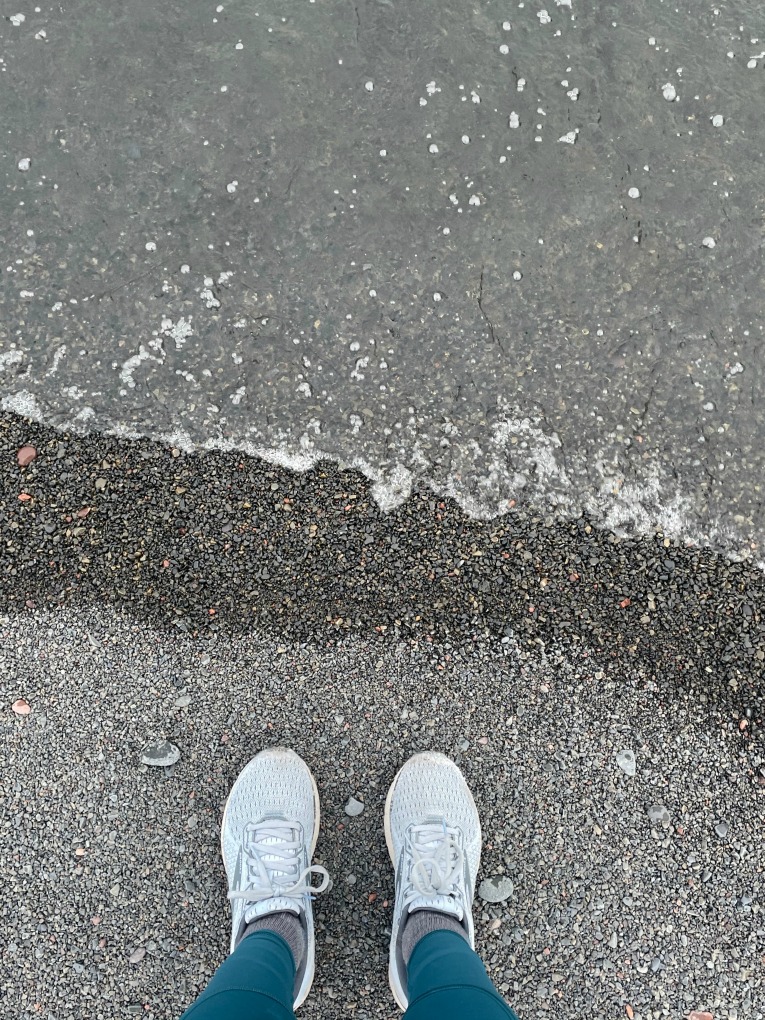 So I ran there instead of back to the cabin and he met me there in the car. We checked out the unique black sand (in Minnesota!) before heading back to the cabin. Time for a quick shower, and then back on the road to Minneapolis!
Summary: About 48 miles of running, 2 virtual strength training sessions, and lots of hiking. A much lower mileage week after nearly 60 miles last week but still a lot of time in the great outdoors!
Overall, it was a nice cutback week with a weekend getaway in there. Now we are home through the holidays!
I'm linking up with Running on the Fly and Confessions of a Mother Runner Check it out!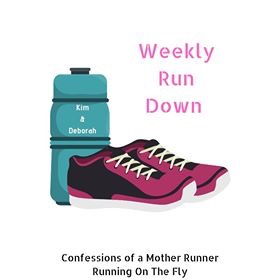 (Visited 231 time, 1 visit today)