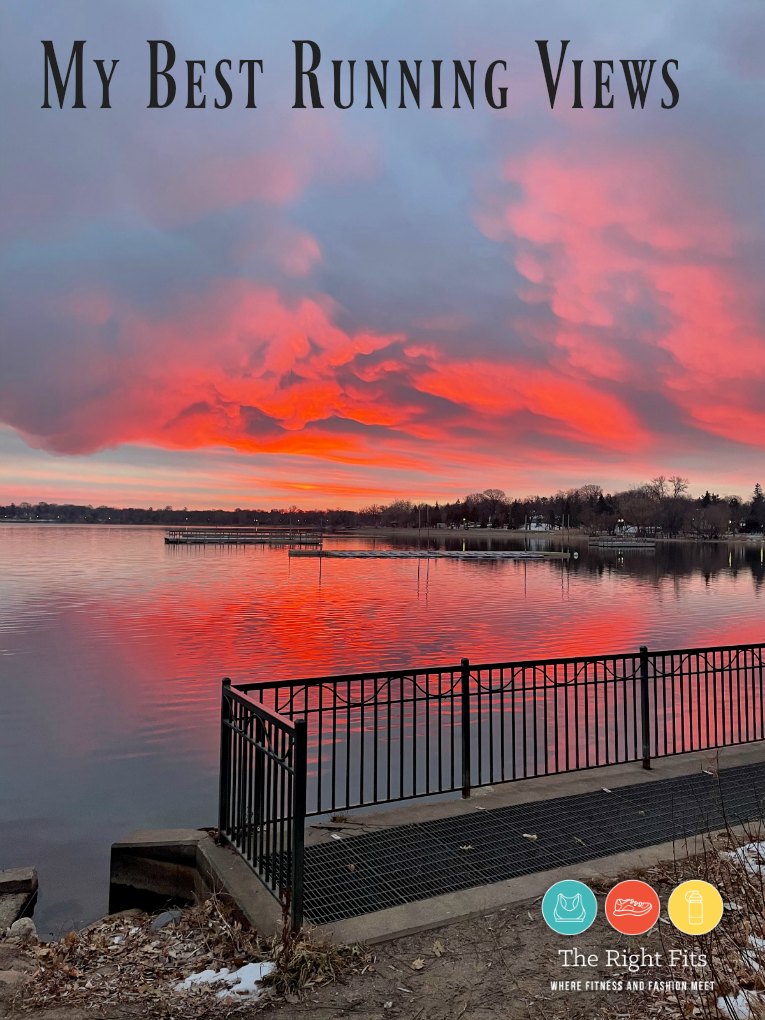 I'm linking up today with Kim and Zenaida for their Tuesday Topics!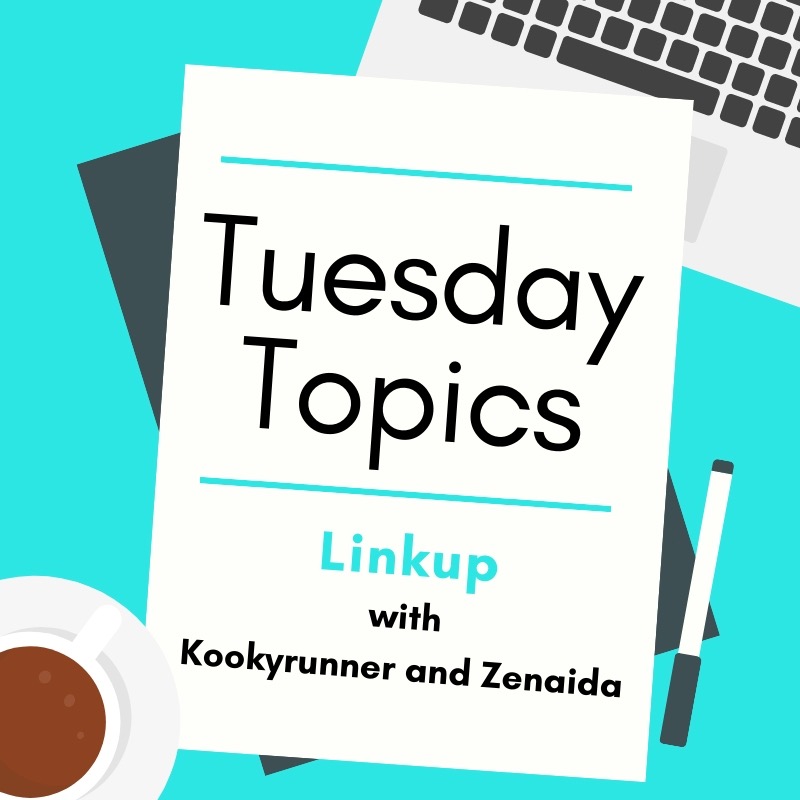 Kim and Zenaida's suggestion for this week is to share your best running views!

I decided to focus on my local views, rather than the views I've seen in other parts of the world. Here they are!
A sunrise or sunset around the Minneapolis Chain of Lakes.
I feel fortunate to live where I can run out my front door and in less than 1/2 mile, I'll be at Lake Harriet or Bde Make Ska (formerly Lake Calhoun.) From there, I can run to Lake of the Isles or Cedar Lake, all within about a 7 mile run. And we all know the best sunrises or sunsets are over the water! Here are some of my favorites: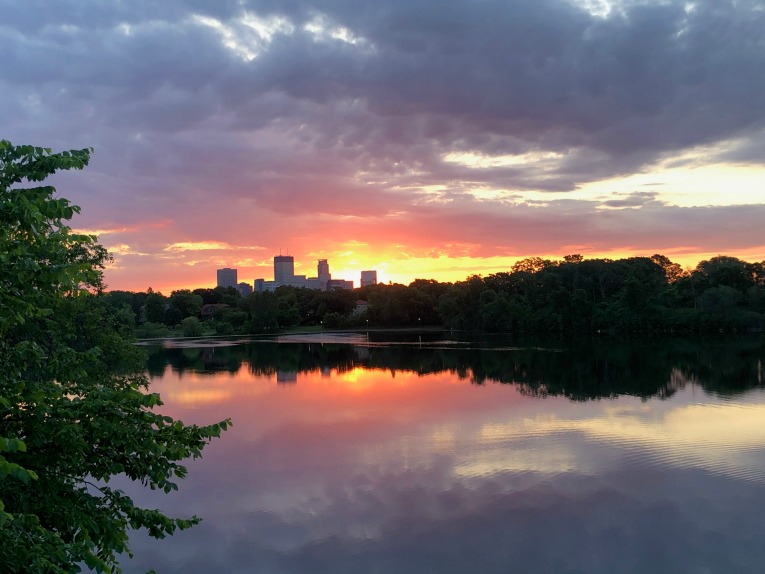 A Run Along the Mississippi River
I don't run along the Mississippi River quite as often, since it's not right in my backyard, but some of the views running along (or across in the first picture below from the Stone Arch Bridge!) are amazing too.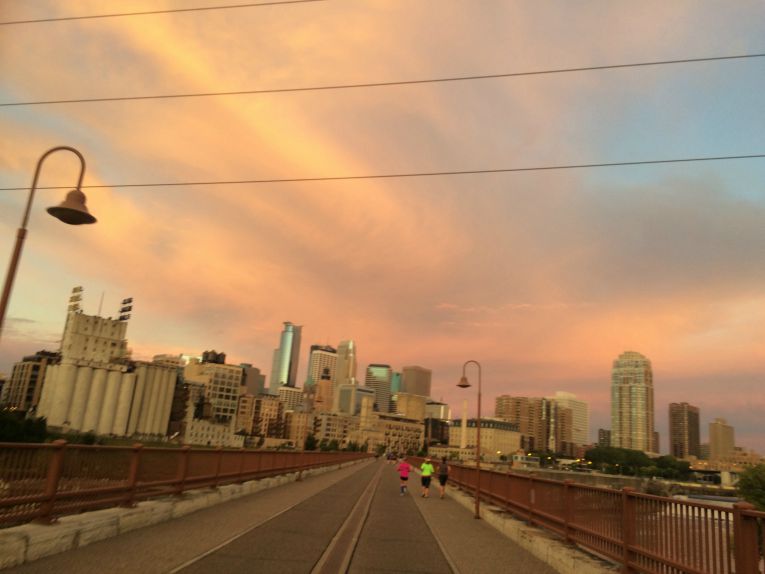 Running along the Mississippi River in the fall is gorgeous!
The view of Peter Cottontail on the Trail.
My runner friends just call him "The Bunny." He's a common sight on Minnehaha Parkway, which connects Lake Harriet to Lake Nokomis and then to the Mississippi River.

He often can be found wearing a mask or festive attire.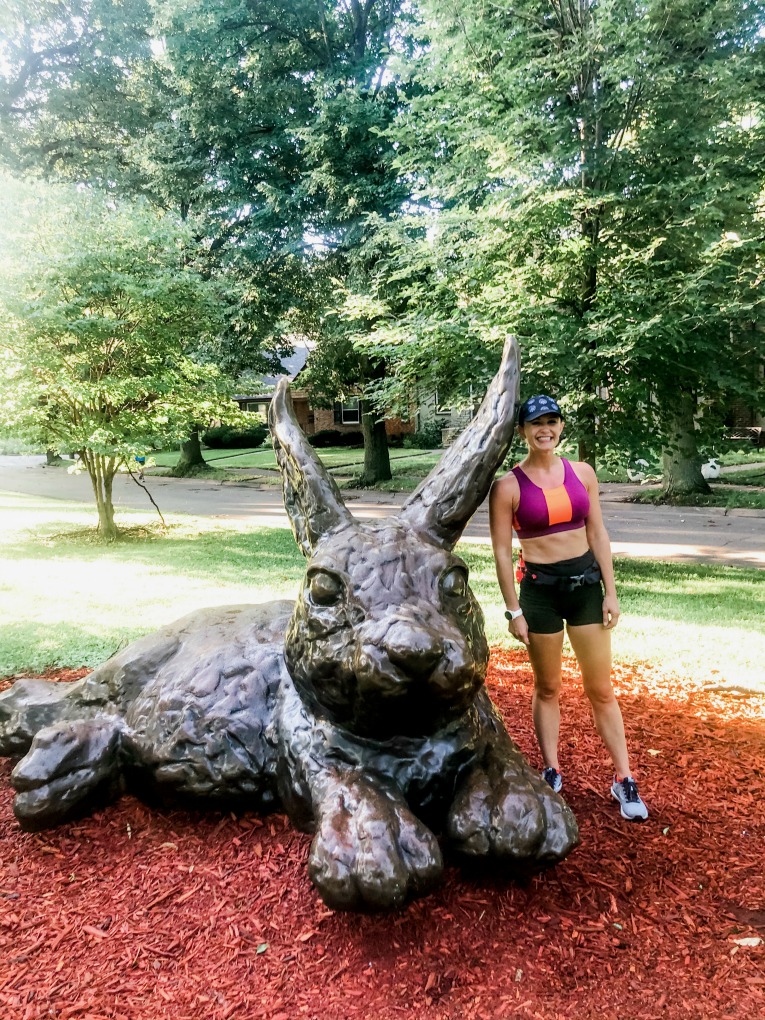 The Spoon and Cherry at the Walker Scupture Garden:
A quintessential view on my run commutes (back when I was going to the office) as well as an occasional view on my long runs, the Spoon and Cherry is very much local and very "Minneapolis."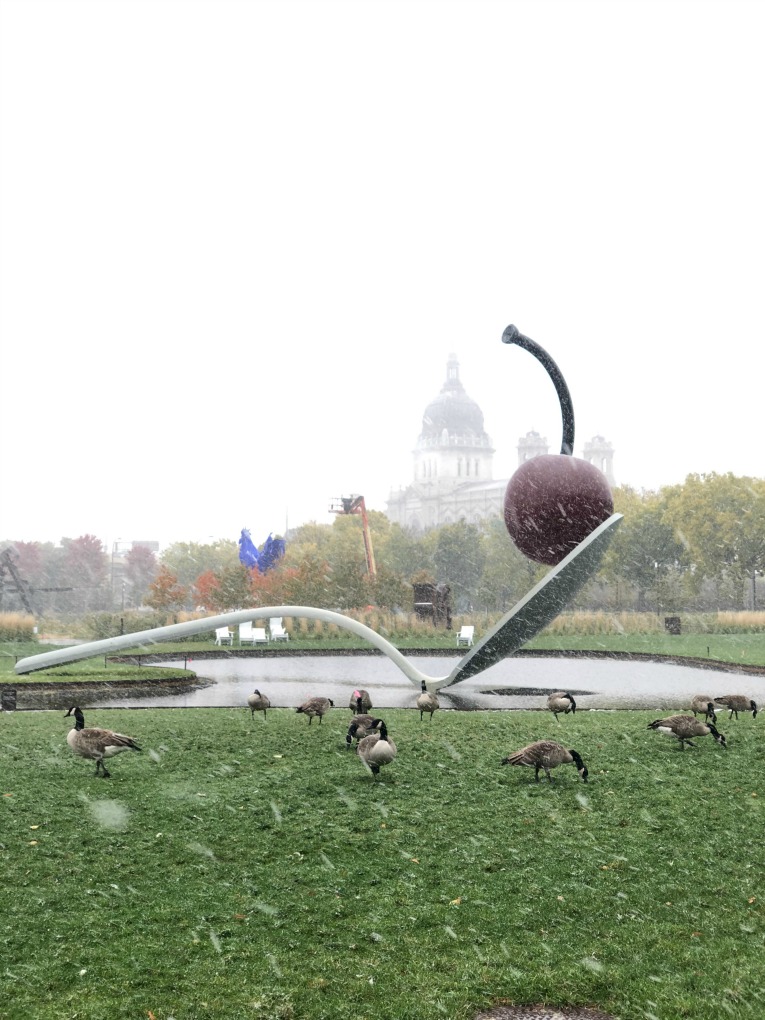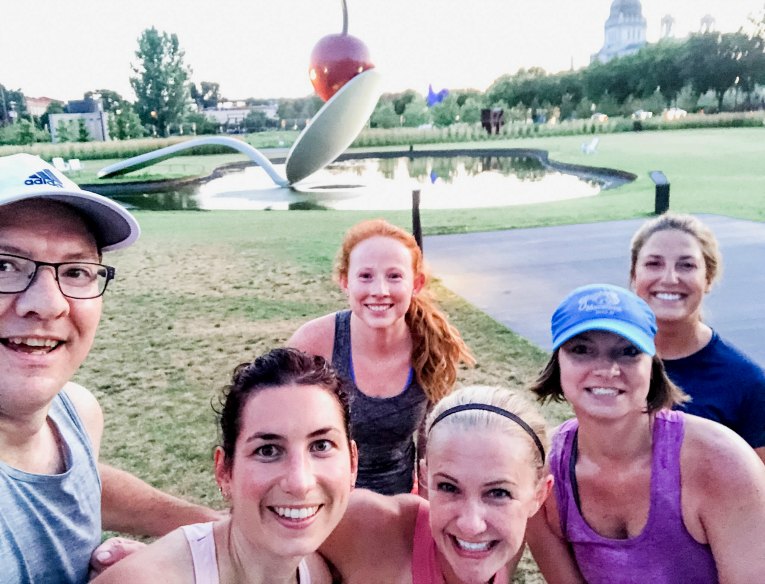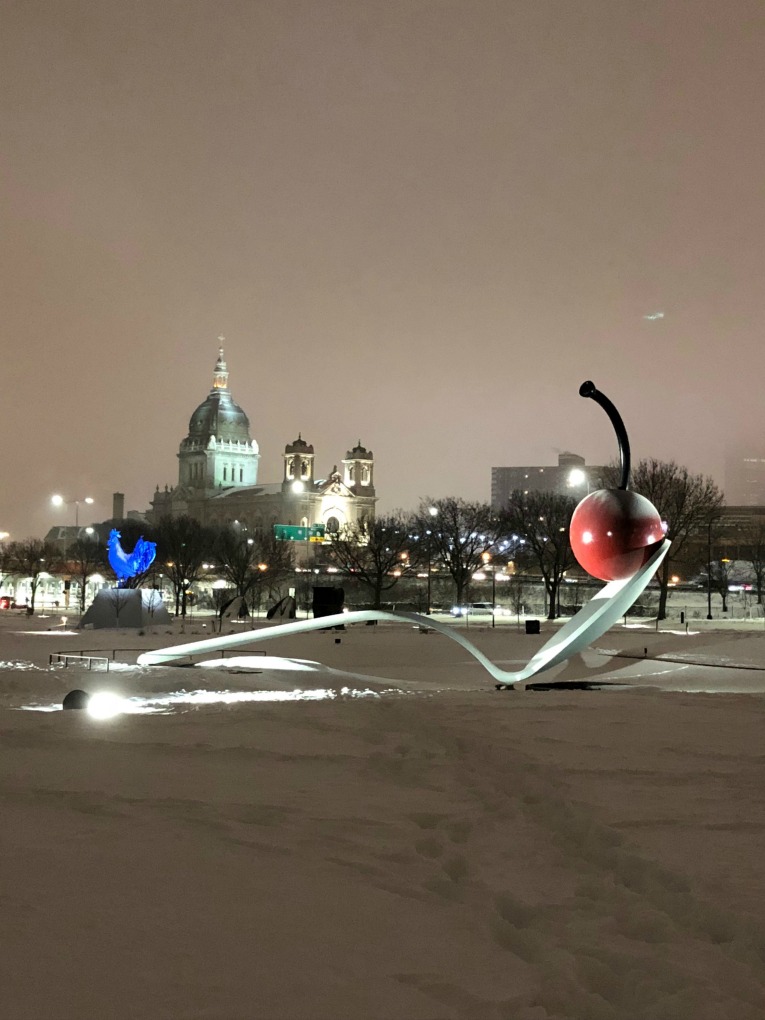 The view from my treadmill!
Of course, I'd much rather run outside than on the treadmill, but I'm grateful to have a treadmill as an option, particularly living in a cold climate like I do in Minneapolis and even more so during a pandemic when gyms are closed!
I love the set up in my "home gym," particularly the mural on the wall that my friend Angela painted!
Here's a picture of her and her daughter working on it back in 2016!
It feels very homey and happy on my treadmill.
The "view" of a fox on my run!
I like to think that fox are my spirit animal and it makes me so happy to see one on a run!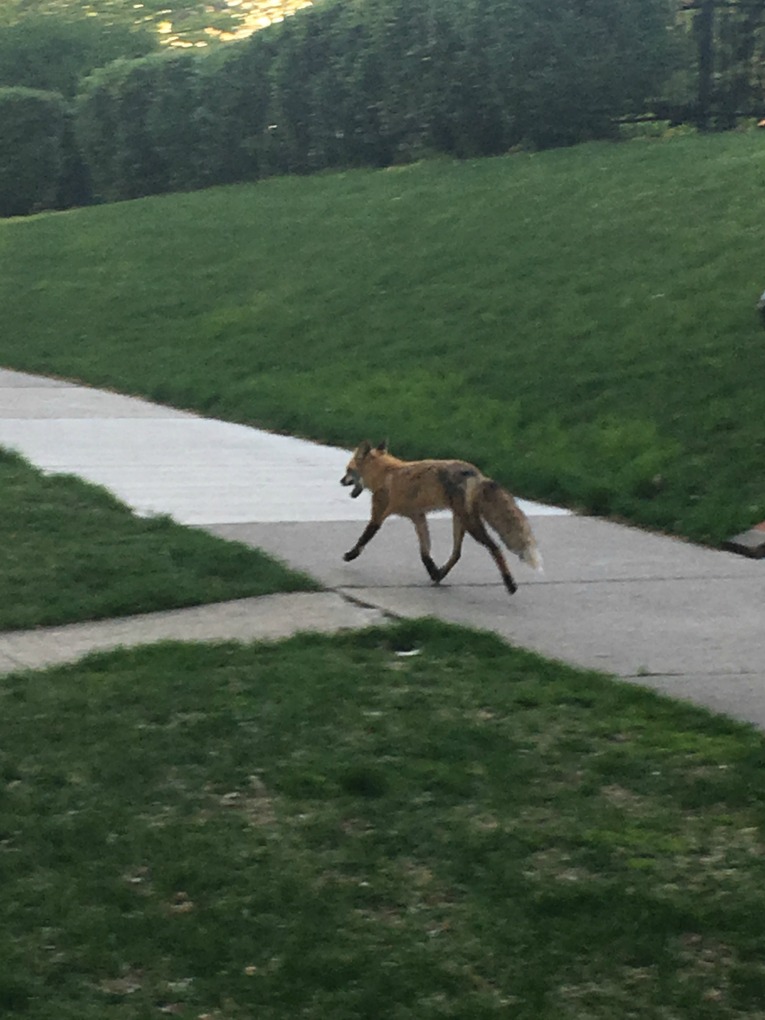 The view of the Twin Cities Marathon finish line!
The view of any marathon finish line is an amazing view, right?

But the finish of the Twin Cities Marathon is one of my favorites; coming up over the last hill on Summit Avenue in St. Paul and seeing the State Capitol and all the crowds and the finish line….absolutely amazing.
One of my favorites by far!
If you haven't run the Twin Cities Marathon, add it to your post-pandemic list! Out of my 34 marathons completed, it's still one of my favorites.
Here's a few pictures from when I paced my sister Erin at Twin Cities in 2016:
Next time, I'll share all my favorite running views from around the world, but I hope you enjoyed a look into my local favorite running views.
Be sure to check out Kim and Zenaida and all the others who participated in the link-up today!
(Visited 182 time, 1 visit today)