It went from 70 degrees last week to regular winter weather this week…you just never know what you'll get these days! The weather made running a bit more challenging this week; here's how things worked out when pursuing the right fit!
Monday: 4 miles with Ruth the pup, 8:30 min/mile. One last run in shorts before the weather turned.

Virtual 1:1 Discover Strength after work.
Tuesday: 8 miles with my friends Christie and Julie before work, 9:20 min/mile. I wore my new Oiselle Firecracker tights that are highly reflective!
I was very glad I got the run done early, as it snowed the rest of the day.
Wednesday: Workout Wednesday!

20 minutes easy, 5x 3 minutes, getting progressively faster, 1 minute recovery in between, cool-down to 7 miles. On the treadmill, since the trails were too slippery post-snowstorm.
I watched the 2012 movie "The Impossible" while I ran, which was based on the tsunami that hit Thailand in 2004. Kind of a crazy true story!
Virtual 1:1 Discover Strength session after work.
Thursday: 8 easy miles with Christie and Julie again before work. Trails weren't too slippery. We did start a little later than normal to get a bit more light so we could actually see where the slippery spots were!
Friday: 5 miles on the treadmill before work, then a bonus 2.8 miles with Ruth- i.e. a loop of Lake of the Isles with two coworkers (and Ruth) as a "networking run" over lunch.
Virtual 1:1 Discover Strength training session after work. Full day!
Saturday: Long run Saturday! I was supposed to do 45 minutes moderate within this run, but the trails were just too slippery to run fast. Instead, our small Saturday group kept it super easy, 11.2 miles at a 9:25 min/mile pace.
Later that afternoon, we had an obedience class for Ruth at the Canine Coach. It was "Level 1.5: I'm so excited!" i.e. its supposed to work on impulse control! The class is very small and spaced out, masks required, and no interactions with the other dogs/people; it felt pretty safe.
We did Level 1 Obedience when she was still quite young, maybe too young, so this is a great option for her to refine some skills, as she definitely needs to work on her impulse control! After the class, we took the pups for a 2 mile walk.
With Covid cases exploding in Minneapolis, what limited outdoor social life we did have has ceased, though really that went away with the warm weather.
Honestly, our behavior won't change much as regulations come back, as we were already staying home and trying our best to do our part to stop the spread. It's out of control and very scary; I've mentioned before that my older sister is an ob/gyn and she is quite stressed about the situation at our hospitals.
Stay home please! Mask up.
Saturday night we got takeout from Young Joni in NE Mpls. Delicious. Glad we have so many great takeout places and happy to do my part to keep them going through what is going to be a long winter.
Sunday: Dustin, Ruth (our younger vizsla) and I ran 5.2 miles, 8:45 min/mile average.
Then we picked up Matilda (the senior vizsla) for a bonus 10 min/mile with her.
Summary: I hit 50 miles again! 52.5 to be exact. It feels good to be running around the same level that I was prior to the Achilles injury. 3 virtual strength training sessions. A solid week in fitness.
I received this thought piece from Oiselle this week; SO good, particularly the piece by Kara Goucher. Loved it.
Stop by on Tuesday, as I'm sharing a post about "My Favorite Running Brands" as part of a link-up with Zenaida and Kim!
That's it for the week!
I'm linking up with Running on the Fly and Confessions of a Mother Runner Check it out!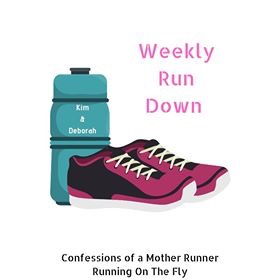 (Visited 253 time, 1 visit today)