Minneapolis had some record setting snow this week. Not cool…it's only October! We normally have about two more months of running outside without worrying about slipping and breaking a leg. Argh!
But, I'm grateful to have my Landice treadmill as an option. It's easy enough just to head down to the basement, turn on the apple TV and zone out!
Even with the treadmill option, I'm still happy to see some warmer temps in the forecast this week to hopefully melt the snow!
Here's how I tried to find "the right fit" during a snowy week in October:
Monday: Total rest day.
My work is doing a fitness/wellness challenge, and they asked me to lead a treadmill/running class over Zoom. I did do a 'practice' session with a few coworkers in the evening. Leading this class is definitely outside my comfort zone, but it's good to challenge yourself, right? I just hope I don't make a fool of myself!
Tuesday: Short speed workout! It was 25 minute warm-up, 10x (90 seconds on, 90 seconds off), 10 minute cool-down. I messed up programming this in my Garmin and included the 10 minute cool-down with each set, which was annoying. I had to keep remembering to lap after each recovery, which was harder than you'd think in the early morning in the dark! Overall, I feel like I got the benefits of the workout, I just didn't do it exactly right.

8 miles total, 9:05 min/mile average. I did a virtual 1:1 strength training with Discover Strength after work as well.
Wednesday: Minneapolis was hit with a bit of an October blizzard on Tuesday evening, so I opted for the treadmill for 60 minutes before work, 6.5 miles total.
Another virtual 1:1 strength training session after work.
I'm very grateful to be working from home when it snows! The treadmill and virtual strength training sessions come in handy too.
Ruth and Matilda (our vizslas) were loving the snow, but they did not trust this snowman, haha!
And how about this brave soul windsurfing on Bde Maka Ska during the blizzard? Yikes!
Thursday: Another treadmill run. I did not think the trails would be plowed before work and I had a speed workout to do, which would be dangerous on slippery paths!
2 miles easy, 3×1 mile at 7:45 min/mile with 3 minute recovery, 2 mile cool-down. 7.7 miles total.
A coworker of mine is just getting into running during the pandemic, so I met her for a run at her pace (she's doing about 8 minutes running, then walking for about 3 minutes) for a loop of Bde Maka Ska. A bonus 4 miles for me on the day, at about a 12:30 min/mile average.
Most of the snow had melted and the paths were pretty clear, just wet. It's always fun to connect with a new runner and help them learn to love running as much as I do!
11.7 miles on the day.
Friday: As part of the wellness/fitness challenge my work is doing for philanthropy, a coworker from our Singapore office led a zoom yoga class before work (i.e. Minneapolis morning, Singapore evening!)
It was lovely but a reminder how inflexible I am. I need more yoga!
After the class, I fit in a quick 4 mile run with Ruth at an 8:50 min/mile average.
Saturday: 11.33 mile long run, 8:50 min/mile average. It was only 24 degrees when we started, which is very chilly for October. I had to refresh on how to layer appropriately!
Once we started running, it wasn't too bad and turned out to be a great morning for a run.
Later that day, we had some family photos taken at Square Lake Park in Stillwater by a fellow vizsla lover, Ami.
We are hoping to use a photo or two for a holiday card. This is more important than ever this year, as we have no pictures from any fun trips to use on a card, ha!
After the photos, we made a quick stop at Lift Bridge Brewery, since we are rarely in Stillwater and hadn't been before. It was a wee bit too chilly for the pups though!
Sunday: Dustin, Ruth, and I ran 5.3 miles, 8:28 min/mile pace.
Summary: About 46 miles of running, 2 strength sessions, and 1 hour of yoga!
Remember Ruth's injury by her eye? It seems to be healing up, though she may always have a bit of scar there.
I've been trying out a few new shoes lately; I've always been a Brooks Ravenna girl, but recently purchased the Brooks Adrenaline and the Brooks Glycerin to switch things up. That was one tip from the podiatrist I saw for my Achilles injury; in addition to making sure your shoes don't have too many miles on them, it's also important to switch in different models as a distance runner. I've already added in the Hokas for easy days, but am excited to keep playing around with a few new Brooks models as well.
Glycerin:
Well, that's about it for this week!

I'm linking up with Running on the Fly and Confessions of a Mother Runner Check it out!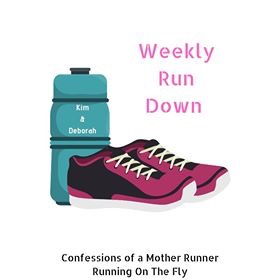 (Visited 259 time, 1 visit today)