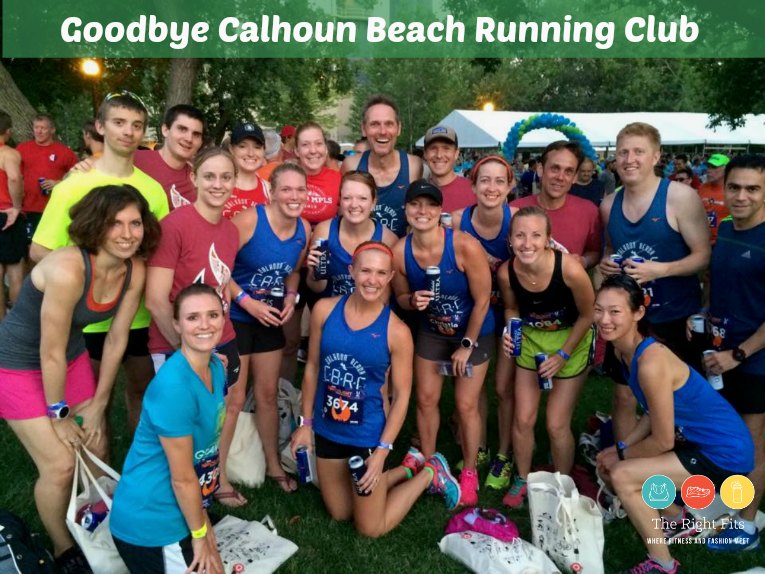 Let's take a walk down memory lane, shall we?
All the way back to the year 2010…yes, let's go back TEN years.
In the winter of 2010, I was really into Corepower Yoga. I had an unlimited membership and took classes at least 3 times a week, sometimes more!
I also ran marathons (I had trained for 7, completed 6), but I trained for those marathons entirely on my own. I did not have running buddies at that time. I was married to Dustin (we tied the knot in 2008) and we were starting our 50-state marathon quest, but we trained for those races alone.

Instead, my community was yoga; I was quite the regular at Corepower, especially at the St. Louis Park studio. I made friends, I chit-chatted before class and after. It was there that I became friends with a guy named Gabe.

Gabe was a nice fella who I was only friends with for a hot-minute, but he actually probably had a much bigger impact than he ever realized. He's the reason I joined the Calhoun Beach Running Club!

We both had the same favorite same yoga sculpt teacher and became friends attending her classes. I learned he was training for Grandma's Marathon; I was training for the Seattle Marathon that same June of 2010.
Gabe told me he had started training with this running club in uptown that was really cool; he recommended that I check it out.

I thought, why not? I wanted to be part of a running club; I had tried out one club a few years prior, but they were primarily a run/walk club that only followed the Galloway method (run/walk intervals), and that was not what I was looking for at the time. I was training for my first marathon then and wanted to run the whole thing, not run-walk it.; additionally, I didn't connect with anyone when I tried that club, so I didn't stick around.
But I liked the idea of a run club and was very open to it. And I was 'in the market' for new friends and looking for a community other than Corepower and this club sounded fun. There were people my age and per Gabe, there would be people at my pace…I was interested.
I mentioned it to Dustin, and he said, "No, thanks." He preferred to run solo.

(Little did he know how much he'd also love running with a club!)
I met up with the group for a run on a random weeknight; they officially met on Mondays, Tuesdays, Thursday evenings and then Saturday mornings for a long run; I think I tested it out on a Tuesday night in February.
There weren't many people at my pace that first night that I joined, but one of the coaches, a guy named Paul, was really nice and welcoming to me. He told me if I came back on the weekend, there would be a few people at my pace. He was so encouraging that I decided to return.
When I returned on Saturday, Dustin decided to check it out as well. I think our first Saturday long run with the club was probably 10 miles in February 2010. He had people to run with at his pace, I had people at mine. It was FUN. I ran with a girl named Meggan and a girl named Jill; I had so much fun having company that I continued to join them. New friends! Running!
The rest is history! I kept coming back to the club for the runs.
Well, truly, I kept coming back to the club for the friends.
Whatever the reason, I was a dedicated member for all the weeknight runs and the Saturday runs.
That was TEN years ago. I have been a member of the Calhoun Beach Running Club for TEN years. I've run so many marathons as a member of this club; in fact, only 6 out of my 34 full marathons were completed prior to joining the run club. The other 28 have been with this group.
That first marathon for which I trained with the club- the Seattle Marathon- it was amazing.
It was my first time breaking four hours. And I CRUSHED my goal, running a 3:55! I was so happy and I gave all the credit to running with other people and being part of the Calhoun Beach Running Club.

Running with other people made all the difference. I had cut 25 minutes off my previous marathon time!
Over these past ten years, things have changed for me personally and things have changed at the club. There's very few of us who were around 10 years ago who are still running with this club (other than Dustin and me.)
Personally, I no longer follow the running club's schedule; they had official plans for spring and fall, coinciding with Grandma's Marathon in June and the Twin Cities Marathon in the fall. Most members would join to train for one of those two races.
But I was doing a lot more marathons than just two a year and mine did not always coincide with those two races. I started following other formal plans, but still running with the club. I've had a few external coaches (Antonio Vega and now Esther Atkins). But through all the changes, I continued to be a member of the Calhoun Beach Running Club and was ever-present on the Saturday long runs.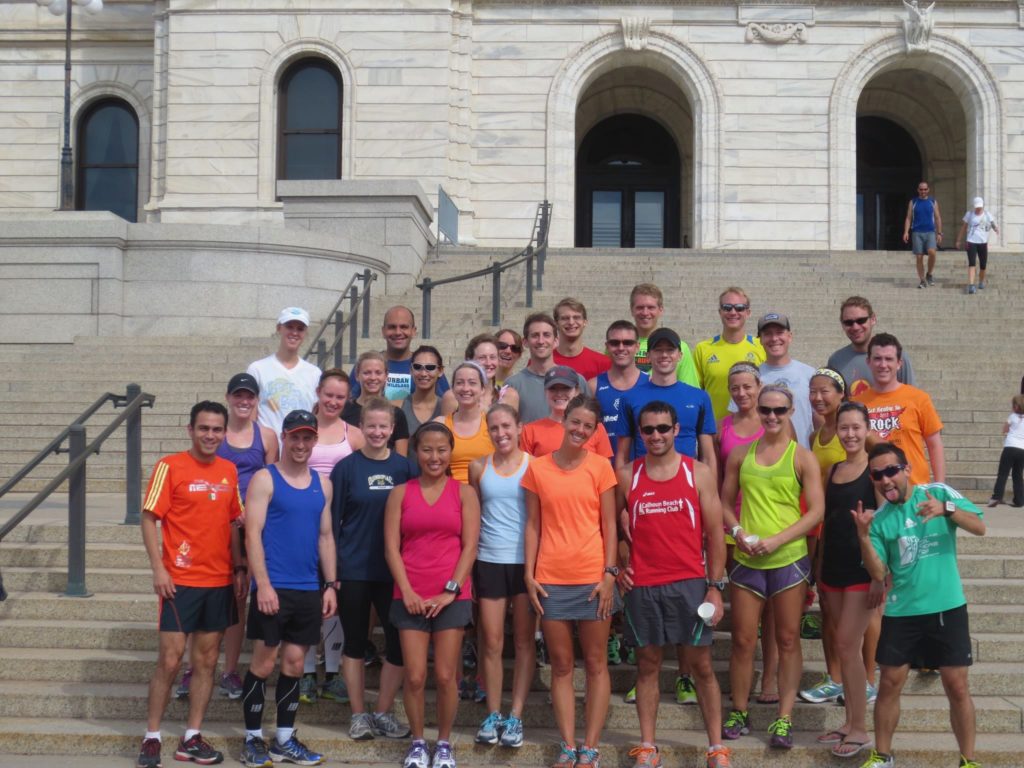 I have so many great memories of those Saturday long runs!
So many races…lots and lots of local races with the Calhoun Beach Running Club.

This picture is quite a throwback; my how fitness fashion has changed in 10 years, hasn't it? Shorts are way shorter now…and shoes are much more colorful!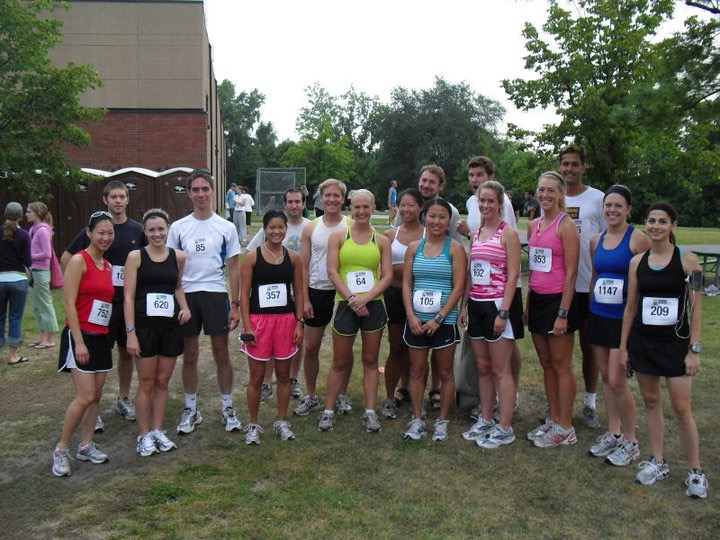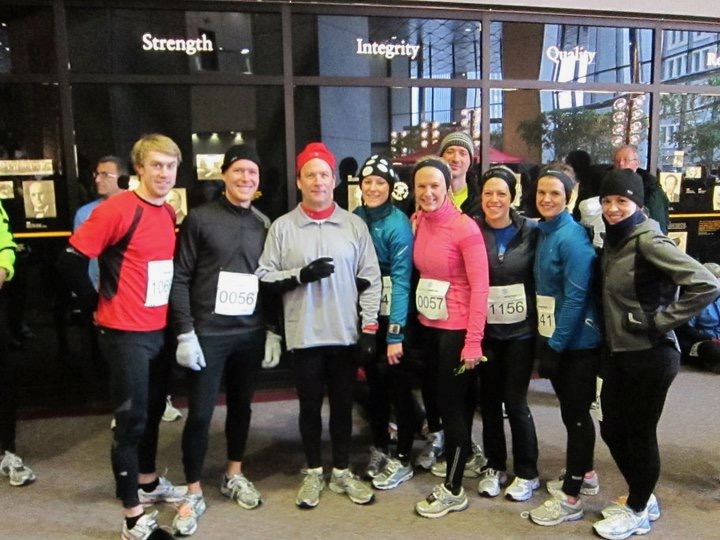 And I can't forget to mention the PUB RUNS! The Memorial Day Pub Run will always have a special place in my heart.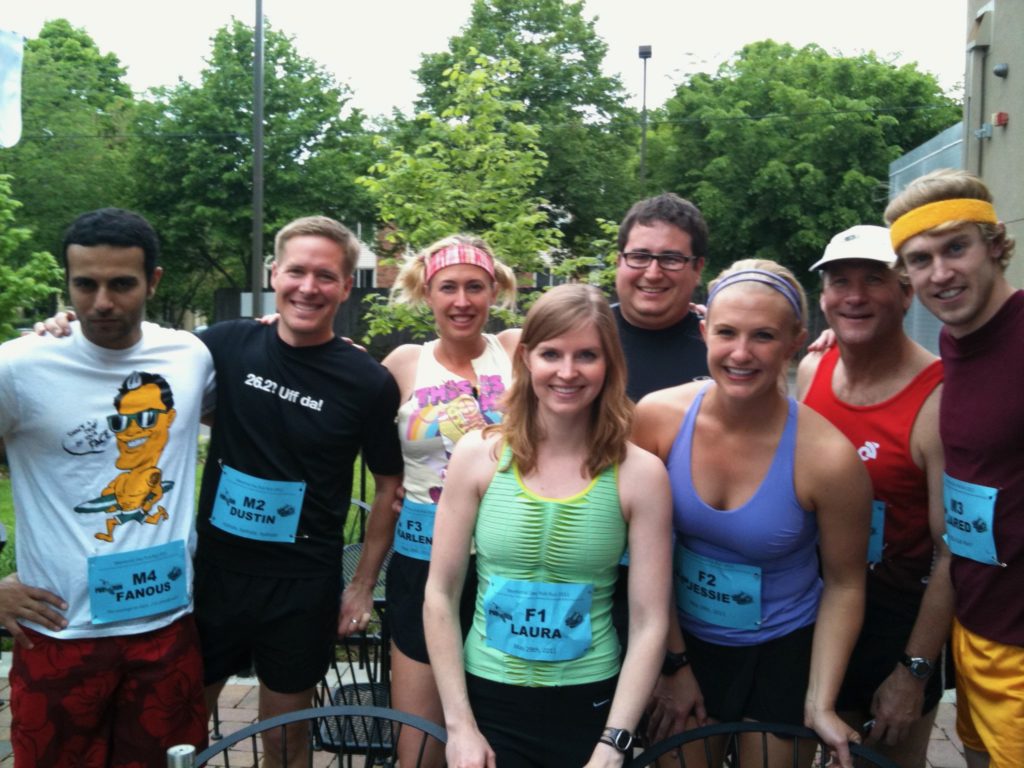 I made many great friends throughout those ten years. Of course, some of those friendships were fleeting; people came in and out of my life as running came in out and out of theirs, but running and the Calhoun Beach Running Club stayed a constant for me for the past ten years.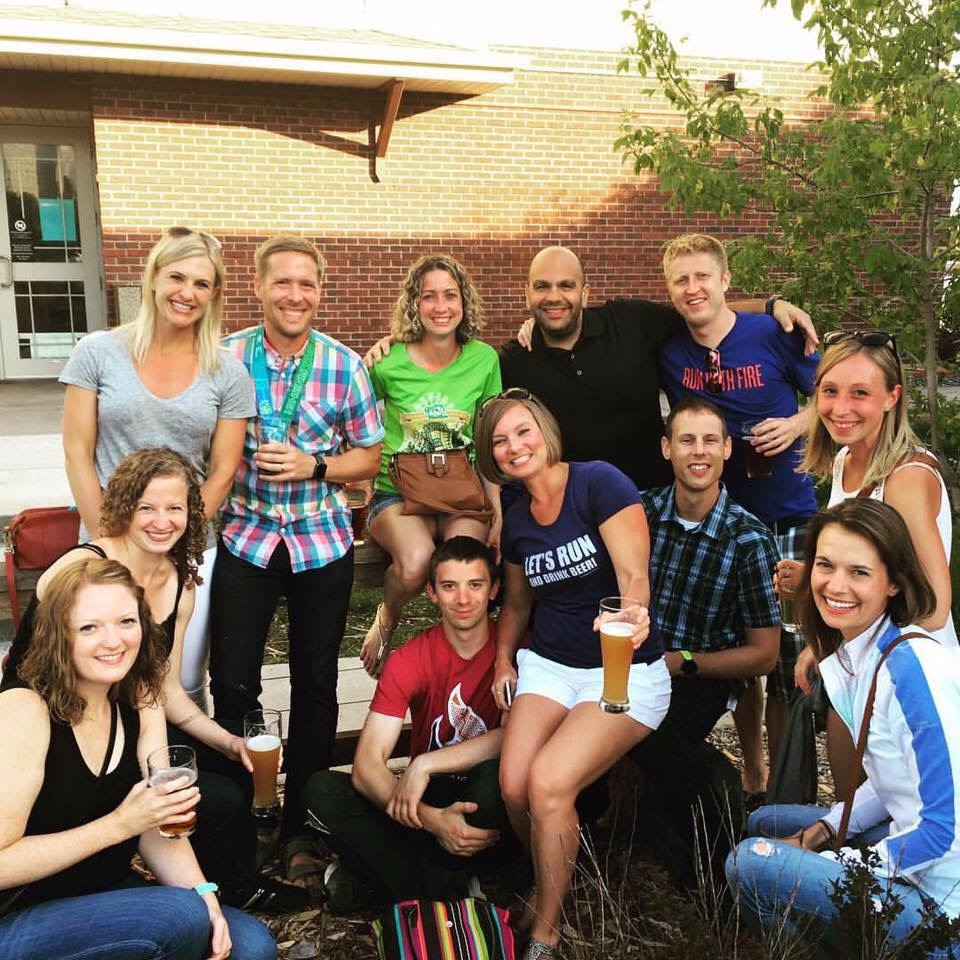 I continued running with the Calhoun Beach Running Club, even as the membership turned over. Prior running friends left, got married, moved away, had babies, quit running…
…but new members joined and new friendships were formed through miles and hours of pounding the pavement together.
Newer, stronger, faster friendships were formed.
The culture of the running community is so unique. It's a lifestyle; for most runners like me, running is not about working out. It's so much more than that.
Running is so much of who I am; it's the places I've seen while running; it's the experiences I have had through running; it's the goals I've accomplished through running.
Most importantly, it's the amazing people I have met and connected with through running and more specifically, the people I have met through the Calhoun Beach Running Club.
It doesn't matter whether these people are still part of my life or not, all of them have had such a meaningful impact on my journey.
I'm grateful for every person I've met through the Calhoun Beach Running Club.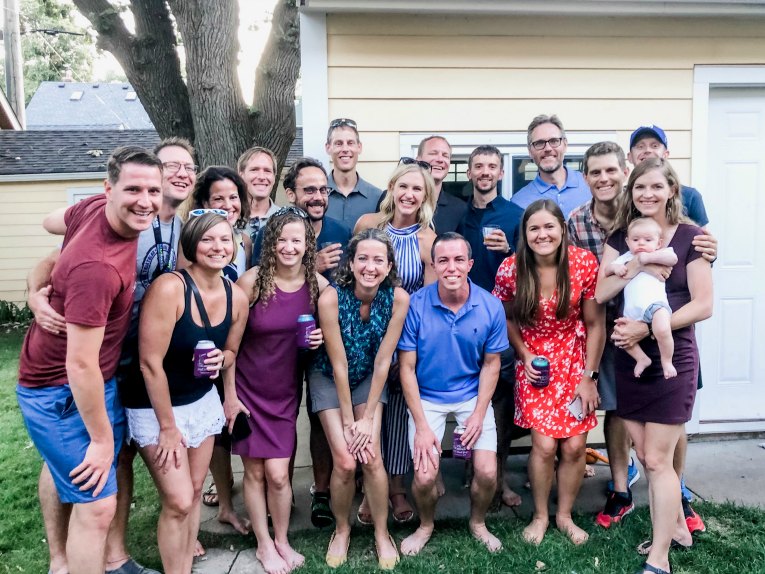 Sure, life has happened in those ten years outside of running, but the Calhoun Beach Running Club has been an ever-present part of those others things.
With all that said, I am so sad to report that the Calhoun Beach Running Club is no longer.
Why?
The Calhoun Beach Club is converting their gym to a residents-only gym and with that, our running club no longer has a permanent home.
The club won't be over though. There are plans underway to figure out what it will look like going forward. New name, new meeting location, etc. It's not over, though it's current form is definitely over.
Of course, the pandemic has made the plans for a replacement club a bit challenging, as most runners aren't comfortable running in groups yet. None of the other Minneapolis-area run clubs have started back up again yet.
But I expect there to be a new (and improved) run club soon.
And when it does, there will be new members and new friendships forged over miles and hours of pounding the pavement.
I look forward to being a part of the new version of this club.
But first, let's take some time to honor that which was the Calhoun Beach Running Club.
Reflect back on photos from those sweaty runs, don one one of your old CBRC singlets, call up an old CBRC friend and go for a run, and put in a few miles in honor of the Calhoun Beach Running Club!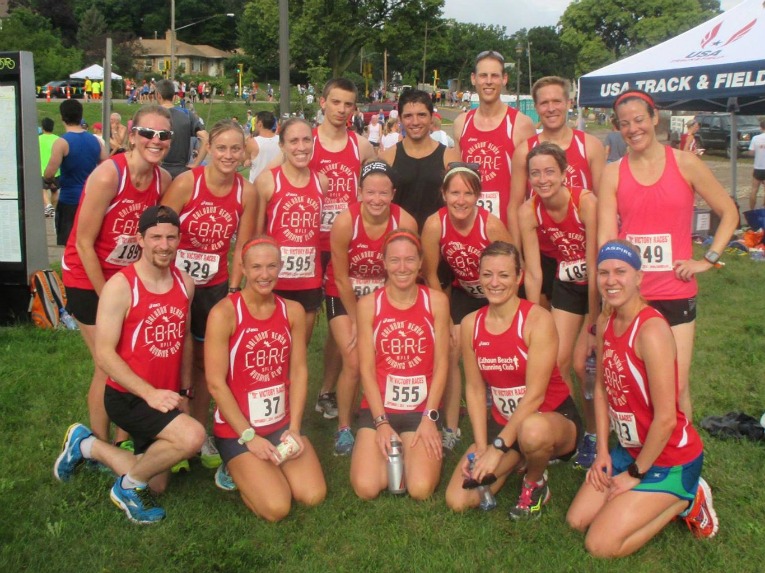 CBRC for life!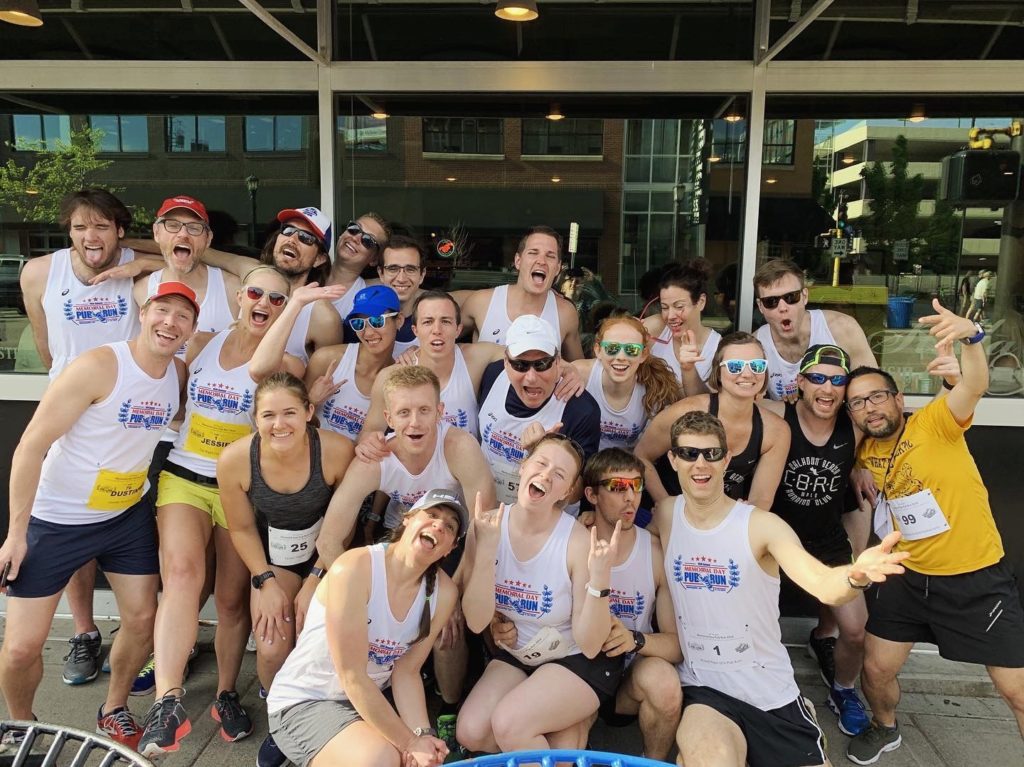 (Visited 622 time, 1 visit today)