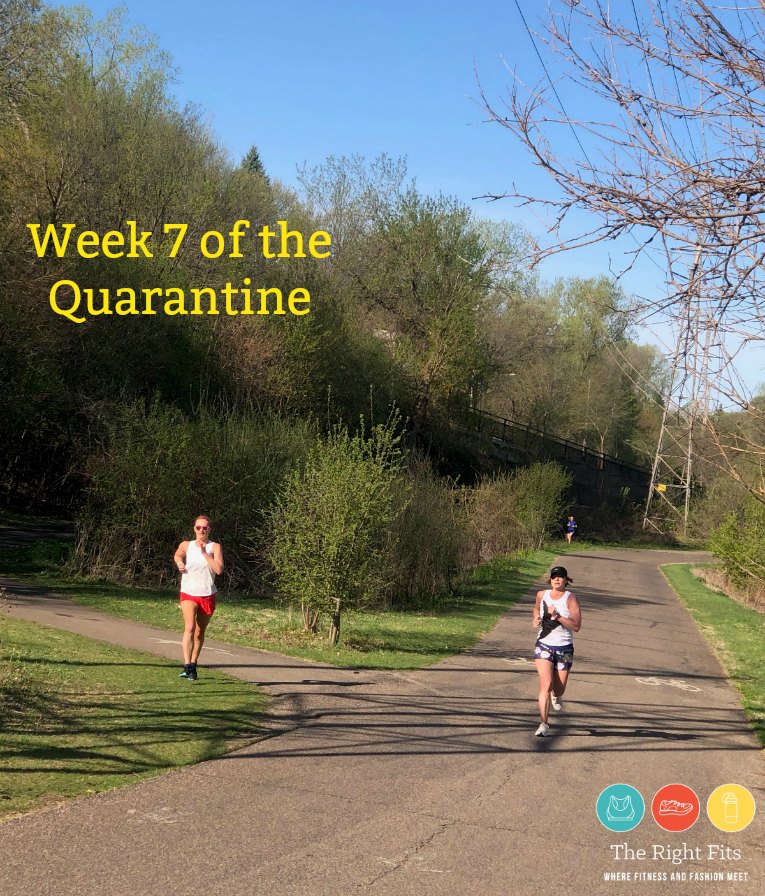 Pictured above- keeping social distance for a virtual 1 mile race!
Another week of sheltering in place…here's my recap of how I stayed sane via fitness!
Monday: 8 miles, 9:05 min/mile pace before work, Discover Strength after work.
It was pouring pretty heavily on this run, but was relatively warm (58 degrees) so not the worst run, but was definitely drenched at the end!
Tuesday: Another rainy morning run, this time with a workout. This workout was a tune-up to for Saturday 1 mile virtual race!

3 miles easy, 7x(1 minute at mile effort, 2 minute easy jog), 3 mile cool-down. 8.3 miles total at a 9:15 min/mile average.

I went home to grab Ruth for a few miles on the cool-down, but she was not that interested in running in the rain, so that was a short-lived attempt! I didn't want to push her; I want running to be a fun thing, and apparently running in the rain is not fun for Ruth. I get it!
That evening, I did virtual trivia with my sisters; it was 90's themed and so much fun! We played through Quizmaster Trivia and just set up a zoom to chat while we play.
Wednesday: 9 miles at an 8:50 min/mile average, last 2 miles with Ruth. I ran into my friend Christie (from this post) and we stopped to chat from a distance; I miss my running friends!
Discover Strength 1:1 virtual training session after work.
Thursday: Technically today was a rest day, but I'm keeping up with my covid run streak, so I took Ruth for a 3 mile run before work, 8:55 min/mile average.
Friday: 6 miles before work in my racing shoes with strides, prepping for the 1 mile on Saturday! Discover Strength 1:1 virtual session over lunch (just 30 minutes).
Saturday: "Race" day!

I convinced Dustin to do the McMirdy Mile Series with me. We ran 4 miles easy to get to the Cedar Trail where we planned to do the race. It's a flat straight-shot path that worked well for a 1-mile race. My friend Christie was "nearby" but definitely kept her distance, which was actually pretty easy since the Cedar trail has three separate paths.
4 mile warm-up
1 mile at 6:47
3 mile cool-down to home
8 miles total
My 1-mile PR is 6:19 from last summer's Raspberry Run; I think that I can get faster over the next three races and hopefully beat that time, but the 6:47 was a good baseline. I usually feel very 'puke-y' and can't stop coughing after a 1 mile, and I didn't feel that this time. Need to get that puke feeling back!
The next race in the series is in two weeks.
Dustin predicted that he would run 5:25, but ran 5:15, so he was pretty happy. Even though it was only a mile, having this race to look forward to was really fun; it brought back a lot of the joy of a hard effort that was missing. I didn't feel as anxious as I would have for a real 1-mile race, but it was still a fun event to look forward to. I'm glad I signed up!
My sister Erin also raced it from her home in Illinois; virtual high fives! My coach Esther is with McKirdy Trained, so is Erin's coach, Jack (though the race series is free and open to anyone!)
Sunday: Since I had a shorter run on Saturday, I did my long run Sunday morning. My coach had said anything from 90 minutes to 2 hours of easy running, so I headed out around 7:30 am for 13 miles easy.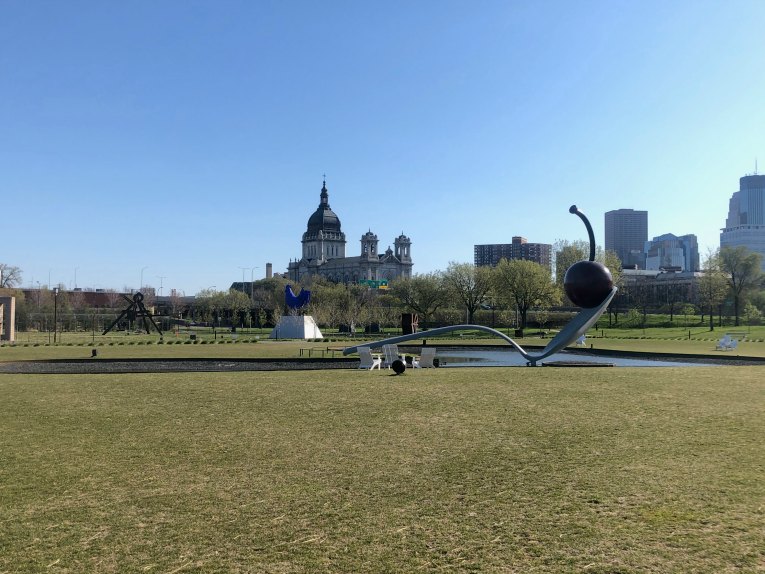 I listened to the Armchair Expert podcast on the first 10 miles solo, then picked up Ruth from home for 2 miles with her. Tilda was looking at me like she also wanted to run, so I added one more walk/jog with her for 13 total.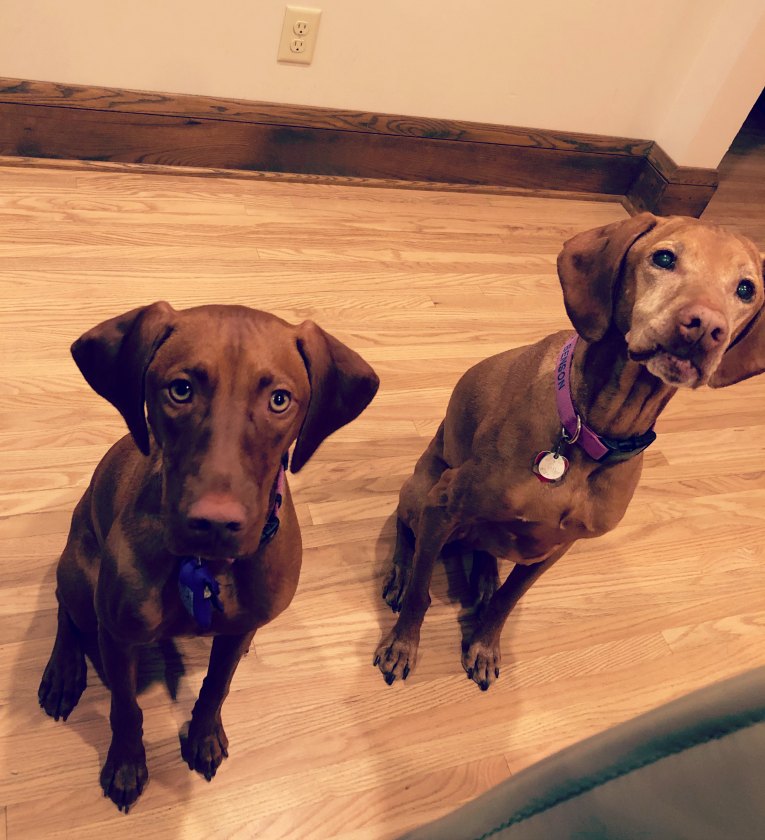 I had to start my run pretty early, as I had a zoom catchup with some college friends, one of whom lives in London. Another positive of the quarantine is the way that Zoom meet-ups have become the norm! I hadn't seen these girls in awhile, so it was a lovely catchup.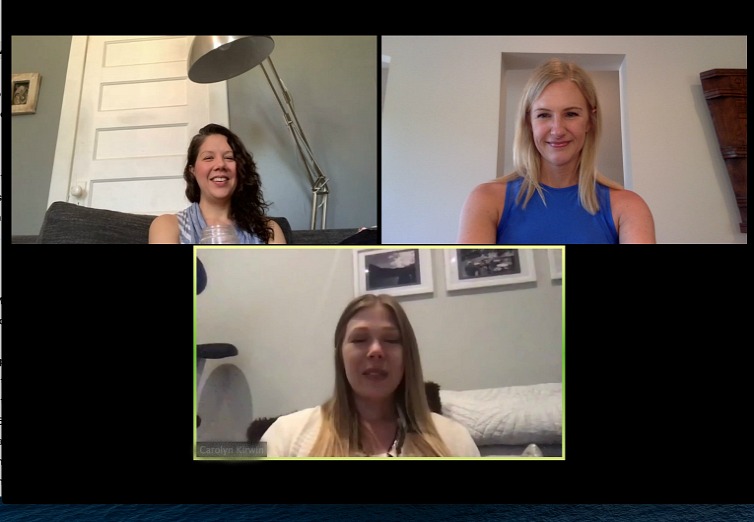 Today marked day 50 on my covid running streak! I can't believe it's been 50 days…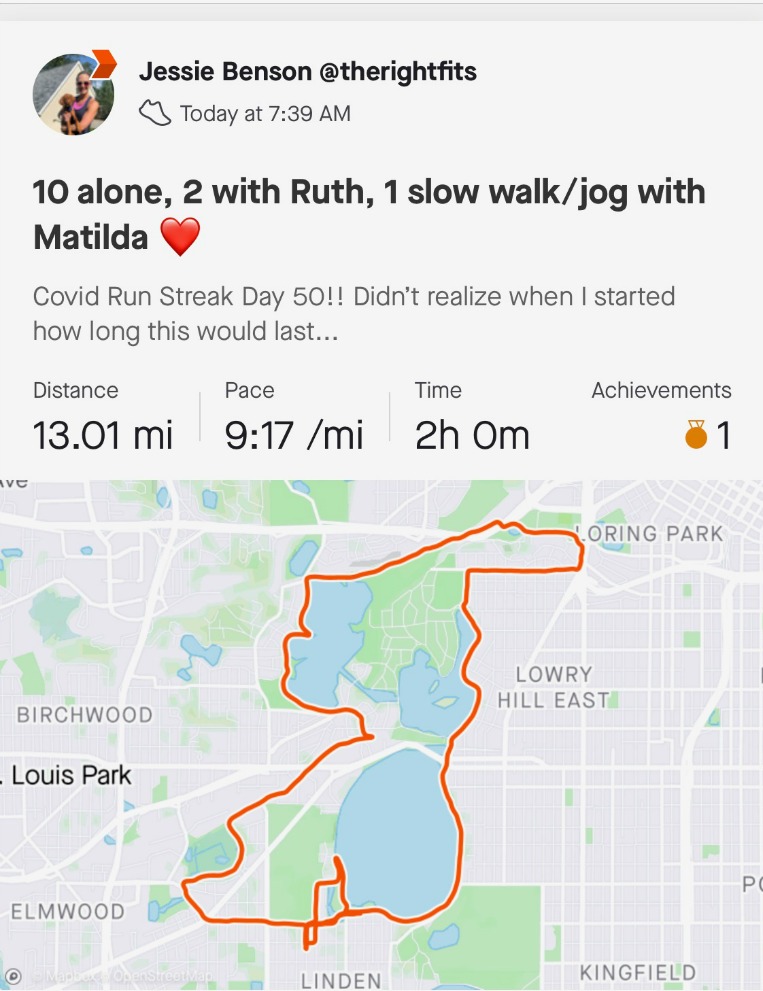 Summary: 57 miles of running, 3 virtual strength training sessions.

Overall, it felt like a good week. I think the "race" helped. I have to admit that a benefit of working from home is the extra time in the morning; no more alarms in the "4:XX" or head lamps necessary. I've enjoyed that part of quarantine!
Netflix binging this week included Unorthodox, which I loved. I even watched the "Making of Unorthodox" to learn more about the Satmar sect that the woman in the show is from (which was based on a book!) So good
I'm not a big basketball person, but I have been watching "The Last Dance" with Dustin as well, which is better than I would have expected.
I really hope all of you are staying healthy and safe during this stressful time. It's great to have the ability to stay connected virtually and support each other; this link-up hosted by Running on the Fly and Confessions of a Mother Runner 's is a great way to do so! Check it out below:
(Visited 267 time, 1 visit today)