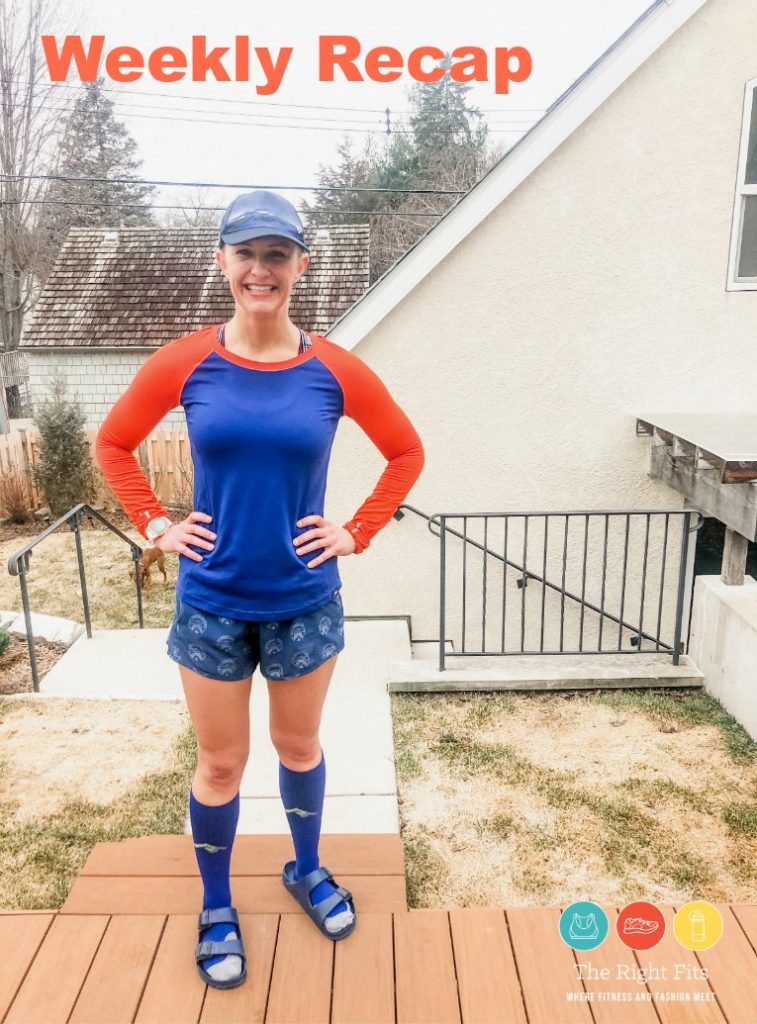 I hope you are reading this from the safety of your home! What crazy times we are living in…
Minneapolis is now on a two week shelter-in-place; I've already been working from home for two weeks before this went into place, as well as not going out at all, so this really isn't too different for me. The biggest change is that I am not running with anyone else anymore.
Don't get me wrong, running is still allowed, and running I definitely did this week! I just did it solo (except for one run with my quarantine-partner Dustin.)
Go Minneapolis!
Where Chicago shut down the popular running trails because they were too crowded, Minneapolis did the opposite; they shut down most of the parkways to car traffic to allow runners/walkers and bikers to social distance while still getting outside! I love Minneapolis.
So running is still happening, working from home is happening, dog parks are still open (thank goodness), and I'm getting in my strength training via virtual sessions with the great trainers at Discover Strength. I feel fortunate that I am able to maintain some sense of normalcy through all this and grateful that my loved ones are in good health (and that I am still employed.)

But there are so many things I miss! I think I'll do a post about all the things I want to do when this over…
Anyways, here's how this week went in fitness while sheltering-in-place:
Monday: 10 mile mid-week long, easy pace, 9:23 min/mile. There was a little bit of fresh snow coming down but nothing slippery.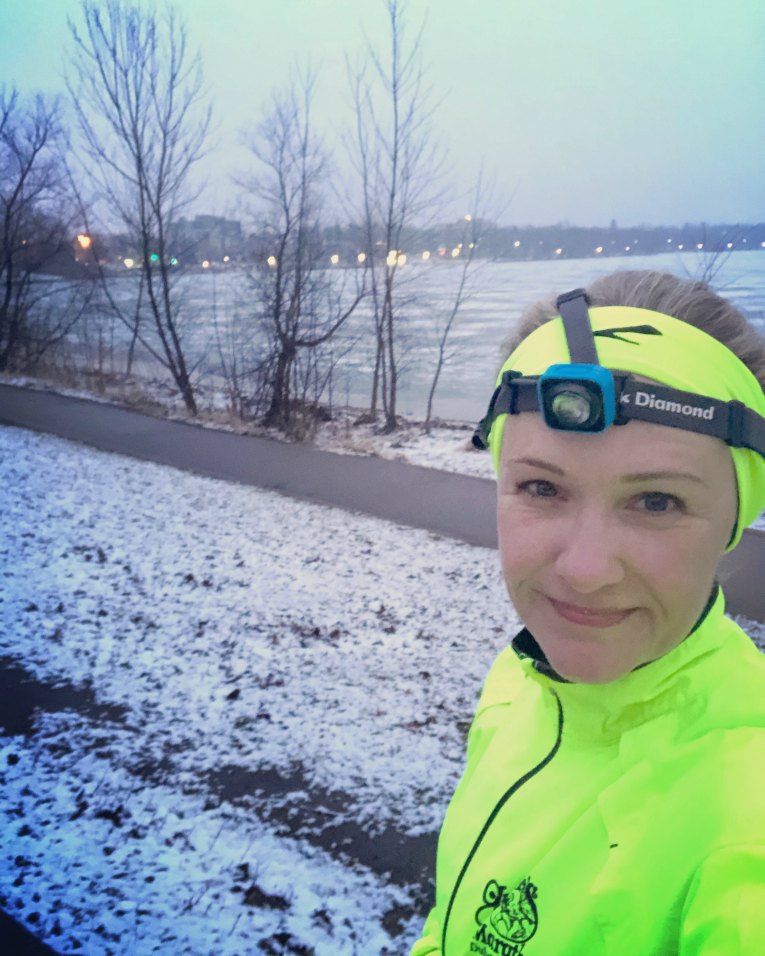 After work, I did my first virtual 1:1 training session with one of the personal trainers at Discover Strength. I wasn't sure how it would go, but it was surprisingly tough! She asked ahead of time what home equipment I had on-hand; she worked with those items as well as a lot of body weight exercises. I loved it and am so glad they are offering this option! We did a lot of lunges, wall-sits, etc; my quads were pretty sore for a day or two.
Tuesday: 8 mile run before work, 9 min/mile.
I noticed the troll on Lake Harriet is comfortably sheltering-in-place. He looks like a bit of a hoarder though. And someone brought a church to him, ha!
Wednesday: Workout Wednesday! 25 minutes easy, then 10x(90 seconds at 5k pace with 90 second recovery), 10 minute cool-down. 7.2 miles total at a 9 min/mile average.
I did another virtual 1:1 strength training session with a Discover Strength trainer after work.
Thursday: 7.7 miles before work.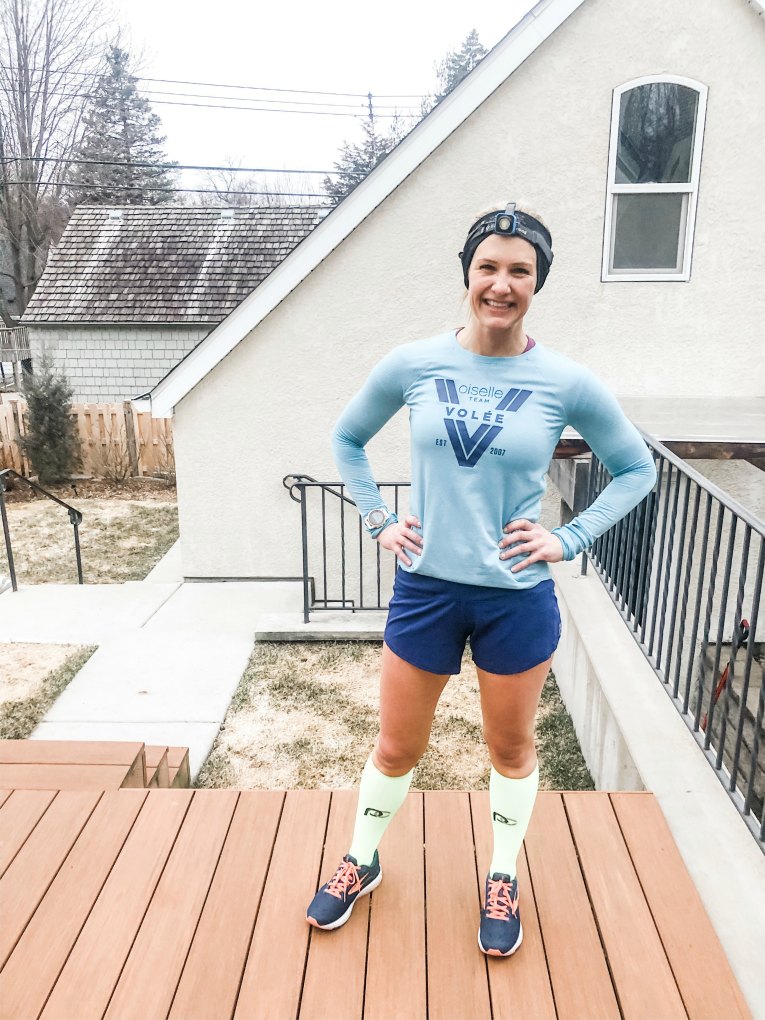 Friday: Easy 4 miles before work. I'm doing a "Covid-19 running streak" on Strava. Technically today would have been a rest day, but I opted for 4 easy miles to keep up the streak.
Saturday: Without run club, I was gearing up to do my long run alone, but Dustin decided he would run with me. We covered 15 miles together at an 8:50 min/mile. We just beat the rain; the rest of the day was a wet, gloomy mess. A perfect day for staying inside!
I was feeling pretty beat up from the stress of work, anxiety about what's happening in the world, and a lot of running, so I took advantage of the poor weather and took a lovely nap…felt much better afterwards.
At 3 pm, I had my 3rd virtual session of the week with a Discover Strength session. A great full body strength workout!
Sunday: Another rainy day. I just wasn't feeling the windy cold, so I opted to do my 5 miles on the treadmill instead.
Summary: 57 miles of running, 3 virtual strength training sessions with Discover Strength.
In dog news, this little rascal might look innocent, but she destroyed a pair of my favorite lululemon tights this week. She has been pretty good lately about not chewing stuff she shouldn't. So I was surprised to find my tights completely destroyed…
RUTH- couldn't you have chewed up a cheaper pair? Ha!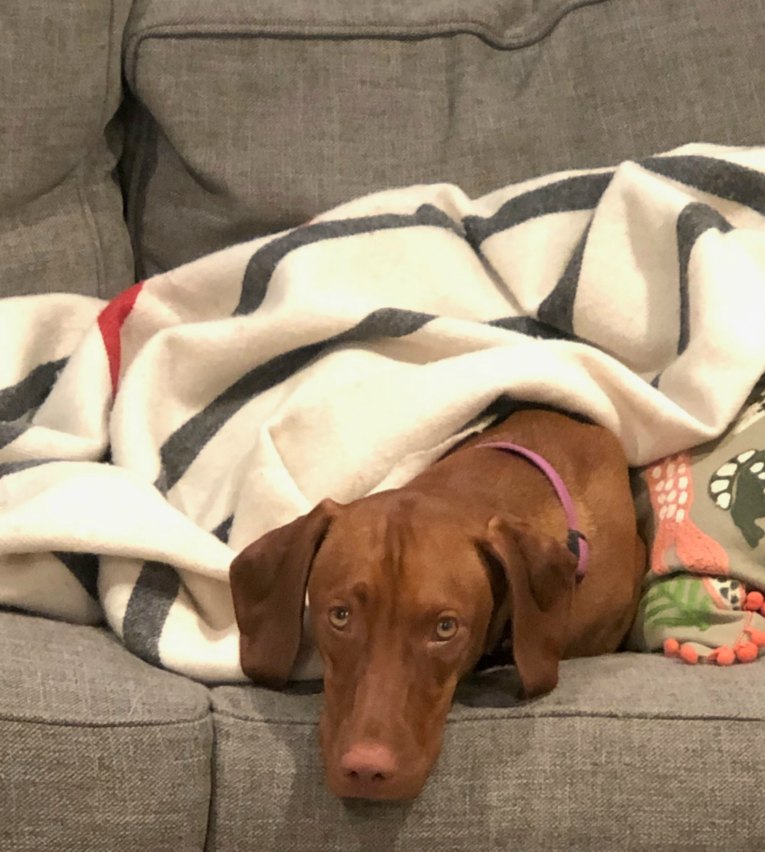 I really hope all of you are staying healthy and safe during this stressful time. It's great to have the ability to stay connected virtually and support each other; this link-up hosted by Running on the Fly and Confessions of a Mother Runner 's is a great way to do so! Check it out below:
(Visited 357 time, 1 visit today)