Another week of sheltering-in-place, running solo, working from home, and virtual workouts! This is the new normal, right?
Here's how I found 'the right fit' during this crazy time…
Monday: 8.5 miles before work, 9 min/mile average. Our vet had told us to wait until Ruth was about a year old to run with her; she'll be 1 year old next month! So I decided to start picking her up at the end of my runs for a little bit of running, and to start working on her leash behavior.

We've always been fans of the Stunt Puppy leashes (a Minnesota brand!)
As part of training with her, I made a big deal about saying "we're going for a RUN" and putting on the running leash so she would hopefully start to associate those words and that leash with different focus than just a leisurely walk.
I would say we still have a lot of work to do, but we'll get there!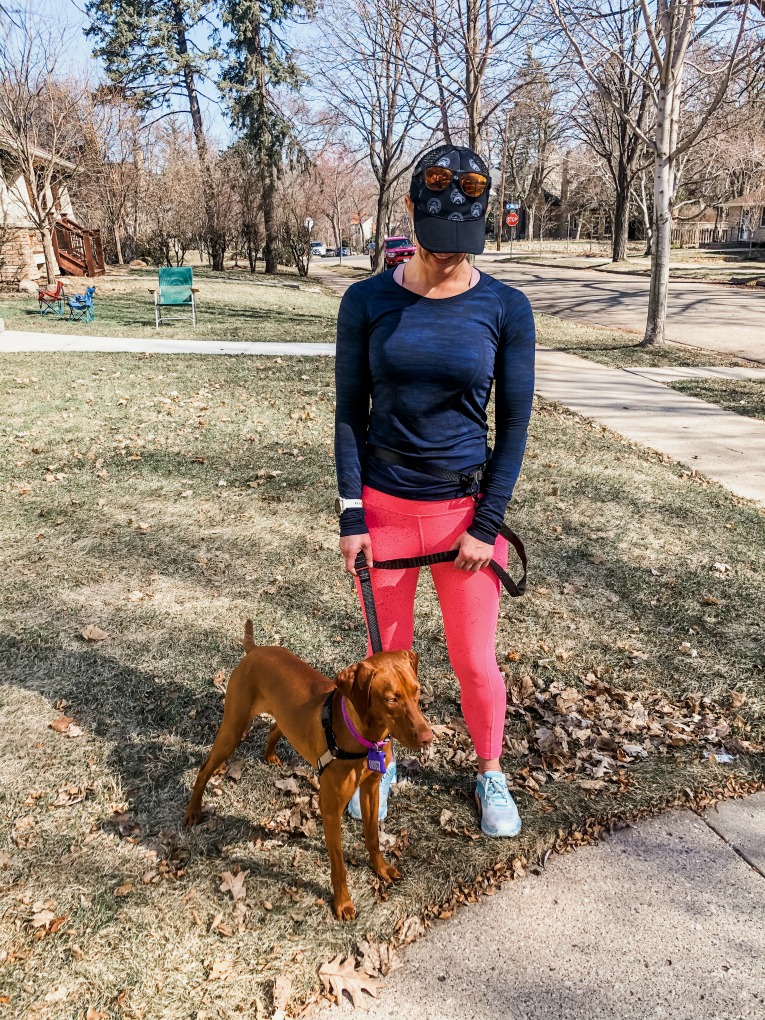 After work, I did a virtual 1:1 training session with one of the Discover Strength trainers; I actually got lucky, and had a session with the founder/owner, Luke. It was tough! He's definitely one of the best.
Tuesday: Another morning run, this time with some speed: 3 miles easy, 5x(2 minutes at 7:45, 1 minute easy, 1 minute at 5k effort, 2 minutes easy), 2 mile cool-down. 8.5 miles total. Picked up Ruth again for one of the cool-down miles.
Wednesday: 8 miles before work, 8:55 min/mile. Another virtual training session after work with Discover Strength.
Thursday: "Easy mid-week long" on my schedule of 10-11 miles. I just did 10, with the last two with Ruth.
After work, I had a fun virtual happy hour with my running friends; it was so great to see their faces and hear their voices. I miss them!
Friday: I squeezed in a short 'RUNch' with Ruth- 3 miles! She had the crazy zoomies afterwards, it was like the run ramped her up!
After work, I did yet another virtual strength session with a Discover Strength trainer. 3 times this week, woo-hoo!
Saturday: Minneapolis took a turn for the cold; I woke up to a temperature of 22 degrees- brrr! It did warm up to the 50's and the sun was shining, just chilly in the early hours.
I wasn't looking forward to a long run alone, but I forced myself out the door around 8 am and got started.
My schedule called for 60 minutes easy, then 3×15 minutes at marathon pace with 5 minute jog in between, and then 5 minutes to get to 2 hours total. Based on my route, I ended up with 14.4 miles in 2:08, or an 8:55 min/mile average. The goal marathon sets were progressive from 8:30 down to 8:00.
I chose a route that went through St. Louis Park to Cedar Lake, assuming it wouldn't be very crowded.
With cooler temperatures AND the fact that Minneapolis opened up even MORE of the parkways to only be for runners/walkers, it was pretty easy to social distance.
Yay Minneapolis!
Even though runners were spaced out, I still had a surprise run into a friend!
Randomly right before I was about to start my first set marathon pace set, Christie called my name- she was starting her long run from her condo downtown and coming up behind me.
It was so nice to see a running friend; we kept our distance; with the roads around the lakes closed to car traffic, we were able to run in the road pretty spaced out from each other. Strava didn't even register us as running together for those miles! But even though we were quite spaced, just knowing we were both out there working together was reassuring; it felt like the good old days!
Good to see you friend!
Saturday night, Dustin and I cooked a delicious braised pork sauce over pasta (from France 44; they gave us all the ingredients as part of their cook-at-home menu), played a few board games and enjoyed 'take-and-make' cocktails from Lawless Distilling Company. We're still doing takeout, curbside pick-up, and all those things to support our local businesses as best we can!
(Social Distancing Club sweatshirt from HERE.)
Sunday: Dustin and I covered 5-ish miles together and then stopped home to pick up both Ruth and Matilda for about another mile of easy jogging for the whole family!
Earlier on the run, I made a stop at the Lake Harriet troll tree to drop off a few spare rolls of TP & sanitizer for him. 🙂
I think I've mentioned the troll tree before; some mysterious kind person responds to every note written to him with a tiny typed letter on sparkly grey paper with adorable tales about his life on Lake Harriet.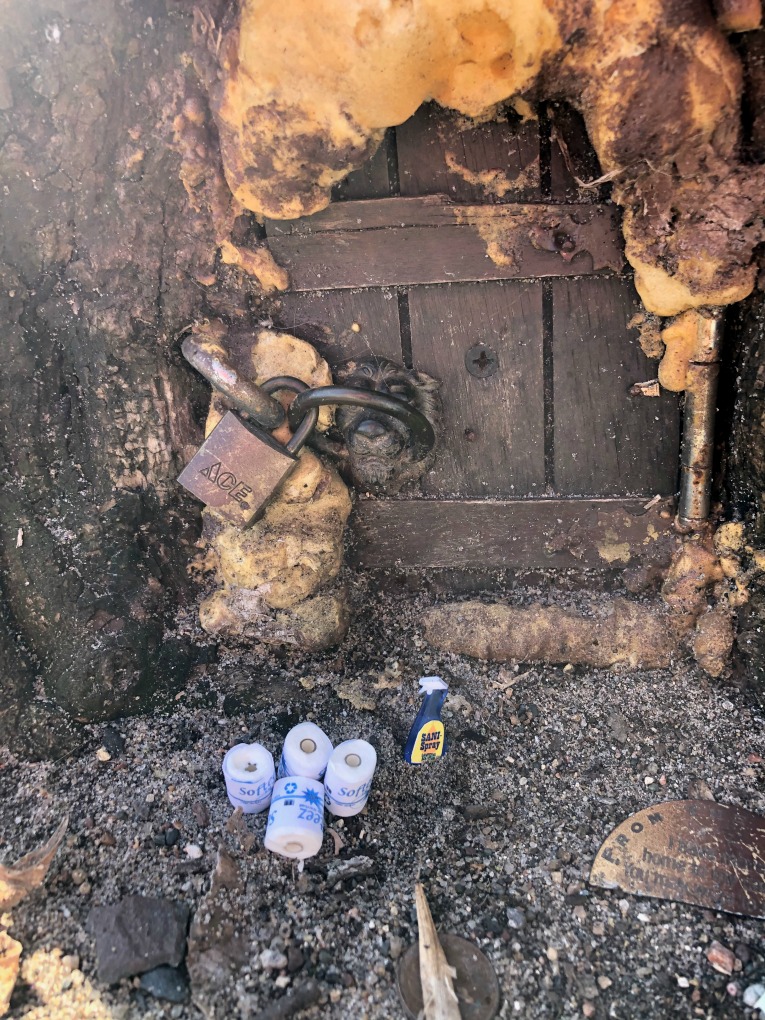 I figured a few miniature TP rolls & sanitizer might bring a smile to someone who walks by!
Summary: 58 miles of running, 3 virtual strength training sessions with Discover Strength. Covid running streak of 23 days in a row!
Everyone is saying it, but the pets are really enjoying this sheltering-in-place thing, right? My two velcro vizslas essentially fight to see who can be closer to the humans. 🙂 They're going to be so sad when we're not home 24/7 after this thing is over!
I really hope all of you are staying healthy and safe during this stressful time. It's great to have the ability to stay connected virtually and support each other; this link-up hosted by Running on the Fly and Confessions of a Mother Runner 's is a great way to do so! Check it out below:
(Visited 301 time, 1 visit today)