Another week, another weekly recap!
August has been a lot of fun so far and training for the Indianapolis marathon is in full swing. But you guys are just here for the puppy pictures, right? Ha! Ruth is as cute as ever…but a handful!
But back to marathon training, here's how things went last week:
Monday: 9 miles with some hills, 9:27 min/mile pace. My coach wanted me to seek out some hills so I ran to meet my friend Christie, who joined me for a few hill repeats, and then I ran back home to get to my 9 miles. I did a Discover Strength group session after work.
Tuesday: 6.21 miles, 9:11 min/mile pace with the Tuesday morning run club crew. I wore a new Oiselle bird bra; I am loving the bright color and pattern!
Wednesday: Another 9 mile morning! This time it was 4 miles easy and then 5 miles progressively faster down to marathon pace. It wasn't a perfect progressive (8:22, 8:22, 8:24, 7:57, 8:14), but felt pretty solid for the morning. Average pace 8:40 min/mile.
That evening, Dustin and I went to see a concert at Surly Brewing. Such a great venue! It was a perfect summer night, so much fun.
Thursday: Not so much fun was getting up for a 5:30 am run after a concert the night before, ha! I kept this one short with just 5.2 miles, average pace 8:58 min/mile. The average would have been a lot slower, but I had to stop to use a porta-potty and then was forced to sprint to catch up with the rest of the group afterwards!
Discover Strength group session after work.
Friday: I ran to meet my friend Sarah for some easy miles, 6.5 miles total, 9:20 min/mile pace.
Saturday: 15 mile long run; I met up with a small group on the river again for some miles. I have been enjoying running the river road on the weekend, since I run the lakes so much during the week!
9:05 min/mile average. Humid, but felt good!
(Christie and I were the only two with 15 miles, the others went shorter.)
After the run (and a shower), we had puppy school again for Ruth; just one more week before she's done! We've signed up for Obedience Level 1, which will start a few weeks into September. Have to keep the training going!
We were also dog-sitting Breck the Golden Retriever over the weekend. Three dogs in one small house is a lot! He's a good boy though.
Later that evening, our friends Paul and Laura hosted a "Blind Beer Tasting" party. Paul is quite a talented web developer and he created a mobile- friendly site for us to guess each beer.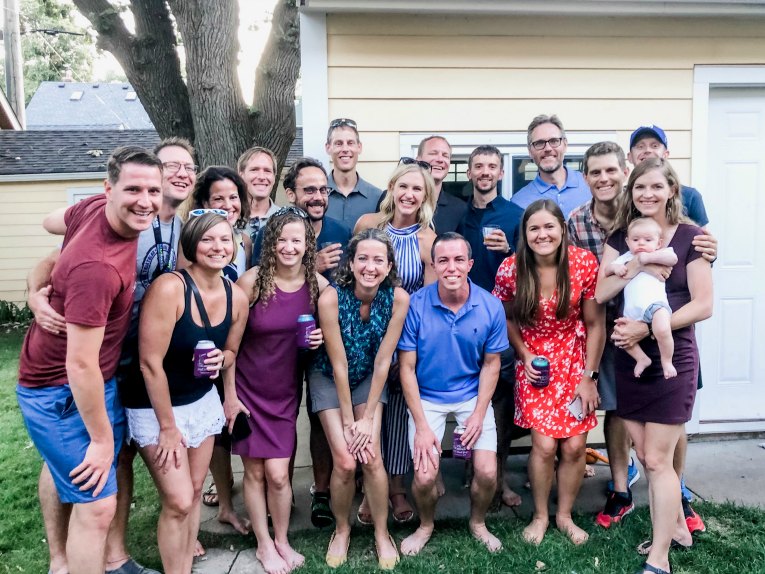 Blind tasting was hard! You'd have to guess type first (i.e. ale, lager, amber, IPA, stout, etc.), then brand (Surly, Goose Island, etc.) and then actual beer name. I think the only one I got right was the Leinenkugel's Summer Shandy. I thought I knew more than that about beer!
But it was a fun evening…I thought these two pics were great- instagram vs. reality! The second one is so much more real. 🙂
Sunday: 5.5 miles with Dustin and Matilda (our older vizsla), 8:35 min/mile. I always end up going a bit faster when I run with Dustin.
Summary: 56 miles of running, 2 strength sessions at Discover Strength.
Overall, it was a good week of training, though there are a few areas where I'm struggling. Solid sleep is still tough, as Ruth does still get up in the middle of the night sometimes to go outside.
I also am struggling in the morning to make time for breakfast; between running 9+ miles, taking care of Ruth, and then getting ready for work, I have often left for work with no food on hand or in my belly! There are plenty of Starbucks and Caribou Coffees in my building downtown, but I need to figure out a good option of something quick to have at home or eat on the way in. Anyone have any favorite healthy ideas for post-run quick breakfast on the go? I think I need to make a batch of the "Run Fast Eat Slow" Superhero muffins, those usually work pretty well to fill me up, but open to other tried-and-true suggestions!
(I swear, this is not how Ruth normally behaves while I get ready in the morning. Normally she runs around like a crazy person all morning! Regardless..still a velcro vizsla, has to be close to me!)
in other news, I finally added a Brookings sticker to my USA wall hanging.
21 states down, 29 to go!
I want to put in a plug for my coaching services! It's not too late to start working together for a fall goal race. I just started working with a woman who's running the Philly marathon at the end of November. Plenty of time if you're interested!
I'm linking up with Running on the Fly and Confessions of a Mother Runner as part of their Weekly Rundown. Check it out!
(Visited 309 time, 2 visit today)