11 weeks until the Indianapolis Marathon! Time is flying.
This was a big week mileage-wise and a busy one with life. Here's my weekly recap!
Monday: 9.6 hilly miles. My coach said "seek out all the hills!" I ran to the Kenwood Parkway hills and repeated a hill there a few times. Discover Strength group class after work.
Tuesday: 7 miles with strides.
Wednesday: 4 miles easy, 5 miles at goal marathon pace (7:56, 8:06, 8:09, 8:05, 8:00), 1 mile easy. 10 miles total. I worked hard for those marathon pace miles. Hard to imagine trying to run 26.2 at that pace!
Thursday: 7 miles, 9:22 pace. Discover Strength group class after work.
Friday: 6.6 miles at 9 min/mile (Matilda joined me for this one!)
I wore a flowery pair of Oiselle shorts I had never tried before; they fit fine, but I was bummed that there are zero pockets, not even a small one for a house key. Argh!
Friday evening, we were invited to attend the rehearsal dinner for Dustin's niece Camille's wedding; here's a quick 'family' photo before we headed out. Ruth is getting bigger, but not quite as big as Matilda yet!
Dustin has three half brothers that are a bit older than him, hence why his niece is 25 years old. Here's a pic of all five brothers and two of his nieces.
The dinner was at a great location overlooking Lake Minnetonka, but unfortunately I didn't eat much food, which was not smart fueling before a long run….Ugh. Wine with not enough food, not smart.
Saturday: 16 mile long run. I went into this run feeling under-fueled and just tired. My coach had put 1 minute pickups and 30 second pickups into every mile and I had to really work for it.
A tough 16 miler, but I got it done. It took a lot out of me and all I wanted to do was take a nap afterwards, but unfortunately didn't have time.
My parents were in town visiting (unrelated to the wedding) which worked out really well as they took care of the pups when we were at the wedding! (They LOVE dogs.) They also attended Ruth's last puppy class with her; they loved it! Who doesn't enjoy hanging out with puppies, right?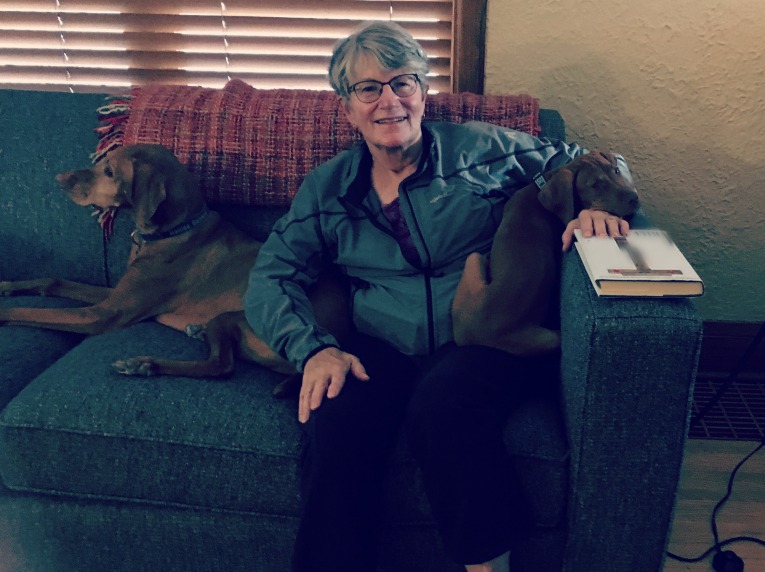 Vizslas love to cuddle! My mom enjoyed their company.
Quick photo before the wedding; I bought this dress awhile ago at Anthropologie. It was actually quite comfortable and I hope to have an occasion to wear it again soon!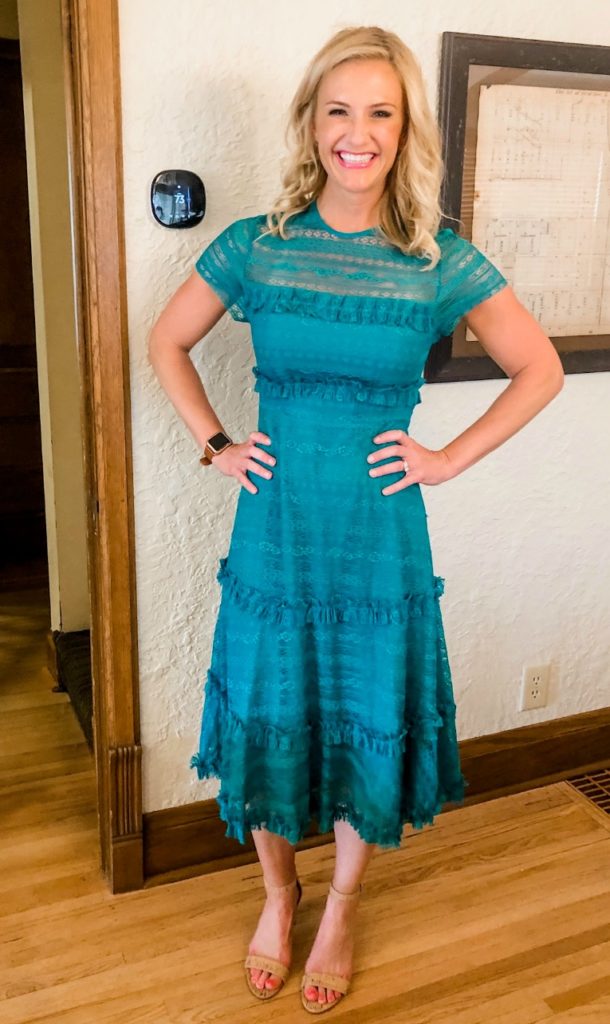 Sunday: After a slow morning drinking coffee/hanging out with my parents, walking the dogs, and then meeting up with a few new "Rover" options, Dustin and I went out for a 6 mile run; with all the construction on some of the trails for the new light rail line, we tried out a new route. It was fun!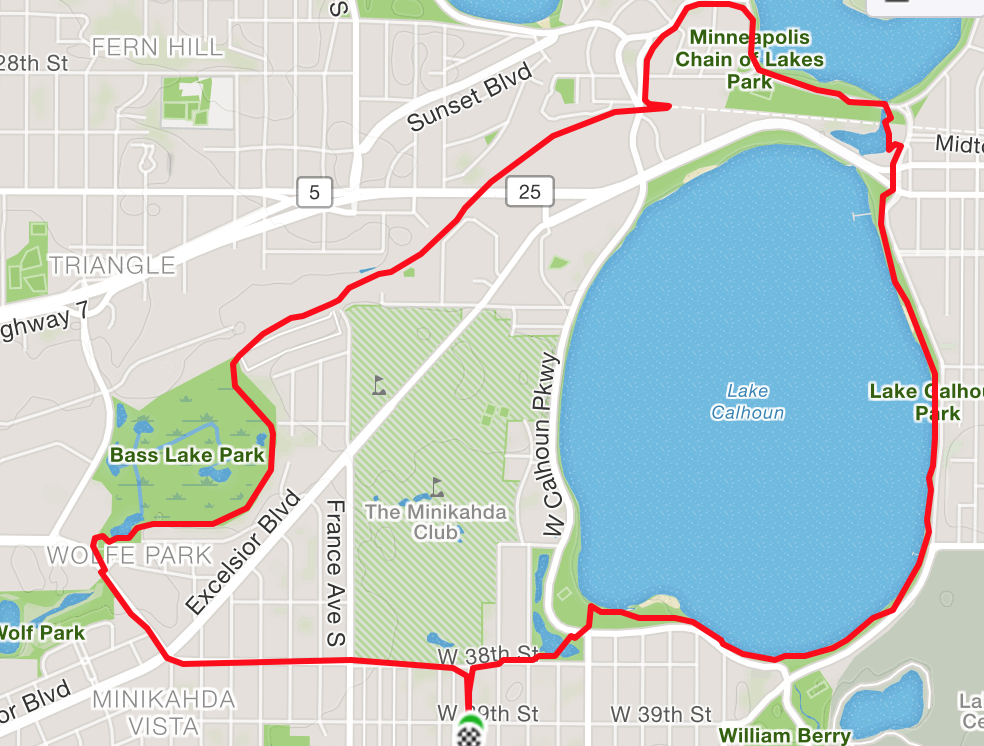 Summary: 62 miles of running (a big week!) Two Discover Strength sessions. Next week will be less mileage, a bit of a cutback after this build. 62 miles was definitely a lot for me!
And here are your weekly Ruth/puppy pics just for fun!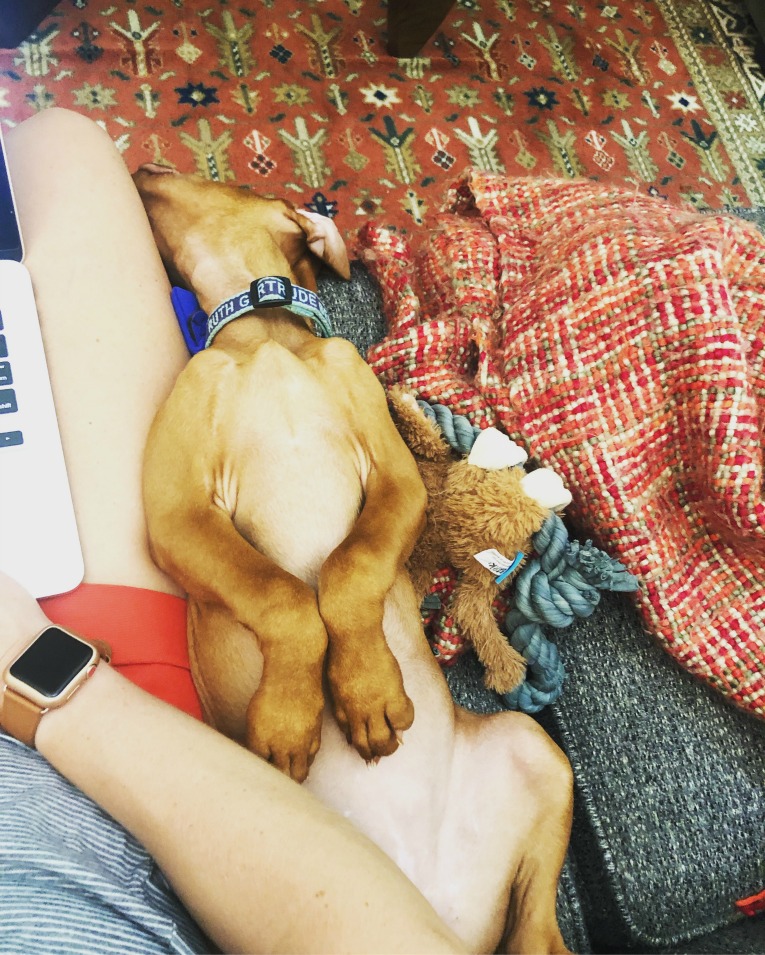 I'm linking up with Running on the Fly and Confessions of a Mother Runner as part of their Weekly Rundown. Check it out!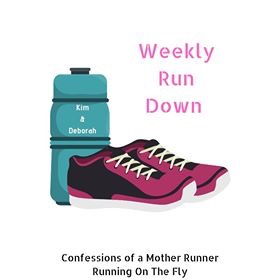 (Visited 299 time, 1 visit today)