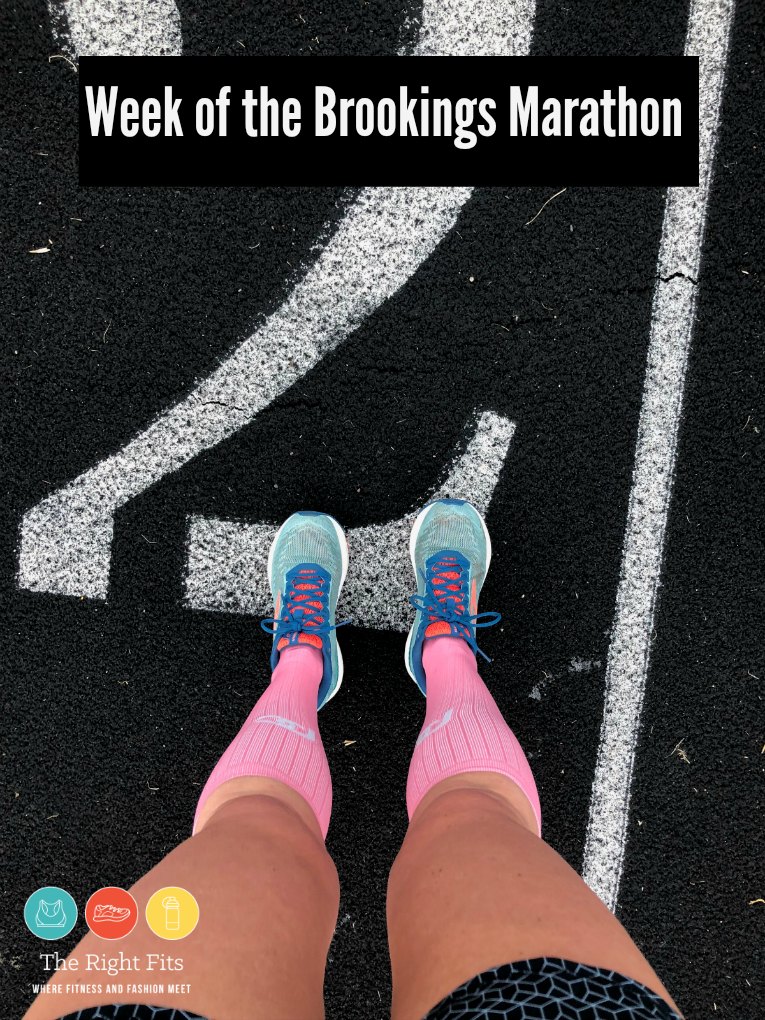 Happy Sunday! I'm here with a short recap of the week before the Brookings Marathon, which I ran with my sister yesterday. (Dustin ran it too- his 4th marathon in 5 months!)
I'll be back later this week with a full recap of the race!
Monday: Track Monday! 3 mile warm-up to get to the track, then 1x800m with 400m recovery, then 4x200m fast with 200m recovery, 1x800m again, and 2 mile cool-down. 8 miles total.
Tuesday: 5.1 miles before work with my dog Matilda.
After work, I took a Pure Barre class.
Wednesday: I was supposed to do 3 miles in my 'race shoes', which are my new Nike Vaporfly 4%'s!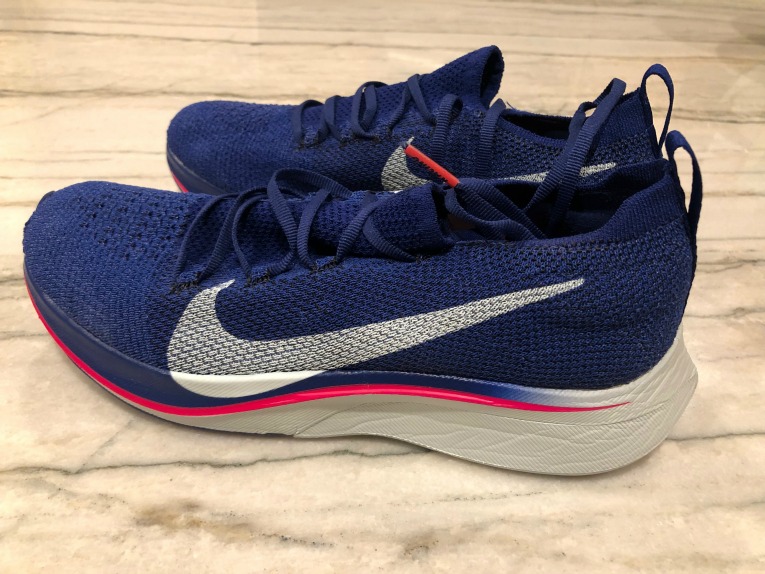 Since it was only 3 miles, I decided to wait until after work. Of course, it was pouring after work and I had heard that the 4%'s are super slippery…so it was on to the treadmill instead for my 3 miles with some strides. Who knew I'd still be using that treadmill in May??
The shoes are so bouncy though- I love them! I can see how they make people run faster. If only they actually worked for me at the TC 1 mile…
Thursday: TC 1 mile! I arrived around 5:30, thinking I'd run in a 7 pm wave. (There are a ton of waves from First Timers to Competitive to USATF/Elite.) I ran about 2 miles with my sister Cresta to warm-up and then another two with my friend Christie when she arrived. Well, then we found out that if we wanted our race times to count for our USATF race team, we had  to race in the 7:40 pm wave. Ugh! That meant I had an hour to wait around and be cold before we'd race. I was shivering and freezing by the time we started, so I had to do a few more miles to warmup, which left me with almost 6 miles before the race; not ideal. I still felt cold at the start, but figured I would be okay. The gun went off and I went out WAY too fast; my first 1/4 was at a 5:14 min/mile pace. I couldn't keep that up and slowed quite a bit. My 2nd quarter was 7:20 and then 3rd and 4th were both about 6:45.
My final time for the mile was 6:45.
6:45 is my slowest 1 mile race time ever…so I was pretty disappointed with myself. I know that it was less than a year ago that I was even run/walking again after my breaking my leg. But I thought that my training had been going well and I had hoped that I would be somewhere around 6:20. Of course, some of it was the poor pacing but most of it is that I'm not in the same shape I used to be!
I signed up for the Raspberry Run 1 mile in Hopkins right away as redemption to try to get a better 1-mile time. Join me! It's July 21st.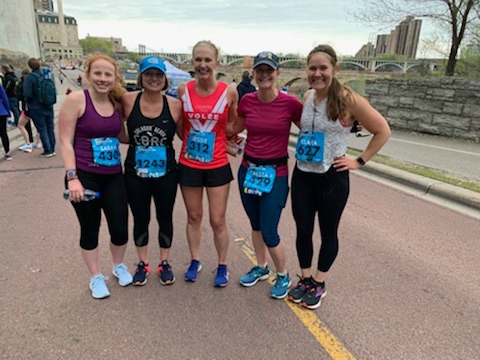 My sister Cresta, who recently joined our USATF team, had already run in an earlier wave at the TC 1 mile before we found out we all had to run in the 7:40 wave, so she ran it a second time! She even posted a faster time on her second mile! Nice!
Friday: My sister Erin arrived from Chicago on Thursday night. I worked from home for a 1/2 day on Friday, with a short break for a 2-mile shakeout run with strides with her. We hit the road for Brookings, South Dakota around noon. Brookings is about 3.5 hours away from Minneapolis. 
Saturday: 26.2 mile tour of Brookings South Dakota with my sister Erin! I'll share a full race recap later this week. Erin had a really rough day; she was trained for a 4:20 time, but fell apart early. She's the first to admit that it was all mental.
Spoiler alert, she didn't get her PR, but it was still a fun day and I completed marathon #32 while checking South Dakota off the 50-state list!
I still had a fantastic time hanging out with my sister all weekend! 
Sunday: Rest. Drove back to Minneapolis from Brookings.
Summary: About 52 miles of running, 1 barre class
I'm linking up with Running on the Fly and Confessions of a Mother Runner as part of their Weekly Rundown. Check it out!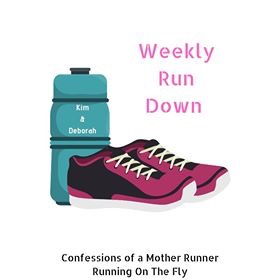 (Visited 276 time, 1 visit today)