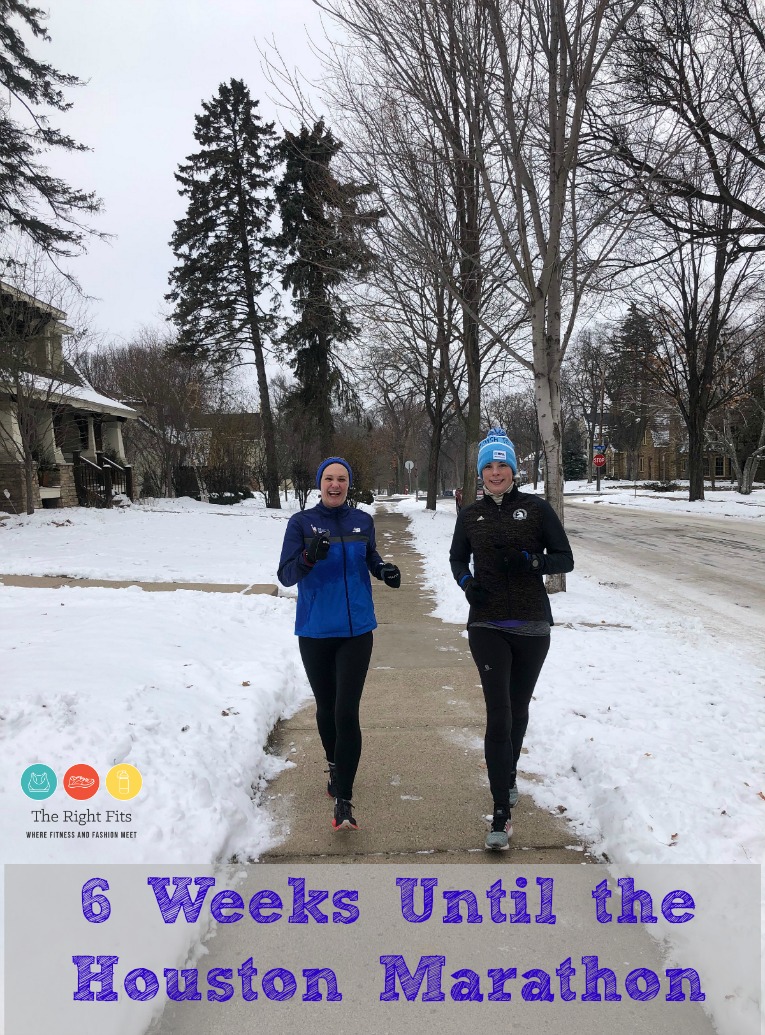 6 weeks to go!
This week was definitely a 'peak' week in mileage. Next week will be a cutback before two more hard weeks, then the taper. Then on to my 30th full marathon and first one back since breaking my leg- woo-hoo!
Here's how this past week went.
Monday: Run commute; this was my only opportunity to run commute this week since Dustin was traveling the rest of the week for work. Unfortunately, it was kind of slippery. I was really nervous and slowed things way down for me (like a 10:45 min/mile average) to get in 8.1 miles before work. Safely. Not falling is more important than running fast.
Guess who I saw again? My friend the fox! He actually ran by me for quite awhile and I caught a little bit of it on video:
Tuesday: 8 miles in the morning with my friend Vicki and another coworker. I tested out my new Kahtoola Nanospikes. I like them much better than my old Yak Trax Run, especially when you're running on a mix of clear pavement and snow/ice, which is generally the case in Minneapolis.
"Kahtoola NANOspikes®, featured in Outside Magazine's "2019 Winter Buyer's Guide," are designed for use on icy and snow-packed roads, streets, and urban trails. Ideal for transitioning on and off dry pavement, tungsten carbide spikes allow you to run or walk naturally in mixed winter conditions without affecting foot strike, gait and/or stride."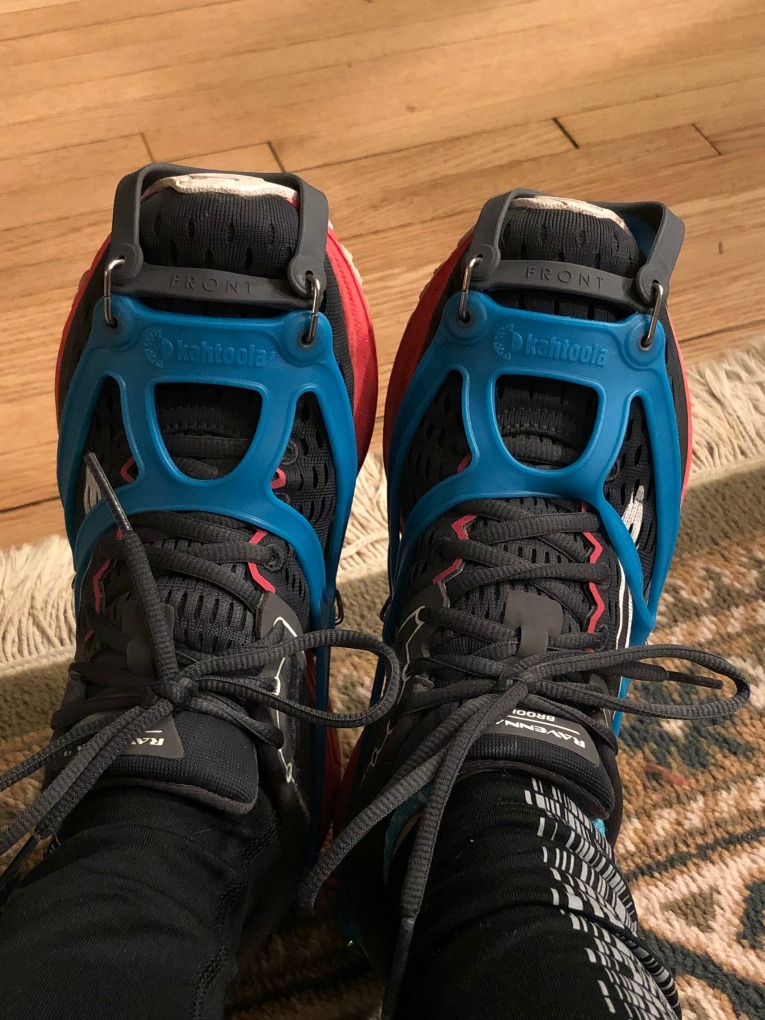 Tilda joined us for this run too.
She ran well for 8 miles, but went right back to bed afterwards. We don't run with her as much in the cold so 8 miles was kind of a lot for her right now!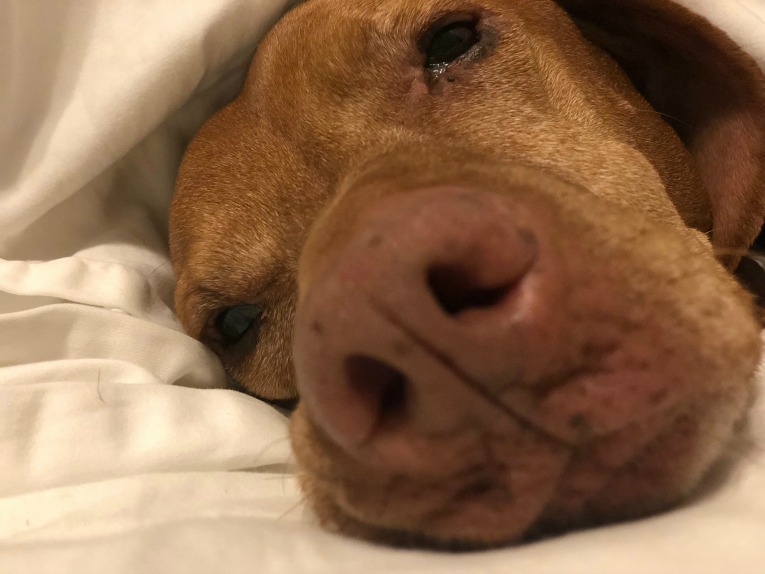 Wednesday: My "quality" run of the week: 2 mile warm-up then 8x 1 mile at marathon pace (around 8:35-8:40) with 1 minute break in between. Since I was on the treadmill, I decided to just do 4 marathon miles at a time, with more like a 3 minute break in between sets for water, then 10 minutes to cool down for 11 miles total. Not a bad workout, but a long time on the treadmill after work!
Thursday: 5 miles on the treadmill before work, another 3 after work to get in my 8 total for the day. 9 min/mile average for both runs.
Friday: 6 miles on the treadmill before work, 9:15 min/mile pace.
Saturday: 20 mile long run! My first 20 miler in a very long time. 9:10 min/mile average.
I ran 6 on my own and then my friend Nordica joined me for 14. It was so great to have all that time to catch up with her! Non-runners don't get that running is so much more than just exercise. It's such a powerful component of my friendships; I was on such a high after that run, so happy that it felt good and I had completed it. The pace and distance felt easy and I never felt like I was fizzling out.
Great company helped too! Nordica will be joining me in Houston, she's running the half there.
I did try one of the Maarten gels during the run- they are great! They go down more like a jello shot, ha! They don't really have a flavor, but you don't need to take them with water. I am a fan.
For a 20 mile run, I also had a regular GU brand gel and a Spring gel, i.e. 3 gels for 3 hours of running. I probably could have used another, but was okay with 3.
For the first 6 miles on my own, I was wearing a full knit hat; I must have been pretty sweaty, because  when I switched to just a running ear band before Nordica joined, my hair TOTALLY froze- like icicle, solid as a rock frozen.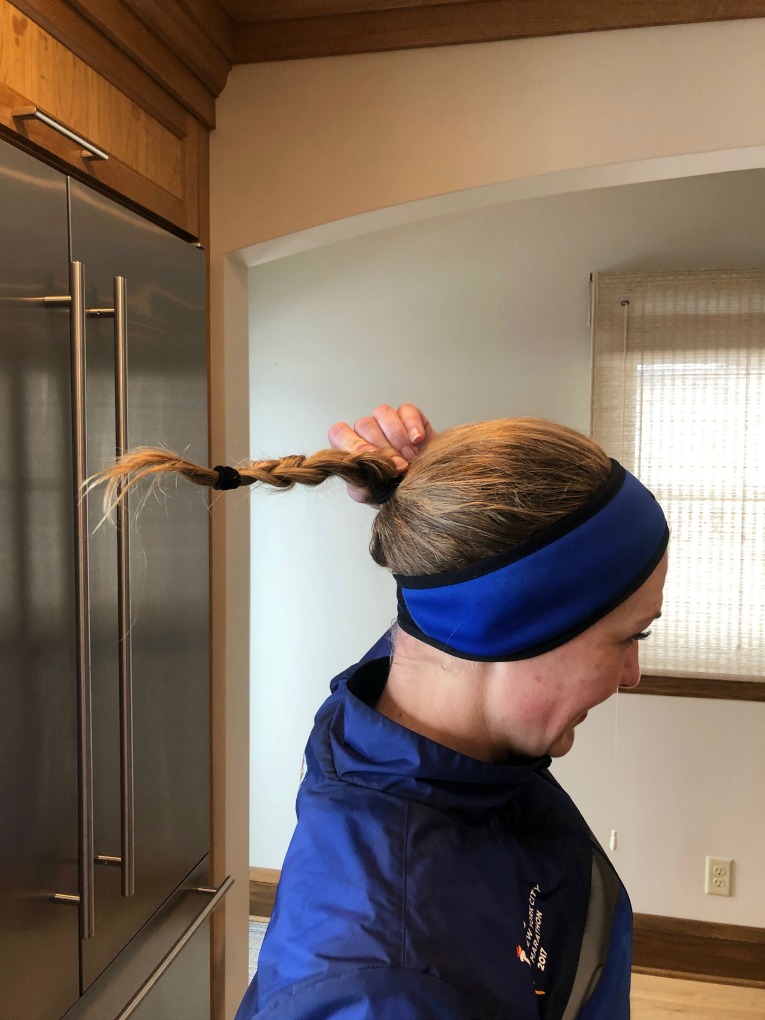 Fortunately the braid de-thawed quickly in the shower.
Back in April, I attended a Nuun ambassador meet-up where I won a tube of discontinued Kona Cola Nuun. I told myself I'd save it for a special occasion, when I ran 20 miles again. At that time, I was still deep in the days of the broken leg; running 20 miles seemed so far away.
But Saturday was the day! So I busted out my Kona Cola and drank one…and unfortunately it wasn't as good as I remembered. I think I prefer a lot of the new flavors!
In non-running news, Saturday evening included a holiday party that our running club friend hosts every year. It's always a lot of fun! This year, I used a Black Friday 40% off deal to rent a dress from Rent the Runway. It worked out well!
Sunday: 4 miles at a 9 min/mile pace, outside. I tested out some new Oiselle gear that I bought during a recent sale: the Power On Mittens, the Striped Pom hat, and the Flyout Insulated Baselayer.
The baselayer was quite warm! It was like wearing a running vest and kept my core nice and toasty. It also had a big side zippered pocket, which was handy. I wore it with just one layer underneath on a 21 degree run and felt great!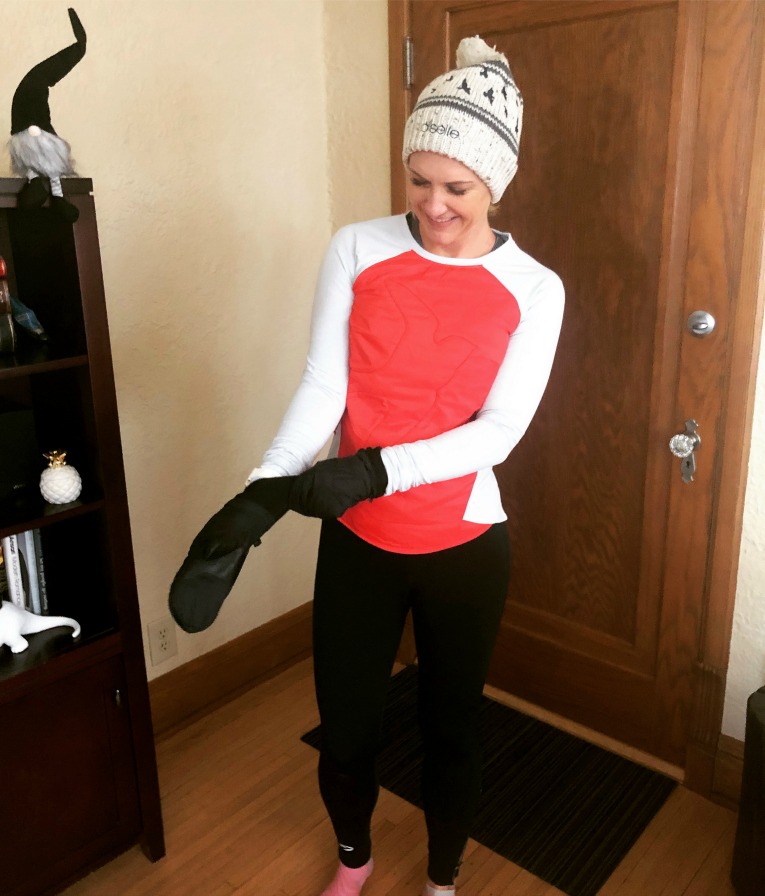 Summary: 65 miles of running.
I didn't have any extra time for yoga or strength as Dustin was traveling for work. I was a lot busier at home with exercising/walking Matilda every day. It's much easier when we share dog duty and the household stuff. Since I was on my own, I had no choice but leave work at a normal time (5 pm), walk Matilda, and then log back on to work some more most evenings. Hopefully this cutback week will allow for at least a little bit of yoga or strength in between the rest. Got to stay healthy!
Thanks so much for reading and be sure to check out all the other great weekly recaps that are a part of  HoHo Runs and Taking the Long Way Home 's weekly recap link-up!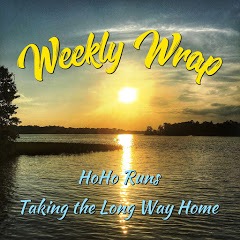 (Visited 341 time, 1 visit today)