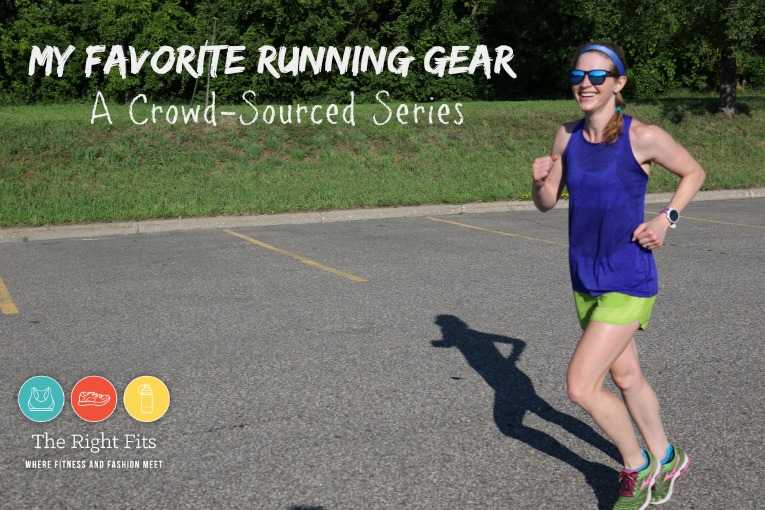 If you're new here, I'm doing a crowd sourced series of posts featuring your favorite running gear. I'm reaching out to all the runners that I know to share their most favorite running gear; after I've shared all the posts, I hope to do one summary of the most popular items from my most "unscientific" survey. See links to all the favorites so far at the end of this post!
Today's featured runner is my friend Laura. I've known Laura since I joined the Calhoun Beach Running Club about 8 years ago. We're friends through our love of running (obviously) but also our shared CRAZY love of dogs 🙂
Here's a pic from when Matilda met Laura's puppy Kirby last summer. He's the cutest- just a little camera shy on this particular day!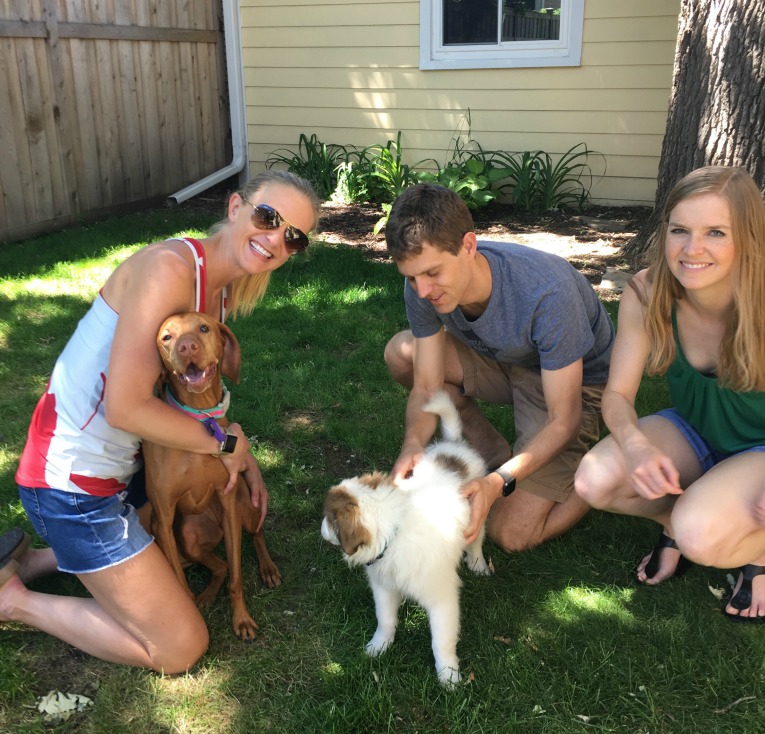 About Laura:
Hi! I'm Laura. I've been running since I started cross country at age 10, and it's been part of my life ever since. In fact, it's been a major part of my life, as I met many of my favorite people (including my husband!) through running.
What Laura's training for:
I'm chasing a half marathon PR this summer/fall. I'm also running the USATF team circuit races for our Calhoun Beach Running Club team.
How Laura shops for gear:
I stick to what works for me until they stop making it. Then I try brands my friends recommend (that includes my most trusted source: Jessie at The Right Fits!) I never would have tried some of the more premium brands like Oiselle, Athleta, and Rabbit without a little encouragement. In the summer, I'm looking for lightweight options that don't chafe.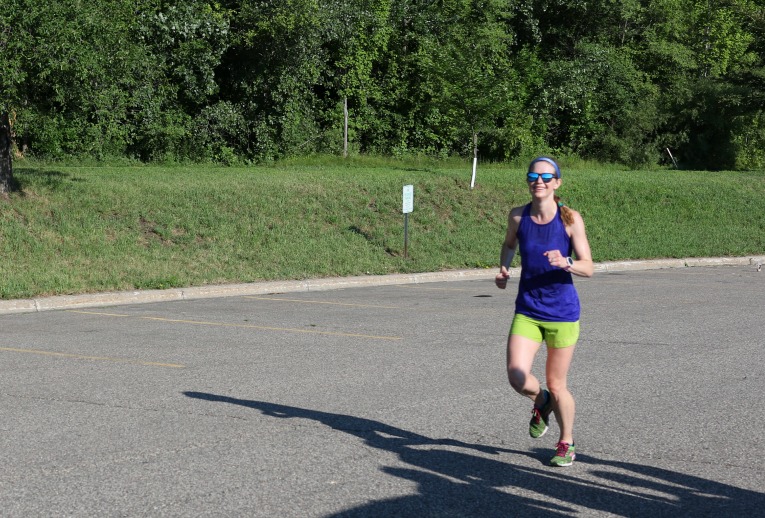 Laura's Favorite top:
My favorite top is the Athleta high neck chi tank, mainly because it doesn't cling when wet. I also like the wider arm holes which reduce chafing, and the flattering fit doesn't hurt either. I particularly love the shadow stripe material because it's so lightweight. I also have one of the mesh stripe fabric, and it's great too.

Laura's Favorite Shorts:
Rabbit shorts, any style. They're everything a pair of shorts should be: lightweight, stretchy, plenty of pockets. and most of all, chafe-free. I'm wearing the Hopper style, but I also have the Catch Me if you Can's and the Lady Dukes – all great. Jessie introduced me to the brand, and I'm hooked.
Laura's Favorite Sports Bra:
My favorite sports bra is the Brooks Just Right Racer. Anything seamless works great for me (no chafing!) This style is the most comfortable and (so far) durable of the seamless styles I've tried. Check out REI.com. They have a bunch of colors and sizes on sale now – I love the teal and the cobalt stripe. Can you tell I just stocked up?
Other favorites of Laura's:
 Goodr sunglasses. I gave up trying to find comfortable sunglasses for running. Then Jessie got me a pair of Goodrs, and now I can't imagine summer running without them. They don't bounce, slide, or dig in.
I also love my
Spibelt
.
Spibelts
are fully adjustable and the pocket stretches to fit a cell phone and a few other essentials. My spibelt has come in handy when I need to carry a cell phone on a run, or when I'm traveling, as it can double as a money belt.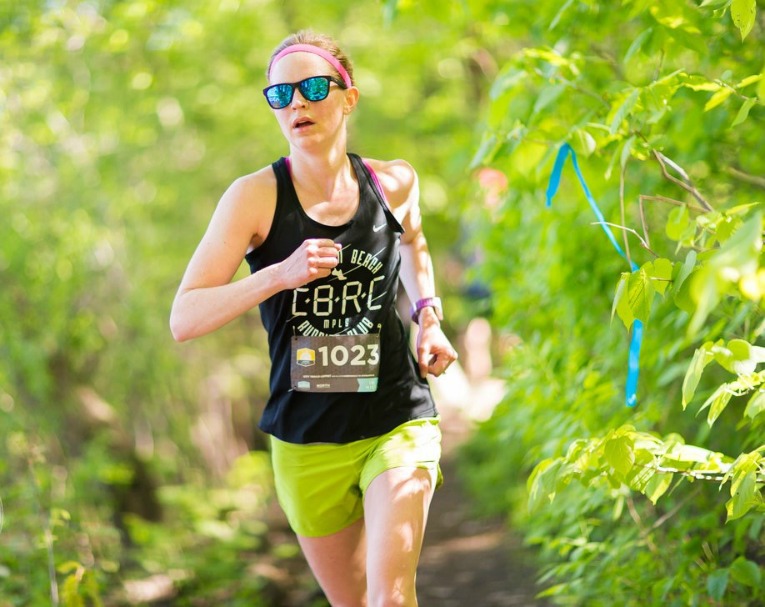 (pic courtesy of the City Trail Loppet!)
Thank you so much Laura for sharing your favorites!
(Visited 400 time, 1 visit today)