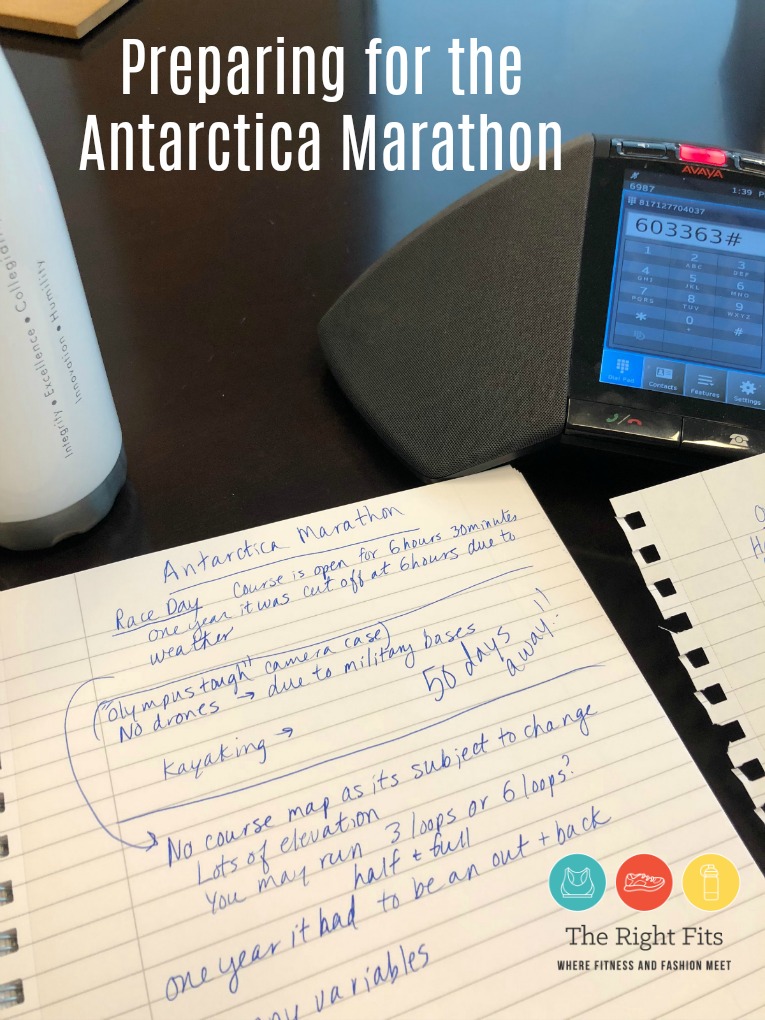 I've been sharing my weekly recaps of training for the Antarctica Marathon, but I thought I'd share more information about the trip overall. Of course, it will be totally different when I have a real experience to share with you! But here goes…
We are running the Antarctica Marathon through Marathon Tours.
All the information about registration can be found HERE. There is another marathon on Antarctica called the "Ice Marathon." I believe that for that one, you fly directly onto the continent, run the race, and then fly back to Argentina. Our trip is a two week trip, with a large majority of the time spent on a boat. We don't fly into Antarctica, but rather sail there.
We are members of the Marathon Tours "7 Continents Club", meaning we have the goal to run a marathon on all 7 continents. We have completed North America (duh), Asia, and Europe. Antarctica will be our fourth, with Africa, South America, and Australia left.
Membership in the 7 Continents Club costs $250/person. Once you are a member,  you are in the 'first' wave of the lottery for marathons that are really hard to get spots in, like London or Antarctica. Antarctica is even harder- we were on the waiting list for three years. A spot opened up for us for 2018, but we had to be willing to share a bathroom with another couple. (We had originally requested our own bathroom.) Since each room on the boat does have its own sink, I decided it was okay to share a bathroom in order to actually be able to get a spot on this coveted trip.
Here's a little background information about the Marathon Tours' Antarctica Marathon directly from their website:
Marathon Tours' Antarctica Marathon:
Marathon Tours & Travel has been offering the Antarctica Marathon & Half-Marathon since its inception in 1995.  As the proud event organizer and the exclusive tour operator, in conjunction with One Ocean Expeditions, we are excited to bring 200 runners and their supporters to this authentic event on March 16 and 17, 2018.
The Itinerary:
The Antarctica Tour Package begins with three-nights in Buenos Aires to give you time to meet your running peers, participate in a few training runs, and attend the mandatory race briefing and welcome dinner.   We will then fly you to Ushuaia, which is located at the southern tip of Argentina.  It is here where you will start your journey to Antarctica aboard the Akademik Ioffe Ship or the Akademik Vavilov Ship.  Over the course of several days you will sail through the Beagle Channel across the Drake Passage, through the Shetland Islands and along the Antarctic Peninsula until reaching King George's Island – the location of the Marathon and Half-Marathon!   During your travels you will explore the most pristine corner of the planet, coming face-to-face with Antarctic gems such as glaciers, icebergs, penguins, seals and whales. Historians and scientists will provide lectures on board your ship and you will experience wildlife excursions during landings in remote areas, such as seal colonies and penguin rookeries as well as the research bases.
The Course:
The course on King George's Island has marked gravel roads that connect the scientific research bases of Uruguay, Chile, China and Russia. Great care is taken to leave behind zero impact on the environment in this sensitive ecosystem.  As part of this, we are restricted to having a maximum of 100 passengers ashore for the event at any one time.  Marathon Tours & Travel takes their part seriously and in fact has raised more than $200,000 for Oceanites, the non-profit scientific organization that monitors the effects of climate change and the impact of tourism on Antarctica.
Why Antarctica?
To race on all seven continents is a goal of many marathoners and we can make that happen for you!  On average we have runners from over 25 countries represented each year including: Canada, United States, Norway, Germany, Great Britain, Bermuda, Ireland,  France, Belgium, Netherlands, Italy, Spain, Sweden, Denmark, Norway, Finland, Chile, Colombia, Russia, Poland, Greece, Austria, Switzerland, Portugal, Hungary, Argentina, Brazil, Mexico, Bermuda, Bahamas, Venezuela, Colombia, Australia, South Africa, Hong Kong, Indonesia, Israel, Iran, Lebanon, Luxembourg, Japan, China, India, Uruguay, Guadeloupe, Pakistan and New Zealand. Due to the incredible popularity of this event, we are sold out through 2020 and are currently accepting booking forms for 2021.  We still welcome you to apply to be on the waitlist for 2019 and 2020.
_____________________________________________________________
Okay! That's a lot of information! I have also read the book "The Coolest Race on Earth" to prepare and then Marathon Tours recently hosted a conference call with all of this year's participants. We were able to submit questions ahead of time to make the most out of the call.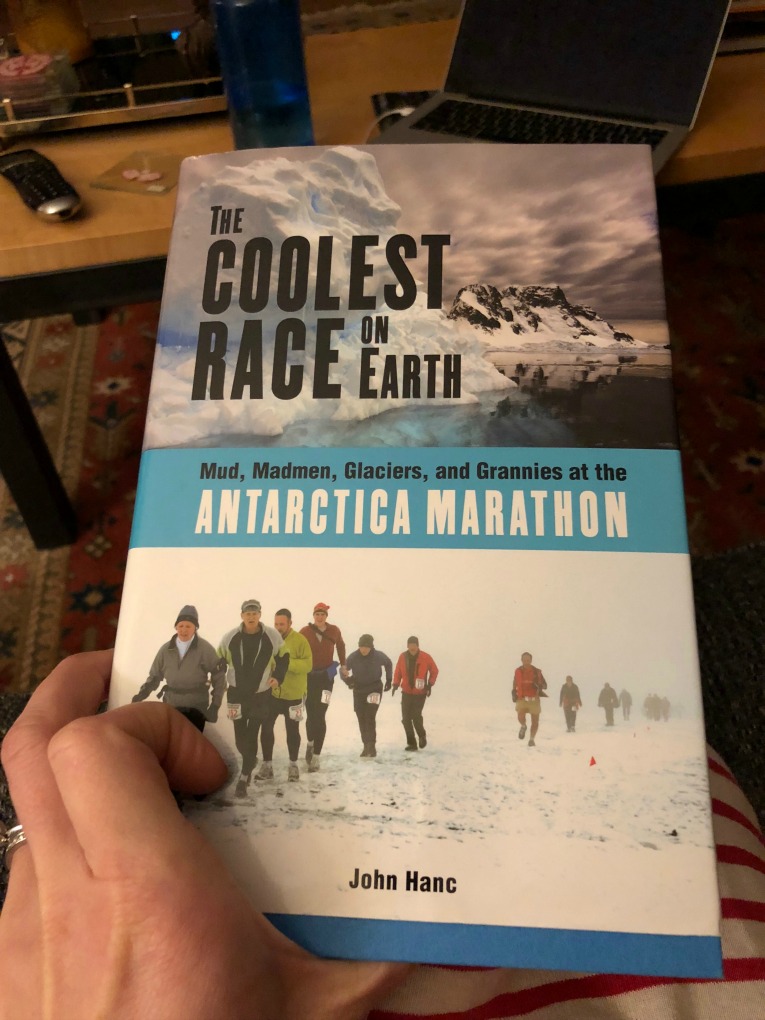 Here's what I learned on that conference call, (mixed in with a few things I've learned elsewhere):
How long will it take us to run a marathon on Antarctica?
If you normally run a marathon around 3 hours, you probably will only need to add about 10 minutes to your finish time. But the slower you are, the more time you need to add. i.e. if I'm in shape to run a 4 hour marathon, I should expect about 20-25% longer, or something close to a 5 hour marathon. This is good to know to set expectations! There is a time limit of 6 hours and 30 minutes. If you're slower than that pace, you should run the half marathon.
Things to bring:
There is laundry on the boat for $1/item, so they do recommend that you try to pack light. They also recommended duffel bags vs hard sided suitcases as the bedrooms on the boat are small and duffel bags could more easily be stored under the beds. Dustin and I have a private bedroom but a shared bathroom. This will not be a luxurious cruise!
In terms of attire, most of the time running clothes are just fine on the boat, though there is one night, the captain's dinner the last night of the time on the boat, that they recommend you dress up a little bit.
The Course: 
The host said there is no course map available because it is subject to change. It really depends on the terrain. Some years running to the Uruguay base is not possible, so instead the course is an out and back. Some years it includes multiple loops between the bases. One year it was cut off at 6 hours due to weather; you just never know what to expect. The difficulty of the Antarctica marathon will really depend on the weather that we encounter, and apparently we might encounter quite a variety over 26.2 miles. It could be sunny and 'warm' at the top of the glacier and it could be sideways blizzard snow at the start line.
The host said to expect a lot of elevation. It will be more like a trail marathon than a road race, even though some parts of the course are on gravel roads. We will run over a glacier, which apparently can be difficult if it has been warm as the snow will be soft and you might sink right in!
What to wear for the race?
The conference call was catered to a wide audience. Out of the 200 participants, there will be 25 countries represented. And some of those runners are from countries with much warmer climates than Minnesota! So a lot of the advice given during the conference call was for runners who have never run in the cold before. The recommendations- layers, gloves under mittens, wool socks, a balaclava- all things I currently run in. A neck gator. Flasks for gels. "Stay just below sweating."
They did recommend waterproof trail shoes rather than yak trax like I often run in here in Minnesota.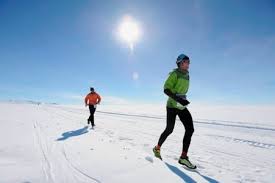 Bathrooms?
As mentioned in the section from the Marathon Tours website, they really do care about being a zero impact race. With that said, there will be no porta potties set up, or even a tent. Instead, there will be tarps laid out and then an area with a few bathrooms. They call them "honey pots." They are basically buckets. Since there is no shelter at the starting area, I'm not really sure what kind of privacy they'll have.
Fuel:
As an environmentally friendly event, runners are not allowed to bring any disposable fuel onto Antarctica. Instead, we have to put our GU's/gels into reusable containers like ">this.
We have to bring our own water bottles or Gatorade. They recommended bringing Gatorade powder and mixing it up in a reusable bottle while on the boat to bring onto the continent.
We'll place our fuel bottles at the turnaround point on the looped course where we'll pass them multiple times. There will be no stereotypical aid stations like a regular marathon. Self-supported.
The rest of the trip…
We fly into Buenos Aires, Argentina where we spend three days. Then we fly to the tiny sea town of Ushuaia, Argentina, where we catch the boat to begin the two day journey to Antarctica.
While in Buenos Aires, we will take a 1/2 day city tour of the art section, a cemetery, a governor's mansion, with time for an optional day trip to Uruguay via a ferry. We plan to opt in for that trip!
We'll catch a 5:30 am flight to Ushuaia (i.e the plane that lands at the scary airport!) They recommend buying wine/beer/alcohol here if you want to bring your own onto the boat, though there is a full bar onboard.
We are on the boat for about 10 days total before we return to Ushuaia and then Buenos Aires with one night there again on the back end.
The time on the boat, other than the marathon, will include educational sessions, history presentations, and then a variety of excursions like kayaking, whale watching, shore visits to penguin colonies, a good ole fashioned polar plunge…etc.
And of course, there is a fully stocked bar on board the ship as well as a hot tub, a small gym, and lots of great food. In fact, one tip I heard is that a good way to avoid motion sickness while passing through the Drake Passage is fresh air and a full belly! I can handle that.
Speaking of motion sickness, I have never been on a cruise, so I don't know if I get motion sickness on the ocean. And these aren't luxurious cruise ships, but old Russian icebreaker ships.

Just to be sure, I have an appointment with my primary care doctor to see about some motion sickness patches/medicines. But those will have side affects like fatigue, which doesn't really work well with a marathon!
No vaccines are needed for this trip (unlike my time in India!)
We won't have cell phone service the whole time we are on the boat, though there might be some service during the actual marathon, as the research centers on the continent have service. We can sign up for an old school 1990's super slow email account on the boat, just to send short notes to family to let them know we're alive (no instagram, no Facebook, no blogging, no picture sharing!)
Other things to remember to pack:
A flash drive to share pictures with others on the trip
A dry sack
Extra clothes for post-marathon
A blowdryer is available on the boat
There is a small gym with treadmills, yoga mats, a rowing machine, but NO foam rollers
Thermal socks- lots of warm socks!
Skyroam device that I used in India (mostly for the time in Argentina, it won't work on the boat)
Don't bring your drones! They aren't allowed in Antarctica.
That's about all I know at this point. Let me know what questions you have and I'll try to find the answer!
(Visited 949 time, 1 visit today)