Happy Sunday! I hope you had a great weekend and bloggers, I hope you join Jess and my link-up, details at the end of this post.
I'm still in recovery mode from Boston, but I'm slowly building back some mileage to prepare to pace my sister Erin at Grandma's Marathon in 7 weeks.  Her goal is somewhere around 4:15-4:20 and her training has been going very well. I hope to help her achieve this goal! In order to do so, I do plan to build back up to 20 miles or so for the long run. I'm continuing to work with my coach to get me there safely and then work with him to train for a PR at New York City in November!
Here is my weekly recap, as usual:
Monday: My sister Cresta was in town looking at houses, so I took her with me to a 5:45 am barre class at the Barre in Edina. So fun!
Looking forward to having her join me at future classes!

Tuesday: I had to be to work at 7 am, so I ran after work and I was so excited that my dad joined me! Now he's not much of a runner, but we did manage 3 miles, with a few walk breaks (mostly on the "unrunnable" hills as he called them.) 3 miles at a 10:40 min/mile.
It was rainy and chilly, but fun to run with my dad nonetheless.

Wednesday: After our 3 mile run on Tuesday, my dad said, "oh, there's actually a 5k tomorrow morning, do you want to run it?" It was for attendees of a Tappi conference (the reason he was in town all week) but family members were welcome to run too if they paid to register (all the money went to a scholarship fund for college kids.)
Why not? It was actually kind of a random 5k- 4 loops around Loring Park. 6 am start. More time with my dad doing something healthy- sounds good to me!
It was really rainy and cold, so I think a lot of runners didn't show up; usually there are a lot more participants.
Since it was such a small turn-out, particularly in the women's field, I managed to be first female!. I ran somewhere around a 24 minute 5k (my PR is 21:45 for reference.) First female? That definitely never happens, especially at Minneapolis races! I'll take it. It was kinda fun to be first female; probably the only time that will ever happen! 🙂
My legs are not fully recovered though from Boston, so even that bit of "speed" was tough.
For a small race for a conference, it was actually quite organized. Anderson Race Management was there, with a clock, medals, awards, bananas/water/chips for post-run, and even a lead biker before the lead runner. Not too shabby!
I did a warm-up, so ended with 4.6 miles at an 8:19 min/mile pace.
Thursday: I ran before work, about 5 miles at a 9:10 min/mile pace. I was bummed to get SNOWED on. Ugh! It didn't stick around, but it was not what I wanted to see at the end of April.
Friday:  I joined my friend Christie for a pre-work run. She had had a tough workout the night before and really want to make sure we ran easy. We did keep the pace closer to 10 min/mile for the first four and then I was on my own for the last 3.
7 miles total at a 9:15 min/mile.
Saturday: Saturday morning long run with the Calhoun Beach Running Club. 13.8 miles at a 8:58 min/mile average. My legs were definitely still feeling Boston. First double digit run post marathon!
Sunday: [solidcore] class, no running. I wore this new pair of New Balance/JCrew striped capris (on sale right now!). I think they are my new favorites! Dark navy and white striped, 3/4 length, thick quality material. Highly recommend!
Summary: About 34 miles, 1 solidcore, 1 barre.
My parents headed home Saturday morning before we left for the long run. Sad to see them go, it was really nice having them here all week. Dustin and my dad made a lot of progress on our basement project; every night after work (or after my dad's conference) they would be down there working until 10 or 11 pm. Tearing down walls, closets, sorting through the electrical work…There's so much more to be done now- framing, drywall, plumbing, HVAC, flooring, all that- but if it wasn't for my Dad's help, we probably wouldn't have started! I'll share before/after pics when it's done.
There was a small room that was finished before as well as the treadmill room, but now we're opening it all up and finishing a much bigger living space.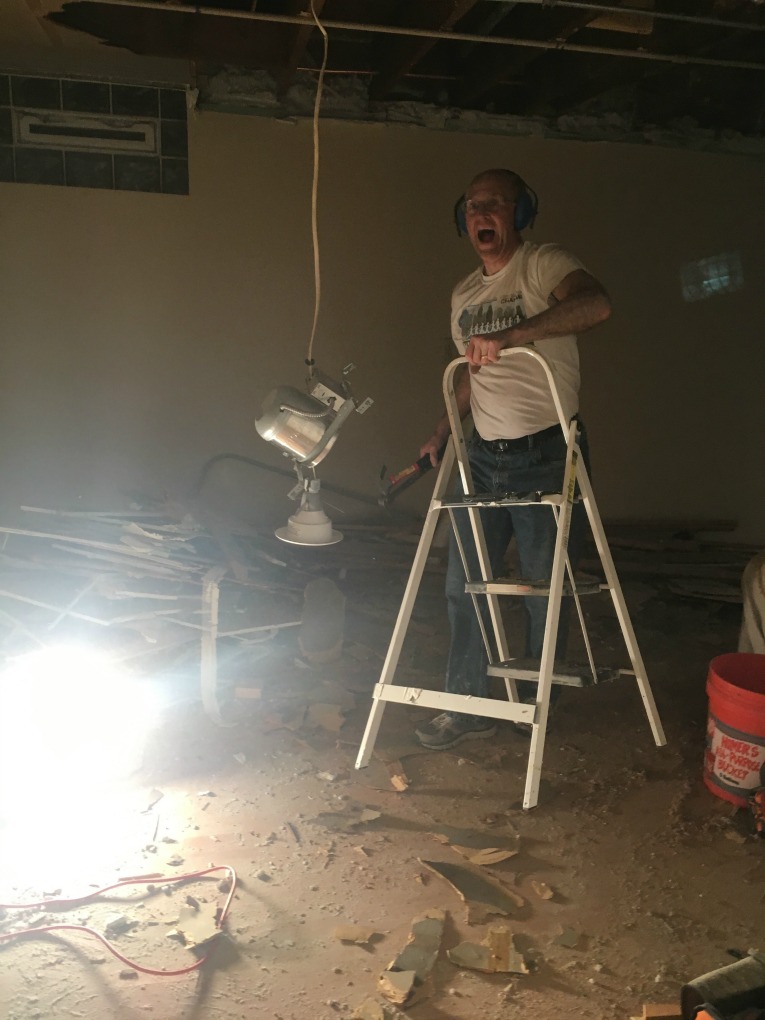 In other news, guess what I found at the Target in Edina? My favorite flavor of Gatorade! I hope they continue to carry it.
I basically bought all they had on the shelf, so I guess I can't guarantee that they have any right now. 🙂
One last thing! I saw this link on the Running Princess blog and loved it. If you're on Strava, you'll understand:
In Case of Emergency: How to Name a Strava Run

(Visited 375 time, 1 visit today)