Hi everyone! I hope you had a wonderful fall week. Any memorable runs? New fitness classes? Please share in the comments!
Here's a recap of my week of fitness & fitness fashion:
Monday: I had the day off of work after the  Twin Cities Marathon (remember that I paced my sister? Catch up here!) We had brunch at Barbette with my sister and her friend Kris, then we dropped them off at the airport to head back to Chicago. Rest day for me.
Tuesday: Another day of rest. Even though the Twin Cities Marathon wasn't too hard on my body, I still took two days off afterwards.
Wednesday: My legs felt just fine so I tested them out with an easy 4 mile run with Matilda. It was raining but in my headlamp it looked a bit like flurries. I am not ready for that yet!

I wore a new pair of Patagonia strider shorts in yellow/blue. Boston colors! Buy them here.
Thursday: BodyART class at the Resistance Movement in Lowertown St. Paul. I will share more on that class in a separate post but I will say that the class was really fun. It included moves I was not used to so I was very sore afterwards- surprisingly sore! Funny how running 26.2 miles is no big deal, but an hour-long bodyART class left me crazy sore!
I followed up the class with another 4 mile run with Matilda.
That evening, we went to see the Head and the Heart at Northrop at the University of Minnesota. Great show!
Friday: 7 birthday miles at Flapjack Friday. The official Flapjack run doesn't start until 6:30 am, so I met my friend Christie beforehand for 4 miles so we wouldn't be too late for work.
After work, I kept the birthday celebration going (Jessie style!) with an Arms & Abs class at [solidcore]! #solidselfie !
Saturday: 9 mile run with my friend Vicki. We are running the Hot Cider Hustle Half Marathon together next Saturday (for fun, not racing!) so we met for her long run.
It was a surprisingly humid day out there and all the water fountains were already turned off for the season. So sad! Great run though and I'm looking forward to the half marathon next Saturday.
After the run, I quickly showered and headed to Concordia University in St. Paul for the Minnesota Blogger Conference. I knew I wasn't going to be able to attend the whole conference as I had an appointment in the afternoon. But I was happy to least attend a few of the sessions. Very cool event.
Sunday: An amazing day of celebrating my birthday with the things I love- running (of course), pizza, and friends!
The day started with a 15k trail relay race at Pike Island. This race was part of our running club's USATF race circuit. It was a blast! It was a beautiful course around Pike Island at Fort Snelling. The island is a perfect 5k. Teams of three women or three men raced the 15k, i.e. 5k each. (Below pic is missing one of the men from our guys' team)
Our relay order was Christie, me, and Lindsey. We didn't have actual batons but had to slap hands to 'tag in' the next runner.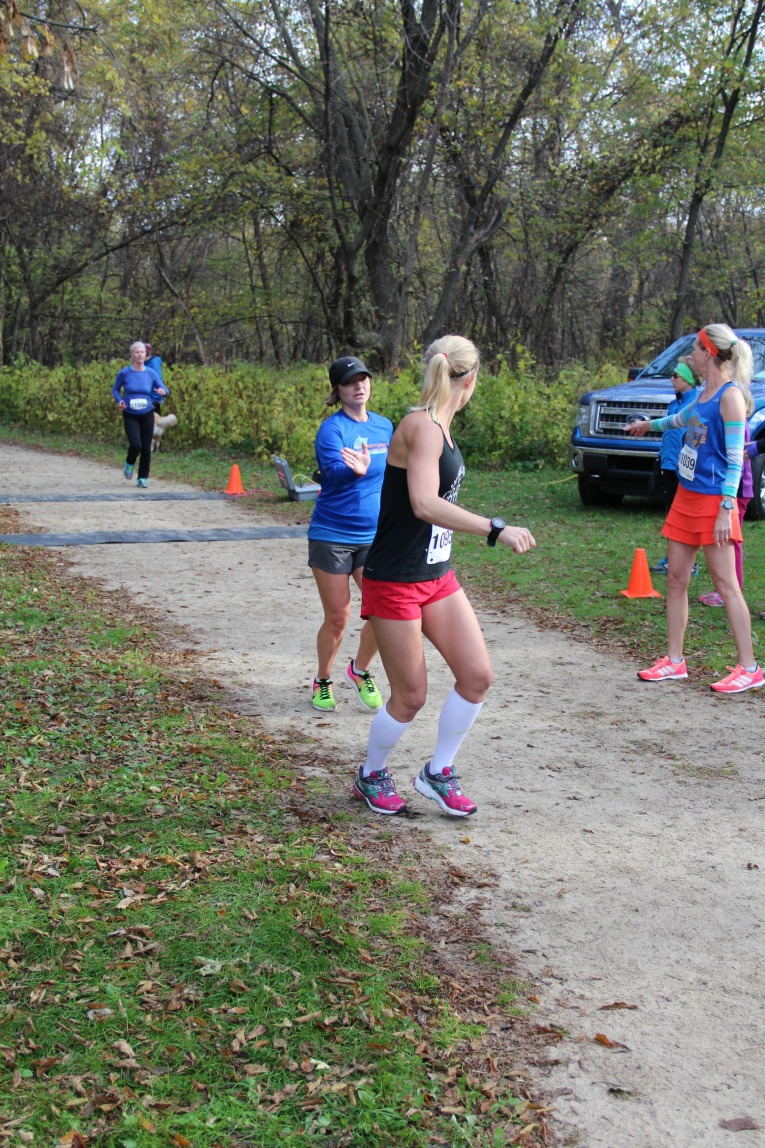 It felt very "high-school cross country"-esque. I loved it! A beautiful fall morning running a relay.
I did my 5k in 23:26, or a 7:33 min/mile average. It had been awhile, (since before Cottonwood for sure), that I had pushed myself 'hard' at all, so it was definitely a shock to the system. Painful but fun!
After the race, we zipped home to get ready to drive to Northfield, MN for a lovely fall day at the Red Barn Pizza Farm!
It was a great afternoon catching up with everyone, playing bags, enjoying the amazing fall weather, etc.
It was packed there as it was the last day of the season (they only serve pizza on Wednesdays and one Sunday a month.) It took an hour in line to even order the pizza and then two hours before we got our pizza. By the time it arrived, we were all starving!
Good pizza though….just be prepared for a long wait if you head there next season!
Weekly Summary: About 29 miles of running, two 'strength' classes BodyART & [solidcore], two full rest days.
A wonderful week!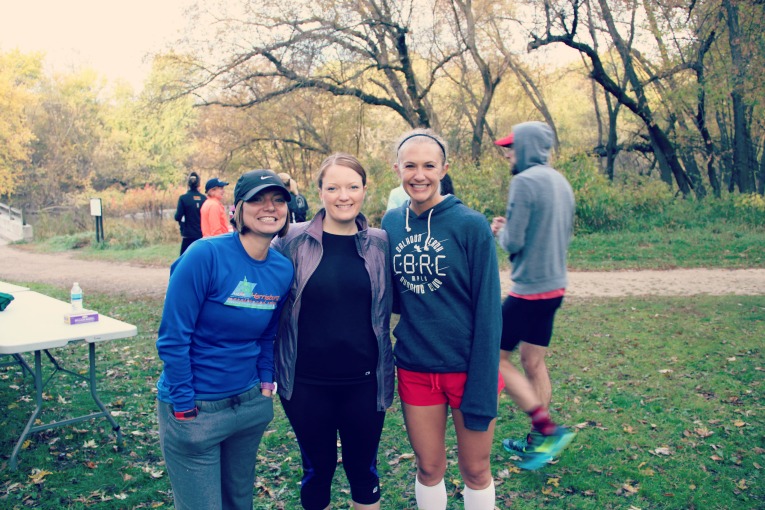 Please join Jess from Jess Runs ATL and me for our weekly recap of training!
Details below:

(Visited 353 time, 1 visit today)