Taper time! This week was a noticeable cutback in mileage and intensity. Time to let my legs rebuild and recover in time for Grandma's Marathon 2016. (For tips on the taper, check out this post.)
*Also…look at that terrible form above. That picture is from the Lebanon 10k. When I start to work hard, my arms cross all over my body!
Monday: The Brian Kraft 5k! With 2 miles to warm-up, 3.1 of racing, 2 miles to cool-down. 7 miles total.

Tuesday: 8 easy miles in the morning with my morning running girls
Wednesday: Global Running Day! It worked out perfectly because this was my one double run day of the week so I got to celebrate twice; 7 easy miles in the morning with a great group to celebrate our favorite holiday:

Followed up by a second run after work, which included some 200m sprints for 6 miles total. 13 miles on the day. During the second run, I ran into Dustin and Matilda (fancy seeing them 'round these parts, ha!) and my friend Vicki, so I ran with her for a few miles as part of my cool-down. Fabulous day of celebrating RUNNING!

Thursday: 6 morning miles, 1 hour barre class at the barre
Friday: Rest day from running! I took a C2 class at Corepower Yoga and it kicked my butt. I can't believe how much flexibility I have lost from not going to yoga like I used to. I really truly need to make this a more regular part of my routine…and not just say that, actually DO it!

Saturday: My last "practice" at goal marathon pace (which is 8:15 min/mile). 3 miles to warm-up, 12 miles at goal marathon pace, 1 mile to cool-down. If any locals ran on Saturday, you know that it was HUMID. Those marathon pace miles were a lot tougher than I hope they will be in two weeks! 16 miles total. (My cool-down mile was 10+ min/mile…I was beat!)
Saturday night, we checked out Hi-Lo Diner. Their "Hi-Tops" are made-to-order fried dough featuring sweet and savory toppings, "like a donut, but not a donut." They're served all day; we ate them for dinner. I think I'll be back there for breakfast, as it would be a filling post-long run brunch!
I also couldn't resist the ice cream cocktail called the"Alexander Hamilton." #saynotothis
I'm heading to NYC for a conference this week and I would have LOVED to be able to see Hamilton while I'm there, but it's impossible to get tickets. Even obstructed view is $800! Insane.  I'll have to settle to listening to the soundtrack and having ice cream cocktails named after Hamilton and Aaron Burr.

Sunday: Easy 4 miles with Matilda. We ran into an acquaintance out running with his TWO vizslas, which was fun to see. I love a little vizsla party. The rest of the day was spent on house projects and then a quick bike ride to Lyn Lake Open Street Fest, which is always a good time.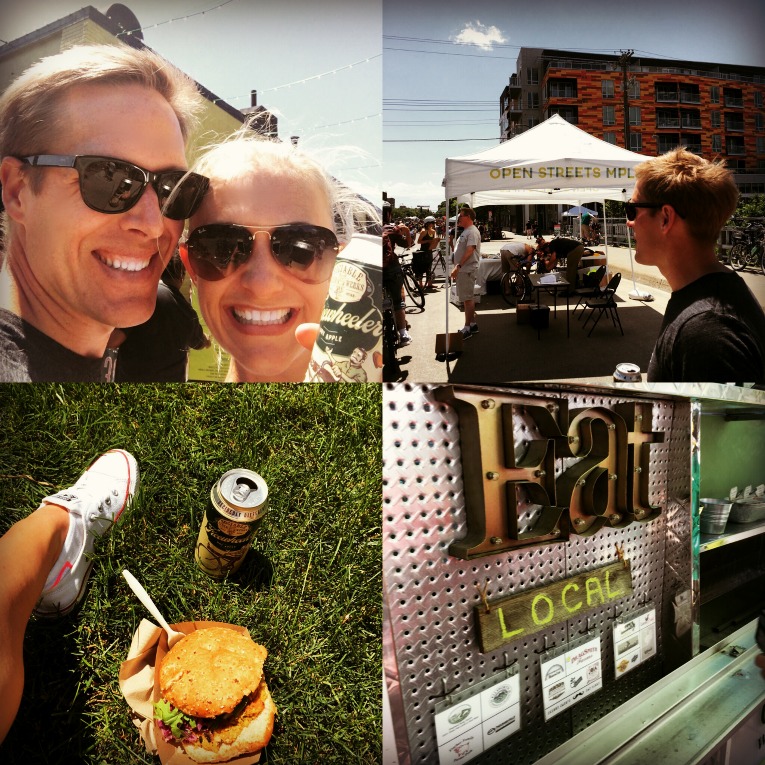 I mean, there were llamas there. What more could you ask for?
This llama was a little frisky!
Summary: 54 miles of running, 1 yoga, 1 strength (barre). My mileage decreased by about 25% from last week, which is pretty common for the taper.
Only THIRTEEN days until Grandma's Marathon 2016! Who's excited!!! I know I am!
(Visited 315 time, 1 visit today)