This past Saturday, Dustin and I ran the Ron Daws 25k (for your reference, 25k =15.5 miles). We had 16 miles on our training schedule for Flying Pig so this race fit in very nicely. For a price of just $5, its hard to pass up!
The race is small, with registration limited to just 200 runners. The race may be small, but most of the people who run it are pretty serious runners. Its very popular for marathoners as a hilly long run for those preparing for Boston in a few weeks.
The race is extremely low-key, which is to be expected for just $5! There's free parking at the Cross of Glory Baptist Church, where the bib pickup is held inside the church gym.
We also could take advantage of the heated bathrooms at the church, before a very casual 8 am start of the run. This is not a chip timed race, but rather an old school clock-timed race, where you tear off your number and give it to the volunteers for your finish time.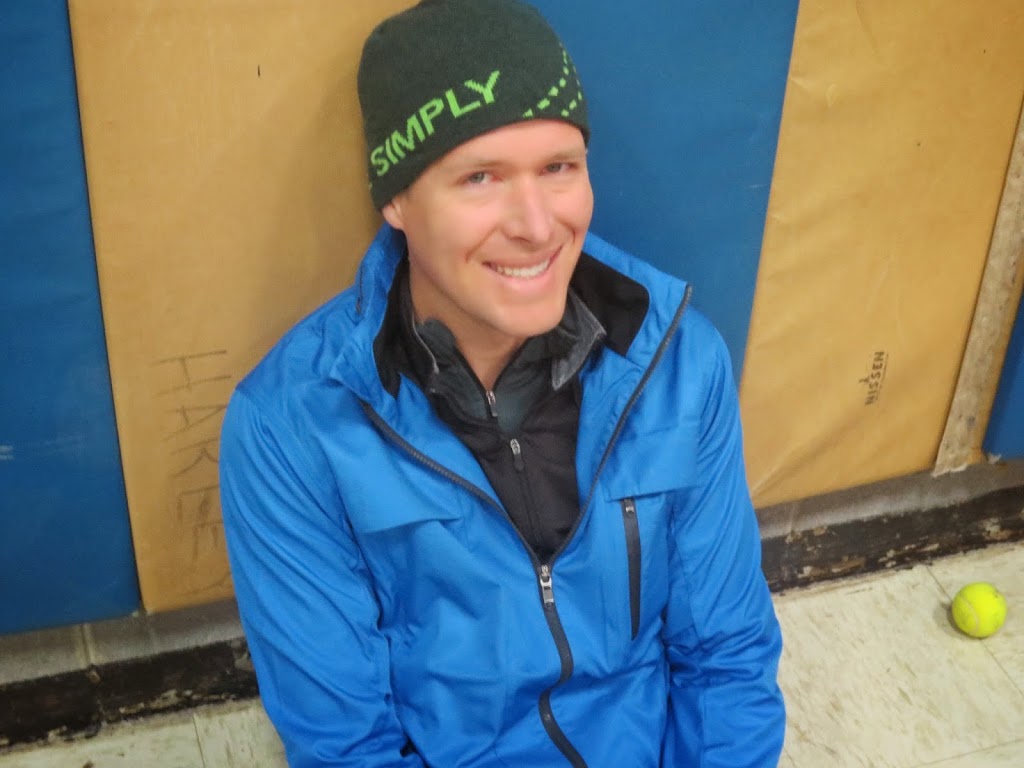 Dustin waiting inside the church gym to stay warm
The Course  
As I mentioned, its a very hilly course. It's also kind of a strange one! The course first takes you around two loops of one area, and then two loops of a second route. Its kind of nice because you pass the sole support stop four times, and you know exactly where the hills will be.  I supposed you could complain that its a little repetitive, but I found it to be a nice change of scenery.
I ran this race at my long run pace, just to get in some more hills before Flying Pig (which is supposed to be quite hilly). I tried to do some miles at my goal marathon pace, which was tougher than it should have been on those hills! Even so, I had a much better run than I did last year. Last year, I forgot my Garmin, so I had no idea what sort of pace I was going. I ran on effort last year, which you'd think would be a good thing, but apparently, I need a Garmin to keep me from getting too lazy! I also had done a hill workout the Thursday before last year, whereas this year, I was a bit more rested before the hilly Ron Dawes on Saturday. I felt pretty good throughout, and the hills really didn't seem as hard as last year!
coming in for the finish!
Overall, I really this race, and will hopefully do it again in the future. I recommend it to Boston runners, or any runners who are interested in a supported hilly long run. Just be sure to register early, as it does fill up!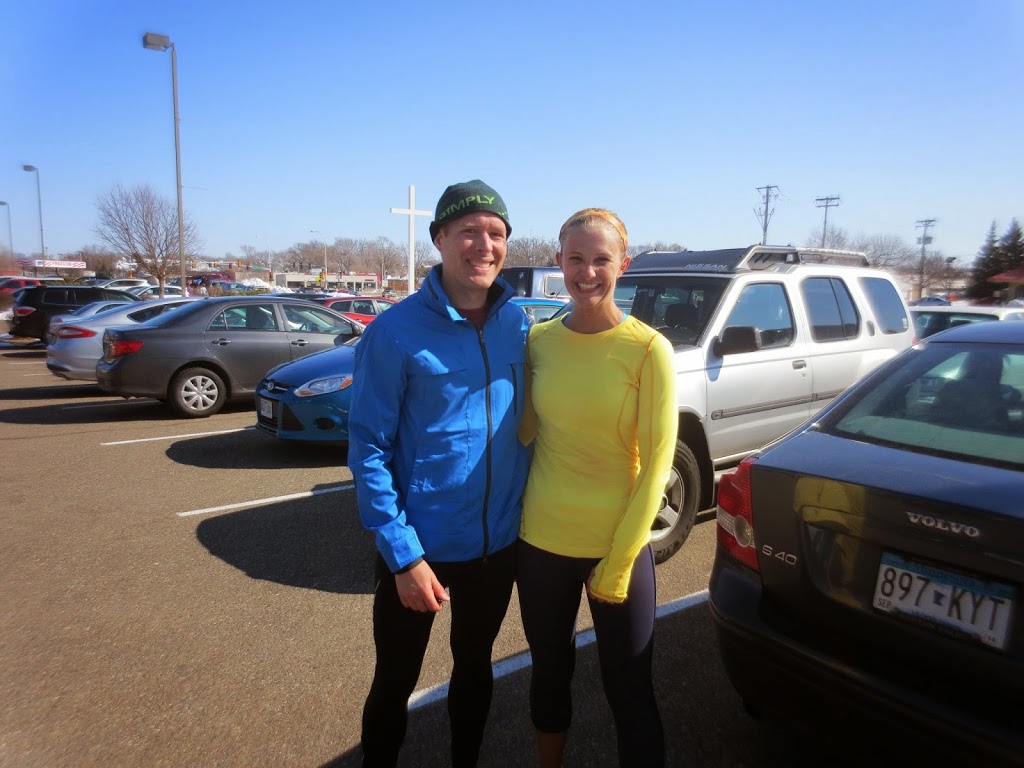 So, who is Ron Daws?
According to this 
Wikipedia article
, Ron Daws was a runner and 1968 Summer Olympics men's marathon athlete. Born in Minneapolis, he also competed at the 1967 Pan-American Games marathon, and finished first in the National AAU marathon also in 1967. He was married to Lorraine Moller in the 1980s, who he later divorced. Daws died of a heart attached in 1992. In honor of his death, in 1993, the MDRA Rons Daws 25k was renamed after him.
Picture of Ron Dawes and Steve Hoag
 running in Theodore Wirth Park
I actually was in front of Ron's stepdaughter in line for the bathroom, who was sharing stories about growing up with Ron, and how she would run a lot of races as a "bandit" with him. She recalled jumping into the Get in Gear and other local races, as she said he was "too cheap" to pay for the races…which I think is part of why MDRA wants to keep this race nice and cheap too. No frills, just like Ron Daws would have wanted!I give this race an 8/10. For the price, its really awesome, but if you do need crowds or frills, this probably isn't the race for you. There is no crowd support, and there is only the one support stop that you pass four times. However, if you're just looking for a supported long run, I think you'd really enjoy the Ron Dawes! And for just $5, you really can't go wrong. Hope to see you there next year!
FYI…This week is my "peak" week for Flying Pig training, with two workouts and a 22 mile long run on Saturday. Today, I had 10 miles on the schedule, with 5 of those miles at a hard effort. I did a "track" type workout, with 5 one-mile repeats in the middle, with short breaks in between each mile. It was a tough workout for sure, but I felt pretty good. Maybe it was my new lucky Lolë hat?
(Visited 601 time, 1 visit today)