Jess in Minneapolis
Friday's Favorite Fit is the knuckle light!
Its sad to admit, but unfortunately it's already dark enough again at 5:30 am to necessitate busting out the knuckle light. Seriously! Fall is creeping up on us too quickly. Dark running is here and its only going to get worse. Knuckle light season is back already!
Fortunately, the knuckle light is really functional, which makes it this week's favorite fit, even if I'm not quite ready for fall and dark running.
What I love about the knuckle light is that it doesn't give me a headache like the headlamp, nor does it leave a mark on my forehead after wearing it. You just strap it on your hand and head out the door. It's easier to manage where and what you're lighting up on the path. You control the light, and the knuckle light is in the perfect position to light up your path and be seen! It casts a strong light about 12 feet in front, and I like the ability to move one (or both, if you decide to use both) to a specific area, as needed. I also feel that the motion of the light on my hand when running makes me more visible to cars and other runners/bikers, etc.
Yes, you do hold it (well, strap it) in your hand, but I don't find it to be annoying at all. The one thing that is kinda sorta annoying is that lately, by the time I finish running in the morning, the sun has risen and I no longer need the knuckle light. It would be nice if there was a little clip for your shorts or something just to store it away when you no longer need it, but that's just wishful thinking. Generally, I don't even think about having it in my hand when I'm running, so this isn't too big of a deal.
I am referring to my knuckle light – singular- even though they come in a pack of two: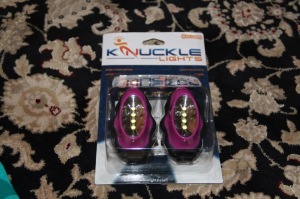 However, I think that you only need one at a time. They are SO bright- brighter than the headlamp.
Check it out: all the lights are out in my house except the knuckle light in this picture. No problem at all seeing Matilda, thanks to the knuckle light!
One small downside of the knuckle light is that it does go through its two AA batteries pretty quickly. Be sure to keep a stockpile of batteries around because you'll need them. Since you're only using one of the two at a time, you should usually have one fully charged and ready to go each morning- or night- whenever you're running in the dark!
Read more about the knuckle lights here: http://www.knucklelights.com
It looks like they are currently sold out on amazon, but you can find them online at Dick's Sporting Goods. I bought mine locally at Gear running store. The average price seems to be around $40, but they are worth it! You could always split a pair with a friend, since you really only need one. Then you'll only investing $20. That's a price that fits the bill!

Knuckle lights- Friday's Favorite Fit here on the Right Fits!
(Visited 298 time, 1 visit today)