Did I keep that pledge? Well, not 100%. There have definitely been times that I have purchased bottled water in the past year. (When I do purchase bottled water, I recycle. No sort, Minneapolis, woo-hoo!)
For example, last Saturday, during that horribly hot long run, I probably drank three bottles of water alone from a cooler that a kind soul in our run club left out for us. I also still drink my fair share of Powerade in plastic bottles (though I have been moving towards Nuun, which you mix yourself from a tablet)
But overall, I think I do a pretty good job of keeping that pledge that I made last summer. We drink tap water at home. At work, I have the option of a Culligan dispenser or the tap. Most of the time, I just go with the tap because it is closer to my cubicle. (Yes, its laziness that dictates that one) Either way, I drink a ton of tap water. I am constantly toting a Nalgene at work, at home, by my bedside, etc.
In fact, I often set little goals, like "try to drink this entire container of water on the drive into work!" So yep. I drink a lot of water.
With that said, you can understand that I was the target audience to read about the Bkr water bottle on Witty and Pretty's blog. She is a self-proclaimed water snob, who previously couldn't find a reusable bottle that didn't make the water taste funny…until she discovered the bkr

!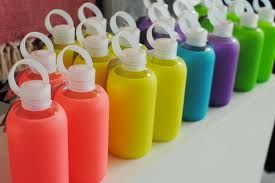 Her post sold me. I ordered one for myself, just to see.
The bkr is glass. It has a silicone sleeve. As for the technical stuff, it has a food grade polypropylene cap + silicone gasket, FDA approved, BPA-free, BPA replacement free, and phthalate free. It is also dishwasher safe (top shelf only)
A Bkr bottle is priced a little higher than some

reusable bottles ($28 plus shipping) but I'm convinced that it's worth it. Other water bottles tend to give my high quality Minneapolis water a funky taste. Or other bottles start to smell a little strange themselves, and then I can't use them anymore, so I end up throwing them away, which is not the most environmental option.
But not the bkr! It doesn't smell at all. I actually like the smaller, more portable size as well. I can actually fit it in my (gigantic) purse, or in the side pocket of my work bag (My Nalgene wouldn't fit there).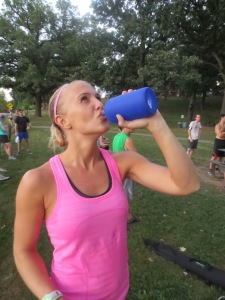 Drinking from my Bkr at the Surly Furious Five Miler Wednesday night
Who can resist all these amazing color choices? I went with "TRUE" (i.e. blue), but maybe I'll have to buy another one to rotate in when "TRUE" is in the dishwasher. Don't be surprised if you end up with one of these in your Christmas stocking this year, friends!
As primarily a morning runner, I often arrive at work a little dehydrated. I definitely spend a good portion of my morning trying to refill that void with some tasty tap water (and coffee. I never go without coffee…) The bkr is subtle and classy looking. I don't feel silly bringing it into meetings with me, and it's not cumbersome or weird to carry like other water bottles.
All these amazing things about the bkr make it this week's Favorite Fit!
If you're not convinced by me, would Olivia Wilde convince you? She's a fan!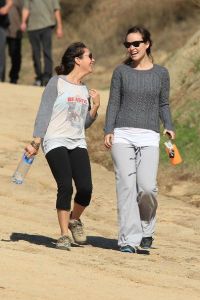 How about Natalie Portman?
There's a whole press page on bkr's website dedicated to all the celebrities who love their Bkr. Time to jump on board!
(Visited 681 time, 1 visit today)