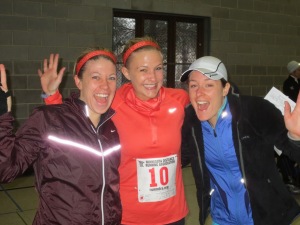 Jazz hands to reflect our excitement for the Ron Daws 25k!
You read that correctly folks- five dollars! I shouldn't even be posting about this race because I think its a bit of a runners' secret. So here's the plan: just tell all your frenemies to go pay $70 for the Team Ortho Get Lucky half marathon (plus $10 to park at the race and $10 to park at packet pickup), and then you can write your check for $5 (yes, check– there ain't no fancy, highfalutin online registration for this race), and mail it in (yes, snail mail). And guess what? I'm 99.9% sure you'll have the "better" long run.
This super secret race, my dear friend, is the Ron Daws Memorial 25k (25k = 15.5 miles). Its held in Hopkins, Minnesota at 8 am sharp on Saturday, April 6. With its voluminous hills, the Ron Daws is often a very popular race for people training for the Boston Marathon. However, this year the two races were too close together. (Boston is the Monday after next weekend) Boston training run or not, the Ron Daws definitely attracts some hardcore runners.
I'm going to start off by saying that I give this race a 9 out of 10. There was plenty of free parking at the Cross of Glory Baptist Church as well as heated bathrooms, (though two hundred runners were asking a lot out of those old church bathrooms.)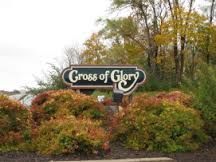 Again, you read that correctly- only 200 runners! The race is capped at 200, though there was still room this morning for race day registration (double the price though…at a whopping $10.)
If you're looking for frills, cool gear, a medal, lots of crowd support, goodies at the finish, etc. then this is not the race for you. But if you're looking for a down home, old school run for RUNNERS, for a price that fits the bill, then this is the race for you.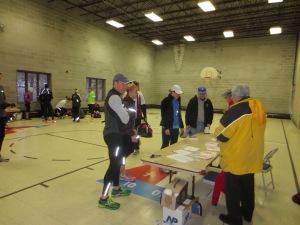 No frills packet pickup in the church gym
The course was funny. You did two laps of one loop, to get to about six miles, and then you did two laps of another loop to get you to the 15.5 mile distance. It was actually not too bad, because you knew what to expect after experiencing the hills the first time around, (though it was a little disheartening to get lapped by the winners around mile eight!) Running the same loop multiple times meant that you passed the solo support stop four times- perfect!
Map of course
There were maps available in the gym, so you could become familiar with the course, but luckily for me (and my terrible sense of direction) the course was marked quite well, especially for such a tiny race. There were cones, arrows, and accurate mile markers the whole way.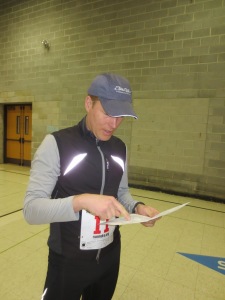 Dustin studying the course, though he really didn't need to!
The course was funny, but also incredibly challenging. According to Dustin's Garmin, there were multiple hills with nearly a 5% gradient, over about 3/4 of a mile. Every time you encountered a new hill, you knew you'd have to run it at least one more time.
I ended up running with two men who were probably close to seventy, but they had a lot of good stories about the history of the race. They were friends with Ron Daws himself!
Who is Ron Daws?
According to this
Wikipedia article
, Ron Daws was a runner and 1968 Summer Olympics men's marathon athlete. Born in Minneapolis, he also competed at the 1967 Pan-American Games marathon, and finished first in the National AAU marathon also in 1967. He was married to Lorraine Moller in the 1980s, who he later divorced. Daws died of a heart attached in 1992. In honor of his death, in 1993, the MDRA Rons Daws 25k was renamed after him.
Picture of Ron Dawes and Steve Hoag
 running in Theodore Wirth Park
By the way, his first wife Lorraine was also an accomplished marathoner, participating in four Olympic Games. She won the bronze medal in the marathon at the 1992 Summer Olympics in Barcelona at the age of 37.
Personally, I had a pretty terrible race. My legs were quite heavy from the hill workout on Thursday, and I easily lost the motivation to push it. I let myself use this as a nice and easy training run, albeit with lots of hills.  I didn't have much of a choice, as those hills were not my friend today, and my darn IT band was definitely flaring up. And I lost my Garmin, so all I had was an old-school stopwatch! But you know what? An old school stopwatch was perfectly suited for the Ron Daws 25k. Ron Daws didn't run with a Garmin, now did he?
Despite my personal poor performance, I still would highly recommend this race. It was a challenging course, that's for sure, but it was a lot of fun. Next year, I plan to run this race instead of the Get Lucky half marathon. And maybe next year, I'll have a Garmin and a little more drive to face those hills!
With my speedy running gal pals- and partners in crime for the Newport Marathon!
***We brought warm clothes to change into and headed to Pizza Luce in Hopkins for brunch afterwards. Did you know they have a pretty decent brunch menu, i.e.
not
pizza? Check it out
here
.
(Visited 276 time, 1 visit today)