Hi friends! How is your week going so far?
My week is going swimmingly. It's a cutback week for marathon training, which is definitely a welcome reprieve for my tired legs. Last night was our only workout of the week: Yasso 800's.
What are Yasso 800's? Read all about them HERE. Basically, you run a 1/2 mile in your goal marathon time. So if I want to run a 3:45 marathon, I should run 1/2 mile in 3 min/45 seconds. It's actually not a very tough workout, so our coach told us to go ahead and push it faster than our goals. I ended up doing most of my repeats between 3:30-3:35. We did six repeats (about 6.5 miles total with warmup/cooldown), and then we were done with workouts for the week!
Tonight was just an easy run. I was stuck at the office a little late, so I was on my own; even Matilda had already gone for a run. No running friends for Jess. That's okay- I'm still smiling!

But you know what doesn't make me smile? Wearing gloves, an ear band, long tights, and a thick Brooks top in April does not make me smile. Boo on this cold windy weather! And now there's snow in the forecast. Thumbs down.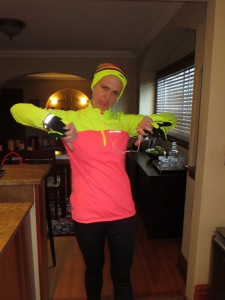 Definitely not smiling about this weather!
Even though the weather was not cooperating, I did have an opportunity to test out my Nathan wrist runner. I bought it on Amazon for about $7. The zippered pocket was definitely secure- no losing my key on this run!
I'm guessing most people wear their wrist runner UNDER the sleeve, but how would the reflective band do its job that way? I wore it outside the sleeve with pride: everyone knew my key was secure!
The wrist runner may be secure, but it's also a little large. With warm running clothes on, it wasn't so bad, but I could definitely see it being pretty annoying in the summer. It might cause quite an obnoxious tan line too!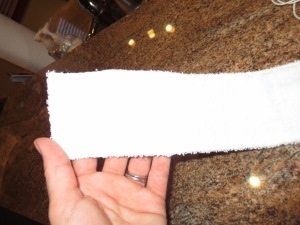 The inside of the wrist runner is lined with a towel-like material, which is probably decent for sweat absorption, but it might not hold up that well in the heat of the summer.
Overall, I think the Nathan wrist runner is a decent fit for your key during a run for the cooler weather, but won't cross over very well into the summer. I think I will buy one of the shoe key holders like this one: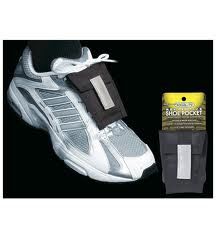 *Have you found any other ideas for your key during a run?
**Have you tried Yasso 800's? Do you think they are a good workout?
(Visited 344 time, 1 visit today)