I just cancelled one monthly subscription (to Ellie- if you missed it, read about it HERE, HERE, and HERE)
And now it's on to the next subscription!
My friend Meggan gave me the heads up about Kona Kase – a monthly subscription of a completely different sort than Ellie.
Rather than fitness apparel,
Kona Kase
is a monthly delivery of "awesome endurance nutrition samples!"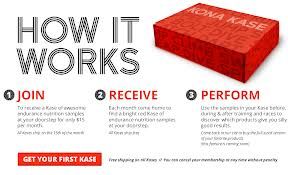 It's only $15/month with free shipping. You can try it out for 1 month, 3 months, 6 months, or a year. You can cancel whenever you want.
You won't know ahead of time what will be contained in your Kona Kase, but the company will elicit your feedback to continue to customize the Kona Kase experience to fit your specific needs. There will be a variety of products- GU's, Cliff blocks, Picky bars, etc.
I signed up for a 3 month subscription, and my first Kase should arrive between the 15-18th of April.
Unlike Ellie's fitness apparel, Kona Kases are non-returnable; this makes sense though, since it's FOOD! It's more about trying out different products to see what you like and what works for you. I'm excited to try it and will provide my honest feedback of the products inside!
And if you're interested in trying it out, send me your email, and I'll send you an invite. Yes, I will get a $15 credit if you sign up, thanks 🙂
I think this will be a good program for the busy runner. If you're anything like me, you often run out of GU/fuel the night before a long run. With this program, you'll get to try a variety of options, and you'll always have something on hand before the long run.
Example Kona Kase
(Visited 79 time, 1 visit today)