By Cool J in Minneapolis
I just can't shake this monthly fitness apparel program! I thought I had cancelled it, but apparently, I had already been charged for one final shipment. So in the interest of full disclosure, here is my final shipment:
Ellie brand pants:
I like the stripe down the side, and they are pretty comfy
Ellie brand top:
I like the funky back, but I'm not a fan of built-in bras, as I don't feel like they are very supportive. I probably wouldn't have picked this out for myself.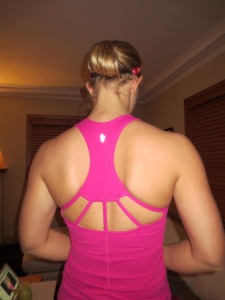 You can read
THIS POST
for information on how Ellie works (previously known as pv body). Now I'm
officially
done with Ellie, but over the three months, I did receive some fun new fitness apparel. I enjoyed receiving a surprise shipment every month, but I think I'd prefer to try on clothes at the store and select things that I really want and actually need.
Farewell, Ellie! It's been fun!
(Visited 133 time, 1 visit today)