By: LL
I'm heading out Saturday morning for Chicago to run the Chicago Half Marathon with two of my sisters, CJ and E. This will be my 4th time running this half with E and am very excited to accompany CJ throughout her first half.
As far as half marathons go, it would appear that this must be my favorite course since I continue to come back to it – since 2004! However, as I remember it, the straight shot out and back Lakeshore Drive is painful. I also hate it when you have to loop back and see everyone who is ahead of you. As you can see, not much has changed in eight years.
But, despite the faults with the course, there is something special about starting in the shadow of the Museum of Science and Industry, running through the University of Chicago campus – with its tree-lined streets – and catching all the local music along the course. And of course, it is Chicago. I cannot see a better way to spend a weekend in the city than with a road race.
So far, the weather looks like it will hold out …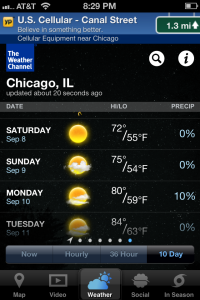 With a start time at 7 a.m., it should be fairly cool and comfortable. Let's just hope that paying to take the shuttle from Millennium Park is worth it. In 2006, E and I nearly missed the start of the race wading through traffic from Roscoe Village.
I will get back with a race review next week.
(Visited 91 time, 1 visit today)