By Cool J

I posted "here" about last weekend's long run, which was completed earlier than usual on Saturday morning. Just like my running friends that morning, Dusters and I also hit the road right after the run for a relaxing weekend at the cabin. Definitely wore the compression socks on the drive!


This girl LOVES the cabin more than anything…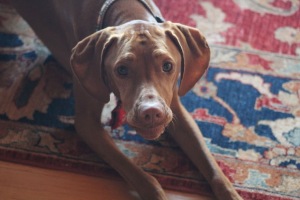 Since my long run was DONE (yay!) I only needed to do a few easy runs at the cabin.
It's six miles from the cabin to the 'town' and back to the cabin. It's a hilly, often buggy route, but I managed to complete the route both Sunday and Monday over the long weekend.
Ready to go!
And a big part of the reason I was comfortably able to run the route both days is the kindness of my support team: i.e. my husband. He and Matilda drove by both times with a cold bottle of Gatorade and some bug spray for me.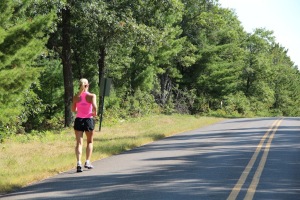 The D-man also ran the course, but he is so fast, he didn't need any support. 🙂 He outran the bugs!
Of course, a cabin weekend wouldn't be complete without some stand up paddleboarding. As I wrote about here and here, it's a fun exercise that works out a whole different muscle group than running.
Sunday was quite windy, which made the paddling even more challenging!
Here I am by the sign for the Gordon city limits!
The D-man always thought it was too dangerous to run at the cabin: bears, crazy drivers, bugs, etc were a strong deterrant for him. But now? He is a convert! He said he really enjoyed the quiet of the country roads, and he agrees that running is a right fit at the cabin!
(Visited 82 time, 1 visit today)