By Jessie

Yesterday was the "Get Ready to Rock 20 Mile" race in White Bear Lake.

(Is it really a "race" if it's 20 miles long? I'll call it a supported long run!)
Website: http://www.finalstretch.com/running-events/get-ready-to-rock/info/
The event also includes a 5k and 10k, and deems itself the "ideal training race for the Twin Cities Marathon or 10 mile." The timing is quite perfect, as it's 4 weeks out from most fall marathons.
These two ladies sure look like they are ready to ROCK!
In the past, the Calhoun Beach Running Club would run the "Bear Water 20 Mile" as part of our training schedule. However, this year, our coach changed things up a bit, and put the "City of Lakes 25k" on the schedule instead.
Unfortunately, the City of Lakes 25k was on Sunday morning. With Abby's wedding last night, a lot of us did not want to have to get up early on Sunday for a race! So our thoughtful coach found another option for us, in the "Get Ready to Rock 20 Mile!"
It's notable that there are two 20 mile races in the same small suburb of White Bear Lake, MN: the "Bear Water 20 Mile" and the "Get Ready to Rock"- I guess White Bear Lake loves a good long run!
This race started at 8 am. It was quite small, with just over 200 participants…(My fear was that I would get LAST place- it was a possibility!)
Cost: Cheap! The 20 Mile race is only $35. The 10k is $27, and the 5k is $25.
Course: One common complaint about the Bear Water 20 mile (the other White Bear 20 miler) was that it consists of two loops of the exact same course…. Yes, you run the same 10 mile loop twice. You actually cross the finish line, and have to go around again for another 10 miles. It's mentally quite tough!
Luckily, the Get Ready to Rock 20 Mile followed a kinder course. The below map doesn't accurately reflect it but there are still two loops of a lake but only a smaller 6 mile lake (Bald Eagle Lake), and you don't have to actually pass over the finish line to start the second lap.
The course circled a beautiful lake, and was relatively flat. Runners were kept to one side of residential and country roads, but I never felt that the traffic was dangerous.
Go Caroline!
Jen and Ellen representing the CBRC!
Mile Markers: One small complaint- the mile markers were quite a bit off. Most runners have Garmins these days, but if you didn't have one, you would be pretty confused/frustrated if you were watching your clock for pace.
Mile 5? More like mile 4.5!

Spectators: Due to the small size of the race, there were limited spectators. A few families came out in their front lawns to cheer, but only a few. The CBRC had its own cheering squad though, as our friend Theresa came out just to cheer and take pictures! It was great to have her at several spots on the course.
Go Dusters!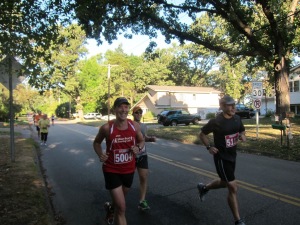 Mason and Pat- still smiling!
Meggan and Jessie trying to stay close to the pacer.
Yes, PACERS at a tiny 20 mile race!
A nice perk!
Support: There were adequate support stops, with Gatorade, water, and Hammer gels, placed every 2 miles. They were manned by local high schoolers, who may have been little more interested in looking at Facebook than handing out water…but since it was a small race, it was okay. The Gatorade was quite potent, and a few of us did find a bug or two in our water! There were also limited Porta Johns on the course. Some runners had to resort to a pit stop at a the local bait and tackle store along the way…Thanks to the nice owner of that store! I would say that the support was the race's weak spot.
Swag: No medals, but bright orange technical tees.
Weather: I know that a race director can't control the weather, even though I'm sure they wish they could! But for September in Minnesota, the weather wasn't too bad. It was in the low-60's at the start, and the mid-70's by the finish. I would still suggest that they move the start time to 7 am, because it can be much hotter than that in September. The extra hour would help a lot. This year, however, it was a nice morning for a run. Even so,we all were still dehydrated and coated in that post-run saltiness that only runners know!
Rating: I give this race a 8/10. Overall, I enjoyed this race more than the Bear Water 20 mile, and I would do it again next year. It's really great that we have so many options for "supported" long runs during marathon training, and even though I preferred this White Bear option, I would still recommend either race as a useful addition to your fall marathon program. A 20 mile "race" offers a great rehearsal for the actual marathon. You can test out your marathon gear, your pre-race fueling, and more, without the pressure of the additional 6.2 miles!
(Visited 228 time, 1 visit today)