By Jessie
Last Thursday, I was at work late, and ended up missing my second scheduled kettlebell class. I needed to "fit fitness" in somehow. I thought about running outside, but unfortunately our 50 degree heat wave was over. The temperature had fallen quite a bit, and as I left my office around 7 pm, the blustering wind and 6 degree temperatures quickly eliminated my fitness motivation.
So, I decided to break down and hit the treadmill. I have a membership at LA Fitness–
It's not a great gym- there is no towel service. You have to bring your own lock for the lockers. There is nothing fancy about this gym. But there are multiple convenient locations for me, and membership is only about $30/month. Between my Corepower packages, run club membership, and other random fitness expenses, $30/month "fits the bill.".
So, there I was- on the treadmill. Why is it so much harder than running outside? What sort of things could make it better?
Even though I didn't follow my own advice on that boring treadmill run, I do have some tips and advice to share for surviving the "dreadmill":
Run with a friend: I've posted in the past about the benefits of running with a run club . Running with your friends can definitely keep you going. In these dark, winter months, a group of run club ladies have started a facebook group that allows us to post about whether we'll be making it to run club on a particular night. Posting a message to all the girls that you'll be there holds you accountable. The treadmill doesn't allow for the same opportunities for "commitment", but you can still help pass the time with the company of a friend. If you and a friend belong to the same gym, get her to run on the treadmill next to you. You can motivate each other and provide distraction to make your workout time go by faster. And one great thing about treadmill running with friends is that you don't have to be the same pace, so you can run with friends who you wouldn't normally run with outside!
Try an interval workout. Rather than running at a constant pace, mix up your run with hard and easy segments. It can be as simple as: A five-minute warm-up followed by three sets of four-minute intervals (two minutes of hard running and two minutes of easy running), followed by a five-minute cool-down. Personally, I find myself staring at that timer on the treadmill, slowly counting down the minutes, and they never seem to go fast enough. Splitting the miles into these short segments can really make the time go faster.
Zone out. This is an easy one. Unlike running outside, treadmill running doesn't require that you pay close attention to your surroundings. You don't even have to think about your route. So running on a treadmill gives you a chance to lose yourself in the rhythm of your breathing or your pounding feet. Try blocking out everything around you and enter a peaceful, relaxing state. Just don't get caught being a "starer" as discussed in this article (The 7 Jerks You Meet in Every Gym)
Do a pyramid workout. The time flies by during this treadmill workout because you're paying so much attention to your interval times. After a 5-minute warm-up, run hard (5K pace) for one minute, recover one minute; run hard two minutes, recover two minutes; run hard three minutes, recover two minutes; run hard four minutes, recover two minutes; run hard five minutes, recover two minutes. Then work your way back down the "pyramid" and run hard four minutes, recover two minutes; run hard three minutes, recover two minutes; run hard two minutes, recover two minutes; run hard one minute, recover one minute. End the workout with a 5-minute cooldown.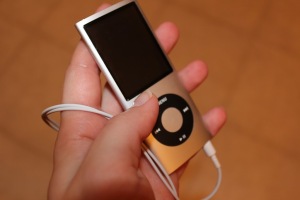 Listen to music. Listening to music on the treadmill can be a great way to combat boredom and run longer. LL posted about the motivational aspects of running with music here. I don't usually run with headphones outside, but I definitely recommend it for the treadmill. Choose motivating songs and create a playlist for your workout -– it will help prevent you from continually checking the clock to see how much more you have to go.
Alternate with another cardio machine. Try breaking up your run by alternating with the bike or elliptical trainer. If you want to do a 40-minute cardio workout, run on the treadmill for 10 minutes and then jump on another machine for 10 minutes, and keep alternating until you've reached your total goal time. If you run on a treadmill at home and that's your only cardio machine, try running up and down the stairs for five minutes, in between running segments.
(Visited 323 time, 1 visit today)