By Jessie
Spring in Minnesota offers up several great races, from 5k's, 10k's, 10 milers, 1/2 marathons, to anything and everything in between. Of course, runners can't do them ALL; both physically and financially, that would be quite a challenge. So here is a list of the races I have on my spring calendar. Please share your experiences with any of these races if you have some tips!
Goldy's Run 10 miler
When: Saturday, April 14
"Join thousands of runners as they weave through campus and along the Mississippi River with a spectacular finish on the football field at TCF Bank Stadium where you can witness your own finish on one of the biggest screens in college football."
I believe this is only the second year for this race, and definitely my first year participating. Finishing in the Gopher stadium sounds awesome, and 10 miles is a fun distance for a race.
Have any of you done this race? Any feedback?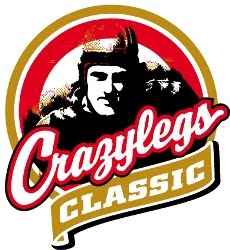 Crazylegs 8k
When: Saturday, April 28:
Crazylegs is an
8K race (4.97 miles)
that starts at Wisconsin's State Capitol Square, winds through the University of Wisconsin and ends at Camp Randall on the UW Badgers football field. This is a HUGE race for this college town and almost everyone (runner or non runner!) seems to do it. This is my second year running this awesome event. LL has run it several times, and she always organizes a team "Runnin4Beer". Last year was my first time participating, as we all ran it as part of LL's bachelorette celebrations.
Finish line in Camp Randall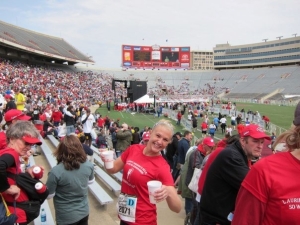 A few of the other sisters pre-race

My dad even ran this one!


Unlimited beer at the finish..Wisconsin style!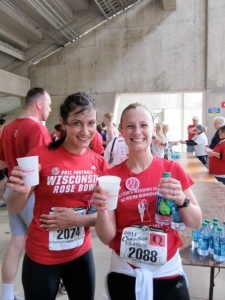 Lake Minnetonka 1/2 Marathon
When: Sunday, May 6
With a rich history among distance runners and tremendous support from the community, the Wells Fargo Lake Minnetonka Half Marathon Presented by OptumHealth Performance has become one of the premier half marathons in and beyond the state of Minnesota.
The Lake Minnetonka Half Marathon features a beautiful race course that starts in downtown Wayzata (MN) and ends at the Commons Park in Excelsior (MN) – featuring stunning views of Lake Minnetonka along the way
.
This is my first year running this half as well. Many of my run club friends have participated in this one. It's a hilly course, but quite a scenic one. Usually the weather is quite nice for a 1/2, although last year it was SNOWY in May!
TC 1 Mile
The Medtronic TC 1 Mile is the second largest road mile in the country! Join thousands of runners and race down Nicollet Mall in downtown Minneapolis, and then stay to cheer on elite runners competing in the USA 1 Mile Road Championship!
This is my second year with this race, and it is a FUN one. When else would you race just ONE mile? And it's organized quite perfectly, where the elite runners run after the open field, so the rest of us can spectate during the excitement of the 1 mile championships! Last year, both Ryan Hall and his wife partcipated, and it was quite inspirational to watch. It's held on a Thursday night at 6:50 pm, right along Nicollet Mall, and finishes in close proximity to several great bars for a post-race beer or two!
Marathon to Marathon
When: Saturday, June 9
Come celebrate the 17th Anniversary of the Marathon to Marathon on June 9, 2012! This Heartland USA Classic is USA Track and Field Certified and Sanctioned, and it attracts many athletes from in and around the state. Come and enjoy small town friendliness and big time fun.
And here's the big finale for Spring 2012, the "Marathon to Marathon". This tiny marathon runs from Storm Lake, IA to Marathon, IA, along country roads and through rustic rural towns. And one of the benefits of a small town race? The price! This marathon has a $50 registration fee (take that, NYC marathon, with your $255 registration fee!) In fact, I think this is one of the cheapest races out of all the above scheduled events this spring.
So that's my plan for spring 2012. What races do you have planned?
(Visited 91 time, 1 visit today)