My "highest-mileage-month" challenge is most definitely underway, though the summer storms and heat did not make it easy this week.
As I mentioned a few weeks ago, I'm tentatively planning to run the Fargo Marathon on August 29th, dependent on two things- the pandemic and the weather. TBD if I'll run it or not, but I am registered, so I'm training accordingly.
Monday: I ran 5 miles before work, 9:25 min/mile. I was supposed to do more but I got caught in a severe thunderstorm and had to cut things short. I'll run in the rain, but lightning is not my jam.
Before the thunder/lightning, however, I saw this huge rafter of turkeys in the front yard of a house a few down from ours. There were three adults and a TON of babies!
(Yes, I had to google the word for a group of turkeys; I thought it was a gaggle, but it's a rafter!)
Later in the run, right before the storm, I witnessed this bald eagle enjoying some sushi up in a tree on Lake Harriet.
Social distancing like a pro, right there!
Since my run was cut short, I did another 4 miles after work, 9:05 min/mile plus a virtual 1:1 strength training session with Discover Strength.
9 miles total on the day.
Tuesday: 10 miles before work, 9:20 min/mile pace. I met a few friends for part of the run. Sweaty one out there, so I'm loving the easy miles in the heat! Easy pace is about all I can manage and it still takes awhile to recover/rehydrate.
It was my husband's birthday, so we had our first dinner out since March! We ate at Hola Arepa on the patio. Masks required when speaking to staff or not seated at your table, sanitizer at your table, little cards to flip if you need something, so the staff aren't coming over when you're not wearing a mask, and tables are fully distanced from other diners.
It was fun to be out again and I felt pretty safe.
I spoiled Dustin a bit…too much online shopping during the quarantine, I guess!
One of his gifts was this cribbage board of the Twin Cities Marathon route. Isn't it great? I ordered it from CoxWoodcraftsLLC on Etsy, and Justin, the artist, was so great to work with. Reach out to him if you are interested in a custom board of your favorite marathon!
Wednesday: After a drink (or two) in the heat on Tuesday night celebrating the birthday boy, I was a bit tired Wednesday morning and didn't get up early to run before work. Instead, I snuck in a quick 4 mile run in between meetings, which also coincided with yet another heavy rainstorm! No lightning this time. To be honest, I have been more soaked lately from just running in the heat than I was from running in the rain, ha!
After the rainstorm, it was still crazy hot and humid, so I decided to just get in more miles on the treadmill. It had been awhile since I ran on the Landice, so I didn't mind it too much. I did 4 easy miles, 9:30 min/mile pace while watching "Never Have I Ever" on Netflix. Then I had a 1:1 virtual strength training session with Discover Strength. 8 miles of running for the day.
Thursday: I woke up to MORE storms, so I reset my alarm and went back to bed. But it worked out for the best, as I reached out to my friend Vicki to see if she might want to run after work, and she did- yay!
We met up around 6 pm and ran 7 miles together. I looked back at my Strava, and it turns out I hadn't run with her since September. I was her first run with another person since shelter-in-place! It was so nice to catch up over some easy (but HOT) miles.
Friday: 9 miles with a few friends before work. I was back in time to chill for a little bit on the deck with an ice-cold nuun before hopping in the shower. Don't mind the hole in the sock- it's all Ruth's fault!
1:1 virtual strength training after work. I am loving the virtual training sessions and plan to keep doing them as long as I can! Discover Strength's studios are open again, but I'm not ready to go back to a gym, plus I find the at-home workouts to be just as good AND very convenient.
Saturday: 15 mile long run! I met up with two friends at 6:30 am and we do a big tour of all the Minneapolis lakes- Cedar, Lake of the Isles, Bde Maka Ska, and Harriet. We were able to pass by Christie's car a few times for refills on (covid-free) Gatorade and water. It felt SO much better than last weekend's long run, even though it was still in the mid-80's and a dew point in the 60's. It's all relative!
15 miles at a 9 min/mile average.
Not sure how to interpret dew point? This should help:
I think Minneapolis has already hit a record of 90 + degree days for the summer, and its only July! It must be all the thermometers…
Post-long run refreshment with a Daily Harvest smoothie (Here's my code for you to get $25 off your first box!)
For lunch, we placed an online order for SeaSalt Eatery by Minnehaha Falls. Pre-pandemic, the line to eat there was always VERY long, so we often skipped going there. Now you can order online, get notified when your order would be ready (ours was about 45 minutes later) and then pick it up to eat in the park as a picnic!
Love those fish tacos!
We had brought Ruth and Matilda with plans to check out the Minnehaha dog park after lunch, but it was really busy and pretty warm by that point. We decided just to head home after eating lunch. Both pups were panting pretty hard just from the walk to get the food and then find a quiet place to eat, so they were just fine without the dog park.
Rain rolled in later in the afternoon, which made for a great day to continue working on the whole closet-into-a-bathroom project. The bathroom is done, but now we're working on building a new closet space. The projects are never-ending, haha!
Sunday: I ran 4 miles solo then came home and picked up Dustin and Ruth for another 4; 8 miles total, 8:55 min/mile average.
I tested out some new running clothes from OPE Running, a Minnesota brand. Their stuff has a retro, hipster look that I love and the shorts are super comfortable. Check them out!
Summary: 66 miles of running- yowsa! 3 virtual strength training session. Full week!
…And that's a wrap! I'm linking up with Running on the Fly and Confessions of a Mother Runner . Check it out below: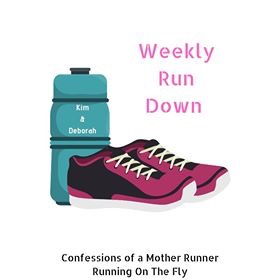 (Visited 332 time, 1 visit today)