Training for the Atlanta marathon is flying by! Only 4 weeks to go.
Here's how training went this past week:
Monday: Treadmill miles after work, 8 miles at 9:15 min/mile.
Tuesday: 7 miles with the morning run club, 9 min/mile. Discover Strength session after work.
Wednesday: Christie and I had the same workout, so we met at 5:30 am to get it done.
25 minute warm-up, then 6x(90 seconds at 7:45, 30 second recovery, 60 seconds at 7:15, 30 seconds recovery, 30 seconds sub-7, 90 second recovery), 15 minute cool-down. Essentially 30 minutes of short speed intervals. 7.75 miles at an 8:50 min/mile average.
Thursday: I had 9 miles on my schedule and an 8 am meeting, so I decided to do it as a run commute, leaving my work clothes for the day at the office the day before. Unfortunately, there was a fresh layer of snow on the paths, which meant I couldn't tell where the ice was…It made me very nervous, so I ran a bit slower than normal, about 9:45 min/miles, and could only fit in 8.5 miles before I needed to get to the office. I'd much rather run slowly than slip and break a leg, right?
After work I had a great Discover Strength session at the NE Mpls location again.
Friday: Complete rest.
Saturday: My long run workout was 55 minutes easy, then 60 minutes of progression, going from 8:30 down to 8:00. It was going just fine, until I saw a girl slip on a sneaky patch of ice and potentially break her ankle, the same way I did in February 2018! She had a group of friends with her who carried her to the road where apparently they had called someone to take her to the hospital. But man, my stomach just dropped and I had flashbacks to breaking my leg. It only takes one wrong step. I felt so badly for her and hope that it wasn't broken.
After witnessing her fall, I pulled back on the progression pace and just ran easy to get to 15.3 miles total.
One positive of the run was that the sun was out! Minneapolis has had a very gloomy January, so it was a nice treat to get a little bit of vitamin D with some friends.
That afternoon, Dustin and I took both dogs to the dog park for a bit, and then took just Ruth to Theodore Wirth to cheer at the skijoring races. (Matilda doesn't do as great in crowds anymore, so we left her home this time.)
Have you heard of skijoring? It's cross-country skiing with your dog on a leash/harness pulling you! Well, that's the idea; there were so many dogs at the race who weren't necessarily pulling their owners to make them go faster, but were just having a grand old time running in the snow!
The whole event was so adorable, I couldn't stop smiling. Every dog seemed so happy to be there.
Here's a short video of some of the dogs:
And here's one of a more competitive dog at the race!
My friend Paige's husband was racing the 5k with their German Shorthaired Pointer, Finn. They got second place, way to go! Seriously such a fun event for dog-lovers.
That evening, we met some friends for the Luminary Loppet. This is a cool event on Lake of the Isles; you can walk, ski, or snowshoe around the lake, with a path lit up by thousands of luminaries. There are various things to see along the way, like large-scale lit ice sculptures, a band playing instruments made out of ice, and fire dancers. A very cool event!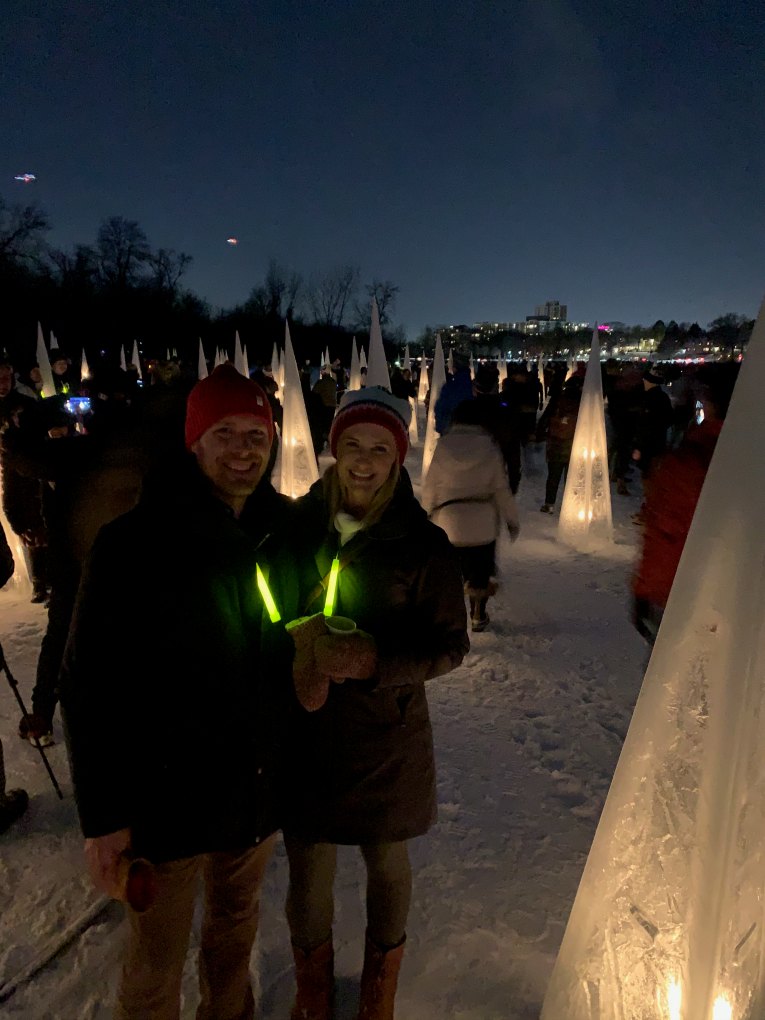 A very fun Minnesota evening. We don't let winter keep us inside! Between the long run, dog park, skijoring, and Luminary Loppet, I basically spent the whole day outside!
Sunday: 6 miles in 40 degree sunshine!
The first four were with Dustin and Matilda. Yes, Matilda our senior vizsla! She is running with us again; she had quite a long time off due to her pneumonia, but she seemed so happy to be running again and basically had a prance in her step. But we didn't want to push it, so Dustin turned off with her at the 4 mile mark and I added on just a few to get to my 6 miles.
The 40 degrees plus sun felt so amazing, but I am worried that all that melt is going to freeze overnight, as the temperatures will be dropping again below 32 degrees. Ugh.! I'll probably be on the treadmill tomorrow just to be safe. I really don't want to slip! Not worth it.
Summary: 53 miles of running, 2 strength classes. This was a bit of a cutback week before one more big push before the taper.
Definitely send me a message if you plan to be in Atlanta for the race or for the trials the day before. I'm very excited to see everyone!
I'm linking up as usual with Running on the Fly and Confessions of a Mother Runner as part of their Weekly Rundown. Check it out!
(Visited 270 time, 1 visit today)