I have a fun guest post for you today from my friend Paige and her recap of racing Ironman Wisconsin this past September. Enjoy!
Hi Everyone! If you recall, I wrote a guest post for Jessie last year sharing my running through pregnancy and the start of my return-to-running postpartum, (re-read that post HERE!) Remember how I ended being first female overall during the Ironman Wisconsin Friends and Family 5K at only six-weeks postpartum? Well, that turned out to just be the beginning of my Ironman success and apparently it lit a flame to complete an actual Ironman. Well, it happened on September 9, 2018!
Below is my race recap for Ironman Wisconsin 2018!
Swim
Goal: 1:15 on a good day, 1:20 otherwise
Actual: 1:14:36 (1:45/100yds) 22/61 in age group. Very middle of the pack pace!
I lined up in the 1:10-1:20 projected time and ended up right in front of my friend Elaina. Yes, someone to chat with before the cannon! We quickly made friends with everyone else around us talking about wearing wedding rings and peeing on the bike. P.S. I wore my rings! This is terrible, but I kind of like the "click-click" as my rings hit the aero bar/shifter (…as my gold wears away…), and I love being able to look down at them and think about my marriage and family. Because never in a million years did I think I would be doing an ironman. Thank you, Brennen [my husband].
Confession: I lost two baby diamonds off my wedding band this training cycle, which was likely due to swimming. But the ring was under warranty (even nearly 5 years after buying!), so it cost me nothing to fix and was just an inconvenience for me to bring it in and have it repaired.
Swimming past Monona Terrace was so cool. Rounding the first buoy was severely anti-climactic. I thought you were supposed to moo? I heard zero mooing! So underwater I gave out the smallest "moo" because I had to do it. LOL. Turning the second buoy making the long stretch back to the finish was brutal. The water was so rocky, and everyone seemed to be freaking out. You were basically forced to breathe to the left, which is great because then you can see Monona Terrace! (I would bet most people that can swim 2.4 miles can breathe bilaterally. It would have been a miserable swim if you couldn't!) I got kicked so hard once that I thought my right google broke. I also was swam over and pushed down, which lead me to a mini panic attack from swallowing so much water. I don't have open water anxiety (thank goodness), but I would bet so many people with anxiety freaked out on that stretch. Maybe ¾ into the swim my wetsuit shifted on my leg and exposed my timing chip, which I had originally tucked under the wetsuit. The chip immediately felt like it was falling off with every kick, so I stopped and pulled my leg out of the water to ensure it was still pinned on. (It was. Chill out, Paige.)
Swimming practice is the worst (for me). Swimming in a race is the best. Except this one was just ok. I think the waves threw me off a bit. I was happy to round the last buoy and make the short stretch back to land. Getting out of the water was awesome, especially when I hit lap on my watch and saw the 1:14 time! 
T1: 08:13
Transition 1 might have been the most fun I had all day. Running up the helix packed with people is nothing short of amazing. I saw friends and family on the helix, and then headed into the changing room. (Side note: The volunteers for this race plus the course marshalling by the police forces are amazing.) Out of changing, grabbed some sunscreen, and into the bathroom. Running to my bike I saw my brother-in-law who said, "Jack is right over there!" So I ran up to Jack, who was with my MIL, and gave him the biggest kiss right on the mouth. ☺ My long transitions (and ultimately missing a Kona slot) might have been worth that.
Soo that Kona slot…Brennen warned me right after I finished Chisago Lakes 70.3 that my terribly slow transitions might cost me a Kona slot. Yep. I missed a slot to Kona by 3 minutes and 40 seconds (a time that will haunt me for the rest of my life). The difference between my transitions and the girl who took second place in my AG and went to Kona: 3 minutes and 49 seconds. Yeah, dang. She transitioned nearly 4 minutes faster than me! That is a lot of time! My lack of experience really shows here.
Bike
Goal: 5:51:07 (exactly one second faster than Brennen's split from IMWI last year ☺)
Actual: 5:58:49 (18.71 mph) Fifth of 56 in AG.
My bike fitness has come a looooong way since the beginning of the year. I was dedicated to my trainer opting for killer intervals inside instead of rides outside. Brennen was convinced my bike fitness was better than his was when he did IMWI last year, so my only goal: just to beat him. Given that I got to ride the course during training, I felt pretty good going into the race. I knew my favorite part (Timber lane to Verona) and least favorite part (Verona to Mt. Horeb). (Though now I think the stick heading back to Madison is my least favorite part.)
I started off pretty strong riding with what seemed like all guys. The first 20-30 miles flew by. Coming out of Mount Horeb and going through the farm road hills and down Garfoot was so fun. Give me all the hills to climb. Typical fashion: I pass the guys going uphill and then get whooped on the downhill because they are so much bigger/heavier than me. The fun ended when I hit the right turn heading east to Cross Plains with a blast of wind to the face. Time to turtle up in aero and grind through the (what felt like) snail slow pace. The worst part is that those stretches of road on the north edge of the loop are freshly paved and flat so on a good day you would fly! Once we got to Timber Lane, life got good again. The parties on Timber Lane and Midtown Road were the best. (Probably why that section of the race is my favorite.) My family and friends were on Midtown, and I lived it up riding by all of them. 
I was a little concerned about my overall nutrition leading into the day because I knew that it can make or break your race. Before the race, I set a timer on my watch to go off every 20 minutes on the bike and did some math during the ride to figure out how much of my 800-calorie Carbopro bottle I needed to drink with every watch beep. 6 hours on the bike (so 18 20-minute sections) with a 24 ounce bottle = a bit over an ounce per drink. This plan worked really well because I kept the constant flow of calories. I also tried to eat some solid food at the top of every hour. (A fig bar or a few honey stinger chews.) I drank my Gatorade endurance with added additional electrolytes here and there. And I drank so much water, which may have ended up being the key to my marathon success. I had never used an aid station on the bike in my 70.3s, so was slightly nervous about grabbing and tossing bottles. I finally figured out the best plan maybe a quarter of the way into the race: toss my current water bottle coming into the aid station and then grab a new water and immediately put it in my cage. Next I would grab another water bottle at the end of the station, drink a bunch and pour on my body, then toss that bottle at the end of the station. (So wasteful, & disposable plastic water bottles actually might be my biggest pet peeve in life, but I digress.) Overall, I think my nutrition was spot on during the bike.
Mile 60ish was dark. I also had to go to the bathroom so decided that I could take a mental minute break in the porto, kicked myself for not bringing my Imodium on the bike, took some salt tablets and tums, and carried on. I had to keep reminding myself to focus on my effort because it was easy to get comfortable at an easy pace, and this was race day! 
After Timber Lane round 2 (mile 80ish), I was ready to get off my bike, but also questioning how in the world I was going to run a marathon after this. My legs were toasted. Heading back to Madison and not making the turn onto the loop was a great feeling! Little did I know that I would be riding pretty much entirely solo during the 16 miles back to Monona Terrace where there are basically no spectators. That was hard. I had the feelings of "Ugh, I'm the last person to finish this race. How is that possible?" And "Well maybe you are just biking well and are ahead of the crowds." I did make sure to thank my bike so many times during that stretch (and also prayed to not flat a couple of miles from home.) I spent ridiculous amount of time with my bike during training. Bike love is real.
T2: 4:40
Getting off my bike at the bike dismount was nothing short of amazing. I was done with that! But wow, my legs were bricks. (I don't even think I realized I just biked 112 miles. Now I realize it. 112 miles!!! Holy crap that is far!) I didn't even try to run during transition. It was a quick-ish shuffle. I came into the bag drop room, and the volunteers went nuts for me. I was the only athlete in the room at the time, and I 100% lived it up and cheered like crazy! So fun!! Got my gear on slowly (because I just couldn't) and headed out for more sunscreen and a bathroom break.
Pro tip: for both transitions I rubber-banded my nutrition all together which made grabbing it and putting it in my tri-kit so slick! It wasn't just floating all around my transition bag.
Run
Goal: 3:30 if it is an amazing day. If not, just finish (but God-willing faster than 4 hours)
Actual: 3:32:23 (8:07 min/mile) Finished 3rd of 54 in AG. (Second best run in AG.)
Once I started running I took a honey stinger gel almost immediately, along with salt tablets and more tums. My first two miles were pretty dang fast relative to my overall average pace, but I knew they would be because it is generally downhill, and my body loves to try to maintain my bike cadence on the run. ☺ I went with it and settled in around mile 4. But my legs were still heavy. I didn't count down miles (until the end), but instead counted down time because that seems to go faster. So from the beginning – I told myself I have 4 hours to go. And then every 4ish miles would cut that time down by 30 minutes. (You can do anything for 4 hours! Wait, what? Only crazy people say that.)
I cannot describe the feeling of your body trying to run a marathon after biking 112 miles. It is so completely different than everything I have felt. This was nothing like a real marathon. I came across Brennen around mile 5 and basically told him there is no way I can do this. He is the best cheerleader though and reassured me that running is my strength and I can do this. Hit my first porta around mile 6, then popped the Imodium. Observatory hill was right after that first bathroom break, and Brennen prepped me enough about it, so I knew that I was going to walk up it both times (the run course is a loop). I choose to do this because I know from running experience that when my heart rate starts to creep up, I can't get it back down, and it can ruin my race. And hills will make my heart rate climb. Did walking this hill twice take away my Kona slot? Maybe! (Because that time loss was certainly a few minutes.) But if I had run up it, I cannot say how the marathon would have gone. Likely worse, and I'm still happy with this decision. 
Around mile 8 I realized I was starving and wanted solid food ASAP. I grabbed Clif bar, and it was the best thing I have ever had. (Note that I do not eat solid food ever when I'm running, and I typically don't ever eat Clif bars. From the first bite I was nervous because "nothing new on race day". Preach. I survived.) I then started grabbing pretzels at the aid stations and slowly eating them while running. Yes, I wore them on my fingers like rings. ☺ Coke also sounded amazing – which is weird, and sure enough it was the best. And I drank chicken broth 3-4 times. I started every aid station with a cup of water, half drank/half dumped on my body. I grabbed ice and filled my sports bra with it. (This definitely helps keep you cool and heart rate low! Sorry guys, we have the advantage.) Then drank coke and grabbed pretzels. (Nutrition plan on point. 😉
The run was both good and very dark. It was very cyclical with how I felt, and I wish I had my full Garmin log to see how my paces varied. (I got a buzz on my watch around mile 9 that my battery had only 5% left. Doh! I knew this was going to happen since the Fenix 5S is smaller and has shorter battery life. I even thought about wearing my old Forerunner just for the run, but then didn't end up packing it. If this were an open marathon I would have been so mad, but I honestly couldn't have cared less. My watch ended up living until just before mile 17!) Going back towards the capitol and having to loop back away from the finish was pretty bleh. I didn't look down the shoot to the finish line and definitely walked through the mile 13 aid station. My total stops/walks were five: two bathroom breaks (both in first half), two times walking up Observatory Hill, and one walking through the aid station at mile 13. Everything but the second round of the Observatory Hill was in the first half! I think I must have found some untapped mental strength the second half that made me suck it up, knowing I was so close to being done. (And did I negative split this race?? I think it has to be pretty close. Would have been nice to have the splits, Garmin!)
Brennen told me I was in third when I saw my crew at mile 17. I needed that. Nine miles left? That was nothing. I started counting down the miles and relating the distances back to my favorite routes in Minneapolis. 6 miles? Around Cedar Lake. 4 miles? Around Isles and Kenwood. 2 miles? Down to the pump and back on Isles. My sister and BIL were at mile 25.5, and she was screaming at me with the most enthusiasm I have ever seen out of her:  "you are THIS close to second place. You have to go now!!" I said an annoyed, "uh ok." But of course picked it up. I passed a few girls before I found second place with a big "27" (for my age group) on her left calf. I cruised by her and then watched to see if her shadow kept up with me. NOPE! Sweet!
The Ironman finish line is probably the coolest finish line ever. Definitely better than Boston. There is a red carpet, lots of lights, and Mike Reilly calling out your name! And you have the overwhelming feeling of all the hours spent training for the event, all the sacrifices you made and your family made for you, all the relationships built from new friends, and the feelings from the whole day of doing the event, plus knowing in a hundred feet you get to be done. And not workout tomorrow. ☺
The Finish
Overall – I finished in 10:58:40. 3rd place in my AG. (Turns out that even though I crossed the finish line 2nd in my AG, the girl who actually took 2nd started the swim behind me so had a cushion of time on me [3 minutes and 40 seconds..]. Downside to the non-mass start swim.) 16th (non-pro) female overall. It was a pretty great performance for my first Ironman. (Yes, I said first. I will be back.) I missed a slot to Kona by a few minutes, which is a bummer especially given my ridiculously competitive nature, but I promise it just fueled the fire.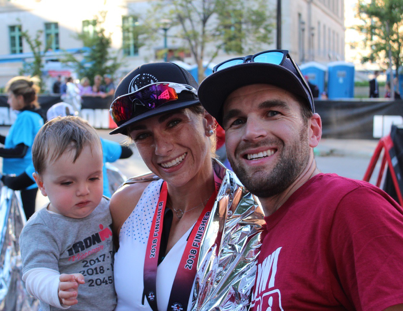 I had a great Ironman training and racing experience and if you even have the slightest bit curiosity of doing an Ironman, please ask me about it! I would love to share the details about how I made it happen working a fulltime job and a baby-turned-toddler.
Thanks Jessie for the share!
Thank you Paige for sharing your story! If you have any questions or comments for Paige, please leave them in the comments and I'll make sure she sees them!
(Visited 560 time, 1 visit today)