I hope you're all having a lovely weekend (hopefully a long one at that, if you get tomorrow off for the Labor Day holiday here in the US!)
I'm here with my weekly recap, where I've been recapping my recovery from a broken tibia/fibula and building back to marathon shape in time to hopefully run my 30th marathon in Houston next January! 
Here's how training went this week:
Monday:  Non-running day, just an ALTR class before work (50 minute HIIT/strength class)
Here is an example of the kind of workouts we do in that class:
Tuesday: I had planned to run after work with the Oiselle Volée (if you missed it, I just recently joined the Minnesota 'flock!'). Unfortunately, the event was postponed as most of the members had just returned from "Bird Camp", a 3-day running camp with all the national Volee runners (It sounds like it was a blast, I can't wait to go next year!) I didn't see the cancellation on Facebook until the morning when I was on my way to work, and I had already made arrangements to ride into work with Dustin and have him ride the bus home so I could drive to the event after work. Oh well. Just meant I was on my own for a post-work run!
With the change in plans, I decided to do my short speed workout that was on my schedule at the Southwest High School track like I did last week. I jogged over there (about 1 mile) and there was a soccer game going. No-go on the track for me.  Darn! Just had to do the 200m repeats on the trail instead.
I did pause my run for a quick break by the Lake Harriet bandshell, where an Elvis impersonator was performing! Funny.
8 miles total for the day.
Wednesday: Morning run commute, 7.6 miles.
After work, I walked over to ALTR for a 6:30 pm 50 minute HIIT/strength class. Always excited to squeeze in a second strength class when I can!
Thursday: 7.8 mile morning run; the first 4 were with my friend Vicki and another coworker, and then the rest on my own. After a quick shower, Dustin and I were off to the Minnesota State Fair for a full day! (See the end of this post for more highlights from the fair.)
Friday: I had 30 minutes of easy running on my schedule, which I decided to do after work in the heat.
After a quick run, I zipped to the vet to pick up Matilda, who had her teeth cleaned. Since they had to put her under with anesthesia for that, they also removed a small cyst on her belly. Poor thing was pretty loopy when we picked her up that evening, but she's recovering just fine!
She was feeling like her normal self by the next day, which was great as we were dog-sitting my friend Vicki's golden retriever Breck for the weekend. They are so cute together!
Saturday: 12 miles! My longest run post-broken leg. I ran two miles, and then met up with my friend Monica for 10 more miles. I started at 7 am but it was already so hot and humid. We took plenty of walk breaks and water breaks as it was a doozy, but it was so great to have that dedicated time to catch up with her. We hadn't run together since 2016!
I feel like I've been making my rounds with running friends, trying to make up for lost time; the social part of running is definitely something I missed!
Running in that heat really wiped me out…Dustin too! He had a 20 mile training run for the Twin Cities Marathon. As you can see, everyone was just a little tired Saturday afternoon….
But by Saturday night, we rallied to attend the Taylor Swift concert at the US Bank Stadium with my sister and two of my nieces. It was very entertaining- she puts on quite a show! We all had a great time.
My sister and I were so glad her husband read online beforehand that no purses were allowed, only clear plastic bags. There were so many other women who didn't know this and had to wait it a very long line to check their purses; some people were just throwing their purses in the trash! (Fortunately, someone was taking them out to put in a donation pile for charity.)
Every concert attendee received a bracelet upon entry that would flash and light up different colors to go with whatever song Taylor was singing. It was a pretty cool effect to have the whole stadium lit up at different times! The technology was very impressive.
Sunday: After a later night at the concert, I slept in a bit. Eventually I ran 4 miles with Dustin. Even though a storm rolled in this morning, it was still so humid for our run…yikes! I feel like I spent the whole rest of the day trying to rehydrate!
Summary: About 42 miles of running, 2 strength classes, lots of walking of the dogs and lots of walking at the fair!
As I mentioned in last week's recap, the Minnesota State Fair is a huge deal. It's not just fair food, but rather has become a bit of a 'foodie' scene with new dishes added every year. It's also pretty normal for people to take time off of work to attend, like we did.
There was a lot of other delicious food eaten during our day there, but one of my personal favorites was this heirloom tomato sweet corn BLT from the Farmer's Union Coffee Shop. So good!
It is so great to go to the Fair during the week when it isn't quite as busy; the weather was also wonderful on Thursday for wandering around the fair. Dustin's Garmin said we walked about 7 miles. That does seem really high, but we were there from about 9:30 am until 6 pm, so I guess it's true!
A few other highlights? The grilled peaches with goat cheese:

The "fruit and booch", i.e. fruit with Kombucha: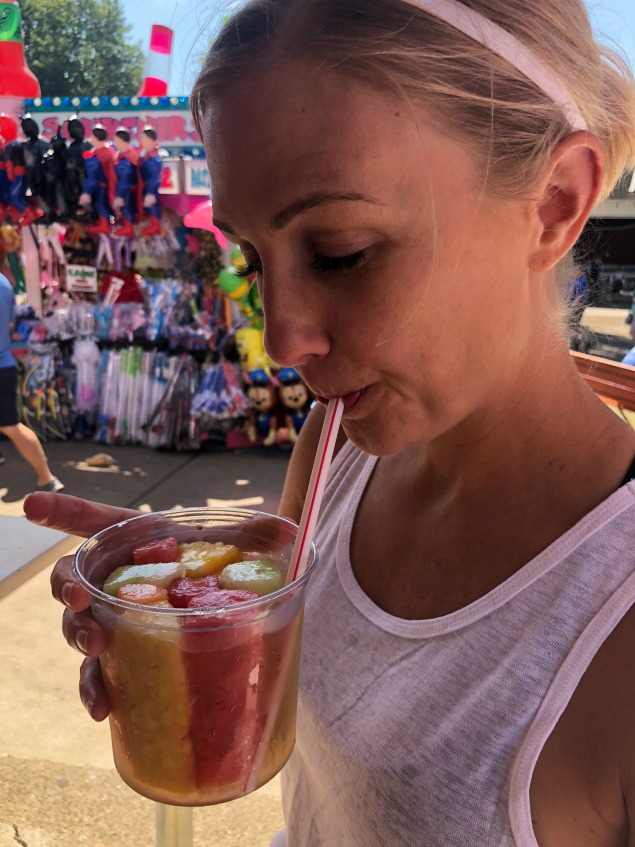 Dustin tried the Rainbow Cloud Roll, which was definitely the least healthy thing we tried. It was three scoops of ice cream with Fruity Pebbles wrapped in a pillow of cotton candy.
I tried a few bites and it wasn't as bad as I thought it would be, but a few bites was all I needed!
After all my years of going to the fair, this was the first time I witnessed a cow giving birth in the Miracle of Birth center. Graphic, but fascinating!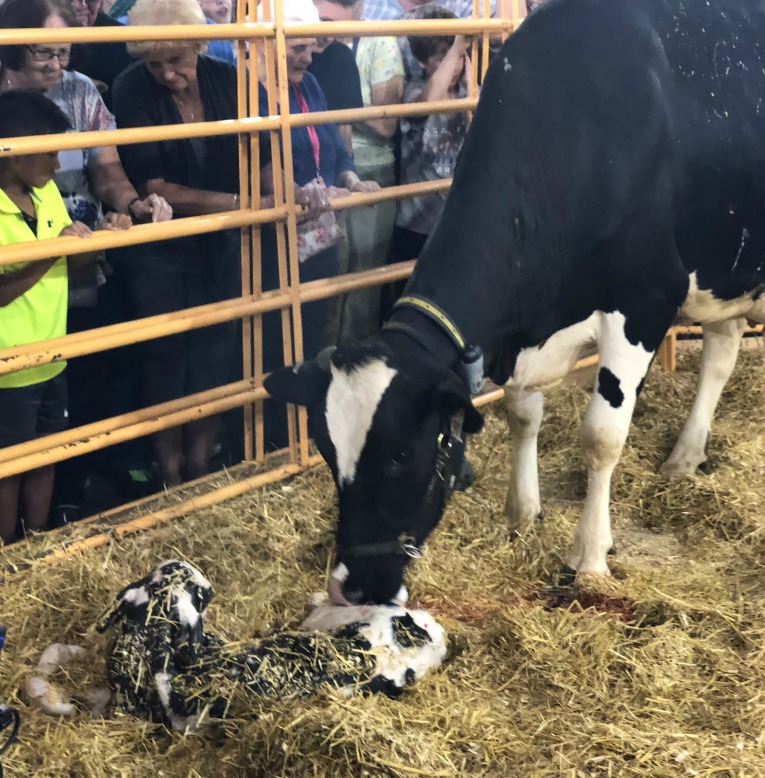 I also always enjoy the crop seed art in the agriculture building, like this one. Minnesotans sure loved that MPR Raccoon!
A fair day is never complete without a visit to see the alpacas!
After last Saturday's fair aftermath, where my healing leg was really swollen by the end of the day, I was smarter this time and I wore better shoes (Allbirds). I still had to ice my ankle right away when I got home. It wasn't quite as sore as last weekend, but not great. In general, there's still a tendon on the outside that gets really sore when I do too much in a day, so I definitely have to be careful. I have a PT appointment scheduled in another two weeks, so hopefully they can help me out with some new exercises to tackle that one. The broken bones may be healed, but that doesn't mean the injury is completely gone! Always something…
Well, that's a wrap! I guess it was a pretty busy week, but I'm happy with how my running went. My pace is still much slower than it used to be, but I'm running consistently and really happy about it! As Des Linden says, you just have to keep showing up. I'm getting out there and doing the work, and hopefully the speed will come back with time.
Thanks so much for reading and be sure to check out all the other great weekly recaps that are a part of HoHo Runs and Taking the Long Way Home 's weekly recap link-up!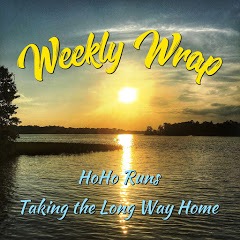 (Visited 344 time, 1 visit today)