Last September, Dustin and I ran the Berlin Marathon (if you missed it, you can read all about it HERE!) It was our first international marathon. As fun as it was, we definitely can't plan every marathon around 
such
 a big trip. In other words, we won't be running international marathons every time. (What? You're saying Cincinnati won't be as interesting as Berlin? Ha!)
Fortunately for you guys, I have a friend who ran the London Marathon this year, and she offered to share her recap with us, so we can live 
vicariously through her!
Amber actually shared a guest post recap of the Sioux Falls marathon in fall 2012. You can read that recap
HERE
. Read both recaps for two very different types of marathons!
So, here you go readers- all you ever wanted to know about the London Marathon, courtesy of my friend Amber! 
Sometimes you have to go big or go home.  Or in my case, you have to go big or you won't leave home!  After having twin girls last June and knowing the "joys" of training through a Minnesota winter, I wanted my first post-babies marathon to be a BIG one that I would be motivated to train for no matter what the weather had in store.  Given the winter we had this year, I picked the right race – the London Marathon.  Or, as it is more accurately referred to for sponsorship purposes, the Virgin Money London Marathon.  It is part of the World Marathon Majors.  In addition, it holds the Guinness world record as the largest annual fund raising event in the world with many runners running for charities. As one of the pre-race commentators accurately stated . . . "Get ready, this is going to be one of your life's grand adventures."  It truly was.

This year was the 34th annual running of the marathon.  The course itself is a flat course set around the River Thames.  Because of the massive number of participants (there were close to 36,000 finishers), the race begins at three separate points: the Red Start at Greenwich Park; the Green Start in St. John's Park; and the Blue Start on Shooter's Hill Road.  The three courses then converge at the 3-mile point. 

How do you get into the London Marathon?
As a non-UK resident, you cannot enter the ballot (lottery) and you cannot qualify with a "good for age entry" (qualifying time).  Instead you must go through a tour company.  I went through Marathon Tours and was not disappointed.  Be prepared to register and commit early though – London is touted as the "world's most popular marathon" and this is probably the case.  The ballot already filled up in a record 9 hours and 50 minutes for next year's race.  Going through Marathon Tours, I had to sign up in June 2013 for an April 2014 race.  As a long-time runner and first-time mom, it was both daunting and inspiring to have had the race on the calendar for so long.

The Expo:
The expo was great.  It is a bit out of town at the Custom House (a large convention center), but very easy to get to via the tube and train.  Adidas had a heavy presence.  There were loads and loads of vendors.  One nice offering was that you could pay a nominal amount to have your name printed on your racing shirt.  With the thousands of spectators, I was really glad I did this.  The volunteers at the expo were very helpful, welcoming, and enthusiastic.  They were genuinely interested in chatting with runners about where they came from, what other marathons they had run, and they were very happy you were there to run London.  

Finish Line:
We received an excellent tip from the volunteer who handed me my race bag – meet at the Admiralty Arch.  St. James Park (where the finish is) gets absolutely packed with people trying to meet up after the race, and the Admiralty Arch, at the end of The Mall where the marathon ends, offers a key feature to a tired runner – a patch of lovely green grass to lie down on.  This is where my husband and I agreed to meet and it worked out very well.

How did you deal with jet lag?
London is obviously across the pond so jet lag was a worry that I had.  We arrived on Friday at noon and the race is on Sunday, so I really had two nights to "catch up" on sleep.  Honestly, I'm not sure what impact this had on my race, perhaps fatigue did set in early.  I was able to get some sleep on the flight over.  On the two nights in London before the race (Friday and Saturday), I woke up at 2 a.m. and had difficulty going back to sleep.  I think this was partially due to jet lag and partially due to normal pre-race anxiety and excitement.  I'd recommend getting plenty of sleep in the days and weeks preceding your trip so that the final few nights are not crucial.  I can say that I was so excited on race morning that I did not feel tired.

The Night Before…
Many hotels had "Marathon Menus" on Saturday for the evening before the race.  Hotel offerings through Marathon Tours did, and I considered it a fabulous feature – not to have to worry about a benign pre-race meal. 

Race Day!
The race starts at 10 a.m. which allows sufficient time to get up, have a bite to eat, and prepare for the day.  All of the hotels with Marathon Tours had breakfast available beginning at 5:30 a.m.  The offerings included plenty of "runner friendly" foods.  Marathon Tours also organized coaches to take runners to the start beginning at 8 a.m.  Again, very nice not to have to worry about getting to the start.  I was part of the Blue Start and the area surrounding this start was extremely well organized and there were plenty of port-a-loos.  An absolute bonus to UK port-a-loos – they flush! Much more sanitary and less smelly than the ones around the Minneapolis lakes.  There was a massive television screen so that you could watch the elite and wheelchair starts.  A jovial and comedic commentator kept runners informed of the time, what you should be doing, and when to head to the corrals.  Each start is also organized into corrals based on your predicted finish time with this information marked on your bib.  Volunteers politely checked to make sure you went into the correct corral and the start did not feel overly crowded.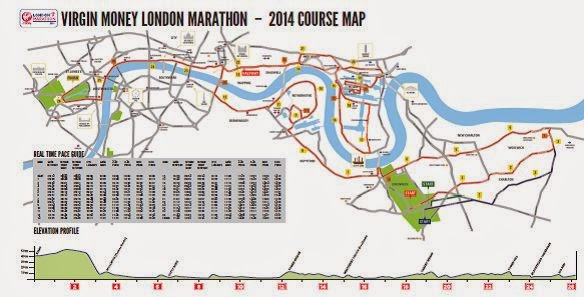 The Course
The course is nothing short of spectacular.  At around the 10K point, runners pass the Cutty Sark and the crowds are absolutelydeafening.  The half-way point is crossing the Tower Bridge.  Again, with deafening crowd support and crossing such an iconic landmark, this part of the race is is nothing short of amazing and truly memorable.  The course then heads east along The Highway through Wapping, towards Limehouse, and into Mudchute in the Isle of Dogs, and then into Canary Wharf.  The final leg of the race passes by The Tower of London, along the Embankment (with views of the London Eye), passing Big Ben, Parliament, and finally Buckingham Palace and finishing on The Mall.  The final section of the route formed part of the 2012 Olympic Marathon Course.  It is definitely one for the record books and one of life's grand adventures.

It is a fairly flat course and even with the crowds it's possible to run for time.  You start with runners predicted to finish around the same time and the course is never so crowded that you can't move up if you'd like.  It is most crowded right around mile 3 when the three starts converge.  I got great advice from a Scotsman at the start who advised that I stay to far right in order to avoid being jostled around when the various starts came together.  I was glad I followed this advice.

The crowd support in London could not be better.  Most of the course is lined 8-10 people deep with spectators on either side.  The crowd was made up of people of all ages and walks of life.  They happily shouted support for runners, offered up high fives, and a hearty amount of enthusiasm.  For spectators traveling with a runner, this is a difficult race.  Because of the volume of runners, it is difficult if not impossible to "cross the course" and get around London to see your runner if you want to meet up at race end.  Likewise, spectators are often standing several people deep on either side of the course, so even with a well-formed plan spectator and runner might not connect.  Knowing this, my husband planned that he would catch some of the race in a pub (lots of festive pub spectating is to be had in London) and then meet me at our preordained spot at the end.  This worked out really well.
At the Admiralty Arch Post Race

I highly recommend this as a destination race.  For anyone who has been to London, running through it and seeing it again is a wonderful and truly exciting experience.  If you haven't been to London, what better reason to go?  This race and the city itself are festive, energetic, and inspiring.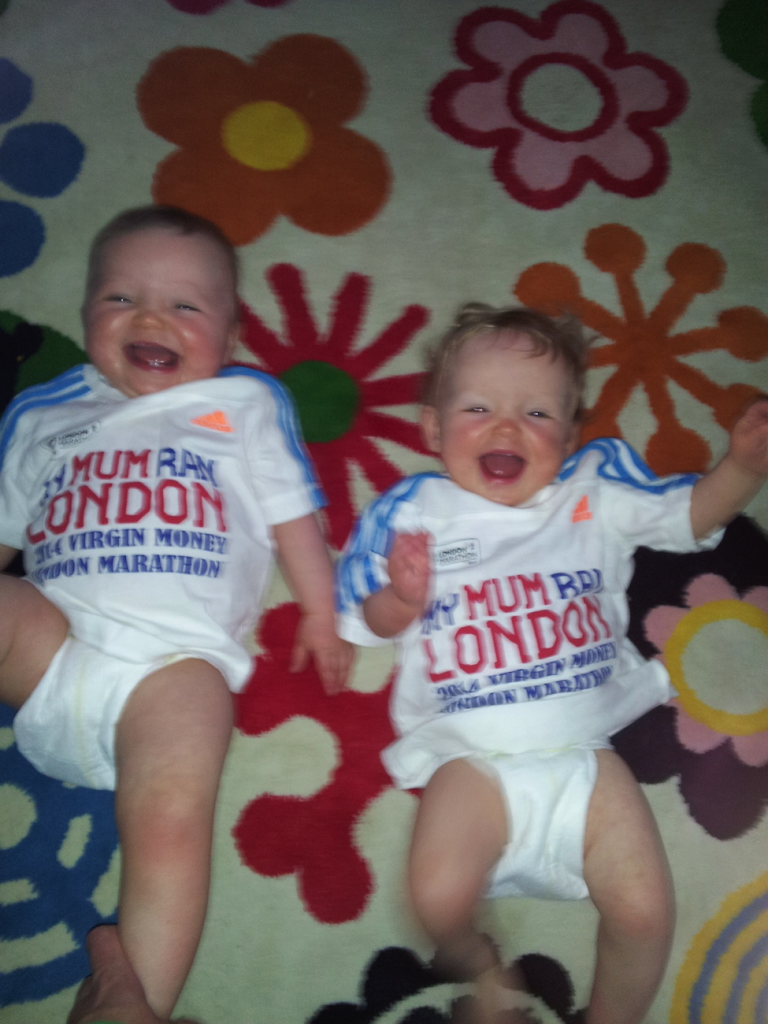 Congrats to Amber, who ran an AMAZING time, after having twin baby girls less than a year ago! So impressive. 
And thanks for sharing your recap 

with

 us!
(Visited 316 time, 1 visit today)