It's been awhile since I published a post here.
After the Boston marathon, I took a little break from blogging and social media. I was still running (of course) and strength training as usual, but found some freedom (and a bit of extra time and headspace) by not documenting it all for awhile.
But I missed this community; I also missed the Strava community and the Instagram community. I look forward to rejoining and participating in the positives that these groups have to offer. Stay tuned for a much more active summer of blogging, I promise!
Unfortunately this first post back is not one I wanted to have to write (EVER), but it's one I need to share. It's also a big part of why I took a little "leave of absence," so-to-speak.
My mom died on Sunday, June 5, 2022.
She fought hard against many health challenges, most of which stemmed from a diagnosis of Polycythemia Vera many years ago. The treatment for this disease is very hard on the body, and unfortunately every terrible thing or side effect that could happen to her, did. Between brain surgery, multiple bouts of skin cancer, throat cancer (& a challenging surgery/recovery), many issues from long hospital stays, and more, she fought more health battles than one person should.
Before all this, she was such a healthy person- she didn't smoke, she didn't drink, she ate very well, was very active, (maybe just as active as her five daughters!)
Her final hospitalization was for fungal and bacterial pneumonia. Her body was too weak to fight anymore and she passed away in the Bronson hospital in Kalamazoo, Michigan after a three week stay there, including time in the ICU and on a ventilator.
I flew to Kalamazoo on the Friday before her passing with my sister Cresta (the sister who also lives in the Twin Cities area). When we arrived at the hospital, my mom really did seem to know that we were there; she even smiled a little when she heard our voices and as we held her hand.
By Saturday, we had met with the hospice doctor with my dad, and discussed the next steps, with the understanding that she would not recover from this. We were only prolonging her suffering by not moving her to comfort care. Once that (incredibly painful) decision was made, she passed peacefully that same evening/early morning at the much-too-young age of 71.
I knew the loss would be painful.
In fact, I had thought it was coming many times before when she had other very serious health scares.
But when it actually occurred? Way harder than that….It rocked me to my core and the grief was physically painful. I don't think I ever cried so much as I did those next few days.
A friend shared this article with me, that does a great job of articulating the waves of grief, the ups and downs that hit me at random times and will probably continue to hit me at random times for years…
https://themighty.com/2018/12/ball-box-analogy-grief/
And running? Oh, right, this is a running blog. Well, to be honest, running through this immense grief has not been easy.
While in Kalamazoo the weekend of her passing, my sister Erin and I ran together early Saturday morning before visiting hours started that morning at the hospital, and that was a "core-memory" type run. It was meaningful to cover a few miles with her, to get a break from that hospital air and process together what was happening to our mom, and well, to our whole family.
I flew back to Minneapolis late Saturday night, knowing that any news after that point would be THE news, but finding comfort in knowing I had been there to visit her in her last days. I was able to tell her I loved her. I also found comfort in knowing that I was there for my dad when he needed us the most.
After my dad tearfully called me early Sunday morning to tell me that she had died around 3 am (he, my aunt Linda, and my sister Emily were in the room), I cried for some time and laid in bed for quite some time snuggling with Ruth and Matilda (they seriously knew I needed them. Vizslas are the best support dogs.)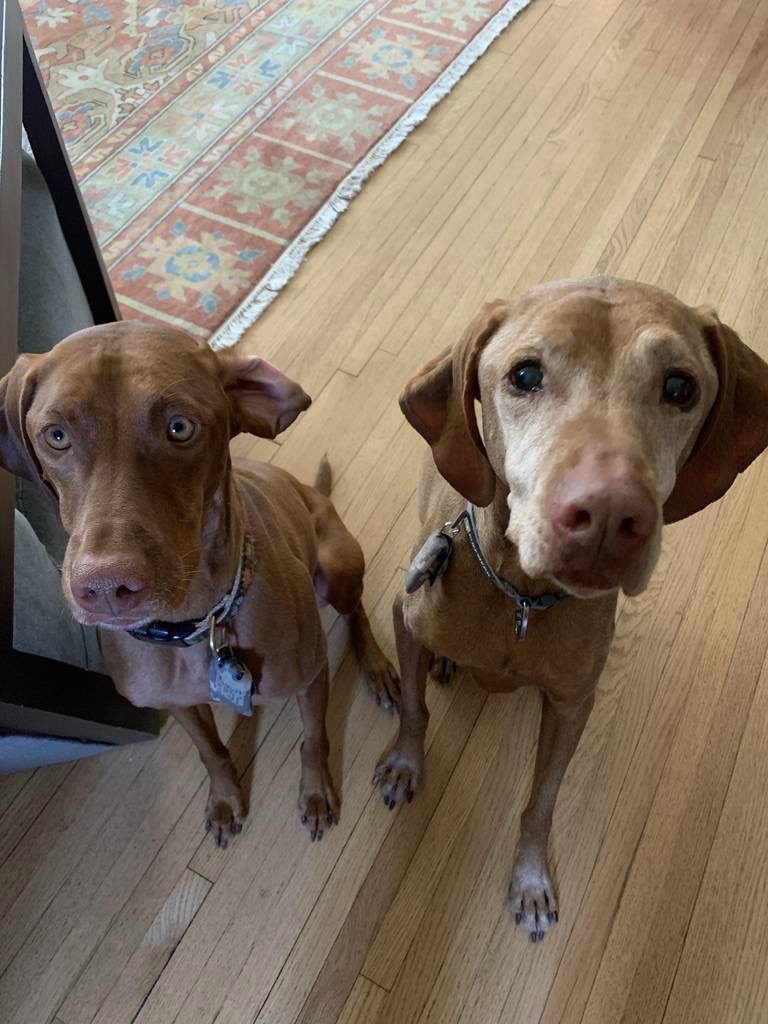 Eventually I thought that running would make me feel better, a bit more "normal" and maybe clear my foggy head. So Dustin and I went for a run together, and while I so much appreciated that time with him (and Ruth), physically running through the grief was like running through mud.
In the first few days that followed, I felt so heavy, like I'd been hit by a truck. I was so tired- the emotional strain really does manifest as physical strain. I felt like I had run multiple marathons in a row on zero sleep.
During the week between her death and the funeral, I ran most days, but more often than not, the run would include some crying.
Tip (that most runners probably know…): crying and running do not mix. It led to some hyperventilating and many walk breaks as I tried to pull myself together, where everything and everyone reminded me of her.
Yet eventually, I did start to feel better after each run, even if fleeting. It started to bring me the same relief and comfort that I had always counted on.
I have a feeling its going to feel harder for awhile- everything is going to feel a little harder without my mom around- but I'm hopeful that running will help to provide me with the comfort that it always has.
Dustin and I flew back to Kalamazoo on Friday, June 10th. The funeral service was held on Saturday, June 11th. The two of us ran 5 miles on Saturday morning before the funeral and it was a bit surreal, but it really did help me feel more "normal" going into the emotional day.
We ran another 6 on the Sunday after the funeral and I actually felt better than the whole previous week, like a little bit of the heaviness may have been lifted, maybe there was a little bit of closure from being with my family to say goodbye the day before. We were able to celebrate her life and share many special memories that I will cherish.
It was so wonderful to see all four of my sisters and all nine of my nieces and nephews, plus many aunts, uncles, cousins and family friends that I had not seen in many years.
I held things together better than I thought I would – well, most of the time.
My dad is such an amazing person and I love him so much. I know how much I am hurting.
He is hurting so much more…
My sister Erin and my sister Laurie both gave eulogies at the service; both were so incredibly heartfelt.
One of my favorite lines from Laurie's eulogy was the following:
"Reflecting on this topic made me remember when my maternal grandmother passed away – my Babcia. Soon after her death, I was talking to my mother to see how she was doing. She said to me,
"The hardest part, Laurie, is knowing that I cannot just give her a call to talk."
Yes, mom, that is the hardest part. Each day, something happens that I want to share with you. I pick up my phone instinctively to call or text, and I am reminded that you are no longer here. This is the hardest part."
My mom was always so supportive of all our running and other kinds of adventures. In fact, she and my dad were my most loyal blog readers. To know she won't be there anymore, she will no longer be reading and then calling me to chat about it brings the tears again. To know that she will no longer be cheering for us, even if from afar, is really tough.
One of my favorite parts of my sister Erin's eulogy when she quoted Brandi Carlile's song "Most of All," a beautiful song about learning from your parents how to give away your love.
Here's a video of Brandi singing it; it's one of Erin and my favorite Brandi songs:
I could write many many blog posts about how incredible my mom was and how much I'll miss her. She was such a supportive and kind person. She inspired both my love of sports and reading- and dogs! She loved dogs nearly as much as me.
Her obituary is posted here, with a beautiful slideshow: https://www.langelands.com/obituary/Jennifer-Wedel
I'll post it below in full for posterity as well.
Obituary: Jennifer Rose Wedel, 71, of Kalamazoo, Michigan, went home to be with her Lord on Sunday, June 5, 2022. She had a blessed life and was a tremendous blessing to many. Jenny was born on March 14, 1951, in Oakland, California, the daughter of Edward and Jean (Boren) Julius. The Julius family moved to Beloit, Wisconsin, where Jenny met Gregory Wedel, one year her senior at F. J. Turner High School.
The high school sweethearts continued to date while Greg attended Georgia Tech in Atlanta, Georgia, and Jenny worked at Wisconsin Surety in Madison, Wisconsin. They were married September 9, 1972, at St. John's Lutheran Church in Beloit and Jenny joined Greg in Atlanta where he attended graduate school and she worked at the Fulton County Courthouse. They then returned to Beloit, where they raised their five daughters, the joy of their lives.
Jenny held multiple family jobs: chauffeur, chef, maid, coach, secretary, and, of course, master scheduler. She coached volleyball and cheerleading. She was always supportive and smiling.
Before moving to Kalamazoo in 2002, Jenny worked for Black & Decker and attended Blackhawk Technical College. She received her associate degree from Kalamazoo Valley Community College.
Jenny was a loving wife, mother, grandmother, sister, aunt, and friend. She enjoyed camping, canoeing, reading, gardening, going for walks, playing volleyball, birdwatching, taking care of her beagles, playing euchre, and spending time with family, especially her grandchildren. She was a faithful member of St. John's Lutheran Church in Beloit and of St. Michael Lutheran Church in Portage. Faith and family were the cornerstones of her life.
Jenny and Greg would have celebrated their 50th wedding anniversary in September of this year.
Jenny was incredibly selfless, always putting others before herself. She provided a listening ear for her five daughters and for others, and she served her church as a Stephen Minister. Her first thoughts were with others – even while in the hospital. She fought her medical challenges over the years and never complained about the hand she was dealt. She trusted God's plan for her. She touched many lives. She will be greatly missed.
She is survived by her husband Greg and their children: Cresta (Scott) Jones of Eden Prairie, Minnesota; Erin (Oscar) Cantu of St. Charles, Illinois; Emily (Todd) Reese of New Albany, Ohio; Jessie (Dustin) Benson of Minneapolis, Minnesota; and Laurel (Jeff) Johnson of Kansas City, Missouri, and her grandchildren Margaret, Clara, and Harriet Jones; Palmer and Delaney Cantu; Mikayla and Addison Reese; and Anders and Bergen Johnson. She is also survived by her sisters Eleanor Newton and Phyllis (Reg) Haw and her husband's siblings, Linda (Phil) Eberle, Ann (Larry) Rubin, Gary (Jean) Wedel, and Karl (Carrie) Wedel, as well as many nieces and nephews. She was predeceased by her parents, Edward and Jean Julius, her brother-in-law Paul Newton, and her husband's parents, Oscar and Mildred Wedel..
The family would like to thank friends and relatives for their love, support, cards, calls, and prayers, particularly during this past year. The family also thanks Rev. Paul Naumann and the medical staff who gave her such kind attention and her grandchildren who kept her heart so warm.
I know she's no longer suffering, but I am so very sad to have to say goodbye. And I am so sorry for anyone else who has had to lose a parent. I know that I am so fortunate to have my four sisters and my dad to go through this with; I hope that if you are reading this and know what this type of grief feels like that you too have/had a support system to pull you through.
I know my mom loved reading this blog and following along with my life here, in addition to calls and texts and visits, of course.
But since the calls/texts/visits have now ended, I will continue to document it all regardless, even if it means writing posts like this, posts that aren't really about running at all, are they? But posts that honor the mark she had on my life and the space in my heart that is hers.
To all of you who reached out with thoughtful messages, cards, flowers, and more: thank you. This is a wonderful community and I appreciate the support. Let's all give away our love, even through the vast space of the internet, through running, sharing, and supporting each other, just like my mom did.
I'm sharing this post as part of the link-up with Running on the Fly and Confessions of a Mother Runner as part of their Weekly Rundown, even though it's not really a weekly recap. Hope that's okay!
(Visited 667 time, 3 visit today)