I made it to race day! By the time I publish this post, I'll already have hopefully completed my 35th marathon, but I don't want to miss the recap of this 'important' week, the week of the race.
Here's how things went in the week before the marathon:
Monday: Easy 6.2 miles before work 9:15 min/mile average. My friend Christie is building back after her injury and was cleared to run 30 minutes straight, so we planned a route where I ran to meet her, ran with her for 30 minutes, and then ran home.
I went to a PT appointment at Viverant for some dry needling to stay on top of my Achilles tendonitis. It hurts/feels so weird when I get it done, but I really think it helps.
I received an email that due to the excessive heat in Idaho, our race time would be starting even earlier! Yikes. That psyched me out a little bit.
Tuesday: Last little baby workout: 3 mile warmup, 3×1 mile at marathon effort with 2:30 minutes jog in between, cool-down to 8 miles.
Wednesday: 5 easy miles, 9:14 min/mile average, part of the run with Christie again. So glad she's back!
Thursday: 4 easy miles, 9:15 min/mile average. The humidity was back in Minneapolis with a vengeance!
My Volee race crop arrived just in time for the race. Isn't it pretty?
Friday: Rest day.
Morning flight to Sun Valley; my first flight since Atlanta in March 2020! Felt so strange to be on a plane again. We went from Minneapolis to Salt Lake City to the Friedman Memorial Airport in Hailey, Idaho, about 30 minutes from Ketchum/Sun Valley.
Flying is dehydrating in itself, so I drank a lot of water during the flight and lots of hydrating when we arrived too, as Ketchum is at about 5800 ft of altitude.
The disappointing news of the day was that my sister Erin woke up really sick; it turns out she had strep throat, which meant she wasn't joining us for the marathon. She had trained really hard and was really bummed not to be able to race. What terrible luck! I was really looking forward to hanging out with her too, we always have a blast together. Hopefully we will be doing marathons together again soon Erin! We are registered for Tulsa, Oklahoma this fall, and she plans to join for that one.
We had some time to kill in the afternoon, so we drove the marathon course. It definitely was nowhere near as drastic of a downhill as Big Cottonwood nor quite as cool at the start as I would have hoped, but it was helpful to see what I was in for (especially for the hills and flat in the second half.)
For dinner that night, we went to Smoky Mountain.
Saturday: There was a great running/bike trail right by our hotel (Hotel Ketchum), so we jogged over there for a shake out run, 3.5 miles, 8:35 min/mile average. I did 5×30 second strides in the run; I could feel the altitude a little bit when sprinting! Dustin said it was all in my head though 🙂
The Sun Valley marathon was split over Saturday and Sunday, so after our run, we walked over to the finish line to cheer on the Saturday racers. There were only 250 runners each day, so definitely a quieter finish line! But nice to be at the finish and feel some of the emotions of the finish line ahead of time.
The rest of Saturday was pretty low-key; lots of relaxing our legs pre-marathon, before going to the expo (held from 3-6 pm at the Sun Valley Lodge.)
The SWAG included a "Tru Flask" mug, gloves, the finisher's t-shirt, a couple for a free beer, and more!
Sunday: Race day! Check back later this week for a full race recap! Bottom line, I finished. Marathon #35, state #24!
That's a wrap! I'm linking up with Running on the Fly and Confessions of a Mother Runner ; check out their blogs to connect with other fitness bloggers for workout ideas and inspiration!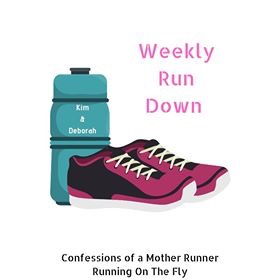 (Visited 386 time, 1 visit today)