An injury has emerged!
It was bound to happen, right? My theory as to why I got this injury is not from running too much, but honestly from running and then NOT walking or even moving around enough. It started bugging me shortly after we started working from home, which was when I stopped walking from meeting to meeting, from the bus or parking lot, to and from lunch…I was running but then just sitting and letting my Achilles tighten up. I wasn't naturally keeping it loose after a run with movement.
The background:
I started having some slight pain on the outside of my left ankle not too long after we started working from home. It wasn't bad, and it always loosened up after a mile of running.
However, by the end of July (my month of 300+ miles!) when physical therapists were back open and I felt safe going to one, I started getting some treatments on it to hopefully eliminate it completely.
It was diagnosed as insertional achilles tendonitis, though I wasn't treating it too aggressively, with just weekly appointments at Orthology with manual therapy. In hindsight, I should have been more aggressive with treatment, but I felt like I was managing it and running just fine.
Until I wasn't...
The weekend before the Boundary Waters, I ran 2 days in a row with Dustin, 13 miles and 5.5 miles. The pace was not materially faster than my normal pace, but apparently it was just enough that it triggered my Achilles to go from manageable to a real injury!
By the day we left for the Boundary Waters, it was hurting pretty badly after a 4-mile run with Dustin and Ruth (the vizsla pup). It was the same familiar place on the outside of my ankle, but it didn't loosen up with the run.
After that run, I was limping quite a bit; it really hurt. I was a little worried that I wouldn't be able to hike/portage in the Boundary Waters; in fact, I was worried I was going to TEAR my Achilles (which, I've heard, is the most painful injury ever.)
I did make it through the Boundary Waters trip without tearing my Achilles, but it hurt the whole time and never felt better, even with 4 days off of running. However, those four days of "rest' weren't really rest, since I was hiking over rocky terrain while carrying a heavy pack. I think all the uneven terrain made it worse, rather than better.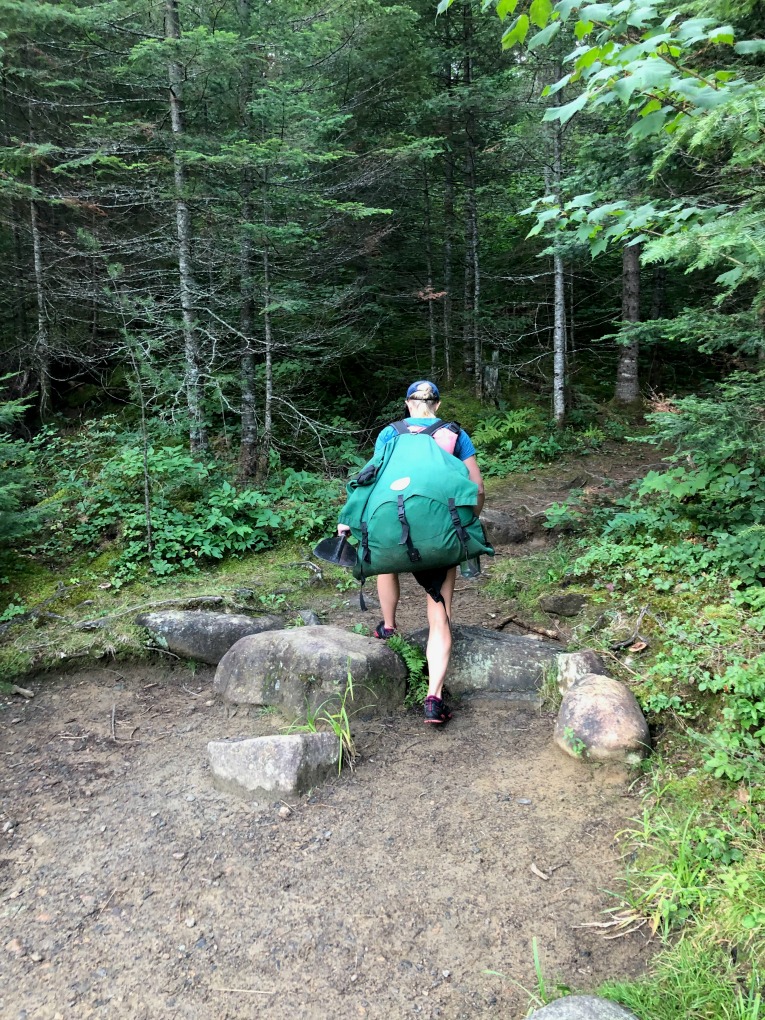 I tried to run the Sunday after we got back from the trip, and it never loosened up. I was limping again post-run. Running was going to have to stop, at least for a little bit, or at least be cut way back, to fix this issue.
So, that's where last week's recap should have started, but I didn't feel motivated to write one last week. So here's two weeks' worth of recaps!
Week of August 24-30:
Monday: No running, Discover Strength after work. The strength training moves in my virtual 1:1 training still felt pretty good. So far, I don't really have to do any modifications for the Achilles.

Tuesday: No running, physical therapy at Orthology Eden Prarie. I told the doctor how everything had changed since the last time I was in.
She mentioned shockwave therapy, or EWST, which I had never heard of. At first, I was resistant to the idea, but then I reached out to every runner I knew, via Strava, text, instagram, etc, to hear what people thought of shockwave therapy for Achilles. About 80% found it to be very effective. So that changed my mind quickly.

Wednesday: 5 mile run, Discover Strength virtual 1:1 after work. I felt okay on the run, but the Achilles was still painful afterwards.

Thursday: 4 mile run. Same situation, same Achilles tightness and pain after.

Friday: No running, another physical therapy appointment at Orthology Eden Prairie. Virtual 1:1 at Discover Strength after work.

Saturday: 10 miles, 9:40 min/mile pace. Beautiful morning, but the Achilles was still an issue. My two running buddies were willing to slow things down for me, which I much appreciated.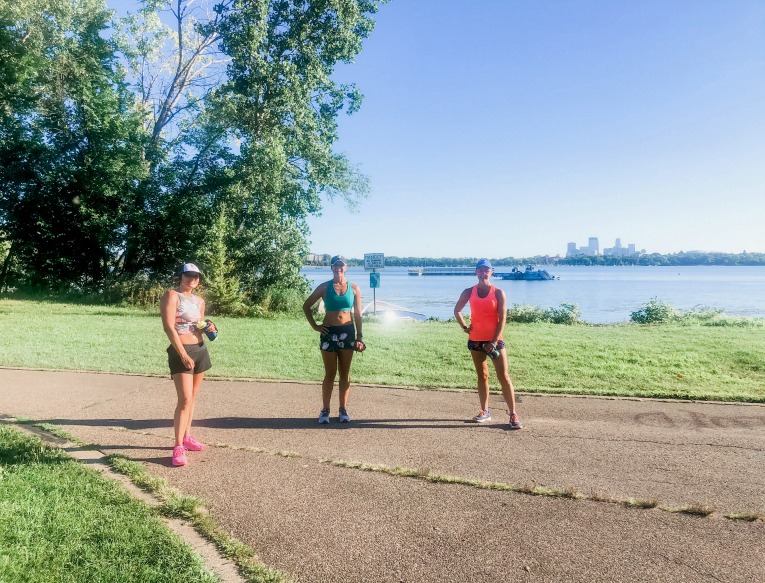 It was a great Saturday though, other than the Achilles! I met up with a few running girlfriends at Sociable Cider Werks on a beautiful afternoon.
For dinner, Dustin and I went back to Hola Arepa for a patio dinner. We went there in July for his birthday and were happy with their safety measures, so figured we'd go back while we still can (before it gets cold!)
Sunday: 5 miles with Dustin. Achilles was no good. I was hobbling the rest of the day.
Summary: 25 miles of running, 3 Discover Strength sessions.
Week of August 31- September 6:
Monday: Since it was painful to walk after Sunday's run, I was smart enough not to run again. Discover Strength virtual 1:1 after work.

Tuesday: No running, PT appointment at Orthology

Wednesday: 7 mile run, lots of stops.
One thing about this Achilles injury is that when I do run, it feels like I've lost all running efficiency. I'm not pushing off with that foot as much, so it's hard to run the same paces. My coach Esther has experience with the exact same injury and she said to only run slow (for me) for now. So that's what I'm doing. 7 miles at a 9:45 min/mile pace. Discover Strength virtual 1:1 after work.

Thursday: 4 miles with Ruth, 9:05 min/mile. This run felt a little better.

Friday: No running, PT appointment at Orthology, Discover Strength virtual 1:1 after work.

Saturday: 10 miles, 10 min/mile. I ran with Christie for the first 7 or so, then alone to get home, then picked up Ruth for two 11 min/miles. My stomach was actually bothering me more than my Achilles on the run; it was one of those runs where I had to stop multiple times. Ugh.

The Achilles was sore after the run. I did all my PT exercises and Theragun'ned (is that a verb?) my calves and then used a heating pad on the Achilles.
That evening, we attended a small socially-distanced backyard get-together, with a beer tasting focused on some of the Minnesota State Fair beers.
Yes, the State Fair was cancelled this year- it's the year of the Great Minnesota Stay Apart instead!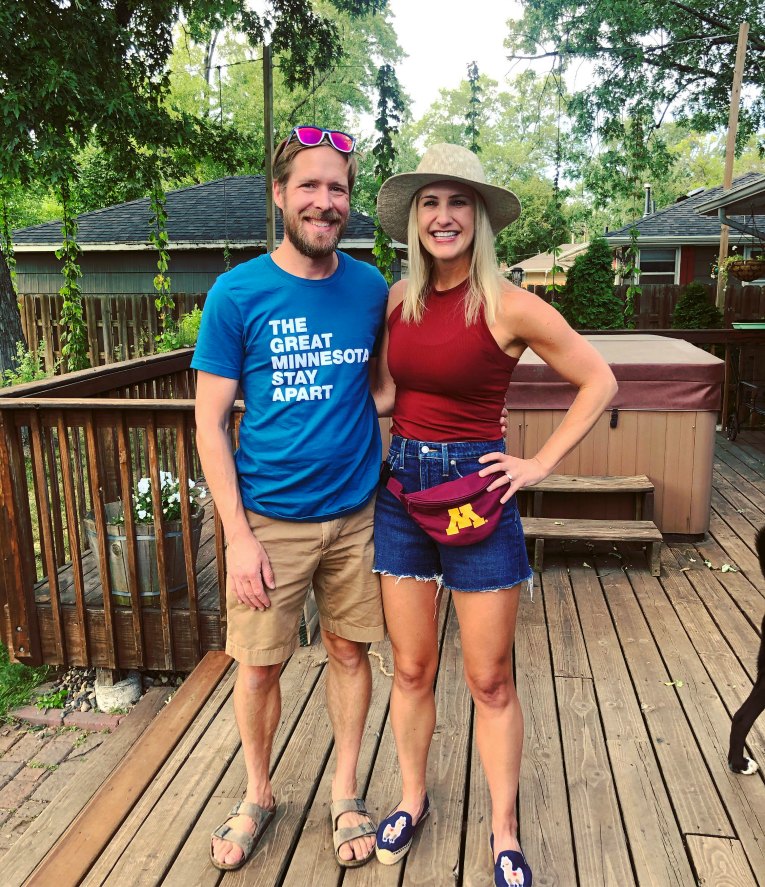 Sunday: 4 miles with Dustin and Ruth, 9 min/mile. The Achilles felt pretty good on this run, which was promising, considering I covered 10 miles the day before.
Summary: 25 miles of running, 2 PT appointments, 3 virtual strength training sessions.
I'm grateful that both my PT and my coach (who has experienced this exact injury) think I can run through this. We're heading into the best running weather of the year, so it's tough to think about missing it all. At the same time, this isn't the worst time to be injured, since there really aren't any races happening.
I'm being conservative with my running, but aggressive with my treatments!
I did miss the MNy250 5k (hosted by Twin Cities in Motion) last week, the 5k I had registered for at the Chanhassen Arboretum. Dustin participated and said it was fun to be at an in-person race again!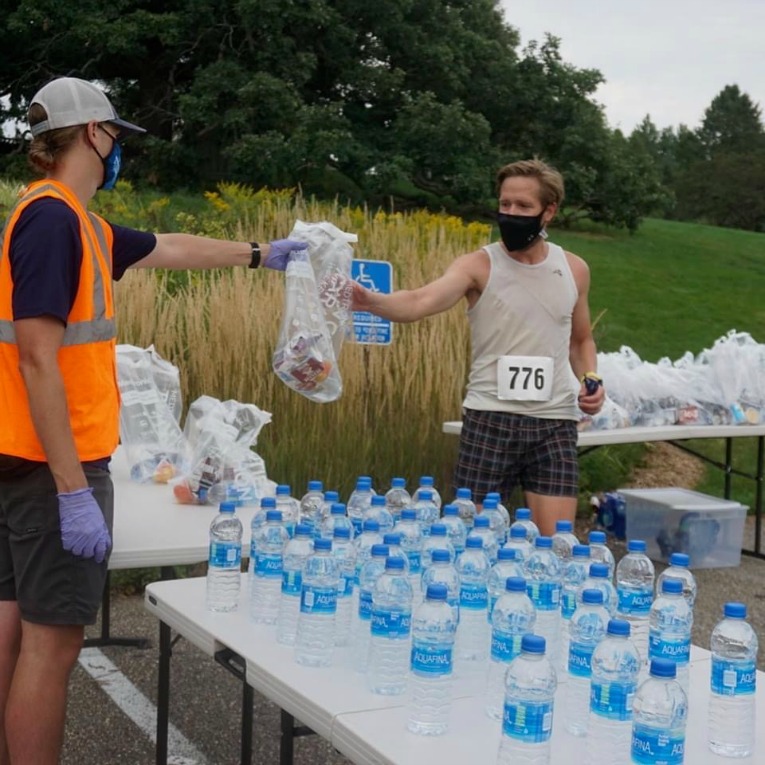 Hopefully by treating this aggressively, I'll get back to 100% soon.
PT Exercises for Achilles Tendonitis:
If helpful, here are the exercises I am doing. This list is a combination of ones Orthology recommended and ones my coach recommended:
Bilateral Heel Rise, 3 sets of 20 reps
Single Leg Heel Rise, 3 sets of 20
Eccentric Heel Rise, 3×15. I do this on a stair and it seems to help the most.
Single Leg Step-Up and Drive, 3 sets of 25
Single Leg Rebounding Heel Rise, 3×20 reps
Other treatments?
Manual work at Orthology, (i.e. essentially deep tissue massage on the achilles but more intense than that)
Theragun- I received a 20% discount from a Strava challenge, so I decided to buy a Theragun. Theraguns aren't really for tendons, but for muscles. Achilles issues are tied to calf tightness though, so I'm using the Theragun on my calves.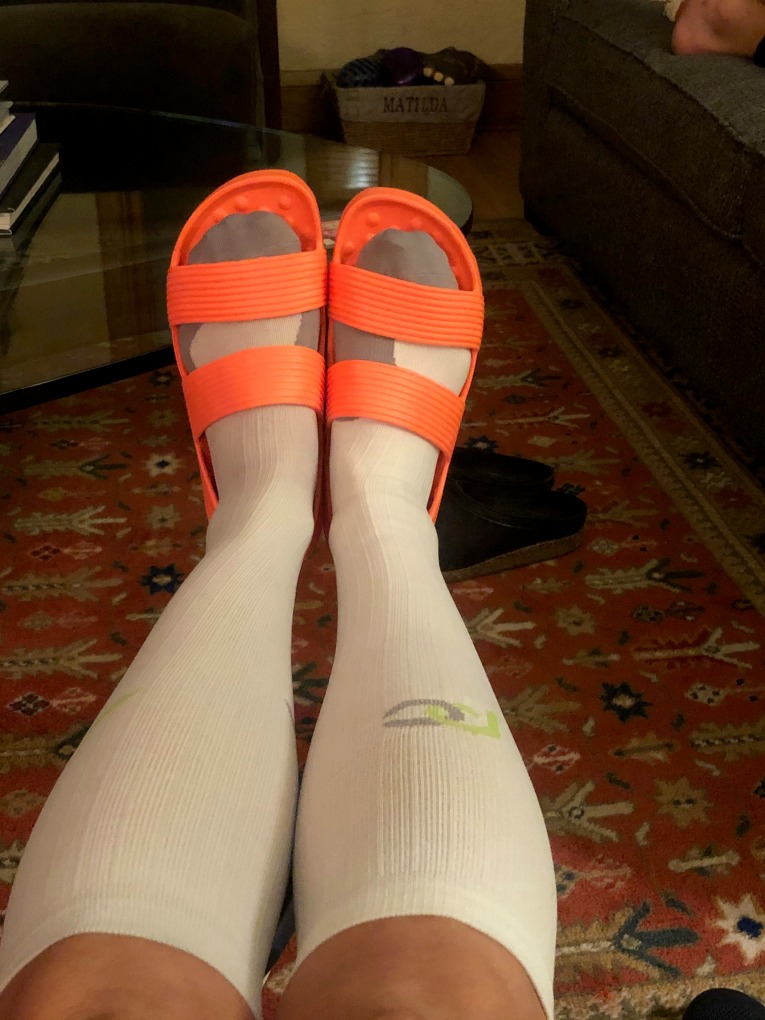 Hopefully it all works!
In non-Achilles news, Matilda (our senior vizsla) had a few more suspicious spots removed this week. She's recovering well and we're optimistic the spots weren't cancerous. (She has had melanoma in the past.)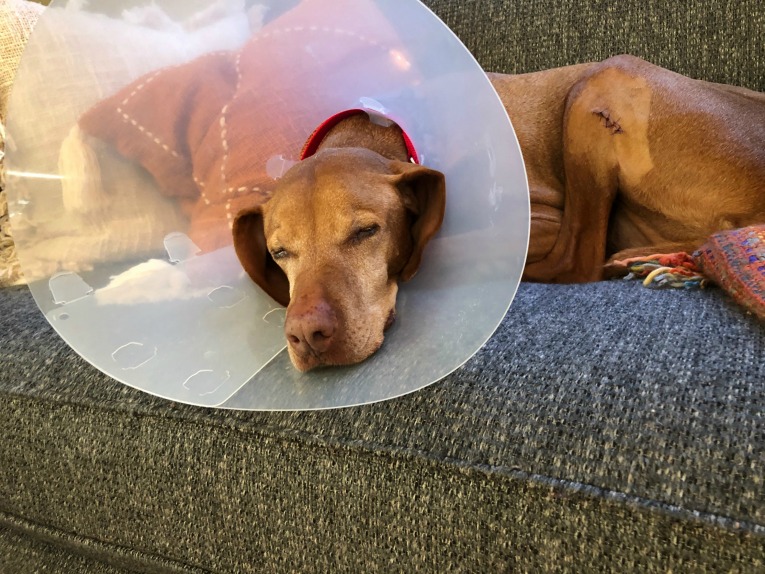 I'm linking up with Running on the Fly and Confessions of a Mother Runner Check it out below: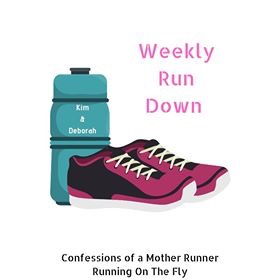 (Visited 431 time, 1 visit today)