Happy Sunday! I'm checking in with my weekly recap of training; the Monumental Indianapolis Marathon is quite a ways away, but it IS my next full marathon, so I'll be counting down to that race. But I do have some shorter distance races planned between now and then as well!
Here's how training went this past week:
Monday: 8 miles before work, 9 min/mile pace. Discover Strength session after work; as part of the month-long body comp challenge that I am doing through Discover Strength, the trainers have come up with some intense new workouts. I was pretty sore afterwards…in a good way!
Tuesday:  6 easy miles with my friend Vicki, about a 9:30 min/mile pace.
Wednesday: Global Running Day! Christie and I had the same workout, so we met at 5:15 am. 3 miles easy, 8×2 minutes hard (about 7:15 min/mile pace), 90 second recovery, 2 mile cool down, for 8.5 miles total.
Great workout! It was a sweaty one- even had to join the Sports Bra Squad by the end.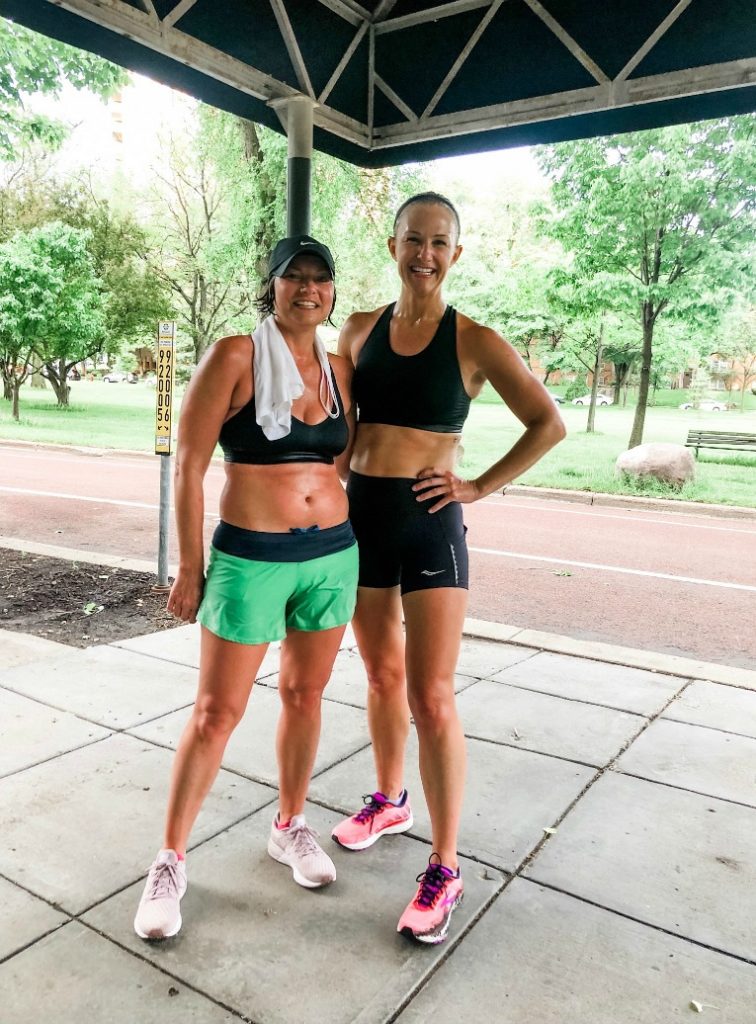 I am grateful to be out running on Global Running Day this year, as last year I was still sidelined with the broken leg recovery. What a difference a year makes!
Thursday: 6 miles before work with Matilda, easy pace of 9:24 min/mile. Discover Strength after work.
Our central air conditioning quit working this week, and with temps near 90 degrees, it got pretty warm inside our 1920's house. After the morning run, Tilda went right to work on her recovery nap. I think it was the heat, both outside and inside our house…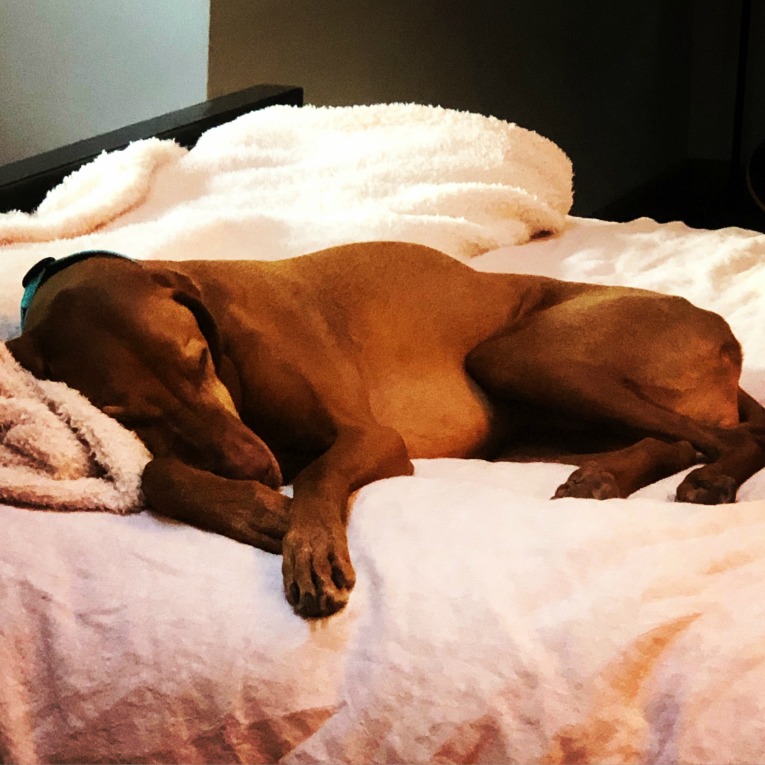 Friday: I had to be to work early for a meeting, so I didn't run before work. I thought about just taking a rest day, but my coach encouraged me to get out for a least a few shakeout miles. I took Tilda with me after work, and she was NOT having it; it was close to 90 degrees and way too hot for my fur-coated friend. We ended up doing more of a run/walk for 3 miles total. I definitely don't want to push her, so a walk/run worked for me.
Saturday: Long run with the Calhoun Beach Running Club! Christie and I had the same workout again: 4 miles easy, and then alternating between 8:10 min/mile and 9:10 min/mile for 7 miles, then 1 mile easy. We hit the faster miles, but let the 'recovery' miles slip slower than 9:10, as it was a HOT day in Minneapolis. I think temperatures eventually got up to 90 degrees with plenty of humidity. Even though we started running around 7:15 am, it was still in the mid-70's and full sun; that first hot long run is always a doozy! I still considered the workout a success, considering the conditions. 13.1 miles total.
We joked that it was a bit of a Tour de Water Fountains of Minneapolis; we stopped for water every chance we could. It was my first time stopping at the new ski center at Theodore Wirth park. It was lovely!
I brought along both of these GU's on the long run, but only ended up taking the Gingerade one; it was good! Dustin loves the Hoppy Trails flavor, so I'm excited to try that one next time.
I probably drank two full Nalgenes of water and 3 glasses of nuun before I felt hydrated again after the run. Summer running, right? Still better than icy Minneapolis winter running!
In the early afternoon, we met up with some run club friends at Insight Brewing for their "Goat To Your Happy Place" event.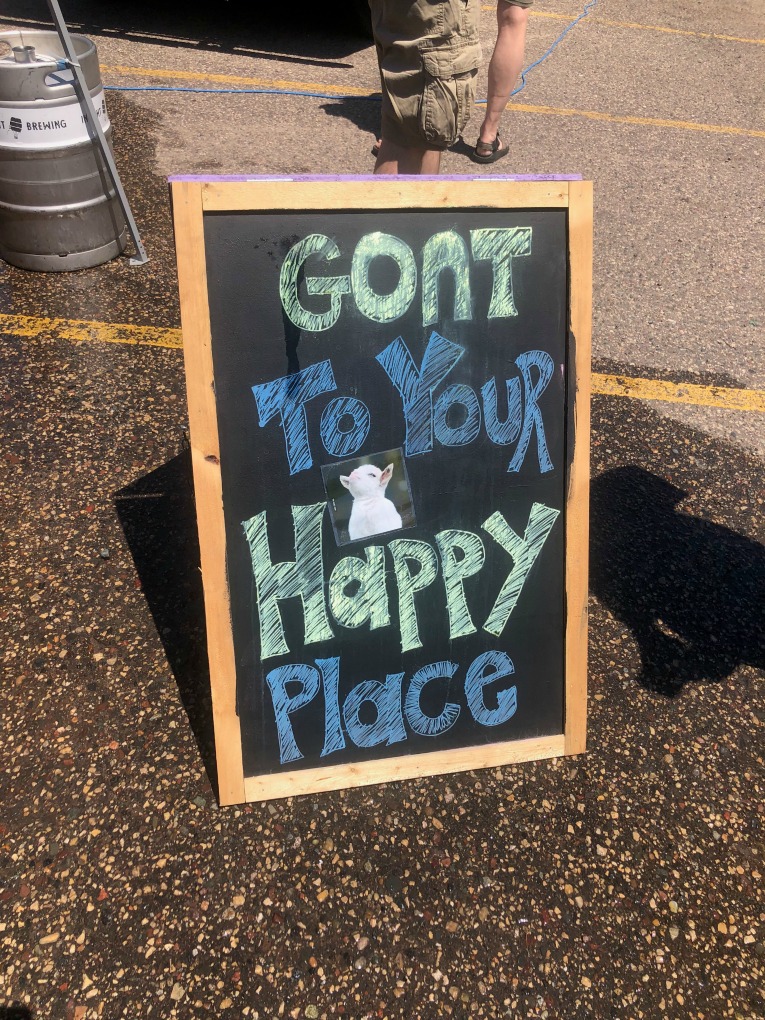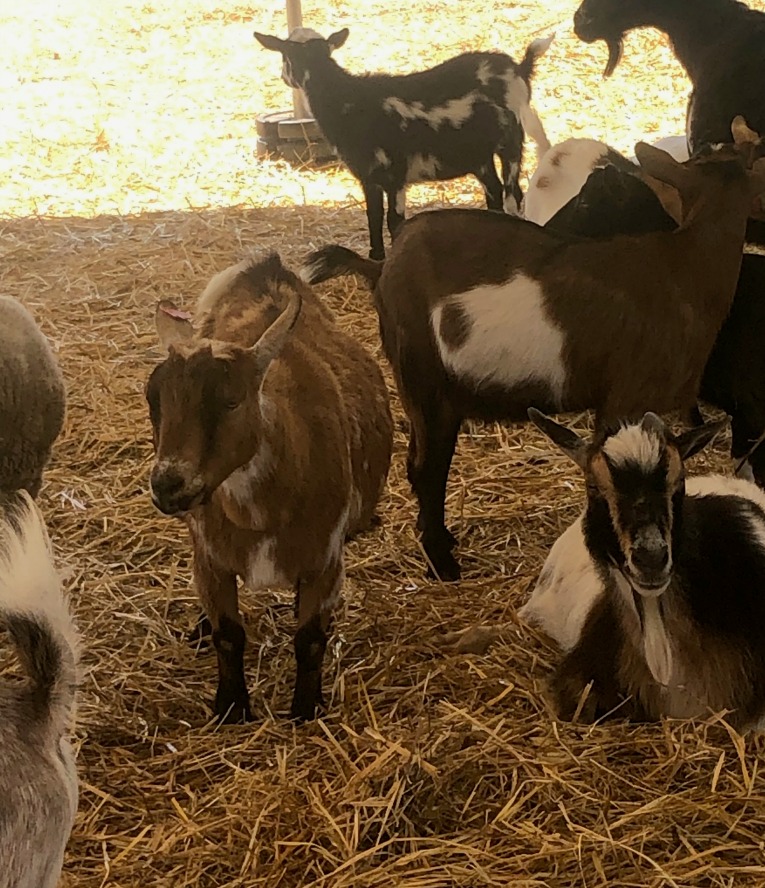 There were goats to pet/brush/selfie with, as well as music, new beers on tap, and more.
It was a beautiful day, though quite hot. We all kept cool in the shade!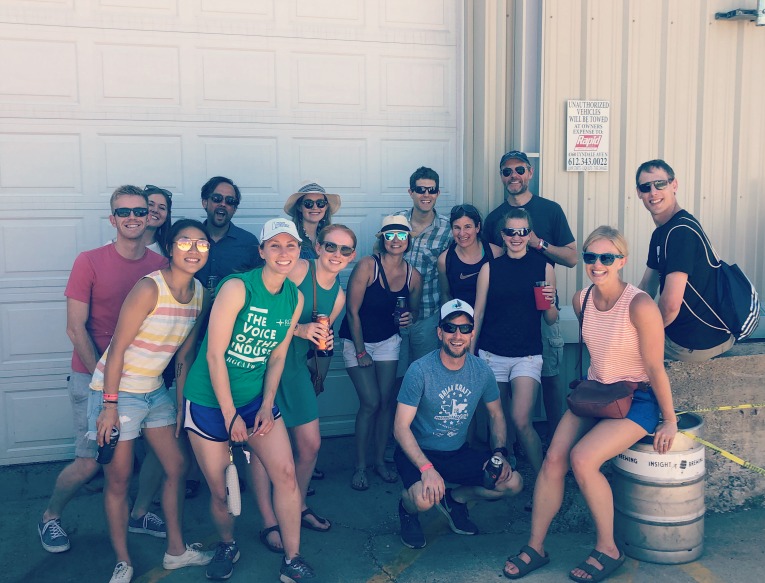 We hung out at the event for a couple of hours, then headed home to get ready for more fun!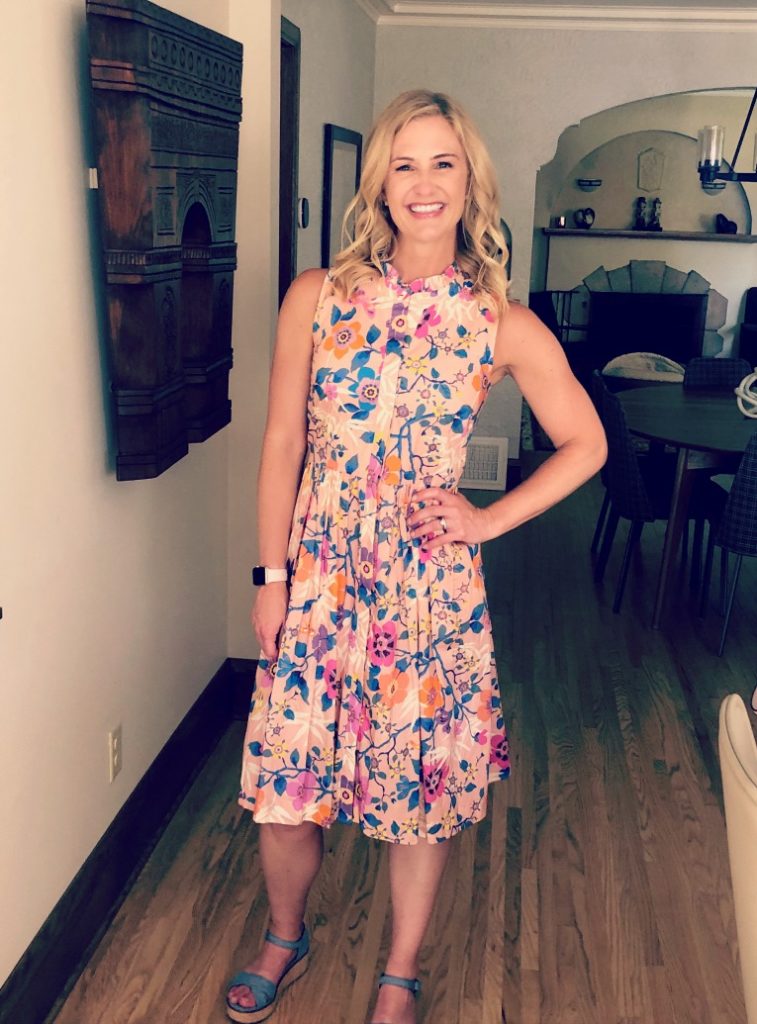 We had tickets with my sister Cresta, her husband, and my oldest niece Maggie (who just got her driver's license!) to see Dear Evan Hansen at the Orpheum Theater. It was a good musical, though no Book of Mormon or Hamilton, that's for sure!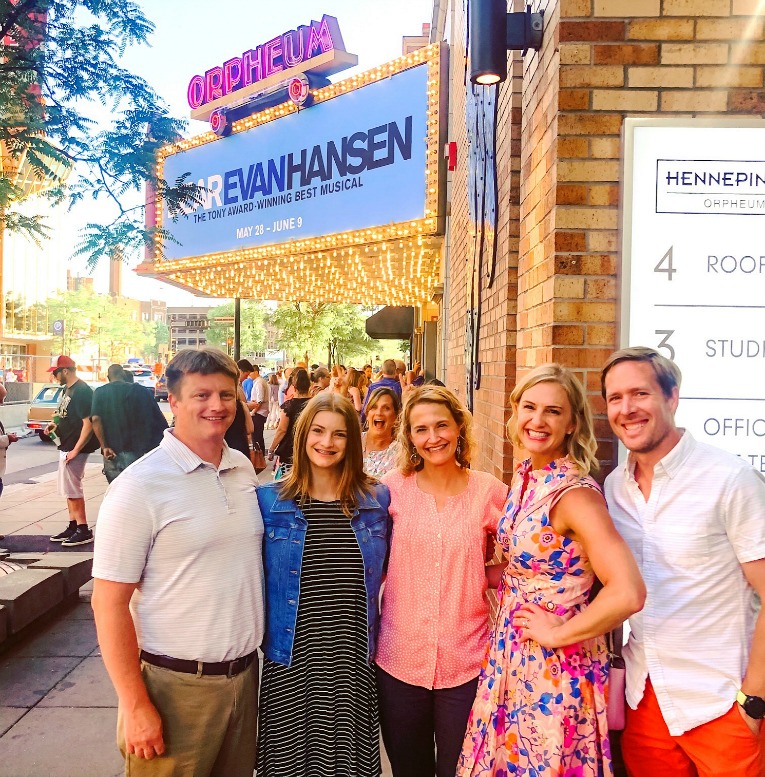 We had dinner beforehand at The Lynhall. I hadn't been there for anything other than brunch, but their dinner was quite good.
Dear Evan Hansen started at 8, but didn't end until after 11! It was a long one.
Sunday: I had plans to meet Hyedi, one of the leaders of our Oiselle flock, for a 7 am run, but after a late night at the play, I cancelled. I hate doing that, but I was meeting her at the river, which is about a 30 minute drive from my house, so I would have had to get up around 5:30, and after getting home around midnight, I needed a bit more sleep than that. Sorry Hyedi! I hate to cancel 🙁
Instead, Dustin, Matilda, and I eventually made it out for a 6 mile run. The weather had really cooled down from the day before and was a nice, breezy 70 degree morning.
Tilda was much happier running today in the cooler weather!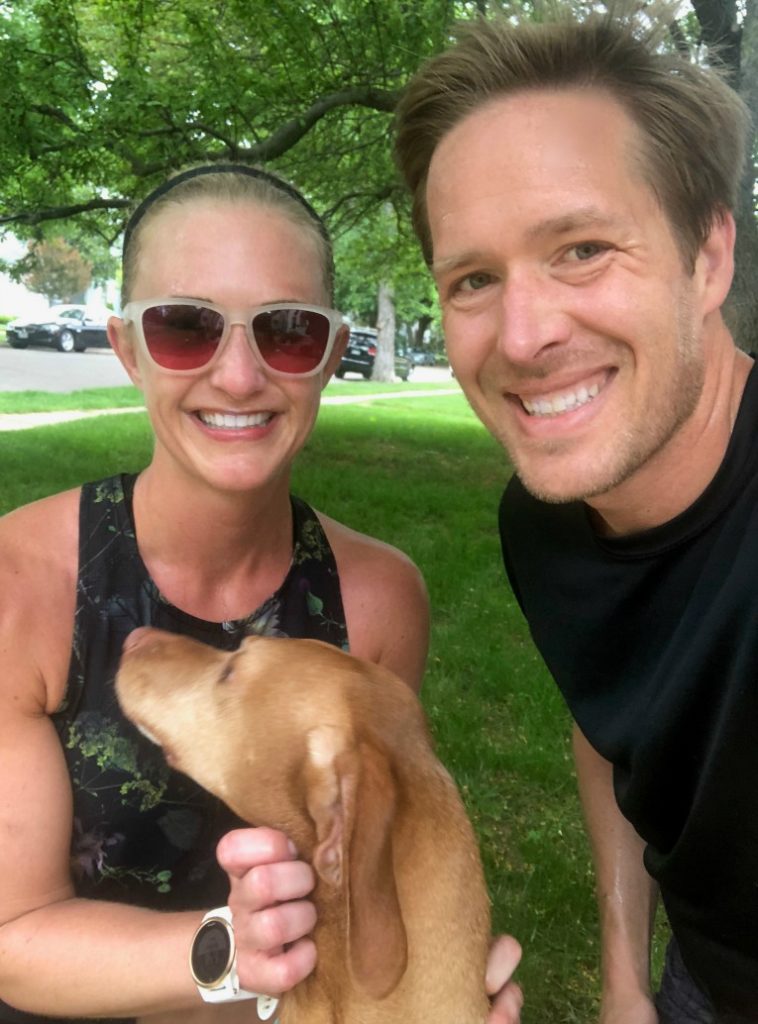 Summary: 2 Discover Strength sessions, about 51 miles of running. Dustin was traveling for work again this week, so I was a single-dog mom, so I was extra-happy to still fit in two strength sessions with everything else!
My goals for the body-comp challenge for June is two strength sessions a week, more protein, and less wine/beer/snacks. I did a great job during the week, but of course wasn't as strict on the weekend; gotta live a little! As part of the challenge, we have an accountability coach who monitors "My Fitness Pal" (where you're supposed to track exercise and food), as well as a Facebook group for support, recipes, and more information. So far, I'd say it's been a nice little extra incentive to be a bit more thoughtful about health and wellness.
I'm linking up with Running on the Fly and Confessions of a Mother Runner as part of their Weekly Rundown. Check it out!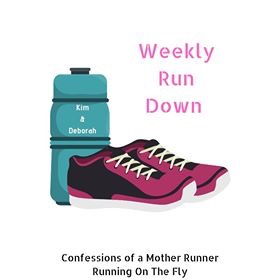 (Visited 236 time, 1 visit today)