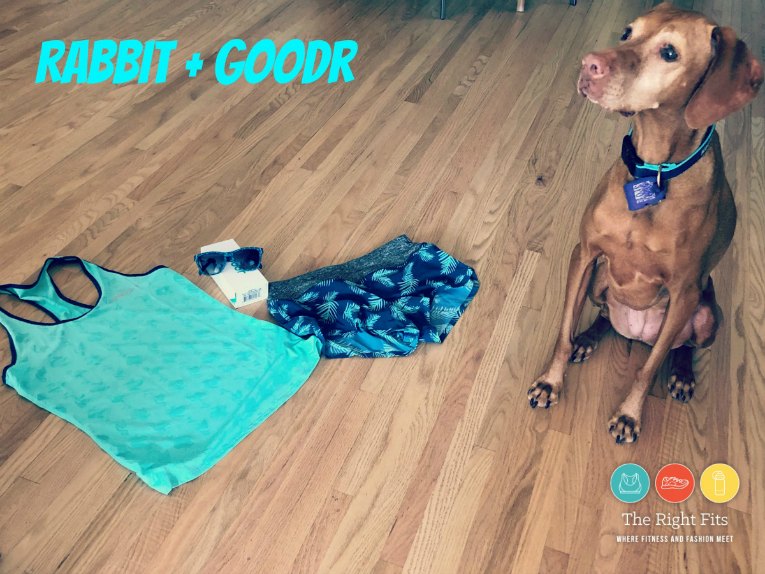 I recently purchased a goodr x rabbit kit and I'm here to share it with you!
The rabbit x goodr Women's Race Kit costs $125, which is pricy, but it includes 3 awesome items,
1 pair of limited edition goodr sunglasses
1 pair or rabbit shorts
1 rabbit tank
All items come in a fun, tropical, limited edition pattern!
I tested out the shorts and the glasses on my long run last weekend.
As usual, the goodr glasses don't bounce, and don't slip off my (flat) nose. Love the color too.
Another pic:
I tested out the tank on a shorter weekday run this week; loved it. I have it in a medium for reference.
And I LOVE, LOVE, LOVE the shorts, they are one of my favs. I went with the Catch Me If You Can 2.5″ shorts.
From the rabbit website:
Running is fun, but running fast is really fun. When you're ready to challenge the best, we've got the shorts for you. These beauties are short, slim, and ridiculously fast. At rabbit, we know well that speed and ruffles do not mix. The catch-me-if-you-cans have everything you need for speed and nothing you don't. Also, they look great!
– Magical combination of 89% poly/ 11% spandex
– Super lightweight materials to wick away moisture
– Incredibly quick drying
– Wide waistband that holds tight with no unnecessary drawstring
– rabbitMESH liner that is lightweight, breathable, scratch and chafe-free
– Rear zip pocket located in mid-back of waistband
– Dual front internal pockets
– Four way stretch for maximum comfort
– 2.5" inseam (all sizes)
– Machine wash cold, tumble dry low, don't bleach, mmkay?
– Crafted in California
My take?
Not as many pockets as the rabbit mountain climbers, but awesome fit, one-zippered pocket, super lightweight:
$125 might seem like a lot, but it's actually not a bad deal for these three stellar items.
I look forward to more future pairings between these two brands!
If you're interested in more goodr sunglasses, please consider purchasing from this affiliate link to make The Right Fits a little bit of $$!
(Visited 706 time, 1 visit today)