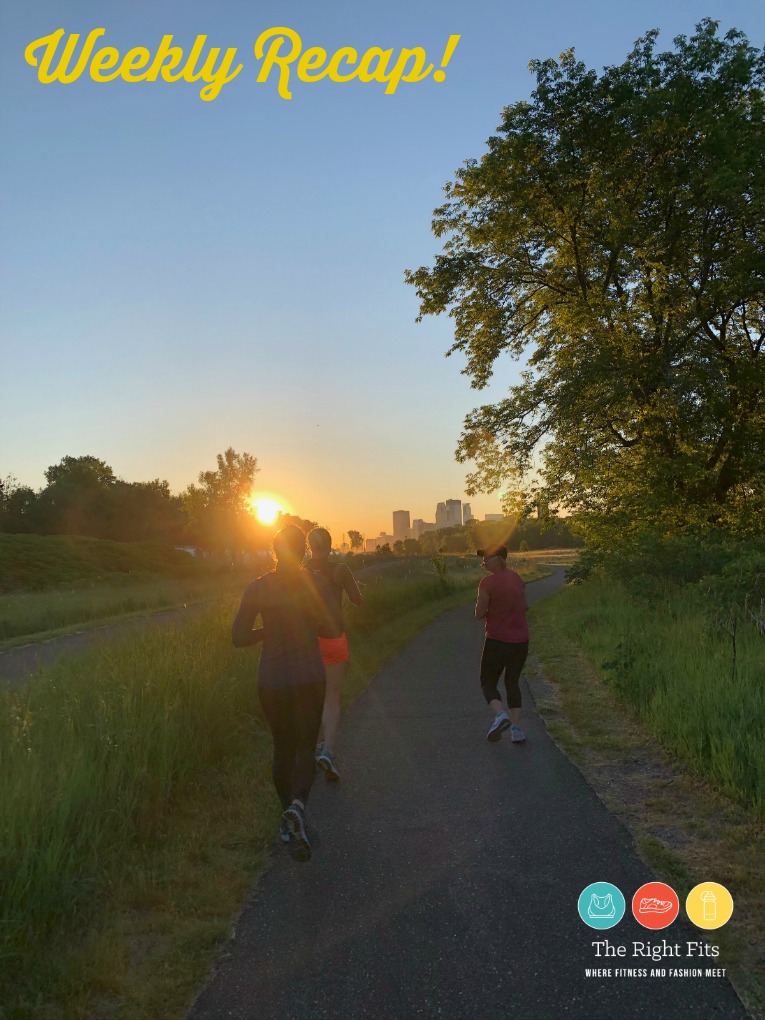 Happy Father's Day! Unfortunately, my dad doesn't live nearby, so I wasn't able to celebrate with him. Instead, I spent the day with this 'dog dad.'
Anyways, here's how this past week went in training for the Indianapolis marathon, (which will be my 33rd marathon- exciting!)
*If you missed stopping in during the week, I shared this review of the goodr + rabbit kit!
Monday: 8 solo miles before work, 9 min/mile pace. It was such a picture- perfect morning on the lakes. There was a movie being filmed on Bde Mka Ska (Lake Calhoun) so part of it was blocked off, but the running trail was still open. I tried to search around on Twitter, but couldn't find out what the movie was…Let me know if anyone has the answer!
Throughout the day, a terrible cold that had snuck up on me late last week started to really kick in. I was coughing like crazy and feeling quite awful. Summer colds are the worst, aren't they?
I toughed it out and went to Discover Strength after work to get in my strength training. I felt okay while working out, but do think if I had rested more this week, maybe the cold wouldn't still be lingering…
Tuesday: 5.5 miles easy before work with Matilda. My cold got worse that day and I actually ended up going home a bit early from work and just working from home. Ugh.
Wednesday: Well…what better way to cure a cold than run 9 miles at 5:15 am? Again, not my smartest move, but when I woke up on Wednesday, I thought I was feeling better. The medicine seemed to be working and I had slept a ton, so I thought I'd give it a shot.
To be honest, the workout went better than expected: 3 mile warm-up, 10 minutes at 7:45, 2 minute jog, 10 minutes at 7:35, 2 minute jog, 5x(1 minute hard, 1 minute recovery), 2 mile cool down.
Thursday: Easy 7 mile run before work. I met up with Christie, Klara, and Sarah; it was Sarah's birthday, so we let her pick the route, and she chose Cedar Lake and Lake of the Isles.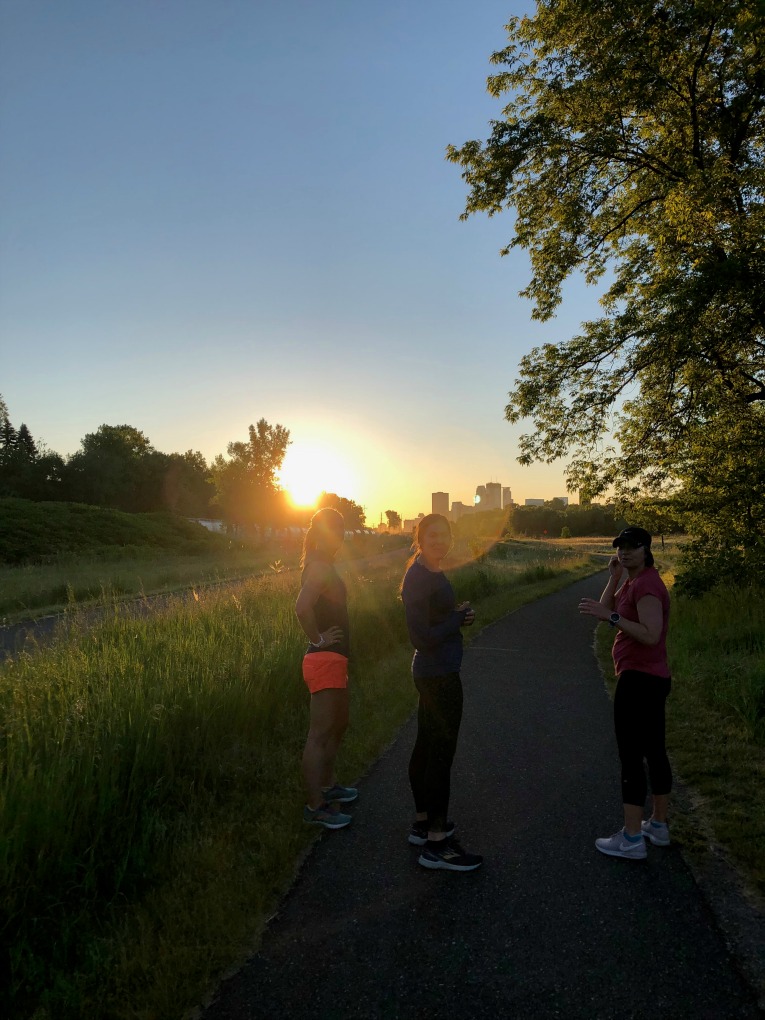 We were treated to a beautiful sunrise on the Cedar Lake trail, and then a deer AND a fox sighting on Lake of the Isles.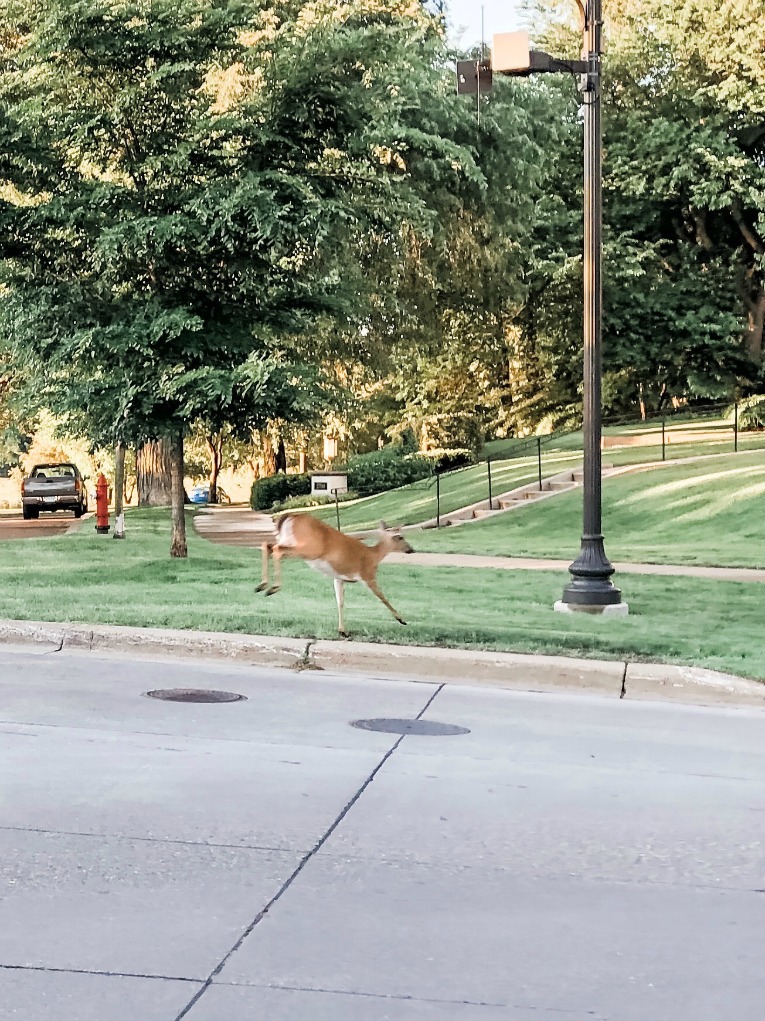 Friday: Complete rest. I had a work event on Thursday and stayed out much too late for a 37-year old, especially on a school night! Never again…combined with the cold, I was not a happy camper on Friday.
Saturday: 10.4 mile long run with the Calhoun Beach Running Club on a humid morning.
Christie and I had the same workout again, so we were able to help keep each other on pace! 45 minutes easy, 15 minutes at 7:45, 5 minutes easy, 10 minutes at 7:45, 15 minutes easy, for 90 minutes of running or about 10.4 miles at an 8:40 min/mile average.
Just a little bit sweaty afterwards!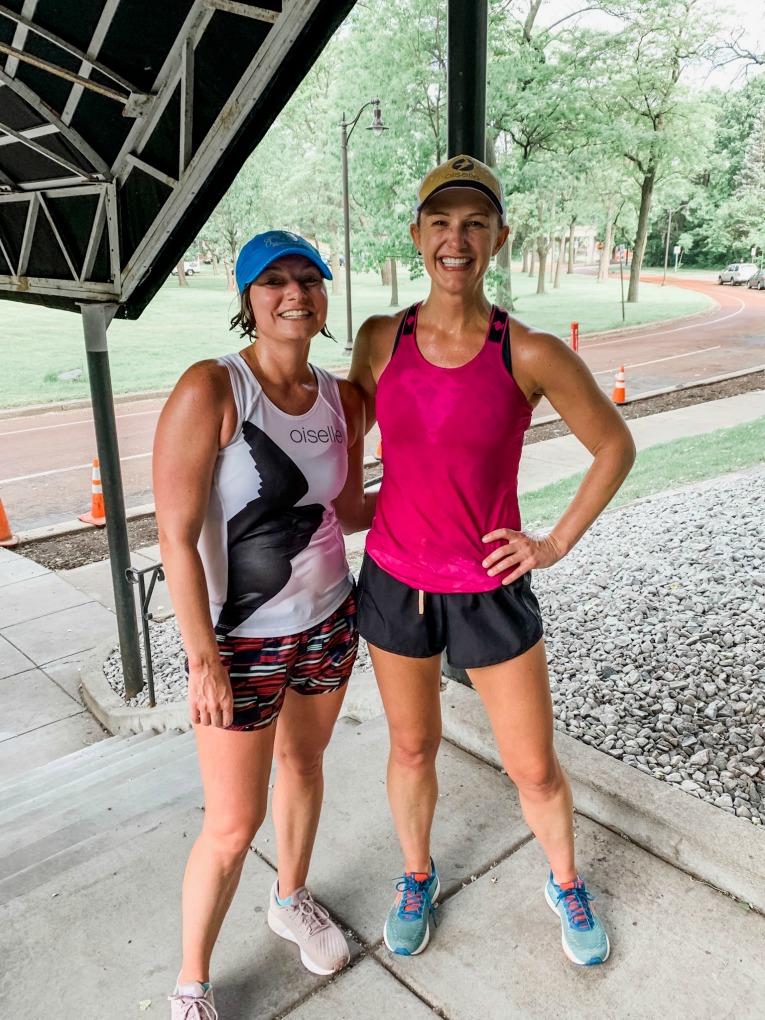 Later that afternoon, I convinced Dustin to try Discover Strength. We went to the Northeast Minneapolis location where I took a group session and he took a free 1-on-1 introductory session.
He liked the workout, though he isn't sure he can fit it into his schedule. But I'm glad he at least gave it a try and knows why I like it!
Sunday:  I gave myself a slow, relaxing morning, with the hope that extra rest will kill off the cold. I've also tried a neti pot for the first time with this cold; I'm not sure how much it helped, but it was worth a try.
Then, 6 mile run with Dustin, 8:50 min/mile pace.
Summary: 46 miles of running, 2 strength sessions (Discover Strength).
In other news, we were dog-sitting my sister's dog Lola again this weekend; Matilda loves having a friend. They were very entertaining together. Lola is a sweetheart; we love having her!
I'm linking up with Running on the Fly and Confessions of a Mother Runner as part of their Weekly Rundown. Check it out!
(Visited 240 time, 1 visit today)