I'm a day late with my weekly recap- so sorry!
We spent the holiday weekend at Dustin's family's cabin and the internet service there is not great.
I hope you all can link up still with Jess and me.
Details below!
Here's how my week of training for the New York City Marathon 2017 went:
Monday: 7 morning miles with my friends Lindsey and Christie. Barre after work at the Barre Edina.
Tuesday: I had an early work meeting, so I couldn't run before work. I asked my sister Cresta (who now lives in a close Minneapolis suburb) if she wanted me to join her for her run and she did. We covered 4.5 miles today at a 10:30 pace. I'm coaching her to train for the City of Lakes half marathon- she's getting the "VIP" coaching experience, since I am able to join her for some runs! 🙂
Wednesday: [solidcore] class in the morning.
Thursday: 7 morning miles with Christie and Lindsey and Matilda the vizsla. Christie and Lindsey were only doing 5 miles so Tilda and I added on a bit at the end. I saw something white out of the corner of my eye on Lake of the Isles and thought it was just a plastic bag, but then Tilda pulled on her leash to get closer to it; it was a cat, and he was not very happy that Tilda was so close! He hissed and batted at her; she yelped and jumped away…but she was fine, just surprised.
She kept trying to pull to go back to check out the cat, so clearly she was not too traumatized!
Friday: Long run at the cabin, 12 miles at an 8:55 min/mile pace. It's hilly up there, that's for sure! I brought Tilda for the first 6, stopped for water and went out for another 6 on my own. So many deer crossed my path, but fortunately no bears. Later that day, some of my family drove up to join us for a few nights. Good times.
Saturday: Gordon Good Neighbor Days 5k. I ran this in about 24 minutes or a 7:45 min/mile place- my 5k PR is 21:45, so I was far away from that, but I still ended up in 3rd place overall for women. The two girls who beat me were quite a bit faster. This is a small race, but they do a good job with it. It's chip-timed and my Garmin did show 3.1 miles, so it was accurate as well. It's a challenging course on gravel and sand- only about 1/3 is on pavement.
(My niece got a medal in her age group!)
PS- this blog IS supposed to be about fitness fashion- do you like my tank? It's my current favorite from Oiselle and it's currently sale. Find it here!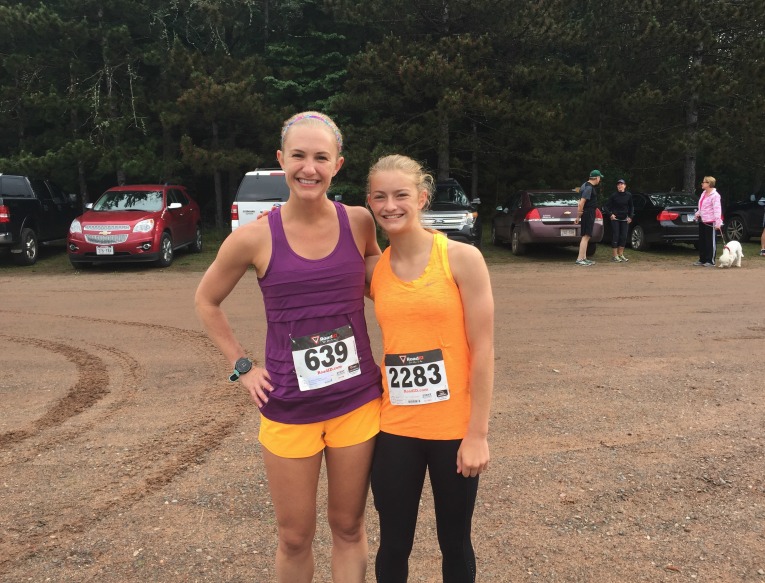 Dustin did defend his title of 1st in his age group (2nd overall).
Sunday: 8.4 miles with my sister Cresta at the cabin at a 10:30 min/mile pace. This was her long run of training for the half. I don't mind running slower than my regular easy pace; I actually think its good for me to run easy like this, and of course,  I enjoy running with her.
Summary: About 40 miles of running, 1 barre class, 1 [solidcore] class
We had a great time 'up north' with my family and are grateful that we were able to get together at Dustin's family's cabin; a great time was had by all.
 Happy 4th of July to you!
(Visited 313 time, 1 visit today)