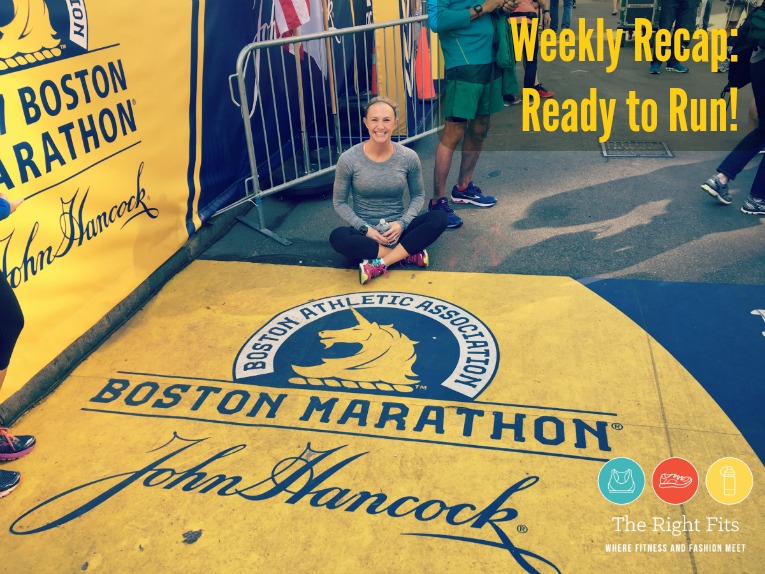 Hello from Boston! As you might know, (hehe) I am here to run the 121st Boston Marathon tomorrow.
The energy here is incredible; I have run plenty of big marathons, but this one is different. The town is crawling with fit runners! I mean, really, really fit people. It's kind of intimidating!  I'm talking about the 'every day' athlete here but additionally this town is crawling with elite runners- so many of my favorites are in town. I mean, we saw Meb on our shake-out run today- how cool is that!
It's a beautiful "summer" day in Boston and there are so many runners everywhere you turn. It could be that we are staying just 3 blocks from the finish line at an awesome hotel in a perfect location- close to the finish line, close to the expo, close to all the action!
So its a gorgeous day- sunny and 85 degrees. But if you're a runner, you know that a gorgeous day like this is NOT a gorgeous day for a marathon.  It is hot, hot, hot here! Read on for a bit about my re-adjusted goals due to the weather. But first, I need to recap my training during this final week of the taper. I'm linking up with Jess at Jess Runs ATL. Details below- join us!
Monday: Morning run: 1 mile warm-up, 2×3 miles at goal marathon pace with 5 minute jog in between, 1 mile cool-down. 8.6 miles total at an 8:27 min/mile average. This was meant to be an "easy" workout to remember how goal marathon pace felt.
Tuesday: 7 easy miles at an 8:54 min/mile pace. We randomly received a few inches of snow Monday night, so I waited until after work to run. By then, it was all melted and back to the 50's. Sweet.
Wednesday: Rest from running. I actually made it to a Corepower Yoga class. I haven't been to a yoga class in forever and it was so awesome. I've lost so much flexibility; I used to be so regular with yoga going 2-3 times a week, but lately…not so much. I really want to get back to it- I'm writing it here so I am accountable!
Thursday: Easy 5.2 miles in the morning with my friend Christie at a 9:05 min/mile pace.
Friday: I took the whole day off of work. We slept in a bit (need to make sure we're getting ALL THE SLEEP before the marathon!) I made it out to run around 9 am. I had 2 miles to warm-up, 10x100m sprints with 1 minute recovery, 2 mile cool down. 5.75 miles total at an 8:45 min/mile pace. It was fun as I ran most of my warm-up with my friend Vicki, who I ran into randomly on Lake Harriet.
That evening, we boarded our flight from MSP to BOS. Time to get this show on the road!
Saturday: We arrived pretty late on Friday so we slept in a bit before heading to the expo. But first, I had to stop at the pop-up Runner's World store…Boston is for RUNNAHS!
We arrived at the expo around 10 am and the line was out the door and around the block! We waited about 30 minutes to get inside, where we were ushered to another line to get our bibs. So many lines!
After getting our bibs, we worked our way through the rest of the expo. So much cute stuff to buy! I went a little crazy…(I also picked up a few items for the preppy-but-oh-so-cute Tracksmith store on Newbury Street!)
The expo was buzzing with pre-race energy…so much excitement in the air. All the volunteers were so friendly (and I love those Boston accents!)
I also met Jared Ward at the expo; he was really nice.
Shalane Flanagan and Ryan Hall were there but there was a long line to meet them, so we just did a 'drive-by' photo.
After the expo, we had a runner friendly lunch at Eataly, then went back to our hotel to relax for a bit. It's important to rest those legs after walking around all morning!
Eventually we made our way to Harpoon Brewery to meet up with our running club friends. Dustin and I split a sampler which probably was 1.5 beers total between the two of us.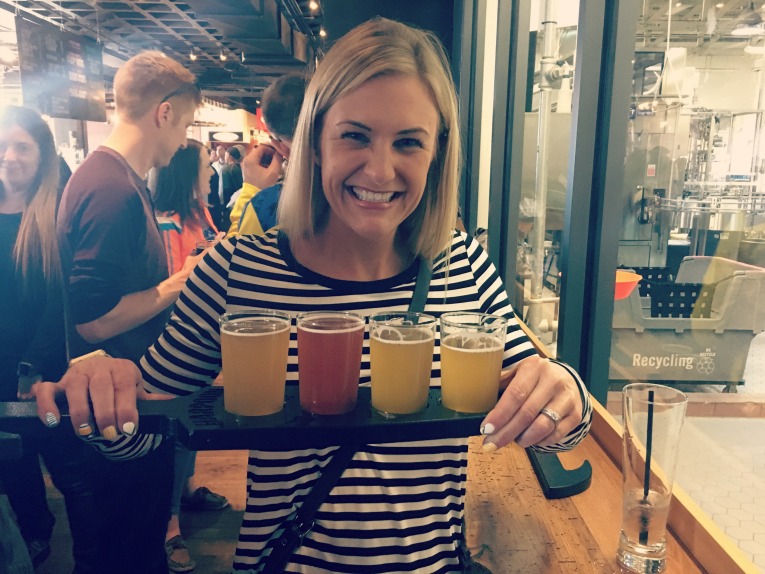 I didn't feel so guilty about having a beer two days before the race, as the rest of my run club friends were doing the same…As well as my friend Nordica, who I randomly ran into at the brewery!
Later that evening, we made our way to the North End, the Italian neighborhood of Boston for some quality carbo-loading. Yum!
Sunday: My friend Lindsey works for Abbott (the lead sponsor of the World Marathon Majors!) so she hooked us up with an event they hosted featuring Joan Benoit Samuleson.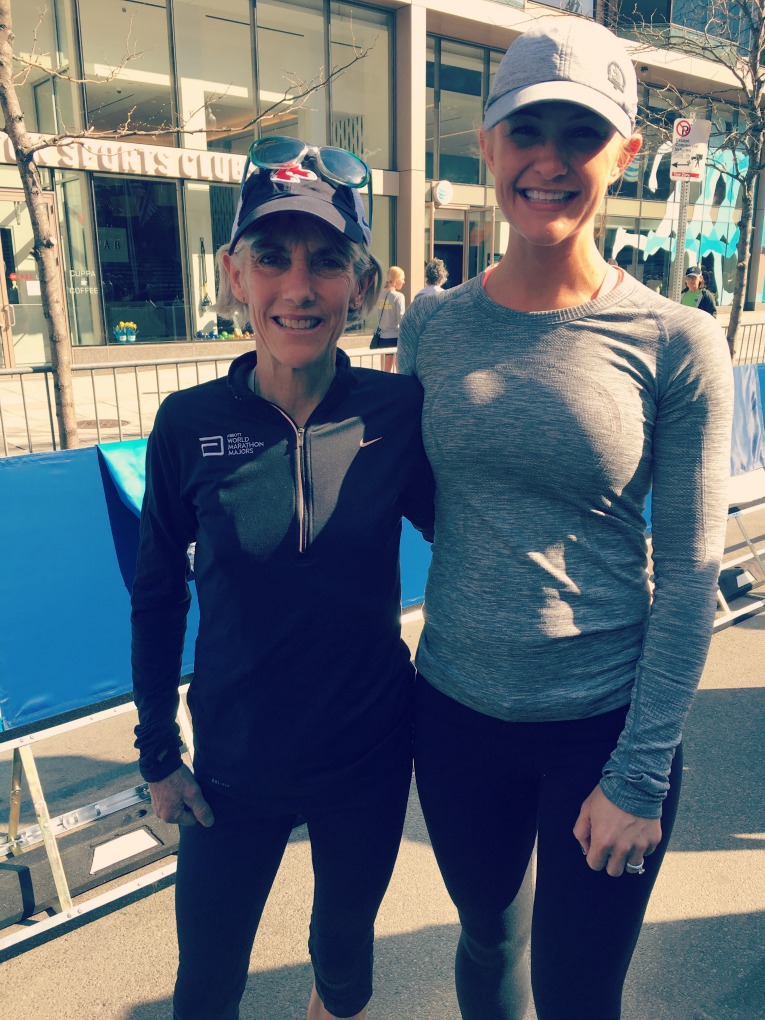 The event was a Q & A mixed with a walk of the last mile or so of the course. Joan, or "Joanie" as many called her. was really sweet and personable. She had a lot of great tips for the marathon.
Fun event- thanks Lindsey for inviting us!
After the event, we quickly changed into tanks/shorts (it was already in the upper 70s and sunny) before doing a short shake-out run.
4 miles total at a 9:13 min/mile average with some strides down Bolyston at the end.
The coolest part of the run was passing Meb and having him wish us luck! Dustin and Lindsey's fiance also saw Desi Linden on her shake-out run; the Charles River path was a popular place to be!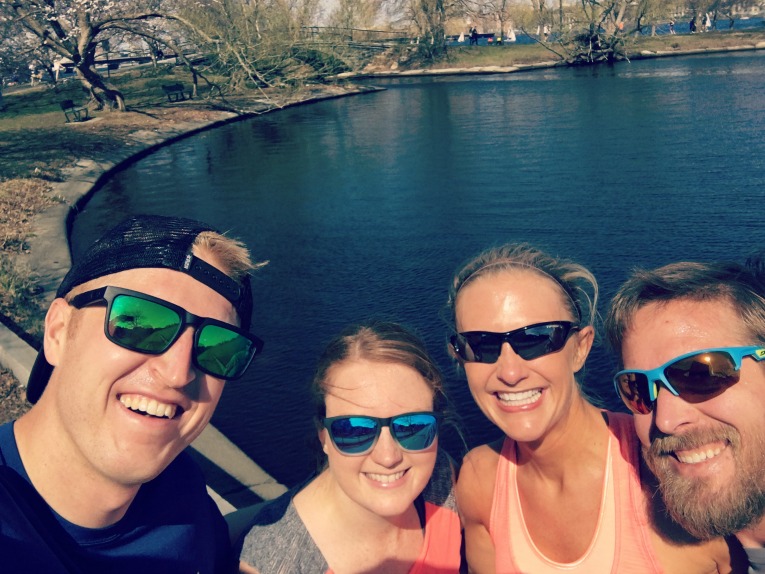 Summary: About 31 miles of running & 1 yoga class. Lowest mileage in quite some time…but for a good reason!
The weather was gorgeous for an easy 4 miler; maybe not quite as gorgeous for 26.2 miles. The race director sent a warning email advising runners to slow their paces and hydrate, hydrate, hydrate. I have definitely adjusted my goal; after experiencing black flag conditions at Grandma's this past June, I haven't forgotten the effect the heat can have on me during a marathon. My new goal is to keep it under 4 hours. Wish me luck!
I feel bad for Dustin as he was ready and trained to break 3 hours- again…same thing that happened at Grandma's this year! But you can't control the weather. We're both going to dial it back and ensure that we run healthy and smart.
Good luck to everyone running tomorrow and stay safe!
(Visited 605 time, 1 visit today)