Boobs. They come in all different shapes and sizes.
Running with boobs? It can be challenging….because boobs come in all different shapes and sizes! And truthfully, sports bras haven't always come in different shapes and sizes.
And how about running for a LONG time with boobs (like 26.2 miles?) It can cause all kinds of pain and issues- chafing is my biggest issue (underarm and right in the front/center- ouch!)
Well, apparently, some of my issues were because I was wearing the wrong size sports bra!
I am not the only one with this struggle- Did you know that the average American woman wears a 36C bra, however the vast majority of sports bras are built for A and B-cup women.
This is where Title Nine comes in; Title Nine has tested thousands of bras and found just the right ones to support our workouts and our curves, whether you're a 32AA or a 40DDD.
The right fit in a sports bra is really hard to find, so I was really excited to get invited to a preview party at Title Nine last night in advance of their upcoming Fit Fest. Along with a few of my favorite bloggers (Erin from Sweet Sweat Life and Hyedi from Finding a Balance), I experienced a taste of what Fit Fest will entail.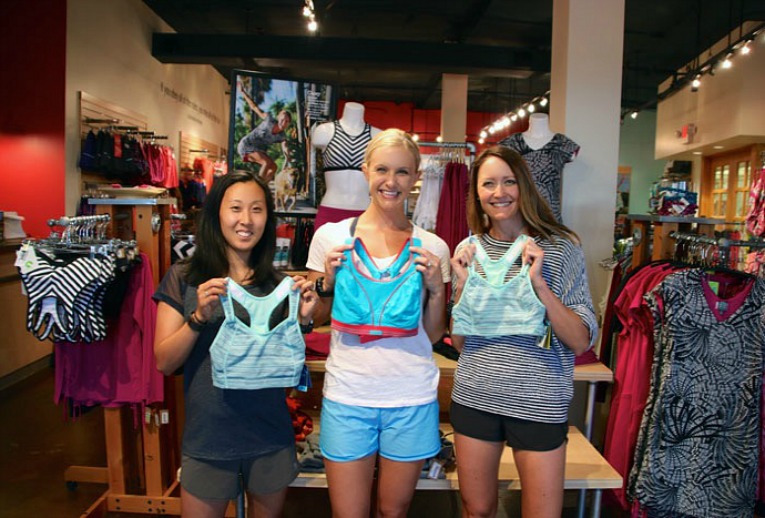 The coolest part about this preview event (and what you will experience at Fit Fest) was the personalized bra fitting by a Title Nine "bravangelist!" There were several Title Nine ladies on site to help, but I worked mostly with Julia (the store manager) and Molly (in from the Title Nine headquarters in California for the event!)
So helpful!

Molly measured me to get my true bra size. Based on that size, she brought me several different sports bras to try.

My personal preference is a racer back. Maybe its a mental thing, but I feel like a racer back bra is a bit more supportive. So even though I liked the Booby Trap, it wasn't racer back and I felt that the straps wouldn't be supportive enough.
I tried to make the Athena Bra into a racer back (which was definitely an option- convertible!) and it was probably my second choice for favorite bra:
Instead, I was drawn to the Trade-Up Sports bra by Shock Absorber. This is a brand I'd never heard of and Title Nine is one of the only stores that carries this brand.
It's funny, as Molly (who was my #bravangelist) wears a similar size (sports) bra as me and this is one of her favorite distance running bras. This is what she says about the Shock Absorber bra:
Molly's Pick "This bra gives me amazing support without a lot of bulk. Unbelievable! By far the best support I've found for high impact sports. Wicks away moisture and allows me to stay cool, not clammy."
More positive reviews!
"Our go-to larger-breasted tester has forsaken her go-to sports bra. She describes it as trading up. The Trade-Up (we're talking bra not boyfriend here) supports her like the dickens and yet cools with mesh in all the right spots. She says the two-point closure system is tricky the first time or two, but then it's a snap. 89% poly/11% spandex. Cushioned adjustable straps. 32-38 C, D, DD, E(3D)"
Of course, I had to fall for the most expensive of all the bras. The Trade-Up Sports bra by Shock Absorber retails for $79. It's an investment! But I figure that I spend twice as much as that on shoes and I'll wear this sports bra longer than I wear my shoes, right?
But seriously, this bra..it was amazing.
It was super soft and light; it didn't feel like I had a bra on, yet it was incredibly supportive. It eliminated all bounce. It was the right fit for me. I can't wait to wear it.
I love this bra.
…and it matches my running shoes. #soamazing
Speaking of long-lasting wear, we were given lingerie bags for our bras for proper laundering. I plan to utilize this bag when washing my new bra!
At the event, we put the bras to test by participating in "Bounce-athalon." Ha! My bra held up well to hula hooping, jumping rope and bouncing on the "hippity hop ball."
Hopefully that means it will hold up to 26.2 miles of running!
(Pictured below: the Fits-to-a-T Sports Bra. It was a contender, but not the winning bra for the night.)
You too can get a customized bra fitting next Thursday June 29 and Friday June 30th at Title Nine at 3942 West 50th Street, Edina, MN.
SO WORTH IT LADIES. Go to Title Nine.
RSVP here:
If you RSVP here, you'll be entered to win a free bra. You can make an appointment for a personalized bra fitting during this special event. Why come during Fit Fest? Because there will be TON more sports bras available. You'll have the opportunity to check out Title Nine's styles and sizes that are only available for the Fit Fest.
But even when its not Fit Fest, Title Nine carries a TON of bras. I had no idea what a great selection they have- two full walls of sports bras for all shapes and sizes.
Not local to the Twin Cities? You can still get a personalized fit at your local store (find yours here!) or by using Title Nine's online Bra Genie or you can chat with a bravangelist by phone at 1-800-342-4448. Lots of options to find the RIGHT FIT!
Exciting news for all of you!
I am giving away a Title Nine bra of your choice! The giveaway is open to anyone in the US and will include a personalized fitting (either in-store or by-phone, depending on your location) and one bra.
*Winners within driving distance of a Title Nine store will be asked to redeem their prize at the closest/preferred retail location.
To enter this giveaway, leave a comment here about SPORTS BRAS. For an additional entry, please tweet about Fit Fest using the @TitleNine handle and #T9FitFest hashtag. Tweet to me too @TheRightFits so I know you are entered! Make sure you enter ASAP, I'll randomly select a winner next Tuesday.
Good luck in finding THE RIGHT FIT in sports bras!
(Visited 704 time, 1 visit today)