Naysayer: a person who habitually expresses negative or pessimistic views…
The Right Fits has existed for over four years. It's definitely changed throughout that time, but it has always been a place where I share my journeys in fitness and fitness fashion. We live in an "over-sharing" culture with so many forms of social media with which one can share, but blogging takes it one step further. Likewise, it then opens you up to a lot of criticism. I chose to share my life on here, so I have to take the good with the bad. The bad is that I occasionally receive not-so-positive comments, either through the blog or just about the blog IRL. I thought I could share some of these comments and my thoughts on them.
– Blogging is so narcissistic.
Ha! It is, isn't it? Writing a personal blog like The Right Fits is inherently self-centered. Sharing my life on here implies that I think my life is interesting enough that other people would want to read about it. My life is pretty #basic, but I do run a lot of races and feel like I have something to share about fitness and running. I'm writing to connect with other people with similar interests, not because I'm a great writer or a great runner.
The nice thing is that if you don't find it interesting, you don't have to read it! There are so many other bloggers out there that might be more up your alley. I never expect my friends or family to read. I write this blog because I like writing it. I really like sharing my running journey; it's a fun hobby. It's my creative outlet. When I stop enjoying it, I will stop writing it.
– You share so many pictures of yourself.
I think Matilda gets her fair share of screen time too, don't you think? Just google "Matilda the vizsla' and click on images and you'll see just how much I've shared of her! I think she's the true star of this blog.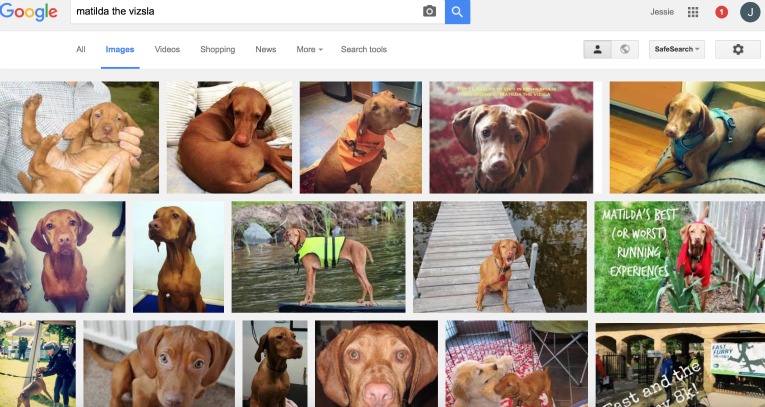 But yeah, there are a lot of pictures of me on here. It's a personal blog; it's my account of my journeys and my reviews of gear and apparel, so it just makes sense that its me that's pictured! I try to occasionally share guest posts to give you a diversified voice, but ultimately it's my personal blog and my voice…and my pictures too.
–But you're not pretty.
And you're not nice. I'm not a model- I'm a regular person.
– You run way more miles that I do. It's not relatable.
I follow other running bloggers who run way more miles than I do, but I still find a lot of them relatable in some shape or form. A lot of the challenges runners face are the same whether you run 10 miles a week or 100 miles a week. I know that I don't have kids, but I do work a demanding job and have to work hard to fit in running with the rest of my responsibilities. I share my training in my weekly recaps to hold myself accountable but it is not meant to be a comparison or make you question how much or how little you run. Everyone is different. You should find a plan that works for you. My plan isn't perfect, but that's why this is a journey. I'm trying to figure out what works and doesn't work. It's not about comparison or competition but ideally a supportive place where we can help each other and build the online running community.
If you read my blog, I hope it's because you find it valuable or interesting in some way.
– Even though you run 70+ mile weeks, you're still not fast.
Well, "fast" is all relative. I have been running for a long time (20 marathons, 10 years). Since working with my coach, I have cut more than 15 minutes off my marathon PR with several PR's in shorter distances. Running more has made me "fast" compared to the "me" of 15 marathons ago! But it's true, I run a lot and I'm by no means a competitive runner. Fortunately that's not the only reason I run.
– I only run 40 miles/week and I am much faster than you. I am glad you have a training plan that works to make you the strongest runner you can be. Unfortunately, low mileage hasn't worked for me historically to be my strongest running self. And I actually really like spending my free time running…Dare I say I love running?
– You life seems a bit one-dimensional. All you do is run.
It's true that running is a big part of my life. I love running. But even so, its not my whole life. There are a lot of other things that I am passionate about; sometimes those other things make their way onto the blog but normally they don't. I try to stay focused on fitness/running on here.
-What happens when/if you get injured?
I'll find another hobby. I wasn't always a runner and I may not always be able to be one (though I really hope I am.) Or, I'll write about my rehab and journey back to running. Fortunately, I don't run to make a living. Life will continue even if I stop running.
-But all your friends are your running friends…
A large majority of my free time is spent running so its awesome (and inevitable) that I have friends who share this passion! Running builds friendships; when you're spending an hour together every morning and up to three hours together on Saturdays, you get to know each other quite well. The shared experiences, the ups and downs of running, the mere time spent together really helps to develop strong bonds.
If you stop running, you might discover that running was the only thing that you had in common. You might lose touch and not find the time to maintain that bond that you built with running. I've seen in my own life that friendships change throughout life. People come and go based on where you are, but it's a big, big world with a lot of people in it. Choose to surround yourself with people who support you in your passions. You will find friends that share your interests and are going through similar phases in life, i.e. new moms build bonds with other new moms, dog people bond with other dog people. People are in your life for a reason, a season, or life. Make the effort to maintain the "lifers." 🙂 Be willing to let the others go.
-Running that much is bad for you.
I agree that training at a high intensity for an extended period of time isn't sustainable forever. Even the elites have down-time on their cycles. But right now, I am training for a marathon; it's intense and I'm putting a lot into it right now to achieve a goal. Fortunately I have a coach who is monitoring me closely. He helps to ensure I am recovering between runs and races.
I also prefer to focus on the good things that running gives me, not the few bad things. As I talked about in this post, running has give me travel, friends, health, confidence, and so much more.
I hope this post doesn't come off as whiny, as that's definitely not the goal. I love writing the Right Fits. I love the running blog community and 99% of the time, it's a very positive one and one that makes me excited to be a blogger.
** If you're a blogger, how do you handle the naysayers? Do you delete negative comments? Welcome the debate? Let me know!
(Visited 922 time, 1 visit today)