Welcome to October, my favorite month of the year! October represents so many wonderful things to me- my birthday, our wedding anniversary, marathons (especially the Twin Cities Marathon!), fantastic running weather, all things fall- pumpkins, apple picking, (#sobasic)- I could go on and on about all the reasons I love October. It's seriously my favorite month and it's off to a great start so far. Here's how my marathon training went as we approach the Richmond Virginia Marathon!
Monday: 5 miles easy in the morning with a few run club friends and then barre at The Barre again after work with my friend Susie. So happy to fit this class in again this week!

Tuesday: A tempo workout.  This run was 10 miles total, so I didn't have time to fit it in before work. Instead, I joined the Calhoun Beach Running Club for the evening.  2 miles to warm-up, 6 miles at tempo pace (7:45), and 2 miles to cool-down. This was a pretty long/tough workout for me and I was T-I-R-E-D afterwards.
Wednesday: 7 miles recovery with a few run club friends in the morning.

Thursday: Another speed workout: 2 mile warm-up, 6x1200m repeats, 2 mile cool-down. 8.5 miles total. I did this run on my own on Minnehaha parkway after work. It gets dark now so early that I really should have had a headlamp. It was treacherous out there!
So treacherous in fact, that I actually collided with a cyclist on a part of the trail that is shared between bikers and runners. It was partially my fault and the cyclist was super nice about it and stopped to see if I was okay. I was fine, though definitely was a hard fall and lots of blood.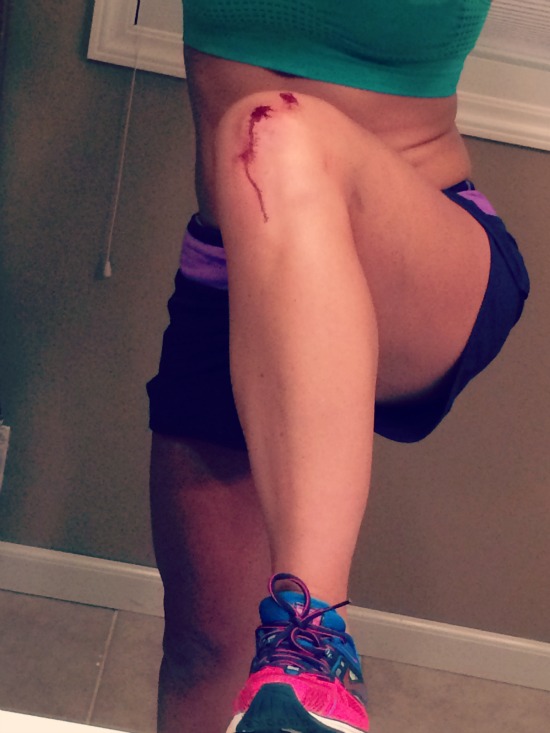 Fortunately, I was nearing the end of the workout, so I made it back to my car just fine. A few tears were shed, but mostly because of the adrenaline of the collision, not so much due to pain.
Friday: 8 miles easy in the AM with my friend Lindsey.
Saturday: 18 mile long run, nice and easy. Perfect weather, enjoyable long run. Most of the girls at the run club only had 10 miles as they are tapering for the Chicago marathon, so I had company for 10 and then added on 8 at the end.

Sunday: Rest day. I was so glad Sunday was a rest day as we were busy cheering for the Twin Cities Marathon! I love, love, love cheering for the Twin Cities Marathon!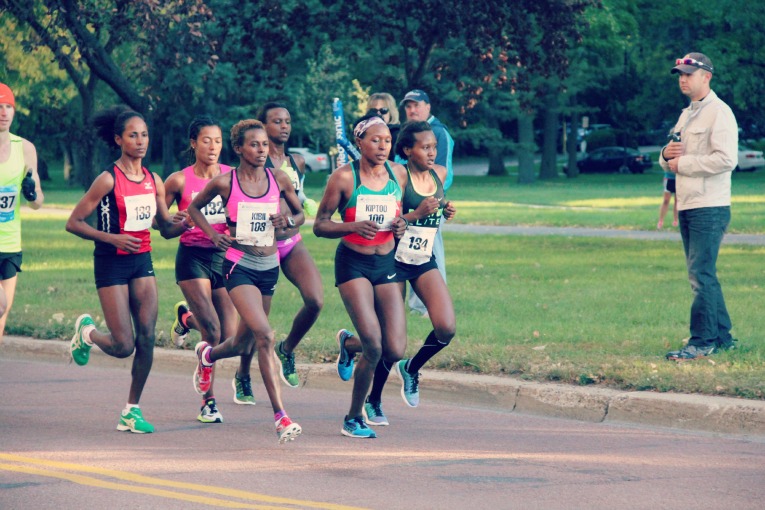 There was quite a big group of runners from my running club running the race  as well as other friends and coworkers out there.

I spent a lot of time beforehand trying to come up with a few new signs (I'd swipe right!) as well as a few oldies but goodies (You're so smart & pretty!)
In the past, we have cheered at three different spots, but this year, we had friends who would be running sub-three hour marathons up to over four hour marathons, so it was too hard to see all of them at three different spots. We had to limit ourselves to a spot by the Calhoun Beach Running Club on Dean Parkway (mile 4) and a spot on Summit Avenue at mile 24. This way we were able to catch everyone.
It was such a blast cheering! What a beautiful day and a lot of strong races out there.
This girl was trying to qualify for the Olympic Trials. Though she didn't get it this time, she is such an inspiration to me. She has the MOST positive attitude and her enthusiasm for all things running is contagious!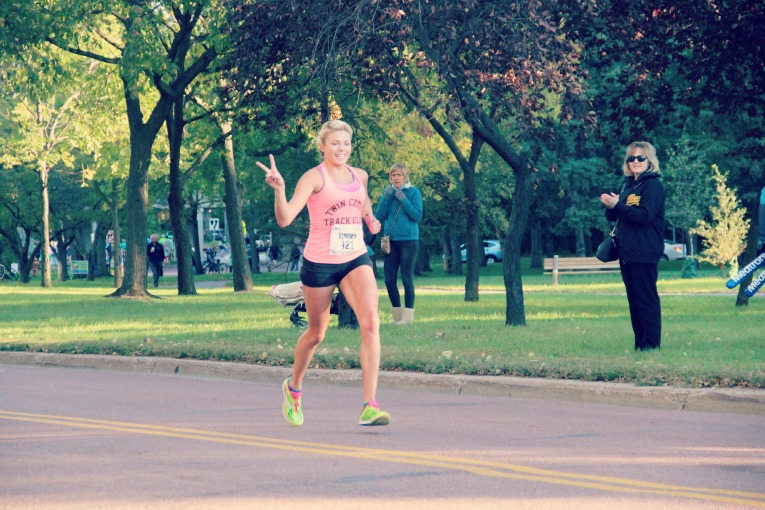 One other thing- we witnessed a pretty serious car accident while spectating at the race. The police were letting a few cars pass between the groups of the elite runners. As a few cars went through the intersection at Dean Parkway and Lake Street, one driver crashed pretty hard into the car in front of it. The accident occurred right in the intersection! A big group of spectators rushed out to push the car out of the way of the runners (the driver was fine, though her airbag did deploy). Scary!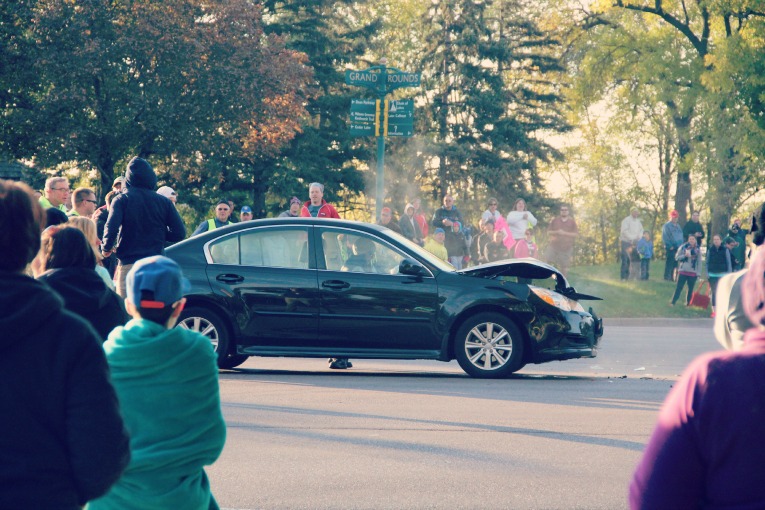 Summary:  About 57 miles, 1 barre class. I'll have one more big week before the taper. This week had a tough tempo and one other speed workout, but the overall miles weren't all that high. Both workouts went pretty well and made me feel a bit more confident about Richmond.
In other news, our porch is now gone. Here's a "before" picture…

And here's what's left…just a big hole.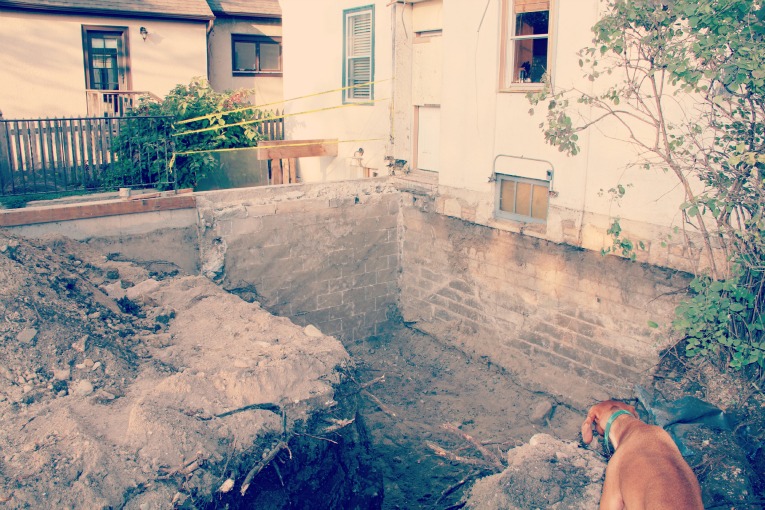 Tilda is not so sure about her new backyard situation.
The worst part is that somehow my cat escaped during the construction and we can't find him. He's not an outdoor cat and I'm really worried about him. I have posted in Next Door, Facebook, etc, and plan to call our vet and Animal Control tomorrow. Please let me know if you see this little guy!

This week's recap was a bit disjointed- sorry about that! Let's all keep our fingers crossed that Garth kitty makes a safe return ASAP.
(Visited 384 time, 1 visit today)