Last weekend, I was a happy spectator for the Twin Cities Marathon.
Today, I'd like to share the story of Eric Roling, who was a happy runner at the Twin Cities Marathon last weekend. I met Eric through my blog and have been excited to follow his journey a bit as he prepared for his first marathon. I thought you might enjoy hearing a bit more about it.
By Eric Roling:
On Sunday, I completed my first full marathon at the Twin Cities Marathon. It was definitely a learning experience. I met my goal. I bonked. I recovered and finished.
And I qualified for Boston! It was a tremendous experience and I learned a lot about myself and running in the process.
I started running four years ago. I was 41, overweight and in a lifestyle rut. As an actuarial consultant, I was working late into the night, and drinking 8 cans of pop every day. I would climb upstairs to read with my kids, and found I was too out of breath read a full sentence out loud.
(September 2011, two weeks before I started running)
I made a commitment to change. On October 1, 2011, I cut out all pop and sugary snacks and started making healthier food choices. And I started the Couch to 5k running program. I convinced myself that if I did both at the same time, I wouldn't know which was making me miserable. It worked. In 9 weeks, I could run (slowly) for 30 minutes without a break. I raced my first 5k in May of that year. By summer, I had lost 60 pounds. I started adding more distance to my runs, and ran my first half marathon at the Monster Dash, just over a year since I started running.
(September 2012 – one year later!)
I've continued to ramp up my mileage since then, focusing on 5Ks in the spring and half marathons in the fall. But there was one question that kept getting asked: "When are you going to run a marathon?"
This was a tough one for me. I was afraid of getting injured and losing all the health benefits I'd gained. And I really like the half marathon distance for the challenge it presents with a much shorter recovery period. I liked that I was still setting PRs and growing as a runner. But I did want to run the Twin Cities Marathon (and Grandma's Marathon) someday, and in March I made the commitment to do it this year.
Training
I wanted to take my training to another level to be sure I was ready and to make the marathon a positive experience. I followed a training plan that had me running 6 days a week, with a peak week of 67 miles. That was about as much as I could do without running doubles, which don't fit into my work and family life very well. I run first thing in the morning, which ensures that I get a run in every day, and gives me an energy boost for the day as well. I also started doing some body weight strength routines from RunnersConnect for 10-15 minutes after every run, focusing on building a strong core. I even did the first pull-up of my life!
I did my 20 miler a month before the marathon, and ran it at goal marathon pace to get a reality check. That gave me a huge confidence boost that I could finish the marathon. A week later I raced a half marathon, running at about 80% to protect a sore Achilles tendon that was starting to concern me. I finished with a 3 week taper, dropping to about 50% of peak mileage in the final week before the marathon.
Race Day
I met up with two Facebook running friends, Steve and Jeff, before the race. Finally meeting in person, we discussed the race and found a place to stay warm. As a morning runner, the 42 degree start temperature and light wind were ideal for me.
My primary goal for the marathon was to finish in 3:25, which would be a Boston Qualifier for me as a 45 year old. My secondary goal was 3:22, which would give me a 3 minute cushion over my qualifying time in order to get selected for Boston. My pacing goal was to bracket my pace between 7:30 and 7:45 for 20 miles and then drop the hammer with whatever I had left for the Summit Ave hill and the finish. In execution, that's what I did, other than a 7:54 in mile 2 which included the first hill. My GPS lost about .1 mile by mile 2, which complicated things, and I was never sure if my watch was still understating my pace. I should have worn my pace band – it would have saved me from trying to do math in my head while racing. Regardless, my pace felt relaxed and easy, and I crossed the half marathon point in 1:40:04 which was perfect.
Things continued to go well. At mile 18, I did a self-check, and felt that I was doing ok, though not as well as my 20-mile training run. I developed a slight side ache at that point, but it went away after 5 minutes.
I crossed the Franklin Avenue bridge over the Mississippi went under the ALARC Wall marking the division between Minneapolis and St. Paul. For most of us, this is where the TCM gets serious. The steep hill on East River Road by St. Thomas went fine, and I locked on to the Summit Ave hill that covers miles 20 – 23. At this point, my legs were burning a bit, so I kept the same effort, letting the pace drop with the climb and rolled up the hill with 7:50, 7:57, and 7:58 splits for the 3 miles – perfectly safe at this point, I felt. I also started walking through the water stops just long enough to drink and be sure I was getting full fluids, so my moving pace was actually still good.
At mile 23 the wheels fell off a bit. Aerobically I was great, but my legs were burning and I now believe that I was starting to bonk. I could not force myself to keep running, even though the hill was over. In retrospect, the damage really wasn't that bad – miles 24, 25, and 26 were 7:49, 8:07, 8:07, which hardly qualifies as bonking. This part was interesting – when I was running, I was still doing great paces in the 7:30-7:45 range when I was running. But each mile I was forced to take a 15-20 second walk break – I just did not have the strength of will to keep going, even at a slower pace. So I probably gave back a minute plus over the last 3 miles. When I saw the cathedral and the finish line beyond, I was able to race down the hill to the finish, salvaging a great result.
The Result and Aftermath
My unofficial time was 3:22:36. So most importantly: 1) I finished! 2) I beat my goal! And 3) I qualified for the 2017 Boston Marathon!
I still am trying to come to terms with such a great result in my first marathon.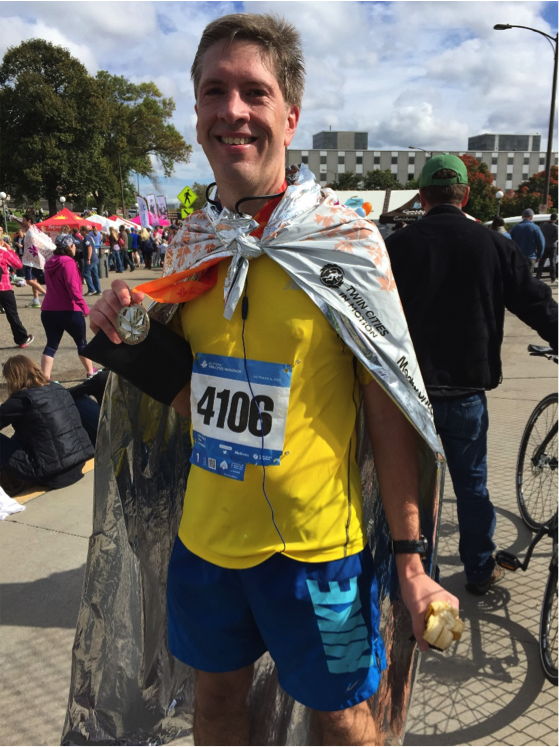 After the race, my wife Lisa said I was not making much sense when I spoke to her. I was completely exhausted and I was speaking slowly. I went to the corporate tent and got a complimentary massage. When I lifted my right calf to the table, it completely locked up for well over a minute. The massage therapist said that I was pale white and also put my mylar finisher's blanket back around me because I was shivering. I lost track of time at this point, and failed to meet up with Jeff and Steve.
Eventually, it dawned on me that I was probably hypoglycemic and I needed to get my blood sugar back up. Drinking a Coke brought me back to life for a half hour, but then I dropped back into the fog. Another Coke and some food got me well enough to take the train back home, but it was a good four hours before I mentally recovered.
It will take some time, research, and advice to figure out what happened in the last three miles. I took Cliff Shot Blocks (80 calories) just before the race start and at miles 5, 10, 15, and 20, plus PowerAde instead of water at mile 24. Normally, I don't do sport drinks because they don't always agree with me. It may just be my inexperience as a runner – since this was my first time at this distance, my muscles should get more efficient with experience. Maybe my pace was too fast, but at this point I'm not convinced that a slightly slower pace would have enabled me to make up the time at the end, particularly with the hills. For sure, treadmill hill work is going to be added to my training schedule for this winter.
Other than that, the toll from the race is toasted calves, particularly the right from that lock up. My quads and glutes are grumpy as expected. Two toes on my left foot are looking pretty nasty, as well.
Overall, this was a spectacular first marathon experience, especially with a BQ performance. I have lots to learn from this, and have to figure out what's next. Since I "only" beat my BQ time by 2 minutes and 24 seconds, I may need to run a slightly faster time on a flatter course if I want to run Boston in 2016. And I look forward to getting back to racing some 5Ks and half marathons as well. Thanks Jessie for the opportunity to share this experience!
[Jessie] I had a few follow-up questions for Eric about his experience:
What was your favorite and/or least favorite part of the course or the marathon experience?  Most of it was amazing, but I would probably say that running around Lakes Calhoun and Harriet.  I don't live near there so the scenery was great, I was still fresh and in the zone, and the crowd support was amazing.  As for my least favorite part, I am a poor hill runner, so the Summit Ave hill was tough, but frankly the worst part was miles 23-26 since I was starting to hit the wall.  As an introvert, I wasn't able to draw a lot of energy from the crowd like I'd hoped.
Would you recommend the Twin Cities Marathon for a first-timer and why? Absolutely.  It was extremely well organized, the views are amazing, they spaced out the runners well so that we weren't crowded, and the crowd support was amazing.
Any reflections on how you feel now as a Boston Qualifier, looking back at your life when you were 60 pounds heavier? What advice would you give to someone who wants to take that first step towards a healthier life or wants to get into running?  It is surreal to know that I qualified for Boston.  I feel so much healthier now, and even compared to a year ago it is amazing how far I've come with my running.  I love all the energy that running gives me, and the time I get on my own to collect my thoughts or just get away.  Further, as a band geek and math geek, and certainly never an athlete prior to taking up running, I take great pride in the accomplishment of qualifying for Boston, because it seemed so utterly unattainable to me before I started this journey.
For those that are interested in a healthier life and running, I really encourage them to start with the Couch to 5K program.  It takes the thinking out of it – just get outside and follow the prompts.  It also helps you avoid getting injured by trying to run too much too early.  Once you've completed the C25K program, I suggest focusing on 5Ks, 10Ks and then half marathons for a while.  The training and races are much less stressful on your body so you won't be nearly as sore, and you will enjoy setting a lot of PRs while you get into running.  Also, I would caution that marathons are often not a great way to lose weight.  You will put on a fair amount of muscle, and you will be ravenously hungry after all the miles you rack up in training.
Thank you so much Eric for sharing your story and congratulations on your awesome finish!
(Visited 1,569 time, 1 visit today)